Started since late December, Novel Coronavirus is still breaking the headlines, with the number of infected people exponentially rising all over the world. The virus has majorly disrupted the global economies, affected worldwide travel leading to flight cancellations, quarantines, lockdown and other movement restrictions. In just a short period, the virus which causes the disease known as COVID-19 has spread to every continent of the world except Antarctica.
Amidst the breakdown of pandemic and surrounding economic implications, there also exist industries that are experiencing unprecedented growth. The time is tough; however, you can still thrive if you set your foot in the right direction.
Here are some of the industries that are witnessing promising opportunities amid Corona
1. Health and Wellness Industry
There are obvious reasons behind the growth of the medical and healthcare industry as the number of Corona cases are surging at a rapid rate. Governments of every country are working to strengthen the healthcare system so that they are no short of facilities to treat Corona patients.
In the face of a pandemic, immunity is one of the biggest weapons. And, amid the clear directives from government authorities to steer clear of crowded places, home-based workout programs, and fitness equipment industry is sure to boom. A China-based based fitness app that offers a workout program ranging from yoga to skipping, saw a boost in the ranking from 260th in mid-January to 79th in early February on the Apple App Store. In addition to this, live broadcast of fitness, yoga and meditation classes is surging at a great rate. Sales of indoor fitness equipment such as skipping ropes and dumbbells have also seen a boost.
This a great time to take your fitness services online and make sure that you remain connected with clients even in the quarantine period.
2. Videoconferencing Apps
From big names like Twitter and Amazon to medium-scaled business and startups, every company associated in IT industry is transiting to remote working to continue operation, along with preventing the spread of the virus. And, to make sure they are obtaining the same productivity as they used to get in an office setting, companies are looking for more applications like Zoom and Trello for effortless video conferencing and project management.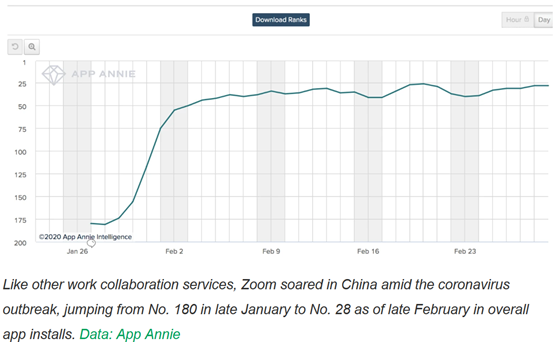 Image Credit: App Annie
Remote working is not a new thing; more and more companies in the USA are adopting this new work style which helps in work-life and balance. Work from home and remote working is sure to exist long after the Corona will be over. Thereby opening a lot of opportunities for Zoom, Slack and Jira-like business ventures.
If you are looking for a startup idea, then building a tool to help in the management of a remote team in Corona-times is the best bet. For developing tool, you can Hire Dedicated Project Management Tool Developers
Read More: What Made Zoom Dominate the Video-Conferencing Market Despite its Shortcomings?
3. Online Education and Remote Learning
During this outbreak, people around the globe are turning to online education, opening doors of opportunities for EdTech companies as traditional learning/training institutions are trying to adopt the transition to remote teaching. The online education sector in China has witnessed a boom as schools are suspended all over the country.
Over last month, online learning providers like BYJU's, upGrad and Unacademy have experienced thousands of new registrations. Students all over the globe are looking for applications that can help in the preparation of competitive exams, sitting at home. If you are also the one who is facing financial challenges due to the shut down of learning/training institution as of Corona outbreak, then instead of cursing the fortune, consider going online through one such application.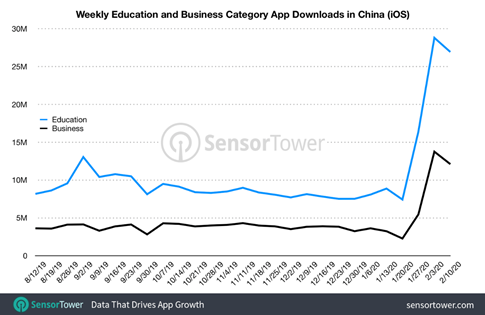 Image Credit: Nocamels
Education companies, apart from launching e-learning courses, are hiring Ed-Tech software developers for developing data tools to analyze the performance of students and teachers. The virus continues to spread in several countries, however, schools and universities can remain in operation by building an e-learning system for the students.
4. Entertainment
Gaming Apps
The mobile gaming industry all over the world has experienced an explosion in terms of downloads. China recorded 222 million downloads of gaming applications as well as non-gaming applications like online music streaming and hobby learning apps since February 2. If this is the stats from one country, imagine the number of downloads around the globe.
Popular games like "Honor of Kings", "PUBG" and "League of Legends" have become twice as popular as they were during 2019, according to the streaming index by Douyu. Coming non-gaming entertainment apps, the online music streaming apps like Spotify, Deezer, Tidal are receiving the highest number of subscribers in the quarantine period.
Non-Gaming Apps
Talking about video streaming apps, although the company is not releasing numbers, however, according to Netflix's chief content officer, has seen a surge in the stream. Amazon's Twitch has experienced a 31% growth in viewership over the last month, with a total amount of hours jumped from 33 million on March 8th to 43 million on March 22nd.
5. Grocery Delivery Applications
With millions of people around the world in quarantine and lockdown, there are growing opportunities for food delivery companies. Mobile ordering applications like Zomato, Swiggy, Instacart have experienced a significant decline. However, grocery delivery and recipe applications outperformed after the government in various countries told people to stay indoors. For instance, Alibaba's grocery delivery app "Fresh Hema" reached nearly 1000,000 downloads in a single day after lockdown, compared to an average of 29,000 per day during 2019.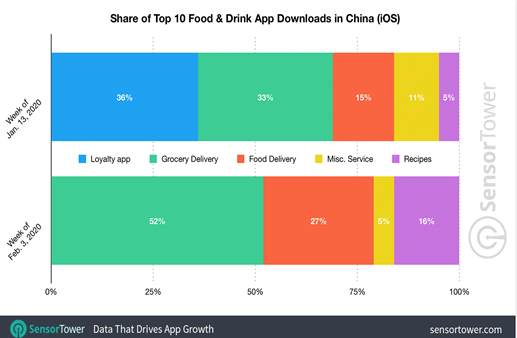 Image Credit: Nocamels
To prevent getting the infection, people are looking for a contactless delivery service. Grocery and medicine delivery applications, following the norms of "non-contact delivery", are sure to get hefty downloads long after Corona.
Read More: How much Does it Cost to Develop Grocery Delivery App like Instacart?
6. Artificial Intelligence
Since the outbreak of the virus, almost 2,000 research papers have been published on the health effects, possible treatments, and dynamics of the resulting pandemic. Researchers believe that artificial intelligence can help to study the behavior of the virus.
White House has recently announced a project in collaboration with academics and tech companies to make a huge amount of coronavirus research accessible to AI researches. Professionals involved in AI research are asked to mine the avalanche of research to get the answer to questions that could medical health experts. AI algorithms are being sought to discover possible treatments that make the virus worse for some patients.
7. Robotics
The shortage of workers and restrictions on human contact to curb the spread of Coronavirus is increasing the demand for service robots in China. Hence, the sector that has struggled so long to scale up commercially is finally boosting.
Venture capitalists with expertise in the robotics sector said they anticipating orders from countries like the USA and China to rise significantly this year. From restaurants and hotels to hospitals and factory floors, service robots will be soon everywhere.
Earlier, robots were only seen in manufacturing plants. However, after Coronavirus hit the world, many companies donated disinfectant and food delivery robots to the hospital. Thus, preventing virus transmission and managing supplies.
Read More: Mobile App Development Ideas for Startups to Thrive Amid COVID
Parting Ways
Now, more than ever, companies must understand the environment we are living in and try adapting to it. Ventures that will reconstruct the business model according to the present situation of quarantine and lockdown will not only survive the pandemic, but will get ahead of their competition.