Hire Agri-Tech Software Developers from Graffersid
Manage Your Agribusiness with amazing Agri-tech software solutions from Graffersid, a top software development company that helped agriculture startups to optimize business processes and increase profits up to 10X Offering them to Hire Agri-Tech Software Developers.
Future Trends of Agriculture Industry
Technological Trends that Will Drive the Modern Day Agriculture
Important Stats from the Agriculture Industry
Growth Stats from Agriculture Industry that Will Affect Your Business
According to UN Food and Agriculture Organization, the world will need to produce 70% more food by 2050
The global digital agriculture market size is expected to grow USD 6.2 billion by the next year, recording a CAGR of 9.9%
The global biopesticides market is expected to grow USD 8.5 billion by 2025.
The Agricultural Pumps Market is expected to grow from USD 4.2 billion in 2020 to USD 6.1 billion by 2025, at a CAGR of 7.6%
Global AgriTech market will grow at a CAGR of more than 18% in next five years
The smart smart agriculture market size is expected to reach USD 22.0 billion by 2025 at a CAGR of 9.8%. Top Online Shopping
Sites in World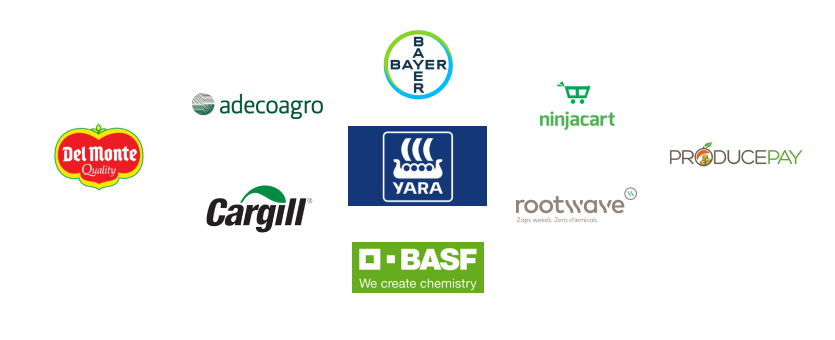 Why Hire Agri-Tech Software Developers From Graffersid?
Graffersid offers you the best Agri-Tech Software Solutions aimed to automate your entire farming system to reduce wastage and enhance productivity. No matter if you are a smart farmer, we can streamline your farming operations so you can easily take care of your mini garden!
Better Reporting and Planning
Working with Graffersid, you will get a reporting suite along with scheduling and planning feature to help users produce custom reports and keep the stake holders up-to-date.
At Graffersid, you will get a dedicated software development team for agritech that provides for higher degree of personalization through custom apps. We offer solutions that combine enterprise class software and personal guidance to run business smarter.
We offer farm management Agri-Tech Software Developers to optimize and automate entire operation and production activities such as record management, data storage, monitoring farm activities, and streamlining production.
Being a reliable source in delivering quality agritech solutions, Graffersid has been the top choice for agro based startups and market giants in the agriculture industry. We have served 100+ clients across 11 different countries. Our motto is client satisfaction and we never disappoint our clients.
At Graffersid, you will get simplified data management agritech software through automated dashboards and analytics that will help users draw meaningful conclusion. We aim to automate and visualize data to enable easy understanding and updates.
Our team of agritech software developers offers a smart farming solution aimed to help user manage multiple farm activities. It is to improve the effectiveness, productivity, and streamline entire system for better management and planning.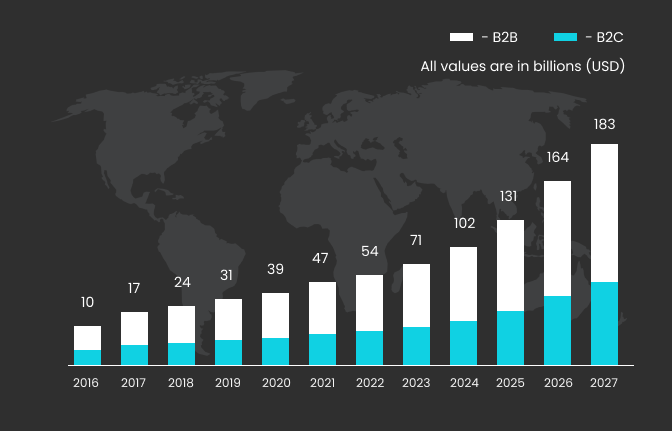 Smart Agriculture Market is valued $1380.5 million in the year 2020 and is anticipated to grow with a CAGR of 4.4% from the year 2020 to 2025.
Agriculture Market Trends
Growth trends in agriculture industry market
When it comes to food and Agro business, it forms $5 trillion industry at the global level. We can very well judge the growth trends in the agriculture market considering the agricultural produce worldwide. If current trends continue, by 2050, we will see an increase in caloric demand by 70%, and crop demand for human and animal consumption will increase by at least 100 percent. Sensing the huge opportunities ahead, investors are racing to capture the market. And, we can expect a higher total return in the future.
Global agriculture industry market share, by model Type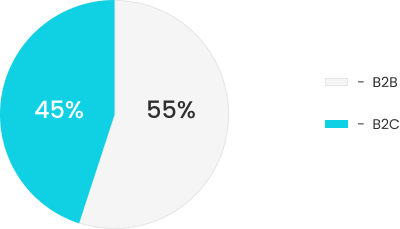 agritech software development

Farm
Management
At Graffersid, you will get complete farm management agritech software that will allow for easy control over various farm activities including labour, field, accounting, machine and crop maintenance with the help of easy and interactive dashboards.

Seeds and Pesticide Marketplace
We offer an end-to-end agritech software solution that will digitize the entire farmland sell and purchase with the help of a marketplace model. Which can predict your soil allowing farmers and other users to collect data about crop lifecycle and make necessary purchases for better results.

Farmer Business Network
We aim to connect farmers with the help of open data about yields, prices, and other information to let them expand beyond their local market and sell their agriculture produce to the best bidders.
Do You want to Hire Agri-Tech Software Developers ?
Do you have a Question for us?
Our Customers love what we do



GraffersID Teams efficiency, industry knowledge, and communication have led to a long-term engagement.



Visitors enjoyed the landing page's sleek, engaging visuals and intuitive design. Graffersid established a smooth workflow, listening carefully to requirements and



The product was well received by customers and investors. The team efficiently managed the project by consistently sharing updates and promptly
No bond Policy.
If the resource doesn't perform then the contract will be terminated within 1 month of notice.