Hire EdTech Software Developers from GraffersID
Get massive engagement through amazing EdTech solutions from Graffersid, the top
web and app development company
that has helped startups grow 5X and carve a brand image in a short span.
Future Trends of Education Industry
Technological Trends that Will Drive the Modern Day EdTech
Important Stats from the Education Industry
Growth Stats from Global Education Industry Likely Affect Your Business in the Future
The EdTech market is expected to cater to 10 million users in near future.
The global EdTech and smart classroom market size is expected to grow from USD 85,818 million in 2020 to USD 181,265 million by 2025, at CAGR of 16.1%
Total Global Education Expenditure is $8 trillion for 2025.
Education spend on digital is forecast to grow to $342b by 2025
The education software market will amass worldwide revenues of around 10.4 billion U.S. dollars which is predicted to reach 11.3 billion dollars by 2024. Top Online Shopping
Sites in World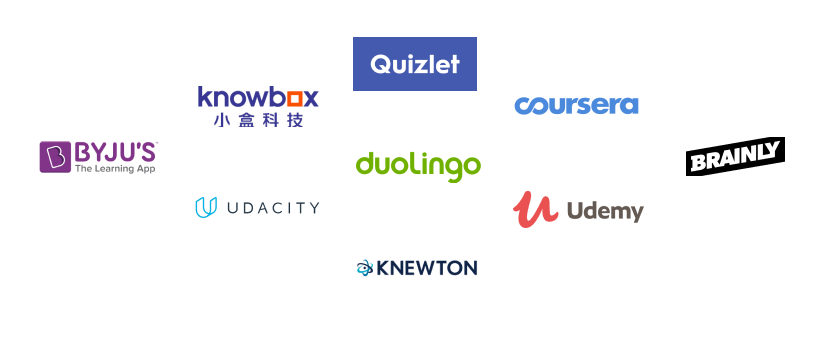 Perks of Hiring EdTech Software Developers GraffersID
Why Hire EdTech Software Developers GraffersID?
Working with Graffersid, you will get designs aimed at transforming conventional education systems with improved UI and UX by way of delivering EdTech solutions that enhance the navigation, usability, and streamline interactions.
At Graffersid, you will get a team of dedicated EdTech software developers that ensure strict adherence to regulatory standards in the EdTech industry such as SCORM, xAPI, AICC, GDPR, and other accessibility guidelines and best practices.
Graffersid offers EdTech solutions that provide for seamless integration with other platforms and third party apps like eLearning software along with safe and secure data exchange.
Being a reliable source in delivering quality EdTech solutions, Graffersid has been the top choice for EdTech startups and market giants in the education industry. We have served 100+ clients across 11 different countries. Our motto is client satisfaction and we never disappoint our clients.
Reliability and Flexibility
At Graffersid, you will get simplified EdTech software and apps that are easily scalable with smart design allowing for more extendable course builders while ensuring flexibility and reliability.
You will get cost effective smart EdTech software that saves your valuable resources and funds on daily task management and scheduling, making it simple and easy for teachers and students.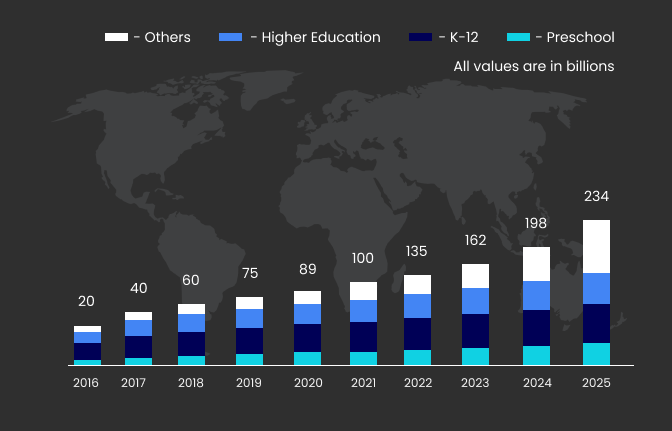 The global education technology market size is expected to reach USD 285.2 billion by 2027, growing at a CAGR of 18.1% from 2020 to 2027.
Growth Trends in the Education Industry Market
Looking at the market closely, we have observed that the education industry has experienced rapid growth in a few years. Whether it is young students or ageing population, the education industry is coming up with lifelong learning opportunities through varied means be it blockchain, E-learning, video assisted classrooms, or other technological advancements. And, this is the reason that many industry giants are looking forward to EdTech app development to improve end user experience and drive massive engagement.
Global education technology market share, by model Type
EdTech Software development technologies

Custom E-Learning
Solutions
At Graffersid, you will get custom edtech solutions for specific learning needs that will make learning relevant and impactful much needed for an engaging and personalized learning experience.

E-learning Management and Administration Solutions
Graffersid offers smart E-learning management and administrative solutions to systematically implement and manage the entire system. It best fits your online training needs with responsive learning, course catalogue, SCORM or xAPI compliance, and customized options.

Assessment and Evaluation Solutions
Working with Graffersid, you will get access to assessment and testing tools that you need for evaluating the performance of students and employees during online training program. You will get to know how successful your online training program has been.
Do you want to Hire EdTech Software Developers?
Do you have a Question for us?
Our Customers love what we do



GraffersID Teams efficiency, industry knowledge, and communication have led to a long-term engagement.



Visitors enjoyed the landing page's sleek, engaging visuals and intuitive design. Graffersid established a smooth workflow, listening carefully to requirements and



The product was well received by customers and investors. The team efficiently managed the project by consistently sharing updates and promptly
No bond Policy.
If the resource doesn't perform then the contract will be terminated within 1 month of notice.