Hire ERP/CRM Software Developers from GraffersID
Future Trends You Will See in the ERP and CRM System
Technological Trends that Will Drive the ERP/CRM System Integration
Important Stats from the ERP/CRM Industry
Future Growth Stats from ERP/CRM Sector that will Impact Your Business
The global cloud ERP software market was projected to be worth 40.5 billion U.S. dollars by 2025, growing at a CAGR of 13.6%.
CRM software is now the biggest software market in the world, which is expected to reach more than $80 billion in revenues by 2025.
It has been observed that 50% of teams improved their productivity by using a mobile CRM.
Global revenue for application software in ERP is estimated to reach 302 billion USD by 2023.
Around 47% of the businesses are planning to invest in CRM solutions like help desk and customer service software. Top Online Shopping
Sites in World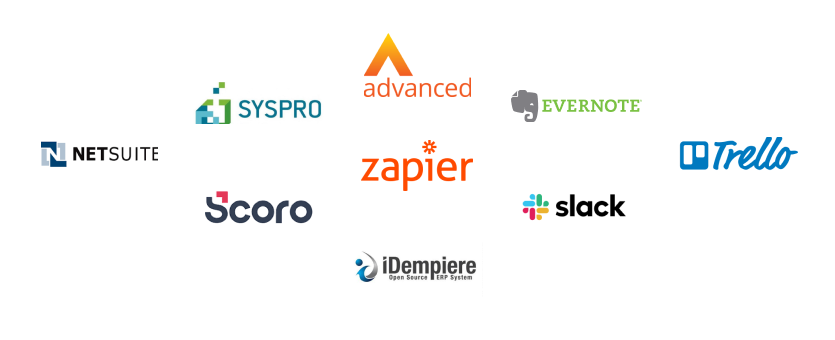 Perks of Hiring Developers From graffersid
Why Hire ERP/CRM Software Developers From GraffersID?
Graffersid is the top ERP/CRM software development company that aims to help budding startups and market giants with optimal utilization of resources and streamlining business processes.
Creation of Multi Channel
If you have numerous branches, the easy way to connect would be the robust ERP/CRM software where you can get messages via phone, chat, email, or social media. It will help you keep track of important conversations at one single point.
We have a team of experts that is skilled in deploying smart ERP/CRM software solutions into your business process where you have acquired visibility of sales and marketing. You can easily track the performance of your sales and marketing teams and identify the loopholes.
Customization and Extension
Graffersid offers a perfect combination of ERP/CRM solutions that will help you in quick and easy adaption of business processes where you can easily make modifications in custom layouts, modules, automation, and fields.
Being a reliable source in delivering quality ERP/CRM software solutions, Graffersid has been the top choice for startups and market giants in the industry. We have served 100+ clients across 11 different countries. Our motto is client satisfaction and we never disappoint our clients.
At Graffersid, you will get simplified ERP/CRM software and apps that ensure accurate data that aids business forecasting. It will help to make accurate predictions giving you an upper hand in analysis and decision making.
Are you looking for a cost effective and smart ERP/CRM solution? Then Graffersid is the perfect choice. You will get better software systems to increase operational efficiency and reduce cost.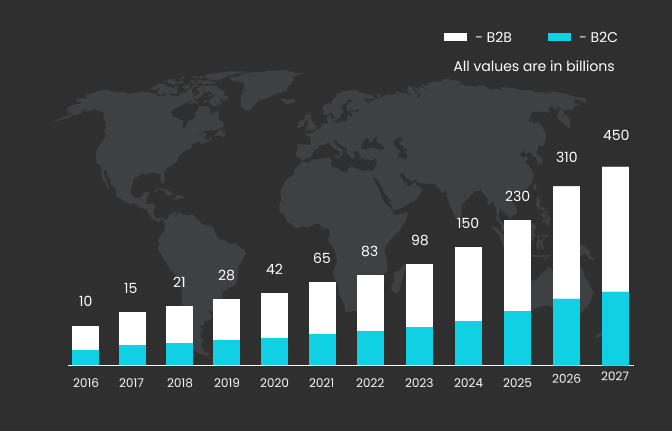 ERP market size is expected to grow from USD 45.3 billion in 2020 to USD 101.1 billion by 2025 at a CAGR of 17.4%. On the other hand, CRM is expected to grow at an CAGR of 14.2% to $80 billion in revenues by 2025.
CRM/ERP Industry Market Trends
Growth Trends in the CRM/ERP Industry Market
A combination of ERP and CRM is great to centralize the entire business process, which makes it easy to manage all the customer data and automate all the process. Whether you are looking forward to streamline the process or increase sales, market giants are investing in ERP and CRM solutions to boost profitability and grow. As you begin exploring the market, you will realize the market is choke full of options that offer a massive pool of customer data to aid quick decisions.
Global CRM/ERP Industry Market share, by model Type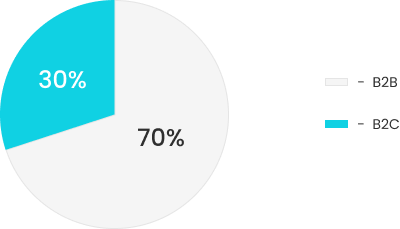 Custom ERP/CRM
Solutions
At Graffersid, you will get to Hire ERP/CRM Software Developers. Who will help you out with custom ERP/CRM solutions as per your requirements while ensuring higher degree of personalization in the software and applications.

Mobile and Web Apps
Graffersid offers cutting edge mobile and web apps to streamline your process across procurement, manufacturing, sales, finance, and HR. The apps will be easily accessible across multiple platforms- Web, Android, and iOS.

Business Automation (Sales, marketing, operation, and production)
Working with Graffersid, you will get a combined system of ERP and CRM that will help you in automating your entire business procedure. It will work across sales and marketing management and operations and production.
Do You want to Hire ERP/CRM Software Developers ?
Do you have a Question for us?
Our Customers love what we do



GraffersID Teams efficiency, industry knowledge, and communication have led to a long-term engagement.



Visitors enjoyed the landing page's sleek, engaging visuals and intuitive design. Graffersid established a smooth workflow, listening carefully to requirements and



The product was well received by customers and investors. The team efficiently managed the project by consistently sharing updates and promptly
No bond Policy.
If the resource doesn't perform then the contract will be terminated within 1 month of notice.