Hire Logistics Software Developers from Graffersid
Organize, coordinate, and simplify complex from the point of origin to point of consumption through Hiring Logistics Software Developers from GraffersID, a leading
logistics software development company.
Future Trends You Will See in Logistics Industry
Technological Trends that Will Drive the the Logistics and Transportation
Important Stats from the Logistics Industry
Future Growth Stats from Global Logistics and Transport Industry that will Impact Your Business
The logistics industry market is projected to reach a value of US$ 6,537 Billion by 2025, registering a CAGR of 4.7% during 2020-2025.
The global Digital Logistics market size is expected to grow from USD 17.4 billion in 2020 to USD 46.5 billion by 2025 at a CAGR of 21.7%.
The global logistics industry cost stands at 9Trillion USD
The global smart transportation market is projected to grow from USD 94,478 million in 2020 to USD 156,516 million by 2025 at a CAGR of 10.6%.
If we look at the market prospects post COVID, then the global logistics market size is projected to grow from USD 2,734 billion in 2020 to USD 3,215 billion by 2021, at a Y-O-Y of 17.6%.. Top Online Shopping
Sites in World
Why Hire Logistics Software Developers Graffersid?
Graffersid is the top logistics software development company that aims to help promising stratups and emerging companies with better resource optimization through logistics and transportation solutions.
Working with Graffersid, you will get a team of dedicated logistics software developers who will help you with accurate analysis of unstructured data from varied sources to create interactive and easy dashboards for non tech users.
We have experts in deploying smart solutions into logistics and transportation to streamline daily operations, increase speed, and enhance security. It will help you shift a great burden from your shoulders; so, you can focus on your business growth.
Graffersid offers logistics solutions that provide for seamless integration with other platforms while ensuring security and safety of data exchanged. You get integrated suites that cover a variety of logistics operations.
Being a reliable source in delivering quality logistics solutions, Graffersid has been the top choice for edtech startups and market giants in the education industry. We have served 100+ clients across 11 different countries. Our motto is client satisfaction and we never disappoint our clients.
Reliability and Flexibility
At Graffersid, you will get simplified logistics software and apps that ensure systems and processes to be in sync with the clients and other businesses. It ensures greater flexibility across the supply chain and other operations.
If you are looking for a cost effective and smart logistics solution, then Graffersid is the perfect choice. You will get amazing software systems to increase operational efficiency and improve cost effectiveness.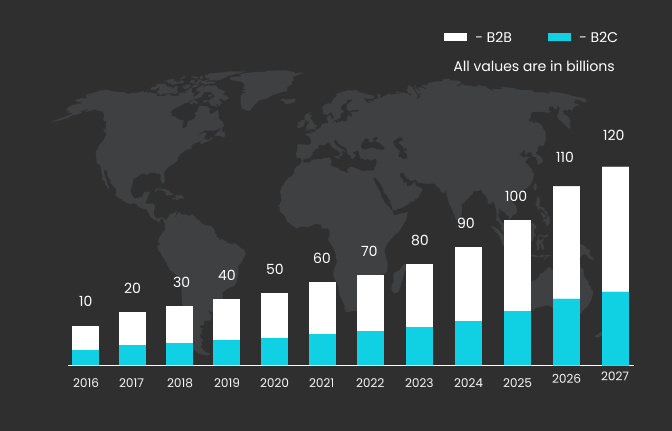 The logistics industry market is projected to reach a value of US$ 6,537 Billion by 2025, registering a CAGR of 4.7% during 2020-2025.
Growth Trends in the Logistics Industry Market
Looking at the market closely, we have observed that the logistics industry has always been in the heart of the market. Now companies need to explore more options whether it is smart logistics or smart transportation. The reason is the immense change that the industry is confronting in terms of new opportunities and risks. Demand for convenience, flexibility, and faster goods delivery has been creating the acute growing pressure to deliver better services in logistics and transportation.
Global Logistics Industry Market share, by model Type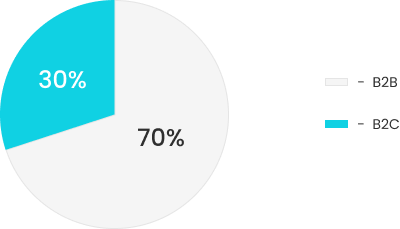 eCommerce development technologies

Warehouse Management
System
At Graffersid, you will get custom warehouse management logistics solutions to meet the specific requirements while ensuring higher degree of personalization in the softwares.

Fleet and Asset Management Solutions
Graffersid offers logistics solutions that are aimed to increase the availability of fleet and reduce your total cost of operations. You will enjoy complete asset visibility that will help you in easy tracking, maintenance, budgeting, and carry out essential repairs.

Rating and Billing Solutions
Working with Graffersid, you will get a well defined mechanism for creating, maintaining, and managing the services. Moreover, the easy rating set up will simplify the contract procedures and onboarding of new suppliers.
Do You Want to Hire Logistics Software Developers ?
Do you have a Question for us?
Our Customers love what we do



GraffersID Teams efficiency, industry knowledge, and communication have led to a long-term engagement.



Visitors enjoyed the landing page's sleek, engaging visuals and intuitive design. Graffersid established a smooth workflow, listening carefully to requirements and



The product was well received by customers and investors. The team efficiently managed the project by consistently sharing updates and promptly
No bond Policy.
If the resource doesn't perform then the contract will be terminated within 1 month of notice.