If we believe in the statistics, a report shows that the Information technology outsourcing development has reached over 64 million estimates. It implies that the rate at which this realm is growing is indeed fast-paced. But have you ever wondered why the need for remote team is even required?
Today we are in the realm of custom software development. And, the demand for the best developers is ever increasing. In such times, people are no longer willing to stick to an office building.
The development of the software solutions has expanded to constraints of a time zone, and even demographics.
Here are 5 Advantages and Challenges of Hiring Remote Developers
The majority of the top and renowned companies today are working in close collaboration with remote teams. But, what is exactly a remote team, and why there is a need for the same?
That all thing we have described in the paragraph below-
What is a Remote Team?
A remote development team is which is known to have a well-developed team of developers who can help us in creating impeccable IT solutions.
Usually, a remote team may work in collaboration with the in-house staff or under them. Whatever may be the requirement, a remote team helps in creating unified and state-of-art solutions which are further a best fit for the clients.
Want to know how to hire temporary Remote Developers
Arguments based on assigning a project to the remote team-
It was believed that the outsourcing option was considered quite daunting as well as risky. In such cases, they thought that the overall mapping of opportunities and the risk management can be quite difficult. But, to the given advantages, this was no longer than a misconception.
Today, the companies have understood the reasons to hire remote developers or development team.
Therefore, they are considering it as a new normal. If you wish to know what causes a company to hire outsource website development company or remote team, then stay glued to this page and keep reading!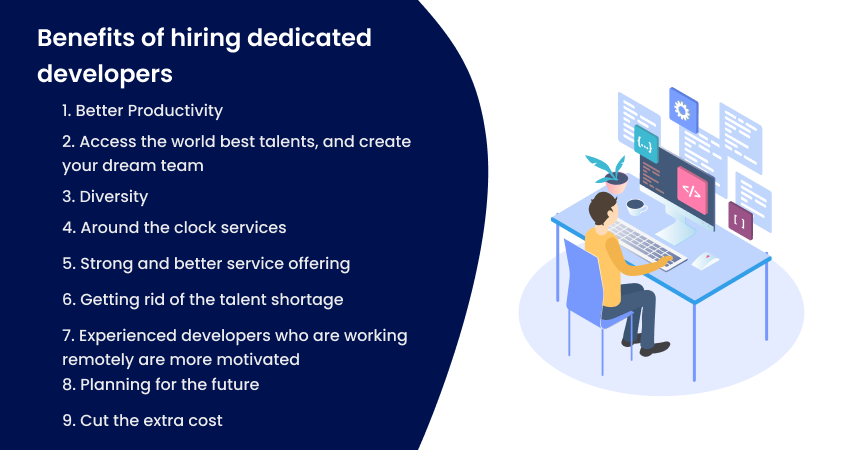 1. Better Productivity-
We guess this was quite simple to interpret and analyze. The more the number of experts working on your project the better is its rate of success. For instance, if an in-house developer forgets a thing to add than it can be seen and corrected by the remote team developer. And, this, in turn, reduces the chances of errors.
There are several Design Development Tools for Remote Team to boost their productivity.
When the above mentioned happens, we know that we are reducing the overall costs of re-works and correction and thus saving our time all together.
2. Access the world best talents, and create your dream team-
When you hire a team of remote developers for your startup you are getting access or free card to the global talent pool. Today, the companies have expanded their workforce and they are no longer restricted to the four walls of the office.
A remote team will work with your in-house team in a way, that they help you create an ideal workforce environment. And, when this is done, your employees may be efficient to tick all the boxes, required to thrive and grow.
Today, over 20% of the companies are working with a remote team. And, in the coming years, this statistic data may increase to a number of 26%. It is widely due to the reason that hiring a remote talent may help in increasing the overall productivity of the team.
Here is Step by Step Guide to hire ReactJS Developers
3. Diversity-
One of the best things about hiring dedicated developers is that they are diverse. They belong to different background, cultures, countries as well as nationalities.
When this happens, you have an advantage- a new perspective. What if a project was done in this particular way is useful and easier to complete? What if they are trained in a technology that can provide you with a plethora of benefits?
In simpler terms, the diverse team you employ helps you to deliver a near-to perfect solution. Moreover, a remote developer may have the skill you have been looking for a long time.
know the cost to hire WordPress Developer
4. Around the clock services-
When you are developing a project, you need to be careful of the time taken. In simpler terms, the amount of time required to build a project has always been an important criterion.
And, when you assign a remote team than their working time may not be similar to yours. They might be working when you are awake or sleeping.
Here are benefits of hiring dedicated developers
5. Strong and better service offering-
The logic is simple and that is when you employ different expertise on your project case, you are working to make that project a success.
The diverse culture, background and even thinking can help greatly in problem-solving. It is because we get a different perspective.
The different viewpoints can be considered as an asset that helps in the brainstorming of better ideas. The experience, as well as their skill, set a diverse company brings to your table can be a great help in avoiding the oncoming loopholes.
Here is the cost to hire mobile app developer
6. Getting rid of the talent shortage-
It was reported that an average 41% of the employers face much prevalent issues such as talent shortage when it comes to hiring a developer.
At times, a company is willing to pay high and large to a developer with skill in niche technology. But, they are not easy to find. In such cases, you can increase getting high profits if you are willing to invest in a remote talent pool.
7. Experienced developers who are working remotely are more motivated-
Motivation and determination are the qualities or traits everyone says they posses but it is hardly seen elsewhere other than the paper. The experienced developers if provided with an objective can work greatly in remote conditions because they have no pressure.
You can track their work by the means of tracker tool such as Jira, communication channels such as Zoom and slack, time tracker like time doctor and regular calls can help you to stay connected with your remote team.
In simpler terms, these tools can be an aid to manage your remote team.
Here are 5 ways to hire the right app developer
8. Planning for the future-
The future stands for a more remote team coming in action. And, it means you don't require a swanky place to make your employees sit and work. Your employees can work from home, saving you the additional office costs. And, you can incorporate the extra costs in your overall working.
9. Cut the extra cost-
When you are working with a remote team, you only have to pay them on an hourly basis. It will save you from the additional chunks such as office costs.
Once you are persuaded why you need to employ an offshore outsourcing website development company, you will face another set of questions.

And, to solve such questions you can read the following tips –
Make sure your remote team have all the collaboration software required-
To start with the work, you need a tool that can help you communicate with the team, it can be hangouts or just Skype. Another tool for meetings such as Zoom screen sharing and slack, and you can also incorporate a tool that tracks their daily activities such as time doctor. This along with the regular calls can keep your remote and in-house development team to be on the same page.
Regular and organized sync-up calls-
Regular calls where you can discuss the current projects you have been working on or the projects you need help can be discussed via the means of the calls.
Track Productivity-
While employing a remote team you need to track the work regularly. It will be a great aid when it comes to determining an efficient development process.
Keep the Security in check-
When working remotely, you should ensure that your data is well protected. And, for that, every developer on the team remote or in-house should be informed about the BYOD policy. A BYOD policy is a popular abbreviation for bringing your own device policy. These are set of rules that govern IT departments and their corporate level of support for their smart phones, PCs as well as tablets.
If you are looking for an acclaimed remote development company for your next big IT project, then look no more and contact Graffersid.
It is a renowned name that helps its clients with providing impeccable offshore IT-based solutions such as  IT Staff Augmentation Company. In case you need to know more, you can visit their website.