The end of the watch in GOT has made a tickling start for Arya Stark`s startup. Maisie Williams aka Arya Stark from Game of Thrones has found success again with her app Daisie. Daisie, Maisie Williams startup was amazing and people were liking it.
Working continuously over 8 seasons with Game of Thrones and London Industries. A buzz has created around the corner when on 8th May Maisie Williams startup Daisie was launched. It is running successfully. Dom Santry and Maisie always worked over it in their free time. It is a very difficult thing because both of them are young and are working continuously.
Maisie Williams startup Daisie is an app that promotes the creativity and uniqueness of users over the social media platform. Daisie helps them to connect with similar people accordingly. Maisie Williams said that our goal is to have a good community of artist who uploads their work, projects helping people in different ways. The no. of users reached 100,000, most of whom are in London.
MAISIE WILLIAMS STARTUP DAISIE
"We are creators ourselves – Maisie is an actor, Dom is an entrepreneur – and while we got lucky. We've still had to battle the 'Whom You Know' and the 'How It Is'".  They said We get how hard it is to break into the creative industry. And we're fired up to make it easier and better for everyone.

Together many People are inspired and made real progress with the help of Maisie Williams startup Daisie. "It's a new route into the creative world; where one can easily share the thoughts learning new things and also the natural development of skills."Maisie also said this in an official video that users can create their own profile as they create in every other social platform. But the uniqueness here is that it won`t display the follow count. Here the user can have QT rounds and customized work profiles as per their talent and collaborator`s demand. Their talent here is the most important factor which helps them to grow.
"Instead of [creators] having to market themselves to fit someone else's idea of what their job would be. They can let their art speak for themselves," said Williams. The one now doesn't need any marketing strategy or any particular area to show their talent one can directly show it.
Maisie believed that such transformations in the industry are important. Daisie can easily help to avoid #MeToo and #TimesUp movements which involve dominant use of power by people and will help them to lose their jobs. The one can now get the job by their talent and no one can stop them doing so.
EXPLORING THE JOURNEY
Daisy Chain Productions was set up by Dom Santry, Maisie Williams, and Bill Milner in early 2016. They started to develop, and produce UK-originated short films, theatrical features, and high-end television drama. Stealing Silver is the company's first production.
This production was a new type of Production Company, focusing on youth and the development of talent in the UK.
BETA VERSION
The beta version is an early version of the application that helps to connect the creators, users, and collaborators. Under this users were unable to make contacts as the communication tool was missing. The app was also unable to share files with one another.
Daisie was the idea of Maisie Williams and Dom Santry initially. They launched the beta version of the app in the summer of 2018. Within one week of its launch, it had 37000 users the launch was successful.
Afterward, the app crashed and went under development by the techies. "We were happy that the app was successful in its beta version. But we were not prepared for such an enormous audience", said Santry. Santry believed that the platform was very creative. People can easily connect and make connections by having places to work and by building up with teams. They can also connect to those people who are of their kind. So, they can easily learn from them and also freely share their views.
After that Maisie Williams startup Daisie started hiring members from various organizations. The team has experts from BBC, Amazon, Microsoft, Deliveroo and many others. The company closed the initial funding in 2018 October and went for further funding under the door`s investment.
FULLY IOS AND ANDROID VERSION
A tagline is designed to connect people that is a " New route into the creative world". It connects people with the help of social media and helps them to collaborate with projects in the industry.
To understand through video go here
With over 100,000 users in less than a fortnight just after 9 months of its beta version. Daisie as a full flashed application is used.
Learn to get users for startups to know here.
The user can easily upload any creative stuff like art, music, dance, and photography. Collaborators can watch out for talents as per their needs. They tried to transform the developer`s view of working rather than the artist`s view. Developers can easily match the artists with their requirements instead of working with an artist of a particular field. And also working in all fields. On Daisie, creators establish a profile as you would on a social network. You have to find and follow other users, and then seek out projects based on location, activity, or other factors.
'DAISIE' users create a public profile and can create "posts" that appear on their profile and on the public timeline for all users to view.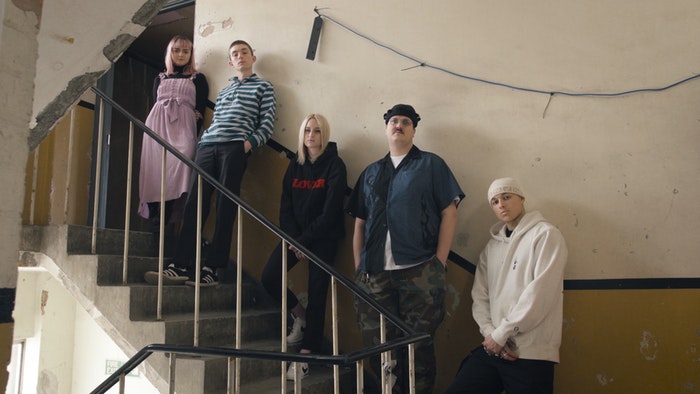 Users can also create shared posts called "projects". Here they can add other users as collaborators who can add content to a shared space and receive clear credit for their contributions. Future releases of the app will include live-streamed "Question Time" sessions. Users can interact with prominent artists, and the app currently promotes in-person events (mainly in London). Where artists can gather and discuss their craft. This is an amazing feature that helps people to connect to other people and can also meet them.
WEBSITE
Daisie is not just an app it can be even accessed from its website.
This app is only for ios system currently, the android version is still under development.
'Playground for creative Innovation'  is the other name for Maisie Williams startup Daisie.
Many websites fail to deliver and end up winding up of companies. Websites like Google+, Pik and many more died in the early years. It is very difficult to initially find a good developer and a niche website. To develop a successful website click here
To learn how to hire your First Developer
FUNDING IN 2019
As soon as 11 days from its official launch Dom Santry and  Maisie Williams startup Daisie. And was successful in raising 100,000 customers along with seed funding of $ 2.5 million. The funding round was led by the Founders Fund by contributed $ 1.5 million. Further, it was led by 8VC, Klein Perkins, and Shrug Capital. Angle list investor Mr. Dror invested again following his beta investment.
In all, they collected around $ 3 million inclusive of friends, family, and relatives.
DAISIE NETWORK
Daisie`s first user was Ronan from London and since then they have been expanding rapidly. Except for the populous countries like North Korea, Uzbekistan, and Andorra, Daisie has expanded its network everywhere.
In the United States, Daisie became very popular and recognized. People there are liking this app so much. As it brings up new talent and they learn from it.
Further, they have 1 Jamaican user, 1 user from Sri Lanka, and 1 user from Honduras. They have the exact same amount of users (850) from Switzerland, and from New Zealand.
Daisie hasn't developed overnight is an example of all that though the startup rate is low hard work took it to height.
To increase the startup success rate visit https://graffersid.com
I hope it inspires you !!
Sources: