To replicate the experience of a native e-commerce app would have been considered a far-fetched challenge a few years ago. However, increasing mobile accessibility amid a march of progress has led to the development of an interesting solution – PWAs. And remember progressive web apps that took all the right vitamins, they are for all, desktop and mobile users alike.
We've had them around since 2015, and almost all tech giants including Twitter, Alibaba, Amazon, and Walmart have already launched their web apps and reported doubled conversion rates, only to set the stage for small and medium businesses to leverage the same tech stack.
And e-commerce is definitely one of the industries that are most heavily benefitted by the development of PWAs.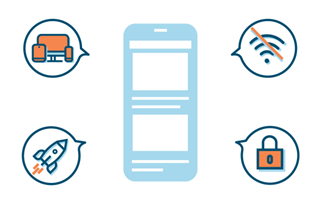 We are not just talking, let numbers tell you the story
According to a report in eMarketer, mobile sales are expected to account for almost 54% of total eCommerce sales by 2021, which clearly establishes that mobile sales channels cannot be overlooked by online shopping brands. Even though mobile traffic is growing, mobile conversions still lag a lot behind the desktop ones, owing to a number of factors.
Web apps for e-commerce solve the problem around poor mobile conversions, and how. A survey at Jaxenter reported that 46% of their developer audience expect PWAs to be the future, while only a small 14% believed that native apps will ultimately prevail.
In this article, we will figure out exactly why PWAs have had such a huge impact on the e-commerce industry and what are the main benefits of web application development. So let's begin from the beginning.
What is a PWA
PWA stands short for a 'Progressive Web App'. In the simplest terms, is an advanced website with the look and feel of a native mobile app.
Websites undoubtedly are more discoverable and definitely more sharable, and faster than an app. It has ubiquity over different devices and implements user-centric security. On the other hand, native apps are more reliable and lend a richer experience, they work offline (eg. you can pick your cart offline but need connectivity or confirm order and payment) works offline, always visible on devices that it's downloaded on. Both the website and native apps have their standalone experience.
So what better? Well, the answer is PWA's
PWAs brings to you the best of both worlds – they're more discoverable, sharable, and fast like a website, and rich, reliable, and secure like an app. Progressive Web Apps are the futuristic apps that bring the mobile web experience in an app.
Read Also: HOW TO CREATE A SCALABLE PEER-TO-PEER MARKETPLACE WEBSITE?
PWAs in real life
Originally proposed by Google, PWAs seek to resolve the key issues faced by app makers. They're low on cost and highly secured. The main usage of PWAs has been observed by the businesses which are looking to target both mobile and web platforms.
Progressive web application development can be carried out through static site generators like VuePress and Gatsby which help in launching powerful storefronts that can later be connected to the e-commerce backend. JavaScript language is also extensively used in front-end development to create smooth customer-oriented mobile web interfaces.
What makes PWA's a better choice
They bring consistency, reliability, and engagement to user experience, creating unparalleled consumer loyalty. Certain key attributes why Graffersid suggests PWAs are:
Progressive – they work for every user independent of their choice of browser.
Responsive – they work on all devices – desktops, phones, and tablets and adjust according to the screen size automatically.
Connectivity independent – they have the ability to work offline and don't become unavailable during network issues.
App-like – they offer a truly native experience and can be installed on the phone.
Fresh – they're always up-to-date with information posted by the host.
Safe – their security is established by the fact that they're always served via HTTPS.
Discoverable – unlike native apps, web apps can be indexed by a search engine, making them easier to discover for the user.
Sharable – having a URL structure likability makes them easier to be shared by the user.
Fast – they load and respond to user interaction very quickly, even faster than an average webpage. Faster checkout rescues sales in most cases.
Engaging – They can send push notifications and can be actually installed on a smartphone which makes their re-engagement value extremely high for the end-user.
Why PWA's are the new ecosystem for e-commerce
First things first, progressive web app development takes a lot lesser time and budget in comparison to native app development. Second, they're lighter and multifold faster than your average mobile app.
Let's discuss similar benefits of progressive web apps in detail, in the specific context of e-commerce.
The Smart System
It is one key factor, that enables the app to feel like a website. Whenever a user accesses the app the very first time, PWAs smart system springs into action and downloads not just the prima-facia but background components as well, which give users a faster experience and makes it available offline as well.
Higher SEO ranking
In 2018, Google made mobile-first indexing a norm, which means that they will now use the mobile version of a page's content while evaluating its relevance to any particular concern of the user. So during indexing and ranking, your page's mobile version would be considered and not the desktop version, and one of the most important ranking factors in mobile-first indexing is page speed, which is highest in PWA form.
In fact, Google itself has been rendering consistent support for PWA since its launch in 2015. This way PWAs increase the index ability of your page and are extremely healthy for search engine optimization and overall discoverability.
Engagement and re-engagement
This is one of the most important features in Web apps for e-commerce – the ability to keep the consumer hooked. First off, the icon of a PWA can appear on the home screen of the phone, making it a lot more personal than a website.
Secondly, they allow you to send push notifications – so now you can keep them updated with flash sales and seasonal discounts or even casually hit them up about an abandoned cart. According to stats, 2.7x more people will click open a push notification than an email.
Google reports that almost 60% of PWA users allow the page to send them notifications, which substantially hikes the chance for the business to promote their products or highlight a discount. 
Read Also: HOW TO CREATE AN APP LIKE BUMBLE?
Consistent innovation
When you roll out some updates or changes in your web app, the user automatically instantly receives those updates (in presence of a network), unlike a native app, where they have to go to the Play Store/App Store and install the updates themselves. This reduces friction for the user at many levels.
Also, you don't need to update codes separately for iOS and Android versions of your app – just install changes in a single web app codebase and you're good to go.
Speed
PWA's are fast.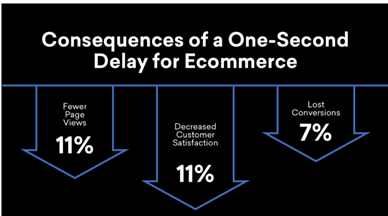 Need we say more!
Accessibility
Google reports that 53% of mobile users abandon a site if it takes longer than 3 seconds to load. Speed is extremely important in e-commerce mobile solutions, and PWAs capitalize exactly on that. They not just load in fractions of a second but also are available during poor or no network conditions.
Additionally, PWAs use very less disk space – on both the business' server and the user's device – making room for benefits such as faster loading times, less data usage, and less required storage space – all of it leading to more conversion. For instance, Tinder's PWA takes less than 3 seconds to load and it has been reported to increase conversion rates by over 80%.
Final word
Web apps for e-commerce have breakneck advantages in terms of performance, offline support, engagement, SEO and of course, the richness of user experience. A PWA completely eliminates the requirement of development, maintenance, and marketing of any platform (iOS app, Android app, or website) other than just the single PWA web page.
PWAs in e-commerce have proven to get better conversions and more secure transactions. They also help in reaching a wider audience since they're responsive and sharable.
According to Google, when an already existing e-commerce store switches to a Progressive Web App, they are likely to witness a 20% overall revenue boost on an average, it can be a lot more depending on the other strategies that your digital marketer combines with the development.
Conversion rates on mobile have straight up doubled in some cases like Flipkart. So if you're an e-commerce business looking to see some drastic changes in sales and conversions, PWA is the answer! PWA is the future.