Application support and maintenance at GraffersID, a
top web and app development company
, focuses on the stabilization and optimization of the IT services provided. We don't let your software turn obsolete and help you stay ahead with timely support and maintenance.
We provide comprehensive IT Management Services & Unparralled Support
When it comes to effective support and maintenance, Graffersid crafts feature-rich solutions that specifically cater to the demands of the changing business scenario. Usually, steady usage of old mainframes lead to technical glitches, here you will get a talented pool of professionals who are equipped with the needed skills and updated with the latest technology.
Our team will help you with the software development on both the modern and legacy platforms. Also, we ensure the best code quality and adherence to standard development practices in the industry. Moreover, you will get unmatched support and state-of-the-art services at an affordable support cost that reduces the overall cost in the longer run.
Increase your productivity with flexible, scalable, and affordable software maintenance services at Graffersid!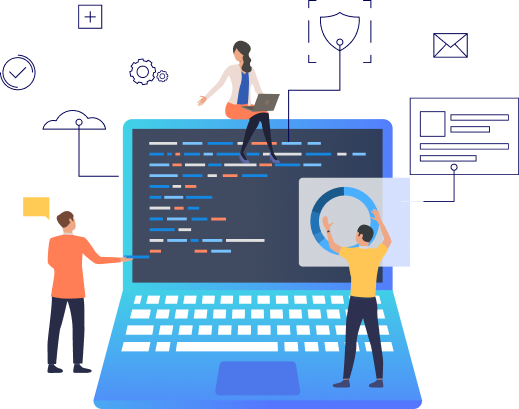 IT Management Services at Graffersid

App Maintenance and Support
At Graffersid, you will get app maintenance and support services aimed at ensuring the availability, reliability, and relevance to your business through reviewing, testing, and improving user interface and experience.

Ongoing App Enhancement
Being a crucial part of user experience, if your ongoing application requires technical updates, Graffersid ensures finest application enhancement services by gauging product architecture, technology stack, and users.

Technical Improvements and Upgrades
Here you will get an accommodating team of experts who will figure out the technologies that need upgrades and improvement by assessing the primary enhancement needs. We have helped many businesses revamp their products and would love to assist you as well!

Performance Monitoring
Graffersid will help you with the quality analysis of your product and processes and suggest modifications needed to be made in your enterprise software. This way, you can refine your software for better performance in the long run.

Security Review and Compliance
Working with us, you will get a team of professionals who will perform scheduled checks on your app functionalities and will ensure strict adherence to the standard guidelines for a seamless process.

Backup and Recovery
We help you with data protection for applications, files, and servers through a standard set of tools, policies, and procedures to ensure smooth operations in your organization. It will enable the continuation or recovery of the information and technologies that is vital for your business.
Montly & Yearly fees for all IT services.
No costly surprices.
Support include 20 hours per month
If for any month the hours exceed 20 hours then that the exceeded hours will be billed at $20 per hour.
DO YOU want to hire a dedicated developer ?
Graffersid works in 2 ways
Hire Dedicated Remote Developers from the team of Graffersid on a Monthly Contract basis. Pick the best Resources to amplify the capabilities of your technical team. Scale your development team within 7 Days with certified developers.
Share your idea with our domain expert Business Analysts who will draft a detailed Requirement Document along with relevant features suggestions. With the locked scope of work we will initiate the Product Development on Agile Methodology.
Do you have a Question for us?
No bond Policy.
If the resource doesn't perform then the contract will be terminated within 1 month of notice.