Did you know that remote working has skyrocketed by 140% since 2005? Regardless of whether being struck by the pandemic or not, remote work is here to stay. With lower office costs to better productivity, several companies have realized the benefits of remote working. Moreover, if productivity and quality work are your primary motives, you can reduce the cost of hiring remote developers if you outsource your need from third-world countries like India. Read our full article and get to know the top remote developers benefits offered by worldwide companies.
If you hire remote developers from India, you can cut down your employee retention costs, and office costs and improve the offered services by diversifying your team with global talent. And while the companies benefit a lot from hiring a remote team, employees can enjoy a number of perks too.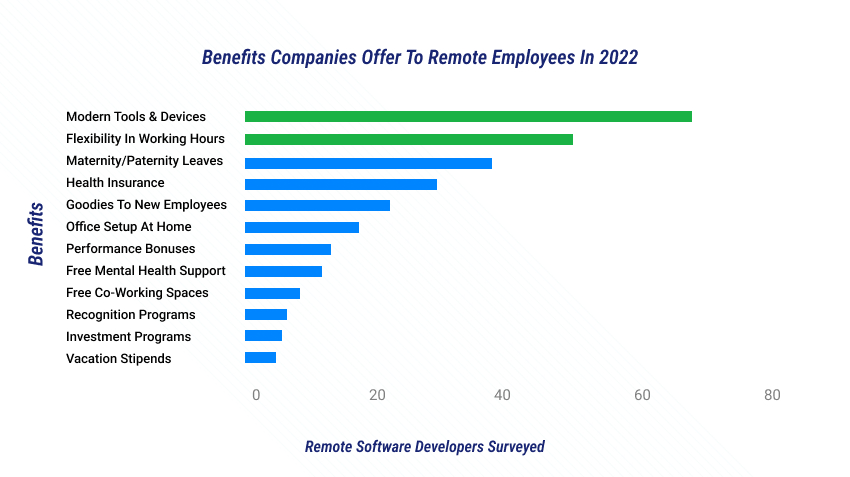 Keeping this in mind, here are the top 31 benefits offered by companies to remote developers.
Free Mental Health Support
Though remote working comes with higher flexibility and lesser work pressure, you can not help but deny that staying at home with no actual contact can affect your mental health. And, while remote working surged during the COVID, so did mental health conditions like anxiety and depression. 
Several companies understand this concern. So, when they hire remote developers, they make sure to provide free mental support. Employees working remotely can get in touch with experts hired by the company to improve their mental health. This creates a safe, secure, caring, and productive environment. 
Plant Subscriptions 
A better working environment means higher productivity. And one can enhance a working environment by adding greenery. As part of the welcoming kit, several companies who hire remote employees from an IT staff augmentation company give their employees potters or low-maintenance plants like cactus to add a modern yet productive touch to workstations. 
Office Setup At Home
One thing that is a bit alarming in a remote setting is employees working from their couches or beds. Companies that hire remote developers from India or other countries provide incentives so that remote employees can set up their office desks and work more productively. 
The incentive employees receive can be used to purchase ergonomic furniture, standing desks, lighting, chairs etc. 
Workout Sessions
A healthy employee means a productive employee. Keeping this in mind, companies do offer free workout classes led by a certified instructor. This allows employees to get an exercise break during their busy schedule and take a break from all the stress. 
Some companies might also provide fitness centers or gym passes. 
Read Also: Benefits of Hiring Dedicated Developers
Childcare Benefits 
Most people might also prefer remote working because they have children to take care of. Several tech giants do offer childcare health facilities to remote workers from an IT staff augmentation company. 
According to the Eldercare Locator, child care can range from $2,000 to $5,000 every month. And, getting incentives on this can be a significant perk for some of the employees. 
Meal Delivery 
While the company won't actually order and send food to employees' homes, they do offer incentives and discount coupons so that employees can skip skipping in between working hours and focus more on productivity. 
While this might seem like an extra expense to most companies, cooking and eating can take up to 2-3 hours off the working hours. Ordering meals can help employees focus on their work rather than spending 2 hours in a kitchen. 
Modern Technology And Tools 
When companies hire remote developer, they cut down office costs like paying rent or providing essential utilities like coffee or evening snacks to the employees. Several companies can use this extra money to pay for technology.
Companies provide laptops, high-speed internet connection or monitors to ensure that the work is not disrupted due to a technical failure. 
Read Also: Must Have Tools to Manage Remote Teams
Virtual Team Events 
Who said a virtual team could not have all the fun? To help employees connect on a personal level, companies that hire remote developers from India or other countries host virtual team activities or games to help employees connect. 
Some companies might also host virtual events like word puzzles, bucket list item sharing, virtual coffee meets, random chit-chats meet, recipe or craft challenges etc. 
Online Courses
Believe it or not, companies want their remote employees to grow and find a new skill set. Focusing on new skills isn't just a benefit for employees but also for the companies. The employee can use the new skills to work more productively and provide better quality every time. 
Remote or not, companies offer several paid courses for free to help employees grow. 
Home Gym Equipment
Working from home means being restricted to the four walls and moving your body way less. That's why organizations offer their employees gym equipment, supplies, or passes to help them maintain a healthy body. 
Surprise Day Offs 
Going through a tough week? We bet it's pretty standard in the corporate world. Going through close deadlines and a hectic week can slow down your employees from providing the best. Surprise day offs offered by some organizations can allow employees to take a break from the stress and work better when they return to work. 
High-Connection Wifi Connectivity 
When companies hire remote developers, they offer reimbursements to help employees pay for high-speed internet connectivity. After all, wifi is quite essential, especially if you are a tech company and have a team of remote developers. 
Providing stable internet connections helps employees to work their best and give 100% without the slow internet speed getting in the way. 
No Meeting Days
For many, remote working means a lot of Zoom meets where employees are required to discuss what needs to be done rather than actually doing it. Hosting a no-meeting day can be a win-win for companies and employees. In fact, one of the biggest concerns of remote developers is attending several meetings daily. 
A no-meeting day can help employees focus on the actual better and focus on meeting the deadlines instead of anticipating them. 
Virtually-Hosted Happy Hours 
To reward project completion, many organizations host virtual happy hours where employees can celebrate their success and get to know their team and mentors more personally. 
This helps create a personal bridge between the workforce, allowing them to collaborate more effectively and allowing proper communication to flow in the organization. 
Pet Insurance 
Apart from the basic health insurance and retirement saving plans, remote workers outsourced from an IT staff augmentation company also get pet insurance as a voluntary benefit that helps them cover the medical bills of their beloved furry friends. 
Meal Cards 
As part of their appreciation policy, employees working in a remote setting are also gifted with several food vouchers or meal cards to encourage the team to perform their best. 
4 Days A Week
Most companies are pretty stuck on improving the team's productivity. And, rather than sticking to the traditional methods of scolding and humiliating, companies understand the importance of providing flexibility to the team. 
Though it might not always be a four-day week, most companies offer a four-day week once every month or a half-day Friday to check the level of productivity. 
Goodies To New Employees
Once a company hires remote developers from India or other countries, the focus is on building a remote team culture. Upon hiring, companies do send several goodies labeled with the company's logo to build engagement and provide appreciation. 
The welcome kit may include water bottles, socks, mugs, T-shirts, sneakers, and tech accessories like earphones, notebooks or stickers. 
Recognition Programs 
Recognizing and appreciating employees, peers, juniors, or managers helps the workforce to show more dedication to their responsibilities and work their best during working hours. Companies working on a remote basis host peer-to-peer recognition programs like celebrating birthdays, anniversaries, or success to motivate employees into doing better. 
Free Access To Co-Working Spaces
If a remote developer isn't comfortable working from home due to a lack of space or shared space, they can ask companies to provide them a stipend so they can work in a co-working space. 
Note that allowing your employees to work from a co-working space would be a better option than requiring your employees to commute to the office because this will offer them flexibility and will also help you decrease the monthly rent expense. 
Vacation Stipends 
It's pretty understandable that employees deserve vacations. Vacations help them take a break from daily life, spend some time with their friends or family and recharge during their days off. 
While some companies might not actually provide stipends to go on a vacation, most do offer longer leaves so that remote workers can get out of their four walls and connect with people. 
Annual Gathering Or Meetups 
This can go both ways. Companies can either ask the employees to physically attend the event or host a virtual meetup. If they have several employees working from different companies like India, Japan or the UK, they usually host a virtual meetup annually, so that employees can connect with their peers, juniors, seniors and managers. 
Flexibility In Working Hours 
While some companies follow a strict 9-5 policy for their remote employees, most companies allow their employees to freely choose their working hours. This flexibility enables the employees to work according to their convenience, thus allowing them to contribute better.
Investment Programs  
To help their remote team secure their future, most companies encourage their team to invest in certain shares. These shares are usually available at a lower rate than the market rate to encourage participation. 
Health Perks 
Did you know that 83% of the employees think having health insurance helps them decide whether they want to stay in the company or not? 
Almost every company offers health insurance to its employees, regardless of whether a virtual or a physical team. 
Birthday/Work Anniversary Vouchers 
Companies have a particular way of making their employees feel special. From Zara to Amazon, companies give special shopping vouchers to celebrate their employees' one-year anniversary or birthdays. 
Quit Smoking Programs 
Another thing that is pretty common in the corporate world is being a smoker. But, to help employees quit it, companies host many programs and campaigns to educate their remote workers. 
Performance Bonuses 
From monetary to non-monetary incentives, companies understand the importance of appreciation for boosting team productivity. 
As a result, organizations offer several incentives like bonuses, trophies, trips, days off etc., as part of their successful goal achievement program.  
Onboarding Programs 
Companies are pretty keen on breaking the ice when they hire remote developers or other team members. They host a fun and interactive onboarding process that allows the new team member to connect with other employees, understand the company's goals and values and make them feel more comfortable. 
This can be done through online meets.
Premium Subscriptions
From Spotify to the Mindfulness app, companies also offer a premium subscription to their employees to stray away from the jarring ads and listen to their favorite tunes while working on their projects.
Pet Adoption Programs
We all know that caring for a pet is a full-time job, something that is not possible for in-office employees. Working remotely allows the employees to adopt or buy their new furry best friend and care for them while working from home.

How To Hire Remote Developers from India? 
Ready to cut your costs to a significant level? Hiring employees from third-world countries like India can help you with that. Hiring Indian remote workers allows you to improve your productivity while paying a lot less in salaries or incentives. Plus, you can also diversify your team and connect with global talent rather than being restricted to local talent. If you want to hire remote developers from India, connect with us today.
We are an IT staff augmentation company that helps you connect with the best global talent who take their tasks seriously and provide 100% motivation to help you reach your company goals. 
Get in touch with the team of GraffersID and start hiring the right people today.