Want to learn a new language? We say it's a great choice. Besides helping you stack up your skills, learning a new language can help you communicate with different country companies, developers, and freelancers. Also these apps can helps you to know more about their cultures. However, if you are a working professional, CEO, or developer and way too busy to enroll in a new language school, we have just a list of the best free language learning apps you can use to stack up your skills and communicate with different forgien companies.
That being said, here are the top 8 free language learning apps you should check out today.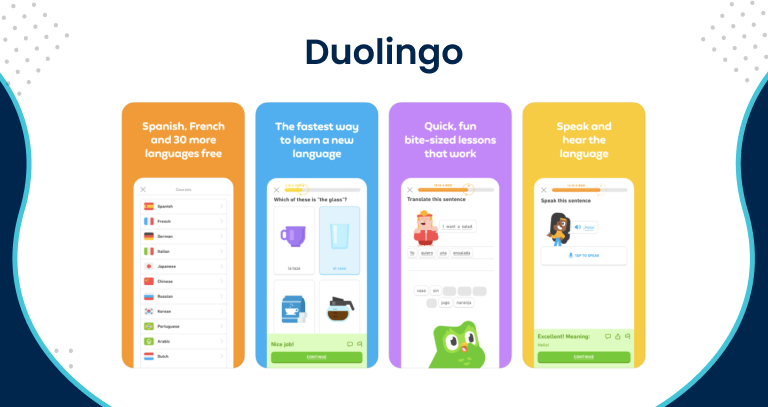 The app's primary focus is on entertaining exercises that encourage learning by putting your vocabulary to the test. As a result, you will be required to utter words and phrases, translate, match terms to their definitions, and perform other tasks. 
The vocabulary sets are organized thematically, and you move according to Duolingo's set sequence. However, you can also try out some of the lessons if you're more experienced. You can review a lesson after you've finished it to help you remember what you learned.
Availability: Android & iOS
Languages: 20+ languages, including Japanese, Korean, Spanish, Arabic, Chinese, Russian, French, English and German.
Benefits: 
Perfect for busy professionals, allowing users to learn as little as for five minutes

 Interactive activities to boost vocabulary 

A game touch to keep things interesting 
Drawbacks: 
Learning streaks can easily be lost

A lot of ads

In-app purchases to leverage all features. 
Have an app idea? Get in touch with us here!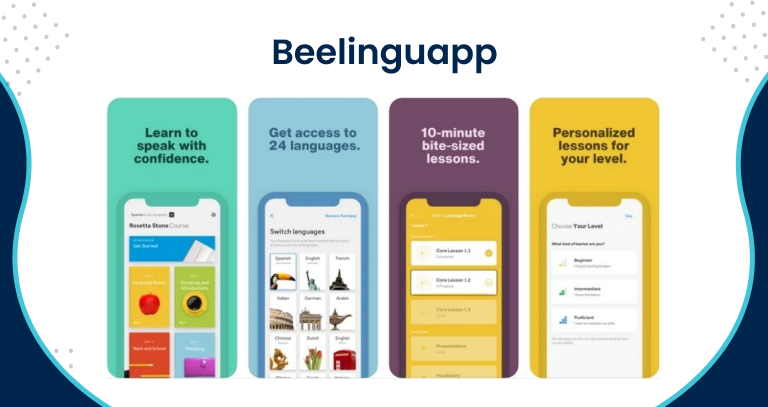 There is nothing else like Beelinguapp. One of the best free language learning apps, Beelinguapp attempts to aid students in honing their language abilities through a variety of stories, such as news articles, books, fairy tales, and more. 
Each narrative is presented in two languages, one at the top and one at the bottom of the page. You may customize your settings; however, having one be your native language and the other be your target language often works well. There is audio available so you may listen to the stories in either language in addition to reading them side by side in both languages.
Availability: Android & iOS
Languages: 13 languages, including Japanese, Italian, Russian, Spanish, English, Chinese and Korean 
Benefits: 
It allows you to focus on a target language

Offers songs, lyrics and stories for better learning

Audio for stores available 
Drawback: 
 Limited stores for a free account 

Improper grammar explanations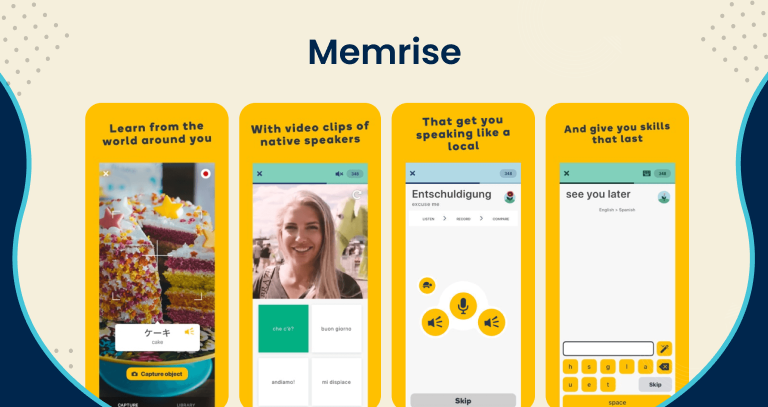 Even while the free edition just provides you with a tiny taste of everything Memrise has to offer, it may still be used to learn some vocabulary and determine whether you like the user interface. 
Memrise's free edition gives you the chance to study and review words and phrases. You can practice learning your target language in whichever language you feel most at ease (probably your native language). One amusing trick, though, is that if you already speak one foreign language, you may use those abilities to learn another target language. For instance, if you already know Spanish, you may attempt learning Portuguese while brushing up on your Spanish by designating it as your learning language.
Availability: Android & iOS
Languages: 200+
Benefits: 
Videos for a more practical understanding 

Flashcards for a better vocabulary formation 

Features like reviews, grammar explanations and video modes
Drawbacks: 
Requires a paid plan to use most features

Restricted language output

Unreliable flashcards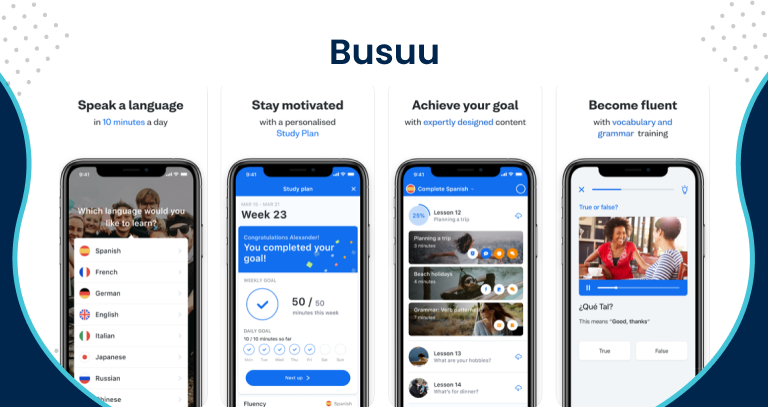 Like using flashcards to study? You may get your flashcard fix with Busuu's free edition while weighing the pros and cons of purchasing a full membership. 
You may use busuu's flashcards to help you increase your vocabulary by downloading the app for free. This is only a portion of what busuu provides to premium customers, so if you enjoy the format, you could think about subscribing to have access to native speaker conversations, tests, grammar drills, official certificates, and more.
Availability: Android & iOS
Languages: 12, including Chinese, Russian, Portuguese, Italian and Japanese. 
Benefits: 
Users can set personalized goals

Comprehensive explanations for grammar and culture

Comprehensive checks for vocabulary
Drawbacks: 
Questionable quality 

Lacks the entertainment value 

Incorrect explanations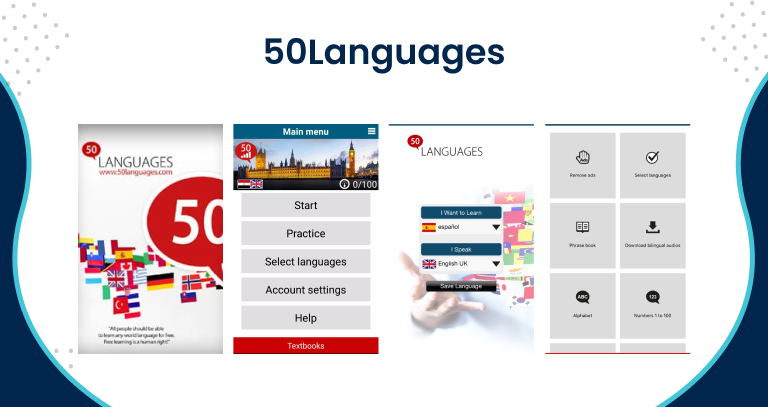 Look no further than 50Languages if you're a beginner wanting to kickstart your language study. 
Basic vocabulary instruction is the focus of 50Languages, which provides a wealth of free tools for doing so. You may utilize the app's free lessons, exams, and activities to brush up on some of the most important vocabularies and learn new words. 
There are also in-app purchases available to disable adverts and access more content.
Availability: Android & iOS
Languages: Over 50 languages, including Spanish, Russian, German, English, Arabic, Chinese, Japanese and more. 
Benefits: 
High-quality content

A lot of language options 

You can choose language skills
Drawbacks 
The interface is not user friendly 

Complicated lesson formations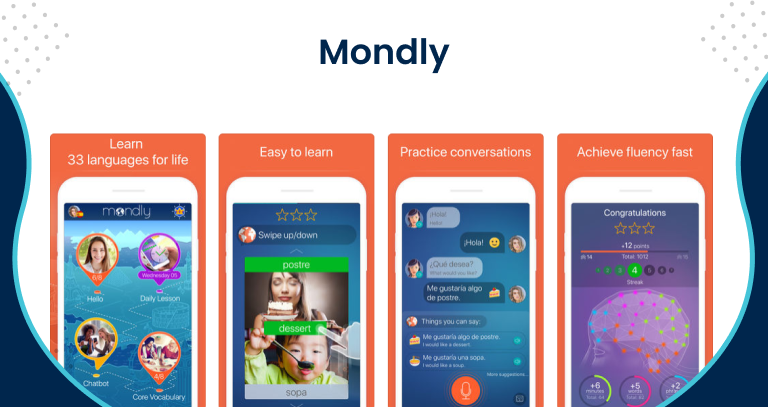 You may sample a little portion of the Mondly app's potent learning punch without investing a thing. 
With this app you can access the initial foundational content as a free Mondly app user and you will also get access to continuous content that you can use to establish a study schedule, such as a new lesson every day, a quiz every week, and even monthly challenges. 
Don't worry if you discover that you enjoy having free access but would want additional content. You may have access to more classes, dialogues, vocabulary builders, conjugation tables, and other features by purchasing a premium membership.
Availability: Android & iOS
Languages: Includes 33 languages like Arabic, French, English, German, Italian, Japanese and more. 
Benefits: 
Interactive learning methods 

A sense of competition  

A separate app for young learners 
Drawbacks: 
Complicated interface

Lack of level distinctions 

Over-priced premium packages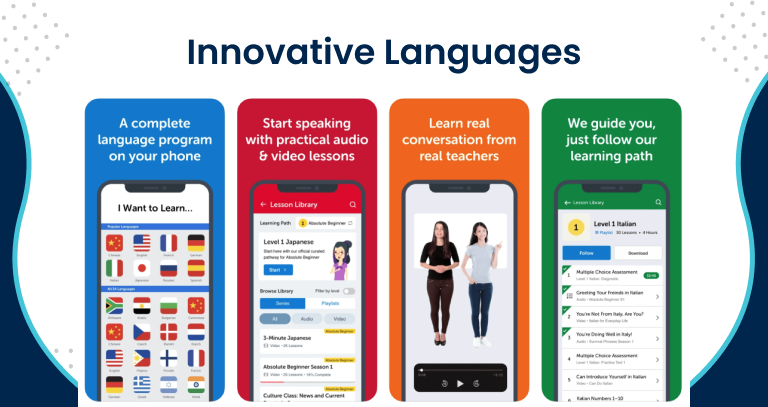 Want to guarantee that you regularly have updated learning materials? You may get new information every week with the Innovative Language app without paying any money. 
This is due to Innovative Language's weekly release of new free audio and video courses. You may easily include these free resources into your study routine. Still, if you want to test out Innovative Language's additional services, you might want to think about signing up for a free trial. 
With the premium language course from Innovative Language's free trial, you get complete access to an extensive collection of audio and video courses, lesson notes, conversations with audio, your own personal word bank, and more. If you enjoy it, you may want to think about subscribing for ongoing access.
Availability: Android & iOS
Languages: More than 30 languages, including Russian, Korean, Japanese and French
Benefits: 
Interesting learning approach 

Practical lessons 

You can choose the language, level and topics
Drawbacks: 
Lessons lack organization 

Content quality is not consistent 

Not-so-engaging videos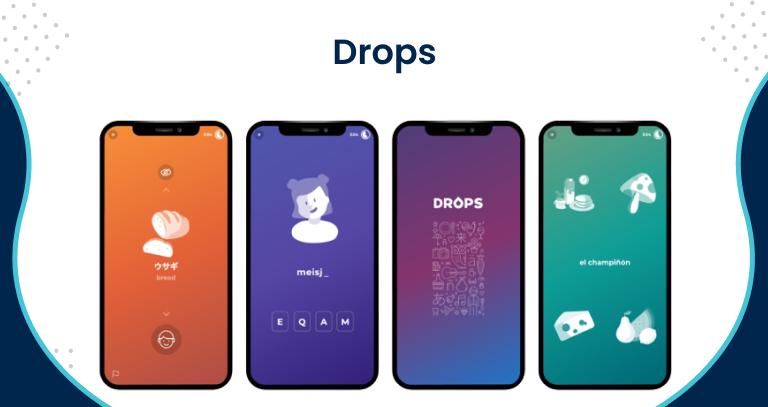 Watch your vocabulary expand as you put in your daily five minutes of effort! 
Yes, Drops promises to accelerate your language learning to just five minutes each day. 
Drops use visual learning to match words in your target language with visuals. By doing so, you may avoid associating terms in your target language with their English equivalents and instead focus on their genuine meanings. And there are plenty more terms to learn on the app. There are around 1700 divided into 99 subjects for each language. 
The most excellent part is that everything is free and you can subscribe for limitless learning time if your Drops addiction is simply too powerful to be contained in five minutes a day, but that might be harmful to all your Drops users.
Availability: Android & iOS
Languages: 45 languages, including Korean, Chinese, Japanese, Italian and more. 
Benefits: 
A sizable word bank with a wide range of themes 

Learning via repetition

The capacity to omit words 
Drawbacks: 
No grammar lessons or explanations 

Hardly any audio 

No experience in talking

Hire App Developers For Your Projects Now
Honestly saying, building a language-learning app is easier than you seem. And, to build the right app, you can hire app developers from countries like India to meet all your project requirements under the right budget. 
Contact us to know more.