The introduction of the World Wide Web about three decades ago ushered in the Information Age. It's 2022 and information has become a commodity that we can quickly and widely disseminate through our internet-enabled smartphones and computers.  Over the years, we've come to rely on the internet for a range of day-to-day tasks such as shopping, learning, entertainment, and work. In the process, we generate a lot of sensitive information.
All the information we generate has value and with the world now firmly in the digital age, data has become a currency. As a result, there are a lot of scary individuals coming after the valuable information that we inadvertently put out there. It's not only individuals that are at risk of a cyberattack but also companies that store, process, or transmit personal data. Symantec's 2019 Internet Security Threat Report shows that attacks on businesses are up 12 percent.
Start-Ups are Particularly Vulnerable
Every company, whether it's a tech giant or a small business, has vulnerabilities that hackers could exploit. However, young start-ups are more vulnerable to cyberattacks and data breaches compared to larger, established businesses. And given their propensity for embracing new technologies and the lack of robust cybersecurity infrastructure, this is no coincidence. Reports show that 43% of all cyberattacks target small and medium-sized businesses, including start-ups.
Do not make the mistake of assuming that your start-up, due to its size, is not a target for cybercriminals. Start-ups have customer records that may contain information such as credit card numbers, medical records, social security numbers, and personal information (including birthdate, address, identification number, etc.). Hackers will try to steal this information from your organization, often with potentially devastating consequences.
Types of Cyber Risks Facing Start-Ups In 2020
Cyberattacks targeting young start-ups and other small businesses will continue to increase unless business owners do something about it. As a start-up entrepreneur, the most important thing you need to do is acknowledge the threat.
By truly understanding that you are a target of cybercrime, you have made an important first step toward better cybersecurity protection. Speaking of which, here are the types of cyber risks facing start-ups in 2022.
Phishing
Constituting more than 90 percent of all attacks, phishing is the most common form of cyberattack targeting businesses and individuals. Phishing is a form of social engineering tactic designed to trick the victim into sharing sensitive information such as usernames, passwords, and other sensitive information. A phishing attack often takes the form of an email directing you to a fraudulent website that is designed to look like a legitimate site.
Ransomware
Ransomware is a form of malware that is designed to encrypt or lock down a company's mission-critical data until the victim pays some cash. Hackers prefer payments in the form of cryptocurrencies such as Bitcoin because they are harder to trace compared to cash or online transactions.
Data Leakage
A data leak is an unauthorized transfer of confidential information from within a business to an external environment. In such an incident, sensitive or classified information seeps to the outside world. A data leak can be intentional or unintentional. The information exposed through a data leak may include contact info, user credentials, payment card information, etc. Data leakage is common in start-ups.
Ways to Secure Start-Ups
Any business that relies on technology to store and manage customer information is a potential target for a cyberattack. Despite their small size, start-ups are not exempt from cyberattacks and data breaches. In fact, start-ups and other small businesses are a favorite target for cybercriminals due to their lack of strong cybersecurity systems. So, what can start-up entrepreneurs do to ensure that their businesses do not fall victim to these attacks?
Assess Risks and Vulnerabilities
A risk assessment helps you identify where your company is most vulnerable and take the necessary steps to fix these weaknesses. By assessing risks and vulnerabilities in your system, you can effectively defend against the wide range of cybersecurity threats out there. Start by auditing the most valuable data and information in your possession including customer information, intellectual property, employee data, and other records.
Install Antivirus Software
Install reliable anti-virus and anti-malware software on every laptop or desktop in your company to protect your system from malicious code.  Antivirus refers to a set of programs designed to protect your system from malicious programs. Malware may include viruses, trojans, spyware, etc. Antivirus software can also remove glitches and unwanted programs to improve performance.
Secure your Wi-Fi network
A virtual private network (VPN) provides online privacy and anonymity by creating a private network in a public internet connection. Many large organizations use this service to protect sensitive data, and you can do the same for your start-up. A VPN on your router at the office will ensure that your office Wi-Fi network is encrypted, secure, and hidden. It provides a private connection and protects your office network against online threats.
Hire IT Services
Hackers often target start-ups due to their lack of a robust cybersecurity infrastructure as well as experience in IT security. As a start-up entrepreneur lacking the resources to invest in a strong cybersecurity system for your company, hiring IT services from a company that specializes in IT security gives you a chance to focus on expanding your business.
Backup Your Data
Backing up your data in the cloud and locally is important for a variety of reasons. Having a reliable backup is essential to start-up cybersecurity. A good backup strategy ensures that mission-critical data is available for restore in the event of a cyberattack, say a ransomware attack that encrypts your files.  You can use your backup to restore your data from the cloud and start afresh in the event of such an attack.
Limit Access to Company Information
The amount of information your vendors have access to can pose a cybersecurity risk, and most start-up entrepreneurs are not aware of this. Check your vendors' cybersecurity controls as part of the vetting and onboarding process. Items to look at include how they store data, compliance with data protection regulations, access control, etc.
Employee Training
Employees are often said to be a weak link in a company's cybersecurity system. Most data breaches can be traced back to negligent employees, contractors, and third parties. Employee actions such as continued use of default passwords, loss of company smartphones, etc. can easily result in a data breach. Employee training on cybersecurity best practices can greatly reduce the risk of an attack.
Build a Security Centric Culture
Developing a security-centric culture within your start-up, it's one of the most effective ways to secure your start-up's data. Encrypting mobile devices used for work purposes, blocking access to websites that pose cybersecurity risks, and making your employees use strong passwords reduce the risk of attacks and make it clear that you are serious about cybersecurity.
Cybersecurity is increasingly becoming a concern for businesses all over the world. Due to their propensity for embracing new technologies and the lack of robust cybersecurity infrastructure, start-ups are a favorite target for cybercriminals.
For a start-up entrepreneur, defending against cyberattacks and data breaches is always going to be a constant struggle. However, using IT security tools such as antivirus and VPN, backing up your data, and applying common sense policies can help you mitigate these risks.
Simple Ways To Protect Online Business Transactions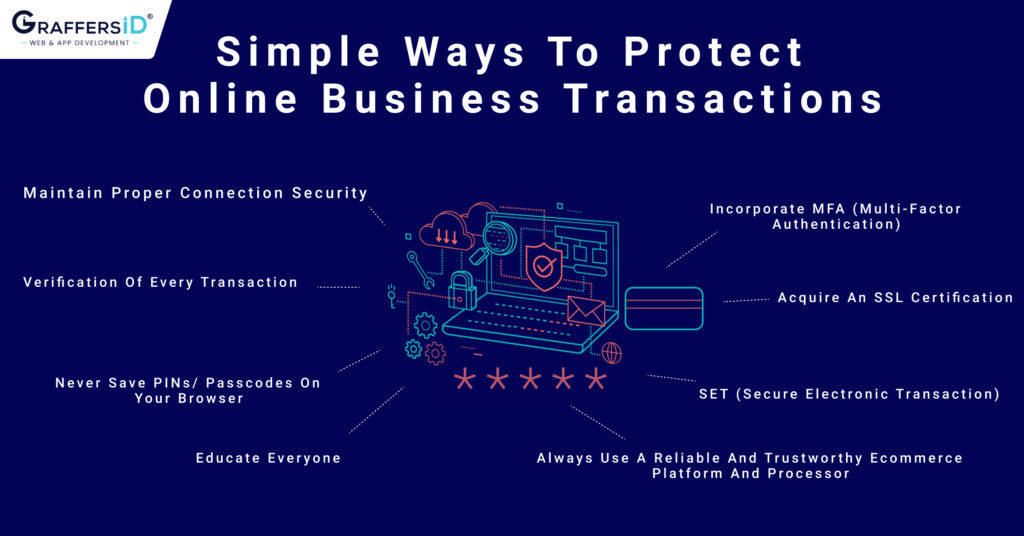 Online transactions revved up after the Coronavirus pandemic. As per Statista's Digital Payment Report, the online transaction value will be over $2,098,515 million by 2025. But, this has created equal opportunities for cyber threats. Hence, businesses should enforce proper safety steps to protect online transactions thereby, maintaining pace with the changing technologies.
If you are wondering what these precautions are, then here is a guide to help you out. Check out some of the ways to protect online transactions forever, without compromising anywhere:
1. Maintain proper connection security
Do not enter debit/credit card details when accessing through public Wi-Fi. There is a risk of free Wi-Fi being intercepted.
Cybercriminals can get between the user and the Wi-Fi connectivity and witness the transaction and influence it. Indiscreet internet connectivity can cause bank fraud.
Hence, make sure to check the legitimacy of the connection before doing any transaction.
As a shopper, it is suggested to prohibit using cybercafés to make transactions. As multiple users access one computer, you never have an idea which one has malware.
Want to know What it a WordPress Website? Advantages and Disadvantages of WordPress Website
2. Never save PINs/ passcodes on your browser
Surely saving passwords is convenient when people don't want to sign in to their ID whenever they access the browser. It is not safe to leave your desktop or mobile signed in.
Saving your account's password to the web browser is like putting your protector down ahead of your enemies.
And, if you still do it anyway, then choose a password manager. It generates a new password every time you sign in, eradicating the threat of password burglary.
3. Acquire an SSL certification
As a website owner, you don't want any cybercriminal to sneak into your site. Hence, seeking the safety of a Secure Socket Layer certificate would be helpful to you.
The safety decorum encrypts the information being transmitted from one site to somewhere else and sends it through a safe network to safeguard it from getting intercepted by a hacker.
The SSL allows PCI/DSS compliance which is compulsory for online payment acceptance. Google supports SSL certificates and marks them as a major part of its ranking process. Thus, websites with SSL certification are ranked more than the ones that don't have it.
SSL is available in three forms: a normal single-domain SSL as well as a multi-domain SSL, and a wildcard SSL. A normal SSL safeguards a solo domain at one time. It can be purchased at different authentication stages- DV, OV, or EV.
Know About How to Hire Offshore Developers for your Startup
Websites with EV SSL certificates are those which are completely vetted by a reliable Certificate Authority. It means, that once domain ownership is recognized, your business status, legal identity, and addresses are certified.
Then, rather than a plain locked padlock, an EV certificate site has the name in green text or on a green bar along with the name and location of the company that acquired the certificate, making it tougher for any cybercriminal to hack a website for a phishing attack.
EV SSL certificates are highly recommended for big eCommerce websites and businesses. They add to the credibility by showcasing to the consumers that the website is serious about safeguarding the information of its customers. You can choose reliable and reputable EV SSL certificate providers to secure your websites.
On the other hand, businesses with multiple domains need a multi-domain Secure Socket Layer. The certificate safeguards around 250 FQDNs, and the number differs from one provider to another.
Lastly, a Wildcard Secure Socket Layer can protect a solo domain with an innumerable number of sub-domains. If you own an eCommerce store and want to enlarge it, go for wildcard certification.
Investing in a suitable SSL to handle your specific business requirements is an essential factor. You should know that startups can be shredded for money, and hence they prefer cheaper certificates.
Therefore, you should consider going for the cheapest SSL certificate as it provides similar encryption power as its costlier counterparts.
4. Incorporate MFA (multi-factor authentication)
Demanding shoppers to verify their identity two times may take a bit longer, but it is the need of the hour! Multi-factor authentication involves proving identity through OTP, fingerprint, or a PIN and an email ID and password to enhance payment security.
For instance, even if a cybercriminal hacks the passcode, they can never enter the OTP or change their fingerprint.
Integrating the same for your banking transactions will lead to strong payment security.
Know About How to Find a Developer For Your Startup? 
5. SET (Secure Electronic Transaction)
SET is the collaborated effort of VISA and MasterCard to ensure the safety of all their consumers in e-payment transactions. It helps to manage important functions like:
Validating cardholders and vendors
Discretion of data and payment information
Define processes and electric safety service providers
6. Always use a reliable and trustworthy eCommerce platform and processor
Not everyone can handle all the security measures. Hence, it is suggested to look for a reputable e-commerce website and payment processor. It gives you the comfort that a third party will offer additional security and help you identify threats.
Research the most reliable websites and payment processors and then shop around. Some reliable eCommerce platforms that offer high-quality payment security are Magento, Shopify, BigCommerce, and more.
7. Verification of every transaction
Apart from using an AVS to authenticate a transaction, other methods also safeguard a customer's fiscal data and prevent fraudulency. One way is to ask customers to enter their CVV number mentioned on the card.
The transactions can also be verified without a customer's card information. For instance, one can be vigilant about irrational and unusual patterns such as suspicious bulk orders from low-earning customers. If a transaction like this is noticed, banks instantly notify the customer.

8. Educate everyone
Right from the website owners, and staff to customers, everyone should be educated about safeguarding their personal and financial information.
Make sure everyone stays updated with the online security approaches and recent data breaches. Sharing data with customers and the staff will help them recognize any unusual online activity and tackle the issue instantly.
Conclusion
Online transactions are going to last forever. People almost have become used to online shopping, even to shop for their daily necessities. While this contactless transaction eases your life in many ways, it does leave you with the risk of cyber theft.
So, never do a transaction through an unsafe medium. Payment security is important for both the owner and the customer. Take every necessary precaution when doing online transactions to protect your personal information against all threats. Incorporate the above points in daily life and safeguard yourself against cybercrimes.