The Customer's Business Requisite
The client approached Graffersid for a hybrid app, runs a renowned logistics, which is based out of Australia. The provision of tailored IT logistics at a cost-competitive price has a key differentiator which has set apart our client from other logistic service providers in the same region.
Upon approaching Graffersid, the client wished to develop a highly functional logistic app with a lot of features, but at the same time, wanted it to be user-friendly. The hybrid Android and iOS applications are needed to offer an easy for tracking consignments and manifests. The app also ensured a seamless process of picking up, dispatching and updating the status of the consignments on a centralized database that is needed for the truck drivers.
Project Related Challenges
During the creation of a hybrid mobile app specified by the customer, one of the biggest challenges faced by our team of developers is the time factor. Not only the client's requirement defined a limited timeframe but also required the implementation of robust GPS features for real-time consignment related updates. The mobile app also includes a system which could quickly and effortlessly locate consignments and manifests and should also include an easy-to-navigate interface for faster truck reporting (damages, loss of consignments, consignments recipes, delivery details)
Graffersid's Winning Solution
Our team prioritized the project based on the deadline that was requested by the client and we managed to complete hybrid mobile app for logistics in the stipulated time and according to the customer's specifications. Here are some excerpts from our winning solutions:
Our team developed a flawless hybrid mobile application that could be used on iOS and Android effortlessly. Our developers combined HTML, CSS and Javascript web technologies. Not only this ensures a short development time, but also helped in unifying the UI for both Android and iOS operating system.
The mobile app simplifies the further features which are related to trucker reporting. Through application, it has become possible to:
Directly contact truckers which consignment is ready for pick-up.
Consignment damage, delivery features could be updated through the mobile application.
Consignments could either be rejected or accepted by a trucker who is having a mobile application.
Our team devised an advanced GPS functionality for the mobile application through which consignment and trucker movement could be tracked in real-time.
The app was also equipped with barcode functionality in order to make sure that all the consignments could be easily traced whenever required.
Project Achievements
At the close of the project, our customer was completely satisfied with the mobile application that we built. Not only did the application meet customer specifications, but we also made sure it is incorporated seamlessly with the current business of the client. Here are some highlights of our achievements:
 By refined the overall structure of the mobile app and create a user-friendly interface, we made sure that any user of the application, from tuckers to managers can use the application without any difficulty.
With the aid of mobile applications, the customer experienced a drastic improvement in the efficiency of the trucker and also achieved faster consignment tracking.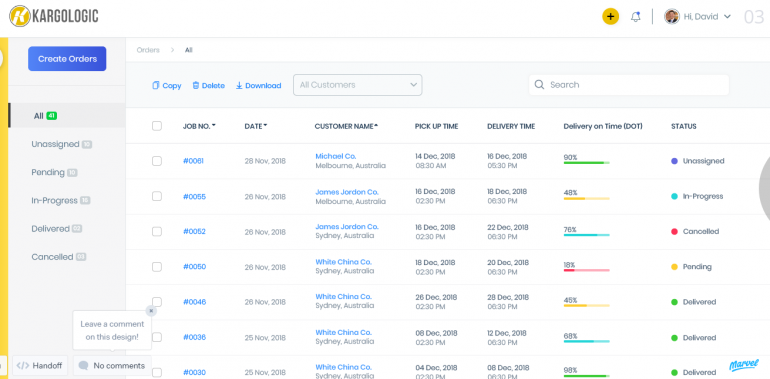 Basic features to be included in the application:
Features of Application for Customers:
User registration
Login
Dynamic Menu Integration
View and Edit Profile
Forgot Password with Recovery Options
Google Maps for Navigation
Set Pick-Up and Drop-Off Location
Select Vehicle Type for Relocation of Goods & Commodities
Confirm or Reject the Order Move
View Current and Future Move History
Fill Order Details of Each Commodity
Display Estimated Fare Based on the Distance
Invoice Received After Successful Attempt
Notify Customers for Acceptance, Pick-Up, Drop-Off, Rejection and Cancellation of the Order
View Current and Future Move History
Ratings and Reviews for Drivers
Features of Application for Driver:
Signup and Login
Forgot Password with Recovery Options
Google Maps for Navigation
Fill Basic Driver Information
View Move History
View and Edit Profile
Notification is Sent to the Driver in Below Scenarios:
Request for the New Order
Update in Existing Order
Cancellation of an Order
Payment Completion by Customers
Change availability status
Invoice received after successful payment
Ratings and reviews for customers
Features for the Admin Panel
Manage Customer Profiles
Vehicle and Report Management
Manage Driver Profiles
Admin can manipulate Fare amount
Sales Analytics
After proper inspection of driver, it is approved by the Admin, if documents are appropriate
Heat Scanning: If a particular area has numerous requests, admin can find the busy area and ask drivers to find service from that particular area.
Other Interesting Modules in the App:
Easy Status Update:
The logistic service management system shows the status of the orders in the dashboard itself such as tasks that are unassigned, tasks that are in-progress, assignments that are delivered. This makes it easy for users to have a look at the status of the order.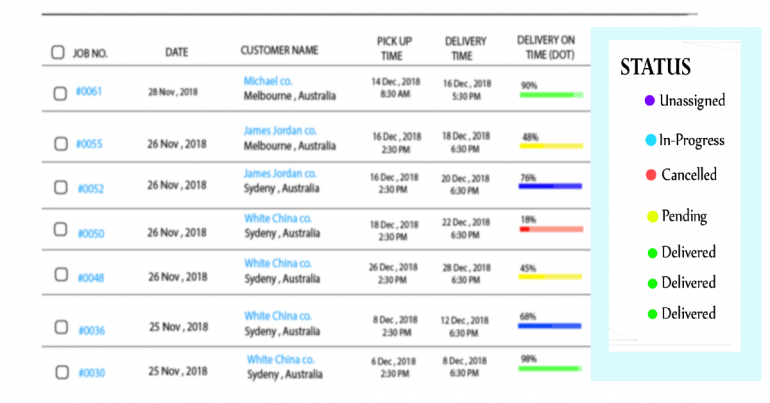 Auto-Generated Quality Analysis:
The application provides an auto-generated quality analysis report, where you can find the percentage showing the quality of delivery. If the package is delivered on time and in proper condition, it receives a maximum percentage, whereas the package which is delivered rate, receives a minimum percentage.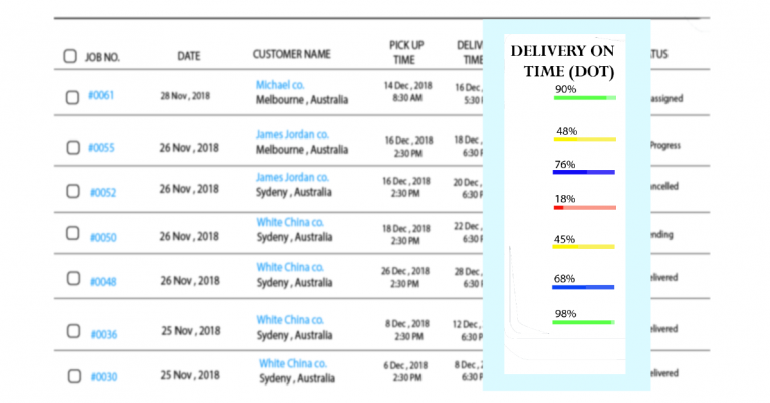 This enables the admin to determine the quality of delivery.
Easy Order Tracking:
The app enables easy order tracking and lets users get an app update of easy order tracking. The app provides update where the order has reached if the delivery is still pending, canceled or unassigned.
Route Optimization
The app constitutes of route optimization feature which helps the drivers as well as the companies to select the optimal route for delivering the goods. This also ensures the lowest cost of transportation. In addition to this, route optimization takes into account real-time events such as the condition of traffic, personal loading/unloading and availability of equipment.
Pre-planned Routes for Drivers
We included a solid pre-planned route feature, through which our client is able to assign pre-planned routes to your driver. This feature helps in saving delivery time and helped the client in taking the desired action against the driver if the driver digresses without a valid reason.
Vehicle and Driver Tracker
This feature enabled the client in tracking vehicle and driver accurately and in real-time. Installing GPS in a logistic application is a mandated feature that you need to look into. It not only aids you in tracking your own vehicle but the driver as well, which helps you in maintaining strong control over fleet performance.
Timely Driver Login Info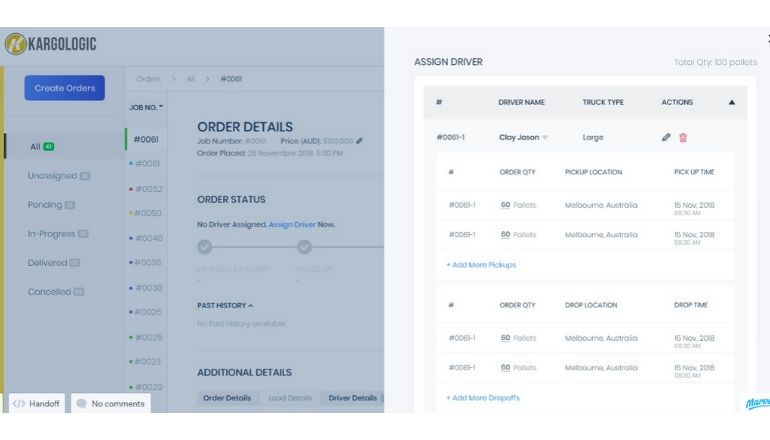 Managing driver's whereabouts is streamlines your logistic service to be more efficient and effective at the same time. Keeping a daily log provides an overview of how the business's most elemental unit is functioning, and how to replace the non-functional units with functional ones.
Driver's daily log automated through an app reduces human intervention and tampering.
Real-time Notification from Merchants                           
The logistic app developed by our team provides timely notifications from the merchants that would serve informative purposes. The app notifies you instantly about the delivery status. Once the shipment is delivered at the destination, you receive instant notification about the delivery.
Customer Feedback Portal
We included the customer feedback portal, which enables customers to reach out to our clients and help with a better review of the functioning of the logistic business. We integrated customer feedback support software, which helped our clients managing all the important data regarding surveys, delivery reports, customer satisfaction and achieved benchmarks all in one place.
Customization and Minimalistic
Business change with evolving times and thus it was accepted of us to build an app that is dynamic. A static app that is not able to evolve with changing business needs is bound to fail.
For a logistic app to continue delivering the services for a long time, it is required to involve a considerable amount of adaptability into its core.
We have added one of the features that lure people into reaching out for your application, without having to face inconvenience.
Choose Graffersid for Logistic Mobile App Development
If you are looking for an exclusive application to manage the logistics and improve the company's visibility across the supply chain, then Graffersid is here to assist you. Our team of developers has extensive experience in creating a wide range of mobile applications, be it for entertainment, business or lifestyle.  The best part of working with us, we customize our services to provide meet your requirements at cost-effective rates.
Contact us and see how our exclusive mobile app development services can give your business that needed boost!