By now, most business owners understand the importance of digital marketing and they have started investing on it. And undoubtedly, SEO (or search engine optimization) plays a major role in brand perception, traffic, and overall sales. Having the ability to appear prominently in Google search results holds a lot of power, which is why investing in SEO makes a lot of sense.
When you hire an agency that works with a white label SEO company, you may be focused on creating valuable content and showing how relevant your site is to both internet users and Google bots.
But if you want to rank well in search engine results pages (SERPs), you need to do more than write stellar blog posts or pick the right keywords to target.
The truth is that the experience your website provides matters a lot. In fact, it won't really matter how perfectly optimized your content is if web visitors become frustrated or confused when they arrive on your site.
And in most cases, this frustration and confusion can be traced back to bad website design.
To improve your website UI UX design prototyping, you can consult GraffersID: a web and mobile app development company.
Consequences of Bad Web Design

The internet is always evolving, which means that search engines have to constantly play catch-up in order to provide the best results to users. In the early days of the web, site design wasn't nearly as sophisticated as it is today. (We all remember those garish websites that look like they were created in Microsoft Paint!)
But now, web users expect that the sites they visit – and the brands they support – will provide an impeccable experience from start to finish. If these expectations aren't met, your business could struggle as a result.
Simply put, customers will abandon your site if your user experience (UX) is poor. Amazon Web Services reports that 88% of online shoppers won't return to a website after having a bad user experience. Other data shows that around 70% of online businesses that fail do so because of subpar usability.
What's more, around half of all consumers say that poor mobile optimization annoys them and that they're less likely to engage with companies who fail to optimize for mobile accessibility. Considering that approximately 50% of all web traffic now comes from mobile users, you'll end up driving away a significant portion of potential customers if you don't provide a great website experience across all devices.
Read Also: 7 reason use good UI design
Customers will decide whether they like your website within just a few short seconds. That means you have very limited time to capture a user's attention and make a positive impression. And if you don't impress human users, you'll have a tough time convincing search engines to like your site.
When visitors depart your website en masse, that's a red flag to Google. Typically, a website that features poor design will have a higher bounce rate, slower loading speeds, interactivity delays, a lack of site security, intrusive interstitials (like full-page pop-ups), and accessibility issues for mobile users.
Since all of these elements are also among Google's ranking signals, that means that poor web design can have a huge impact on your site's ability to rank well in search results.
In the end, poor web design can hurt your ability to connect with customers and adhere to Google's best practices. Both issues can keep you from achieving your ranking goals. And while there are certainly other important aspects to SEO, your other efforts won't pay off if you don't have a solid website to start with.
Good Design Can Translate to Great Rankings

Of course, the reverse is also true: having good web design will make it more likely for your site to rank well in SERPs. That doesn't mean you won't have to worry about the thousands of other ranking signals, but providing a great user experience is something that Google and web users find extremely valuable. UI UX design prototyping will make it much easier for you to make ranking progress.
Generally speaking, good web design is both visually appealing and user-friendly. It should be both attractive and functional. Assuming all other factors are relatively equal, Google will usually reward sites that are speedy, accessible, and easy to navigate.
Read Also: 5 Design and Development Tools for Remote Team
That's especially true with one of Google's latest algorithm changes. After about six months' notice, the Page Experience update launched in early June 2021. This update involves, among other things, Google's new Core Web Vitals; these measure specific criteria that determine the quality of the user experience on a given page.
Whether you're doing a major website overhaul or you just want to make a few impactful changes, you'll want to keep the Core Web Vitals in mind and make sure your site adheres to current design best practices. But what exactly should you change to improve your chances of ranking well in search?
Web Design Improvements to Make For Better SEO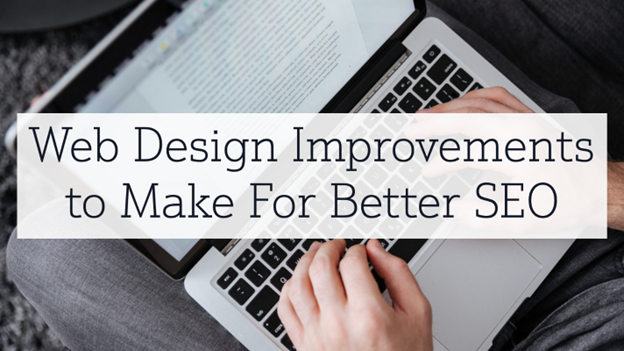 While most web users will want to visit sites that load quickly, are easy to navigate, and that are attractive to the eye, nailing down exactly what that means for your design can be tough.
In order to make the changes that can boost your rankings, you'll need to understand the essential elements of UX – or what makes a great user experience – and what Google wants to see.
With that in mind, here are some web design improvements you can make for better SEO.
1. Keep Things Simple:
When it comes to website navigation, you should err on the side of simplicity. Although you might be tempted to prioritize how your website looks, your design choices shouldn't come at the expense of user experience.
If you force website visitors to hunt for the information they need, they'll probably give up.
Your website menus should be easy to access and understand, while your URLs should be as straightforward as possible. Adding a search bar on all pages is also recommended!
Read Also: Here is the Difference Between UI and UX Design 
2. Speed Up Loading Time:
No one wants to deal with a sluggish website. If a page doesn't load within two or three seconds, it's game over. When working with a web designer, discuss the ways in which you might be able to speed up your site's loading time.
This might include compressing or eliminating large images and video content, using browser caching, getting rid of outdated plugins and scripts, improving server responsiveness, or keeping page redirects to a minimum.
Even the tiniest of delays can have adverse effects on your site conversion rate, so make site speed a priority.
3. Appeal to Mobile Users:
As we hinted earlier, a site without responsive design is essentially useless to around half of all web users.
Your site needs to be easy to read and navigate on mobile devices while providing a consistent overall experience for all users, no matter what they're using to view your pages.
Since Google actually indexes the mobile version of websites first, your rankings will depend on your ability to meet the needs of smartphone users. If your site is virtually inaccessible on anything but a PC or desktop, you need to revamp it right away.
4. Eliminate Errors:
Navigation errors (like 404 pages) are common, but that doesn't mean they're acceptable. These errors tend to occur when a page has been deleted or there's an issue with a page's URL.
Ideally, you'd want to eliminate any and all 404 errors that exist on your site – but that's a tall order. In some cases, they can pop up purely due to user error.
Still, you should try to fix any broken pages on your website, set up some redirects, and create a 404 error page that's unique and that easily allows visitors to find what they're actually looking for.
Want to Develop and Design your Website? Consult US Now
5. Rethink Your Pop-Ups:
In years past, pop-up ads were villainized (and rightfully so, in most cases). But while you should completely steer clear of those spammy pop-ups, there are certain kinds of pop-up windows that can be effective for your site's lead generation strategy.
You probably encounter websites every day that use pop-ups, but it really comes down to the frequency, the timing, and the type of window.
Keep your site's pop-ups to a minimum, delay their appearance for at least the first 10 seconds, and make sure that your pop-ups offer some kind of value to the customer (like a discount or an exclusive offer).
6. Follow Visual Design Principles:
Functionality should be your chief concern, but that doesn't mean that aesthetics should be thrown out the window. One of the factors of UI design is that you should eliminate unnecessary clutter.
A clean-looking website with ample white space and contrasting colors will go a long way. Make sure that you choose a font and font size that are easy to read across all devices.
In many cases, it's best to utilize an F-shaped layout, as this can guide the reader through the visitor experience on a given page. It's also a good idea to ensure your website is ADA-compliant, as this will ensure visitors of all abilities can get the information they need.
We know that your site's web design can often make or break your ability to rank in search results. But if you know which mistakes to avoid – and how to fix the issues you might currently have – you'll be in a much better position to achieve your SEO goals.