An IT company's growth can be accelerated with start-up entrepreneurs' advice; however, there is no definite recipe for overnight success. Read along to know the simple ways for how to grow IT company.
Today's corporate environment requires flexibility and strong organizing and planning abilities. Many individuals start businesses expecting they can switch on their systems and begin producing money, only to discover that making money in the company is considerably more complicated than they anticipated.
Finding the proper people, particularly tech expertise, is a problem businesses encounter. Due to the rapid advancement of technology, companies must sift through the small pool of talent on the market. It results in a shortage of top applicants and more outstanding fees for hiring the appropriate expertise. Due to this, most businesses are considering IT Staff Augmentation Companies.
If you want to find out how to grow your IT company, check out these 10 ways to fast-track your IT Company growth:
Ways To Fast-Track Your IT Company Growth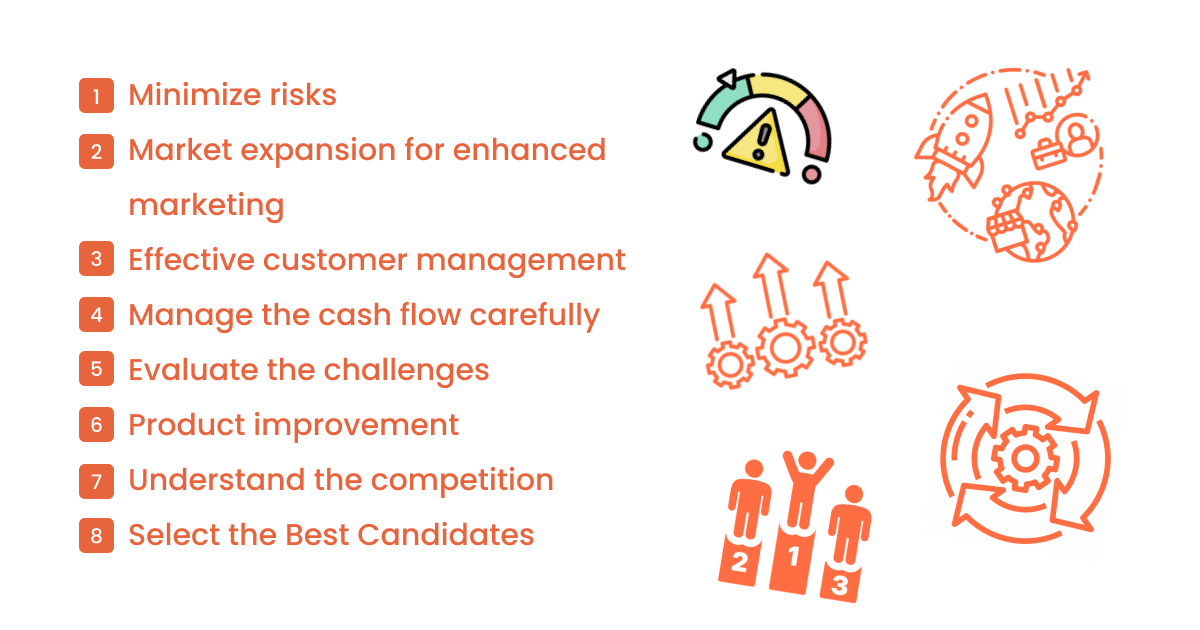 1. Select The Best Candidates
You should have a solid crew to support you in achieving your objectives before you can begin considering your business's development trajectory.
Your firm will be better prepared for future development if you have diligent personnel committed to its success. Additionally, freeing up your energy and time to concentrate on critical work will enable you to achieve your full potential and foster a collaborative work environment.
Giving prizes for outstanding work and motivating staff will improve performance, which promotes business expansion.
IT staff augmentation services can effectively solve this issue. To take care of essential tasks, you might engage experts with knowledge of a specific technology. These agreements are based on leases and increase the capability of your staff.
Businesses may employ people on a temporary or permanent basis for both short-term and long-term tasks. Additionally, companies are seeking to hire full- or part-time employees.
2. Minimize Risks
Risks are inherent in establishing and growing a business.  The external and internal threats to your business cannot be completely controlled, but you can use several techniques to lessen their effects. You can achieve this objective with the assistance of your business insurance provider.
Keep an eye on your insurance coverage. When your small business expands, you could add furniture or equipment, develop new goods or services, or expand your operation and distribution footprint.
3. Market Expansion For Enhanced Marketing
To increase your revenue, market penetration concentrates on expanding the sale of your current goods or services.
You can seek new clients and extend your reach to a group of people you haven't previously reached.
Determine the new demographics or target markets you've yet to reach but require your current product or service.
Some marketing tactics include discounts, incentives, cash-backs, coupons, and referral discounts. Market penetration is crucial to growing or extending your start-up once established.
4. Effective Customer Management
Effective client management will help you expand your firm. A high-level company strategy is to manage an efficient customer support system.
Instead of only selling the products and services, solving customer issues always builds customer trust.
Pay close attention to client issues and work to resolve them as quickly as you can. Effective customer management will result in attracting new potential consumers.
The consumer may understand the next step of product development by properly designing customer support systems.
5. Manage the Cash Flow Carefully
Your firm needs the necessary financing to grow. If you run out of funds, your business will as well. Understanding financial flow is, therefore, a crucial tactic.
Make sure you comprehend both the short- and long-term revenues necessary for your company's growth.
Even if your firm's growth results in a delay in earnings, try to keep a cash flow. Profits don't always translate into cash flow. Delays in marketing investments or paying personnel will cause various problems.
6. Evaluate the Challenges
The most satisfactory outcomes come from competition. The key to success is to not be afraid of researching and picking up tips from your rivals. Perhaps they are doing something right that you can use in your company to increase profits.
Depending on your industry, you will evaluate competition differently. It is possible to gather information about your rival restaurants by eating at their establishments, speaking with other patrons, etc. A business can, however, have far less access to competitors, like a chemicals industry.
Such a situation requires you to work with a business person and accountant to look through what the firm displays to the public. Still, any financial data you may be able to collect from the corporation.
7. Product Improvement
Try to improve all the goods and services you offer or introduce new ones. The possibility of expanding the business will be good by adding a new product.
Make yourself distinctive because hundreds of imitations attempt to capture your buyer while we produce the goods.
Let's say you run an internet business with a website or an app as the foundation. You must try to speed up the website, ensure sufficient cybersecurity, and much more. For that, you need to consider the customers' feedback.
8. Understand The Competition
Among the most important aspects of starting your business is studying your competition, even if it might not result in instant success. Consider your rivals' identities, what they are doing which benefits them, and how you could set your company apart from theirs. 
In response to these inquiries, you may be able to assist in creating a more effective business strategy by identifying the areas of your company that need more attention to grow.
Hiring for Success: Building Your Dream Team
Your IT company is only as good as the people behind it. To grow fast and effectively, you need a stellar team. Here's how to recruit and retain top talent:
Attract Top Talent
Craft compelling job descriptions: Use language that resonates with tech-savvy candidates. Highlight your company's commitment to innovation and growth.
Leverage social media: Platforms like LinkedIn are a goldmine for talent. Post job openings, engage with potential candidates, and showcase your company culture.
Employee referrals: Encourage your existing team to refer top talent. They know your company culture and can help identify candidates who will thrive.
Nurture Professional Development
Invest in your team's growth. Offer training, workshops, and certification programs to keep your employees up-to-date with the latest technologies and industry trends. A well-trained team is an asset that pays dividends.
Create an Inclusive Workplace
Diversity fosters creativity and innovation. Ensure your workplace is inclusive and welcoming to people of all backgrounds. Embrace different perspectives to drive growth.
Grow your Business Swiftly
Businesses will expand rapidly, frequently independent of the owner's or employees' management. However, some characteristics of operating lean may enable a firm to develop a limited product range, scale up rather than down, and provide a noticeable advantage over its rivals.
Business success is hard to measure, but start-ups may be a great way to produce returns if it means giving back to stakeholders. The top start-ups offer excellent, scalable products or services. The company is prepared to seize opportunities when they arise, can swiftly pivot, and is conscious of the market and its financial status.
5 Non-Technical Ways To Test Tech Company to build your product!!
The fun of Entrepreneurship is in the journey we endure.
I have been in the IT industry for quite some time now and have worked with more than a dozen IT companies. Hence, I had the privilege to watch how things work from the other side of the phone. Consider this article as the magician trying to reveal his tricks. Website and Mobile Application is a necessity in today's world, however, finding the right tech team could prove to be rather challenging for founders.
I have sent the project complete before time and I have seen the 2-month projects take a year to complete. Trust me, a single-company-fits-all model doesn't work in IT. For every need, the right fit for the IT company "may" vary. Majorly, because of the company's past experience, current state, or because of the founder's position. Nonetheless, there are ways to help you figure out if the company you are planning to hire is the right one for your idea or not.
Below mentioned 5 points are completely non-technical ways of finding out if the particular IT company is the right fit for you and your idea or not.
Hire a company based on the person you are interacting with not on the company image that you carry:
It is probably the most important part for you to understand.
Your manager/POC is the person you will be interacting with for the rest of the project so make sure to go ahead only if you like his way of working OR request the higher management for a change of manager.
It does not matter how great the company is or what it has achieved. Your project will be handled by a handful of them, not all. If those handfuls don't give you the right feel then chances are high that you will end up being unsatisfied.
Filtering the companies on the basis of their reputation may be a good initial filter. Nonetheless, in order to finalize the company from a list of final 5 filtered IT companies you have to focus more on the minute details than the IT company's reputation.
Does your Manager understand your idea? :
Let's say you liked your Manager/POC, he is hilarious and connects really well with you  BUT  does he connect equally well with your project idea?
Do these things intentionally:
Don't give the complete details on the first go:
Give the top-level information about your idea to the manager. Over the period of time, you would have definitely spotted some loopholes. You might even be confused about some technical workflow of a functionality. And, if the company is the right fit for you, your manager should be able to solve it for you. BUT, you need not tell him about your research. Let your manager figure out what is missing and come back to you. It will show how experienced he is and how well he understands your idea.
Hide the critical/tricky points:
The minute technicalities are the crux of any IT project. And every good company would ask you a thousand questions before sending you the quote. There must be some feature with alternate effects or some tricky condition that you might have spotted. Now is the chance for your manager to prove his mettle.
You probably would have to indulge in a lot more calls and would have to do multiple explanations of the same point. Just be patient to see if he is able to figure it out, however, if he can't you better be rethinking your options.
It is better to spend some time making the right decision than to rush into starting the project with the wrong IT partner and then regret the decision after having spent a few months and your hard-earned money
His suggestions will be your guiding angel:
One thing that comes naturally with experience as a project manager is the market visibility for the latest trends. The sign to see if the company takes your startup as their own baby or not is the number of questions they ask and the suggestions they come up with. A good company would ask for a reason behind every functionality. Moreover, they would even come up with some new features that you wouldn't have thought of.
Your Manager should proactively come up with innovative trends and features that will enhance your idea's effectiveness.
What the company has done in the past is good but what can do for you is what really matters.
The first thing any company shares with you is their portfolio (a lot of time, fake and irrelevant). Kudos to the company for doing a good job in the past, then again lot of things matter:
Maybe that rockstar developer/manager has left,
Maybe it was long back,
Maybe the technology was not as good,
Just a "Maybe" who knows what has changed since the time they did the project in their portfolio. Nonetheless, what matters is what can they do now.
Don't make your decision completely based on the past of the company. Try to find their current stage and usefulness. Ask the company to find some reference websites and features that they would like to incorporate into your website. Take at least 2 weeks time before finalizing a deal or making any commitments.
Are they meeting the deadlines for meetings, documentation, and reverts?
Timely delivery is more like a habit rather than a process if they are obedient from day one they will keep their promise and stay true to their words. Intentionally, set more meetings by specifying a particular time. Give them some tasks and confirm a date by which they will return back to you.
A more concrete way would be to give them a small paid part of your project like documentation, wireframing, designing, or anything else. This would put their claims to a good test. Moreover, you would also be sure of the quality of their work. This will help you set up the right expectations.
What tools do they use for Project Management?
Transparency and daily status updates are a very important part of the client to track and manage the projects. A good company will facilitate its clients with ways to easily manage and track the project remotely. Imagine the pain or insecurity of not knowing the current stage of the work or having to do multiple emails to ask your manager about the current stage.
Some good tools for non-techs are BaseCamp and Zoho.
Hope this article helps you in finding the right fit IT partner for your idea. The idea for the founders is like their baby and it deserves to be treated with equal care.
All the best, let's improve the startup success rate by making more informed decisions.

Putting Pieces Together
When starting a firm, analytical thinking, resolute organization, and meticulous record-keeping are necessary. It's essential to be aware of your competitors and adopt or enhance their effective strategies.
You can improve your firm with the right strategies and objectives and careful management of the upgrading services and technologies.
Be patient and keep your business's goals in mind at all times. To expand your business, apply the method mentioned above and keep the tactics in mind.
In the COVID age, there is an exponential need for IT personnel augmentation. IT organizations can choose staff augmentation services sans fear due to the growing quantity of on-demand experts and developers brought on by the ongoing pandemic.
Companies specializing in staff augmentation guarantee a quick hiring procedure, lower development expenses, and take care of all legal obligations and scalability needs.
Get on a call with us right away if you're seeking for top IT Staff Augmentation Company in India.
Frequently Asked Questions
1. Q: What are the key factors for growing an IT company?
A: Key factors include providing high-quality services, staying updated with technology trends, effective project management, fostering a skilled team, and maintaining strong client relationships.
2. Q: How important is innovation in growing an IT business?
A: Innovation is crucial. Adapting to new technologies, exploring novel solutions, and being open to creative ideas can give your company a competitive edge and attract more clients.
3. Q: How can I attract new clients to my IT company?
A: Develop a strong online presence, offer valuable content through blogs or webinars, showcase case studies of successful projects, and leverage social media to showcase your expertise.
4. Q: What strategies can I use to retain existing clients?
A: Provide excellent customer service, deliver projects on time and within budget, maintain clear communication, offer regular updates, and go the extra mile to meet their needs.
5. Q: Is expanding the range of services important for growth?
A: Yes, diversifying your services can attract a wider client base. However, ensure that new services align with your core strengths and expertise.
6. Q: How can networking help in growing my IT company?
A: Networking at industry events, conferences, and online forums can help you connect with potential clients, partners, and experts, opening doors to new opportunities.
7. Q: What role does hiring play in company growth?
A: Hiring skilled professionals is essential. As your projects and client base grow, having a competent team will enable you to take on more work and deliver quality results.
8. Q: Should I focus on a niche market or target a broader audience?
A: It depends on your business goals and resources. Niche markets can help you establish expertise quickly, while a broader audience might offer more opportunities for growth.
9. Q: How can I manage the financial aspect of growing my IT business?
A: Monitor cash flow, set budgets, and invest wisely in tools and resources that enhance productivity. Consider seeking advice from financial experts or consultants.
10. Q: Is customer feedback important for growth?
A: Absolutely. Feedback helps you understand your strengths and areas for improvement. Act on feedback to enhance your services and build a reputation for excellence.
11. Q: Should I invest in marketing for business growth?
A: Yes, marketing is crucial for visibility. Invest in online marketing, SEO, and targeted advertising to increase your company's reach and attract potential clients.
12. Q: How can I ensure consistent quality while scaling up?
A: Implement robust quality control processes, provide training to your team, and maintain open lines of communication to ensure that standards are met even as you expand.
13. Q: What role does technology play in growing an IT company?
A: Technology is the foundation of your business. Utilize the latest tools, platforms, and software to enhance productivity, improve services, and stay competitive.
14. Q: How do I approach partnerships and collaborations?
A: Seek partnerships that complement your services. Collaborate with other IT companies, startups, or even non-IT businesses to offer integrated solutions and tap into new markets.
15. Q: Is it necessary to have a physical office space for growth?
A: Not necessarily. With remote work and virtual collaboration becoming more common, you can grow your company without a physical office. Focus on effective virtual communication and project management.