An IT company growth can be accelerated with start-up entrepreneurs' advice; however, there is no definite recipe for overnight success. Read along to know the simple ways to fast-track your IT Company growth.
Today's corporate environment requires flexibility and strong organizing and planning abilities. Many individuals start businesses expecting they can switch on their systems and begin producing money, only to discover that making money in the company is considerably more complicated than they anticipated.
Finding the proper people, particularly tech expertise, is a problem businesses encounter. Due to the rapid advancement of technology, companies must sift through the small pool of talent on the market. It results in a shortage of top applicants and more outstanding fees for hiring the appropriate expertise. Due to this, most businesses are considering IT Staff Augmentation Company.
If you want to find out how to grow your IT company, check out these 10 ways to fast-track your IT Company growth:
Ways To Fast-Track Your IT Company Growth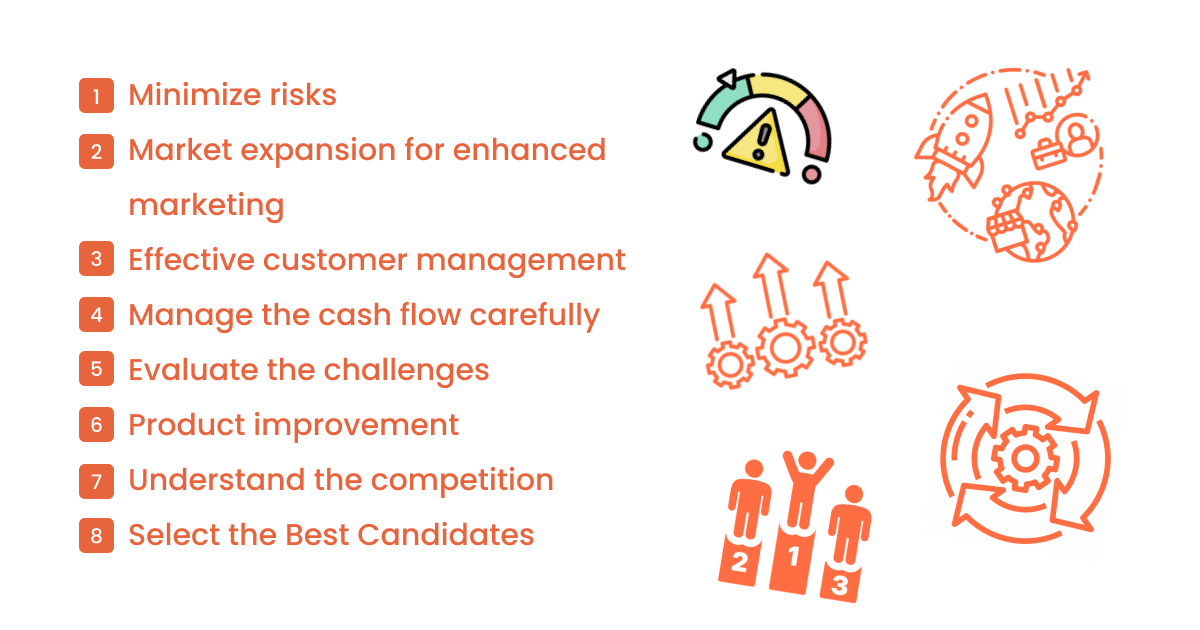 1. Select The Best Candidates
You should have a solid crew to support you in achieving your objectives before you can begin considering your business's development trajectory.
Your firm will be better prepared for future development if you have diligent personnel committed to its success. Additionally, freeing up your energy and time to concentrate on critical work will enable you to achieve your full potential and foster a collaborative work environment.
Giving prizes for outstanding work and motivating staff will improve performance, which promotes business expansion.
IT staff augmentation services can effectively solve this issue. To take care of essential tasks, you might engage experts with knowledge of a specific technology. These agreements are based on leases and increase the capability of your staff.
Businesses may employ people on a temporary or permanent basis for both short-term and long-term tasks. Additionally, companies are seeking to hire full- or part-time employees.
2. Minimize Risks
Risks are inherent in establishing and growing a business.  The external and internal threats to your business cannot be completely controlled, but you can use several techniques to lessen their effects. You can achieve this objective with the assistance of your business insurance provider.
Keep an eye on your insurance coverage. When your small business expands, you could add furniture or equipment, develop new goods or services, or expand your operation and distribution footprint.
3. Market Expansion For Enhanced Marketing
To increase your revenue, market penetration concentrates on expanding the sale of your current goods or services.
You can seek new clients and extend your reach to a group of people you haven't previously reached.
Determine the new demographics or target markets you've yet to reach but require your current product or service.
Some marketing tactics include discounts, incentives, cash-backs, coupons, and referral discounts. Market penetration is crucial to growing or extending your start-up once established.
4. Effective Customer Management
Effective client management will help you expand your firm. A high-level company strategy is to manage an efficient customer support system.
Instead of only selling the products and services, solving customer issues always builds customer trust.
Pay close attention to client issues and work to resolve them as quickly as you can. Effective customer management will result in attracting new potential consumers.
The consumer may understand the next step of product development by properly designing customer support systems.
5. Manage the Cash Flow Carefully
Your firm needs the necessary financing to grow. If you run out of funds, your business will as well. Understanding financial flow is, therefore, a crucial tactic.
Make sure you comprehend both the short- and long-term revenues necessary for your company's growth.
Even if your firm's growth results in a delay in earnings, try to keep a cash flow. Profits don't always translate into cash flow. Delays in marketing investments or paying personnel will cause various problems.
6. Evaluate the Challenges
The most satisfactory outcomes come from competition. The key to success is to not be afraid of researching and picking up tips from your rivals. Perhaps they are doing something right that you can use in your company to increase profits.
Depending on your industry, you will evaluate competition differently. It is possible to gather information about your rival restaurants by eating at their establishments, speaking with other patrons, etc. A business can, however, have far less access to competitors, like a chemicals industry.
Such a situation requires you to work with a business person and accountant to look through what the firm displays to the public. Still, any financial data you may be able to collect from the corporation.
7. Product Improvement
Try to improve all the goods and services you offer or introduce new ones. The possibility of expanding the business will be good by adding a new product.
Make yourself distinctive because hundreds of imitations attempt to capture your buyer while we produce the goods.
Let's say you run an internet business with a website or an app as the foundation. You must try to speed up the website, ensure sufficient cybersecurity, and much more. For that, you need to consider the customers' feedback.
8. Understand The Competition
Among the most important aspects of starting your business is studying your competition, even if it might not result in instant success. Consider your rivals' identities, what they are doing which benefits them, and how you could set your company apart from theirs. 
In response to these inquiries, you may be able to assist in creating a more effective business strategy by identifying the areas of your company that need more attention to grow.
Grow your Business Swiftly
Businesses will expand rapidly, frequently independent of the owner's or employees' management. However, some characteristics of operating lean may enable a firm to develop a limited product range, scale up rather than down, and provide a noticeable advantage over its rivals.
Business success is hard to measure, but start-ups may be a great way to produce returns if it means giving back to stakeholders. The top start-ups offer excellent, scalable products or services. The company is prepared to seize opportunities when they arise, can swiftly pivot, and is conscious of the market and its financial status.

Putting Pieces Together
When starting a firm, analytical thinking, resolute organization, and meticulous record-keeping are necessary. It's essential to be aware of your competitors and adopt or enhance their effective strategies.
You can improve your firm with the right strategies and objectives and careful management of the upgrading services and technologies.
Be patient and keep your business's goals in mind at all times. To expand your business, apply the method mentioned above and keep the tactics in mind.
In the COVID age, there is an exponential need for IT personnel augmentation. IT organizations can choose staff augmentation services sans fear due to the growing quantity of on-demand experts and developers brought on by the ongoing pandemic.
Companies specializing in staff augmentation guarantee a quick hiring procedure, lower development expenses, and take care of all legal obligations and scalability needs.
Get on a call with us right away if you're seeking for top IT Staff Augmentation Company in India.