Though the coronavirus pandemic caused a sudden surge in the trend of working remotely, we can not deny the fact that remote working is associated with a lot of taboos. Did you know that before the pandemic struck and took millions of lives with it, most in-house workers weren't even at their desks 60% of the time? 
And, though we do not attempt to put shade on any working environment, remote working is here to stay. And if you are looking to hire a remote developer, there are some strategies you can embrace to boost their productivity. Regardless, like any other in-office worker, the productivity of a remote worker can be affected by a number of reasons. 
So, if you are looking to navigate the complexities of managing a virtual team and meet ends at the right time, you are at the right place. Read on to discover the benefits of hiring remotely, factors affecting your virtual team's productivity, and seven strategies to help you skyrocket their productivity. 
Why Should You Hire Remote Workers?
Believe it or not, companies do benefit from a remote working module, probably as much as the workers do. In addition to sticking to proper work and life balance, remote working does boost productivity, creativity, and flexibility. 
Can I hire remote developers from India? 
With most companies offering remote jobs, salary expectations have skyrocketed in the past two years. Employers can no longer use working remotely as an excuse to offer lower pay. However, if you want to cut down your cost, hiring remote developers or other people can help you stick to your budget while getting in touch with global talent. Because the cost of living and sustaining in India is generally lower than in the USA, you might be able to hire remote developers from India at a much lower rate. 
Moving forth, here are the top benefits of hiring Indian remote workers: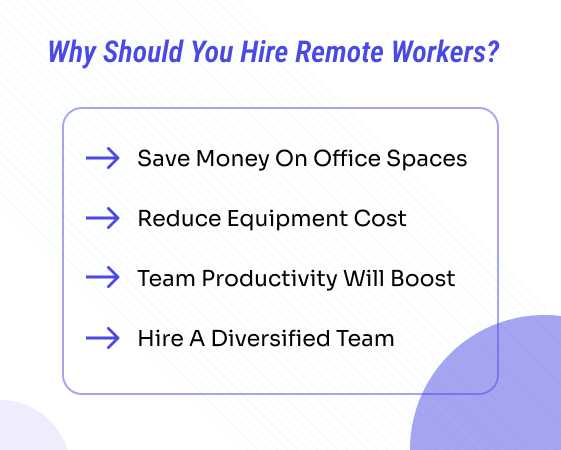 Save Money On Office Spaces
If you are an emerging tech company, you would either have to rent out an office space or take space in a co-working space. But, with remote working, you don't need to do either. This means you can cut down your biggest expense: the rent. Moreover, rent is not the only significant expense you would have to deal with if you follow an in-office module. For starters, you must provide drinks like a clean water supply, coffee or tea. Then, there are also team outings and fun weekends. If you, however, plan to manage everything remotely, you can do everything virtually. So, no more providing snacks, drinks, and bathroom supplies or paying for the rent. Moreover, hiring an Indian remote worker will actually fit your budget, and you'll be able to grab real talent, thus improving your services. 
Reduce Equipment Cost
If you go for a remote module through an offshore development center, you won't be required to provide your team with equipment like a laptop or a PC. Remote working follows a BYOD culture, i.e., Bring Your Own Device. In short, you will be able to cut down equipment costs like purchasing or renting intelligent devices for an entire team. Moreover, you'll also save on repairs, updates, and routine maintenance. 
Team Productivity Will Boost
If you are a creatively-driven company like a digital marketing company, you'll know the benefit of how a comfortable space can boost creativity. Hiring remote Indian developers from an offshore development center gives your team flexibility and saves time on traveling to and back from the office. Moreover, the team will be able to choose a device of their choice, and having familiar devices can help you work better. With traveling time cut short and a sense of familiarity, the team will be able to give their best with no stress. This will lead to improved profits. 
Hire A Diversified Team
If you hire remote developers from India, you won't be restricting your team to geographical limitations. This means you can hire actual talent and not just local residents. In fact, remote working has contributed to hiring the best professionals, especially from India.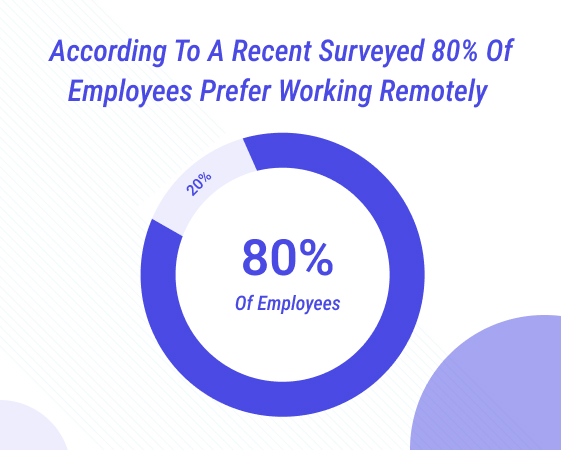 Challenges Faced In A Remote Working Module
Frankly speaking, remote working has its own sets of pros and cons. And while there are a number of noteworthy benefits, you can not deny some challenges companies face. For starters, hiring outside the office premises can allow sensitive information to enter the real world, causing a data breach. However, you can adopt some corporate settings to avoid it. 
Furthermore, there would be no one to monitor employees. This is perhaps the most significant challenge and the only reason why most companies have denied this module. Lack of monitoring can cause the employees to slag, thus affecting productivity. Though remote working has helped several companies increase team productivity, some employees might take this for granted and find loopholes. 
While data protection and device security can be protected with automotive software, here are vital factors affecting your remote team's productivity. 
Reasons For Lower Team Productivity 
Increased Distractions
Working from the office means your team would be restricted to a professional environment where there will be minimal distractions. However, working from home can cause an increased number of distractions. Like, the family would be at home or working while lying on the bed.
Lower Monitoring
Monitoring is easy when working from the office. But, in a remote environment, no one would be there to measure productivity and keep stats on your targets. Employees may feel like spending more time with family or friends or doing work unrelated to the office. 
No Social Touch
From team meetings to cultural fests and days out, companies find a way to help employees socialize with other employees. This helps build a connection between fellow team members. However, when you hire remote developers, they might feel disengaged from their team. This might stop the employees from reaching out to their superiors to gain guidance or resolve a problem, thus affecting their productivity. 
Inability To Fix Technical Errors Fast
If you are a tech company, you must be relying on technology. And, device or network errors are pretty common when using technology. Your team would have to ensure the proper functioning of all digital devices. So, one a device shows a technical glitch, not all employees would be tech-savvy to solve those problems on their own. This will affect the productivity of the employees. 
Lack Of Proper Information
Several corporate businesses try their best to protect against data breaches. An in-office environment where all employees would report to the office would be able to access this information after clearing several security checks. But, when it is a remote setting, the company won't provide all the information handy to all employees. This means, that the team would not have enough information on the projects they are working on and would not be able to understand the final objectives. 
7 Strategies To Improve Productivity Of Remote Workers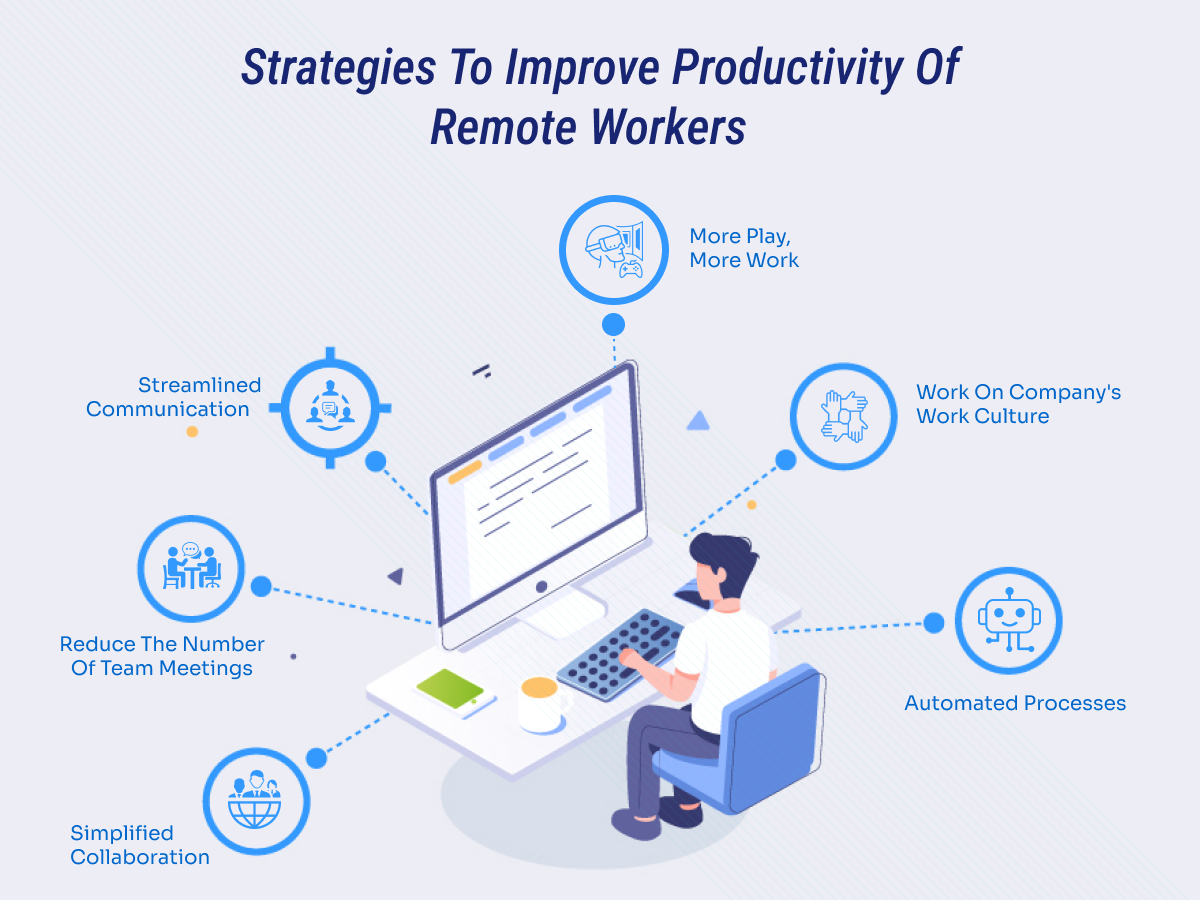 If you have made up your mind to hire remote developers from India and get access to actual talent, the following strategies will help you preserve a healthy working environment for your virtual team and improve their productivity. 
Though the remote setting is the new normal, several companies try to track their employees through tracking software, constant team meetings, and organizing no team events. Regardless, a survey on remote settings revealed that one-third of hiring managers noticed an increase in productivity due to working remotely. Moreover, 90% of workers reported higher productivity when working remotely. 
However, if you feel like your productivity has decreased since you adopted a remote setting, here are the top seven strategies you can embrace to boost your team's productivity. 
1. Streamlined Communication
It's undeniable that effective communication is an excellent concept of brainstorming, good team connection and higher productivity. And, if it's a remote setting you are following, effective communication is pretty important. However, there should be a balance. Too much informal communication can bring things downside, degrading productivity. 
In short, to enhance proper communication, give space to your employees and allow them to depict their team working skills. Honestly speaking, sometimes a thumbs-up emoji or a smiley face can bring your employees closer. In fact, according to a study, proper usage of emojis helped 73% of people in faster idea sharing. 
To streamline communication, here's what you can do:
Lower communication channels 
Instead of embracing multiple communication channels, ask your team to use a single communication channel like Skype for proper communication. 
Work on your internal communication policy
To reconstruct your internal policy for proper communication, define elements like goals, channels, frequency and time when contact is required. Also, record everything and update all team members.
2. Work On Company's Work Culture
To skyrocket your team's productivity, committing to a company's ethical work culture is essential. Everything comes down to how much your employees enjoy working for you. If a culture is too stressful and full of authoritarian figures, employees won't be able to add that spark of creativity and will be restricted to something too basic. 
So, to redesign your company's culture, here's what you can do: 
Higher productivity comes from a proper work-life balance. Make sure to give your employees adequate flexibility so they can give themselves some time and work properly when they are at it. 
We're not just talking about health insurance. While it is pretty important, make sure to offer mental health assistance to your employees as well. 
Promote core values held by the company
You can create several processes or events that promote company values to help with employee engagement and proper goal completion. 
Allow Your Team To Take Control Of Their Time
Remote working can blur the thin line between work and life, especially if they have family or pets living with them. Moreover, the team might lose touch with reality, thus affecting their productivity. 
To encourage team members that they are perhaps in control of their time, you must help them eliminate distractions or unproductive habits. To enhance your team's productivity, you can do the following: 
Share information on proper time management or organize webinars to offer time management tips and practices. 

Ask your team members to note their peak productive hours and structure their daily tasks accordingly. 

Communicate reasonable deadlines and team plans. 

Ask your virtual team to make daily, weekly and monthly goals. 
3. Automated Processes 
The lack of productivity can also be attributed to prioritizing mundane, repetitive tasks over something significant. If your team has to complete those not-so-important tasks every day, they won't have enough time to focus on actual work. So, instead of assigning your team members these highly repetitive tasks, look for ways to automate them fully. 
Like, instead of manually entering business finances, purchase a subscription to software to automate all finances. If you divert your team to priorities, they will be able to give their 100% on every task and make sure everything is delivered within the predictive timeframe. 
4. Simplified Collaboration
Often, several companies working on a remote basis think that they need to adopt more tools to keep everyone connected. However, the opposite is actually quite true. To improve proper productivity, you must follow the less is more principle. 
This means, that instead of using several tools to track your team's productivity, let go of some useless tools and trust your team. This will streamline collaboration and simplify everything. In fact, you can go for a single software that supports effective communication, goal tracking, goal setting, deadlines, and vacation tracking. 
5. Reduce The Number Of Team Meetings 
It's true that your team needs to have regular team meetings to stay in touch and discuss shared goals to track progress. However, according to research, too much Zoom time can be stressful. Several studies have found that spending too much time on Zoom or similar platforms has resulted in exhaustion, fatigue and reduced mobility. 
Also, if your team would be spending most of their time on a video meet discussing what they need to do rather than actually doing it, productivity will hit rock bottom. 
6. More Play, More Work
Lastly, you need to make the working process more fun. Working in a company should not only be restricted to meeting deadlines and completing tasks. In short, you must organize exciting competitions and several informal activities to boost employee engagement. 
You can also establish a buddy system to keep things on track and make everything fun. 

Wrapping Up: Hire Remote Developers From India
If you are planning to hire Indian remote workers, visit us today at GraffersID, an offshore development center. We follow rigorous selection processes to help you hire the best talent and a diversified team. We also ensure that our team of remote developers follows compliance and has soft skills like time management, leadership, and sincerity. 
Give us a call today to hire right.