Mobile phones have taken the world by storm. Day by day the addiction for mobile phones is increasing like anything. But the iPhone is ruling the trends right now. The desire for possessing an iPhone is increasing among people by manifolds. And with rising in iPhone usage, demand for iOS applications is also augmenting which necessitates the need to hire qualified iOS app developer in India.
As per statistics, 86% of the operating system market belongs to Android, while the rest 14% is for iOS users.
Now the question arises is, why does a company need to hire an iOS developer when it has such a small market share? The secret is, as compared to Android, iOS yields more profit, even with a small market share.
Well, with so many options out there, the process of hiring an iOS developer can be bit overwhelming. Nevertheless, due to the standardized process involved in the development creating iOS apps is neither time nor capital intensive. Also, since there is not much variation in apple mobile devices building UI and UX for iOS apps is much convenient.
Currently, there are more than 2.2 million apps on the Apple app store. Moreover, as opposed to Android users, 80% of consumers spend time on iOS apps. Considering these facts, iOS pulls the interest of developers. The cost efficiency, minimalism, and simplicity involved in its development account for its popularity among developers.
In this post, you'll get to explore a comprehensive detail on hiring iOS developers in India.

Right from skills to tips you'll get to know each aspect involved in the process.
But before we dig into details let us have a look at some of the major benefits of iPhone app development.
Apple users have a high paying capacity. Thus, as compared to android application development, iOS development is likely you pay you higher.
iPhone is a preferred device for a tech-savvy audience, so when you debut an iOS app, you take step towards boosting your brand identity.
Having an iOS app helps create a positive impression on people because investing in its development is not an easy task.
iOS is less prone to bugs, malware, and viruses.
iPhone has a dedicated user base who are always keen and keep track on apps being launched. Therefore, creating an iOS app will get you discovered by a huge audience looking for something new to launch.
What are the Roles and Responsibilities Of an iOS developer?
Not to be mistaken- role of an iOS developer is not limited to writing code. Rather it involves plenty of responsibilities. Right from planning to testing and launching app on App store, an iOS app developer has to undertake various roles. Each activity in the development process requires the participation of an iOS developer.
They are the people who convert raw technical specifications into a friendly product. In addition to this, developers are also responsible for delivering good experience to users through their app design. As such, an iOS developer should have hands-on experience working on both UI and UX.
Read Also: How Much Will It Cost to Make an App?
Key Skills to Look for to hire an iOS developer in India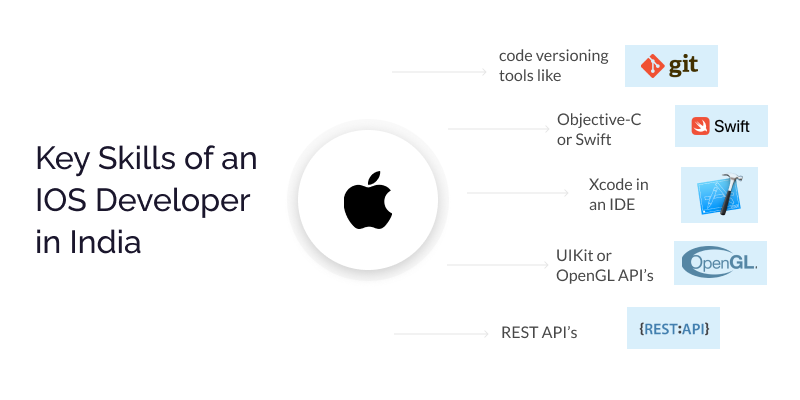 Given below are the set of must-have skills an iOS developer should possess:
Hand on experience working with code versioning tools.
Knowledge of Objective-C or Swift.
Knowledge of XCode in the integrated development environment (IDE).
Proficiency in APIs such as UIkit or OpenGL.
Knowledge of Apple Human Interface Guidelines and Core Data framework.
Working expertise in RESTful APIs and UI/UX design elements.
What are the different hiring options available for an iOS developer in India?
Now that you are aware of the roles and responsibilities of an iOS developer, let's explore different options for hiring. However, there are three major options to hire an iOS developer in India:
Hire a freelance iOS developer.
Create an in-house team of app developers.
Outsourcing the work to a dedicated web and application development agency.
The choice of your hiring option will solely depend on your business requirements.
Essential Questions to be Asked Before Hiring an iOS Developer in India
Have a look at basic yet essential questions to ask before hiring an iPhone app developer:
1. How many years of industry experience do you have?
Of Course, total years of experience play a crucial role in developing an application. If the team of developers you are likely to hire is not proficient in Swift programming language, then don't trust them to work on your project. It is always recommended to choose a developer based on his total experience in the tech industry.
2. Can you provide the estimated cost for app development along with the parameters to be included in development?
Don't let price drive your decisions. A developer charging too high may not necessarily offer you quality services.
Similarly, the one charging lesser may not assure you of quality work. So, focus on analyzing things in a broader perspective.
Check online reviews, client references, quality, and then prices to arrive at a final decision. Relying on just a single aspect may put your project at risk.
3. What privacy and security measures do you follow?
In a digital environment, there is a risk of unintended information loss or leakage. To prevent this from happening, ensure that your developer adheres to strict measures to maintain the confidentiality of your app and its data.
So, before you get into a contract sign a Non-Disclosure Agreement. This will provide you prevention against such unauthorized activities.
4. Can I See Your Current and Previous projects?
Expertise in the field of iOS development is of utmost importance. Find out if the developer you are going to hire has worked on projects focused on the same industry or has dealt with the development of similar apps.
You can learn about this by checking the developer's portfolio. Moreover, if you are hiring an agency, go through their website.
5. Can you help us with long-term support?
iOS app development involves a complex procedure that can sometimes take months to complete.
Thus, the launch of the app is not the end of the development process. It comprises a lot more than this. To make an app successful it requires consistent improvements as per user feedback.
Therefore, it is advisable to choose a developer who is comfortable to work with, can guide through the process, and assures you long- term work partnership.
6. What Professional Certification do you have?
Since the iPhone has a high profile user base, you should only consider hiring certified professionals. To make sure your app boasts of quality and rich features, look for professionals who are certified as per industry standards. This will let you create apps that have appealing UI and are widely favored among users.
Read Also: How To Create An App For The iPhone?
How to set up your iOS developer requirements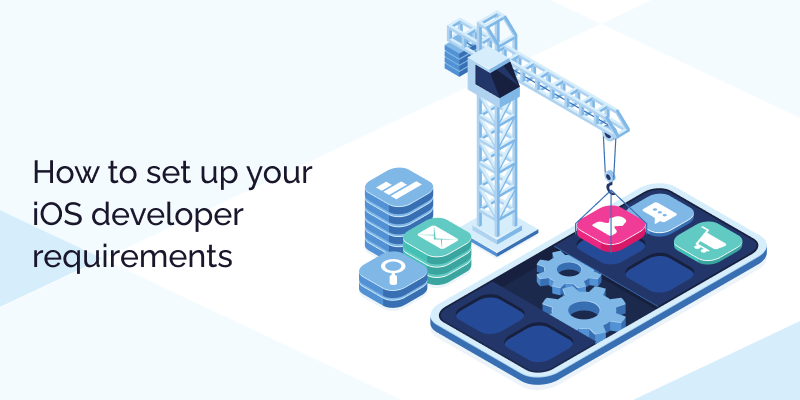 To streamline the process of hiring iOS developers, first, you need to gain a complete understanding of your business from inside and out. Doing so will help you make the right decisions. Given below are some essential pointers to help you simplify the process.
1. Jot down the entire project idea
To describe your idea to the developer, first, you need to be clear with your ideas. Take pen and paper and prepare a rough plan on ideas going in your mind. However, make sure you focus on only important things such as what is the purpose of your app and how it will address the issues of people.
2. Determine the prime objectives of your app
No business can thrive without setting some objectives or goals. The same applies to your mobile apps. Your mobile app should be created keeping in view the long and short term goals of your business.
How you are going to attract investors and how your app will be fetching maximum downloads, all such things should be highlighted in your app objectives. Having your objectives set, you can plan for the further development of your app.
3. Describe your app in terms of functionality
After setting objectives, prepare a list of features you want in your iOS application. This will simplify the process and your hired iOS developer will take less time to design and develop app you are looking for.
4. Prioritize features of your iOS app
At last, prepare a list of features you want to be on the priority in your app. Then accordingly, your developers will align their work to focus on things of greater importance.
So…
Before you set your eyes on Hiring iOS App Developers in India to suit your needs, prepare yourself to conduct intensive research. Have an open conversation with your potential developer and make him aware of the desired attributes you want in your iOS app.
Since your app is representative of your business and is a key element to engage with your potential customers, you shouldn't take risks by handing projects to anybody. Your developer should be able to comprehend your vision and accordingly provide your app with features and functionalities that fit your business needs.
Your iPhone application can be a game-changer for your business. Hence, make sure to perform due diligence to pick an iOS developer wisely.