Are you often busy and don't find time to complete your chores?
If yes, then you are not alone, and this happens to all of us as we live in a modern-day world with a hectic lifestyle that sometimes we wonder how to find time to eat and sleep. However, continuous evolution, innovation, and our will to find a solution to cope with the busy lifestyle have brought us to a place where everything can be done with one tap. Yes, we are talking about – On-Demand Service Apps.
We know it might not be easily digestible for you, but our smartphones have become a magic wand, where we just tap into specific apps to get our tasks done. For instance, you might have been fed up with the daily cleaning of the house and then rushing to the office. But, imagine one day you come and see everything neat and tidy all around.
Well, this seems like magic, all this is possible through on-demand service apps. And, this is the reason that businesses are collaborating with mobile app development companies to enhance the customer experience.

According to Harvard Business Review, the on-demand economy is on the rise, with more than 22.4 million consumers spending around $57.6 billion. Moreover, online markets can also be seen flooding with most spending consumers which account for 16.3 million who have an average spending capacity of $36 billion every year.
Another startling fact is that around 49% of the on-demand consumers are Millennials, which indicates that the wealthy class is spending more on these apps.
On-Demand Service Apps Are All the Rage?
On-demand service apps are a boon to people that help them cope with different chores. The real importance can be recognized in times of need when they are within easy reach of individuals. And, now these are catching up with the market trends quickly as they are considered a better option amongst other services. The biggest reason for their popularity is the dedicated functionality and easy access to resources.
Today we hire innumerable services at the tap of a button through our smartphones, such as hair styling, event planning, therapy, electricians, plumbing, and many more. Industry experts have recognized the needs. Also, they are all making efforts to bridge the gap between the consumer and the seller.
Read Also: MOBILE APP DEVELOPMENT IDEAS FOR STARTUPS TO THRIVE AMID COVID
In the year 2023, on-demand service apps, including video calling apps that brought the wave of work from home were on the boom due to the pandemic. And, as a result, you could see many on-demand business apps topped the charts in terms of usage, such as Houseparty, Hangouts, Zoom, and Microsoft. All this led to 62 million downloads across iOS and Google Apps.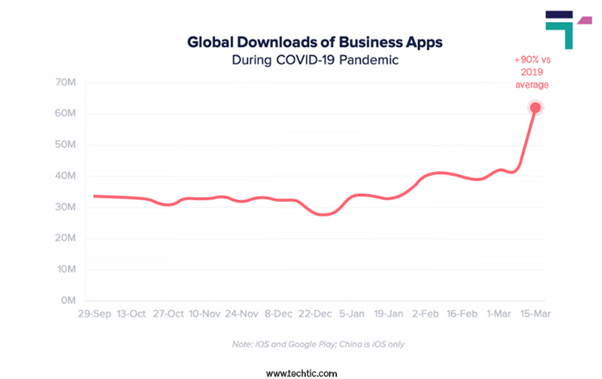 Moreover, other apps were in high demand during the pandemic; depending on the purpose of use, right from food to cleaning services. If you analyze the sudden rise in on-demand apps, they help entrepreneurs and consumers in different ways.
When it comes to entrepreneurs, can start their business as early as possible even at a low budget, with the help of on-demand apps. It comes along with customization features that can let entrepreneurs generate revenue within a short period.
Apart from this, the three major factors that have caused this biggest shift are:
The relatively low price of products and services for customers
Instant availability of essentials
Easy communication between customers and suppliers.
Other than video calling apps, Uber and Airbnb are other great examples of on-demand service apps that attracted huge investors. You would be surprised to know that Airbnb has received funding of $2.4 billion which has made a huge difference.
Read Also: Trending App Ideas for Startups
After looking at the increasing demands of people, their behavior and perception, and the huge profits that companies have been making, we can see one of the biggest economic revolutions coming our way. Here are some of the important stats and facts that indicate the giant change:
More than 51% of on-demand economy users have admitted that their profits increased.
Americans have a greater share as they have invested $45 million in the on-demand economy.
The on-demand economy is disrupting the conventional systems and incomes of workers.
According to the PWC report, the investment in on-demand apps and websites will increase to $335 billion by 2025.
4 Industries that are Trending in the Market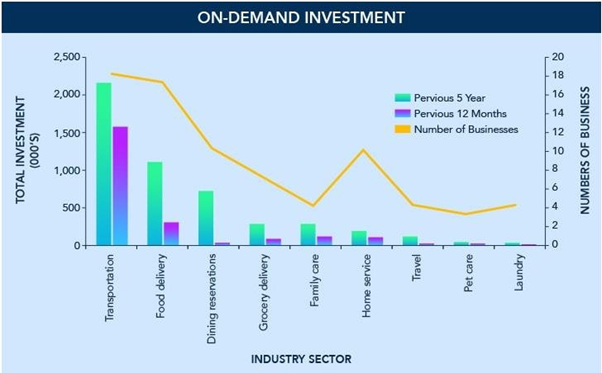 If we closely look at the bifurcation of the industry sectors, transportation tops the chart followed by food delivery and other services. So, let's discuss in detail the top industries that will be trending in the marketplace when it comes to on-demand service apps
The market size of on-demand transportation is expected to expand at CAGR of 19.8%. from 2018 to 2025.
What does this indicate? The transportation industry is going to turn into a pool of investment for venture capitalists. We can already see that taxi booking apps like Uber, Lyft, and Ola are all set to offer great services in the future.
Food delivery is another industry sector that's growing by leaps and bounds in the map of on-demand services. After the pandemic, the industry has seen a massive spike where food delivery apps like Uber Eats, Seamless, GrubHub, and Doordash are taking an upward climb.
Apart from this, grocery delivery services also have a huge share in the market. Here a food delivery mobile app development company must explore the opportunities as the ease that people experience with these service apps will surely increase the demand in the coming years.
Healthcare has been on boom after the pandemic, and on-demand healthcare mobile apps have noticed a stark rise. People find it easy to communicate with healthcare professionals when booking an appointment seems difficult.
We could see that venture capitalists are now identifying the hidden opportunities that lie in the healthcare industry and are now sending in their share to a healthcare mobile app development company.
When it comes to home services, it could be anything right from cleaning services to hiring a beautician. The demand for home services is increasing with the convenience that comes in. Moreover, the increased use of smartphones has contributed a lot, where you will see an app for your every need.
Owing to this, you can see the internet is flooded with mobile app ideas for home services. And, By 2024, the online global home services market is expected to grow by 1574.86 billion USD.
Some of the Popular On-Demand Service Apps that People are Crazy About
1. Uber
'Uber' has become a popular term among the youth, especially the travelers' community and daily commuters. Even if anyone hasn't used the services yet knows what Uber is and what it means to order a taxi from the Uber app.
The credit for Uber's immense success goes to its affordability, originality, speed, and convenience. It saves you from overspending on a ride, and the speed ensures a quick pick-up and drop facility.
Important App Features
Secured payment mode
Access to driver's information that displays an image and other car details
Enables customer feedback
Ratings: 4.0
Installs: 500,000,000+
2. Drizly
Drizly is another on-demand service app that focuses on booze delivery; especially, during a party where one needs bottles of chilled beer. Whether it is a party pack or just a few bottles of drink with pizza, Drizly supplies everything.
Apart from this, you will get a pre-arrangement of boozing sets with a variety of dishes and occasions. It is another biggest factor contributing to its ease of use and convenience.
Important App Features
Great selection of drinks including spirits, beers, and wines
1 Hour delivery time
Gives a comparison of prices in your area
Availability of credit card payments
Ratings: 4.7
Installs: 500,000+
3. My Medicash App
Medicash is also an on-demand service app with a user-friendly interface and best on-demand services in the healthcare industry currently. However, it not completely pocket-friendly when considering its per-visit charges, but it offers a good value for money.
You can send a request with a few taps to connect with a qualified specialist and get expert consultation in 15 minutes.
Important App Features
Helps in making a quick claim through the app
You can sign-up for email updates
Quick access to other benefits and health plans
Facility to add dependent children
Ratings: 4.4
Installs: 10,000+
4. Urban Clap
Urban clap or Urban Company is India's largest on-demand service app. You can book at home services right from beauty to house maintenance. The app has 50+ services that can be booked at a pre-approved cost.
Important App Features
Easy accessibility to yoga trainers, plumbers, electricians, carpenters
Services include household chores like home cleaning, painting, repairing
A dedicated section available for customer support
Pre-approved prices
Ratings: 4.1
Installs: 10,000,000+
Read Also: Develop an App like UrbanClap
5. Task Rabbit
TaskRabbit is a remarkable on-demand service app that helps you with household services like cleaning, furniture, repair, and maintenance. You can connect with people in your neighborhood to do the job for you. All you need to do is to check your to-do-list in the app as you finish each task.
You also get a cashless payment feature to order any service you desire. Here you will get good quality services that are marked with utmost safety.
Important App Features
Connect you to people in your neighborhood to get the job done
Allows for close monitoring of the tasks
Cashless facility
Ratings: 4.0
Installs: 500,000+
6. Soothe
Not only food or taxi requests, but on-demand service apps also cover aesthetic purposes. Soothe; as the name suggests, is designed to soothe you with an on-demand massage service with its six different kinds of massages.
However, you will get its services in a handful of cities in the U.S. But, you will get an ultimate massage session right at the comfort of your home, office, or hotel.
You will get access to professional certified masseurs carrying the entire massage kit including table, oil, music, linen, and much more to make your session worthwhile.
Important App Features
Personal and customized spa
Access to experienced and skilled massage therapists
24X7 customer support
Enables review and feedback
Ratings: 4.1
Installs: 100,000+
7. Rover
Rover is another on-demand service app that is known to provide doggy daycare with house-sitting facilities. The app focuses on increasing convenience, and it gets you out of the hassle by helping you take care of your pet. You will experience ease in processing requests and works great.
Important App Features
24/7 customer support service
Easy and secure payments
Push notifications
Ratings: 3.9
Installs: 1,000,000+

Scope of On-Demand Apps
Now that we have seen the industries that will drive the on-demand service apps industry in the future, we can realize that consumer trends are changing. And, there lies a huge potential for on-demand mobile app development companies.
If you are an entrepreneur focusing on this particular domain, then opportunities are huge. All the opportunities come with great benefits, including the affordability to manage your business, security, scalability, easy tracking facility, and flexibility.
This is the reason that nearly every business is planning to invest in an on-demand mobile app development company for customized solutions.
Conclusively, we can say that if you are looking forward to offering effective and efficient services to your customers within a few clicks, then on-demand apps are the perfect solution for you.
Consumers' inclination towards the ease of availability and convenience of choosing the services by tapping in the mobile depicts that it will stay with us in the future.
If you want to enjoy the highly-extensible app for your business, then you need to hire the right mobile app development company. GraffersID is one of the renowned mobile app development companies that offer you on-demand app solutions catering to your requirements.
Challenges and Opportunities in the on-demand service app industry
The on-demand service app industry has seen significant growth over the past few years, with the rise of new technologies and changing consumer preferences. While this growth presents various opportunities for innovation and expansion, it also comes with its own set of challenges.
In this section, we will explore some of the challenges and opportunities in the on-demand service app industry.
Regulatory challenges
One of the biggest challenges faced by the on-demand service app industry is regulatory hurdles. Many governments around the world have been implementing regulations to ensure the safety and security of consumers using on-demand services. These regulations can range from background checks for drivers and service providers to insurance requirements and licensing fees.
Complying with these regulations can be a significant challenge for on-demand service providers, as they may have to change their business models or invest in new technologies to meet these requirements. Failure to comply with regulations can result in fines, lawsuits, and reputational damage, which can significantly impact the growth and success of the business.
Increased competition
As the on-demand service app industry continues to grow, the competition is becoming increasingly fierce. New players are entering the market, and established providers are expanding their services to new markets and geographies. This increased competition can make it challenging for smaller, newer players to gain traction and grow their businesses.
To stay competitive, on-demand service providers need to focus on innovation and differentiation, offering unique and personalized services to consumers. This may require investments in new technologies or partnerships with other businesses to provide more value to their customers.
Opportunities for innovation and growth
Despite the challenges, the on-demand service app industry presents significant opportunities for innovation and growth. As consumers continue to demand more convenience and accessibility, there is a growing demand for new on-demand services that can address these needs.
By focusing on innovation, on-demand service providers can differentiate themselves from competitors and attract new customers. This may include developing new services, leveraging new technologies such as AI and machine learning, or expanding to new markets and geographies.
Changing consumer preferences and expectations
Consumer preferences and expectations are continually evolving, and on-demand service providers need to adapt to these changes to stay relevant. Consumers are increasingly looking for personalized and customized services that can cater to their unique needs and preferences.
To meet these expectations, on-demand service providers need to invest in technology that can personalize services for each customer. This may include using data analytics to understand customer preferences, developing algorithms that can provide personalized recommendations, or leveraging new technologies such as wearables and IoT devices to provide more value to consumers.
Frequently Asked Questions
Q: What are the benefits of using on-demand service apps?
A: On-demand service apps offer several benefits, such as convenience, time-saving, and cost-effectiveness. Users can avail of services from the comfort of their homes, at their convenience, without having to travel or wait in queues. It also provides a platform for service providers to reach a wider audience and expand their business.
Q: What are the market trends for on-demand service apps?
A: The market for on-demand service apps is rapidly growing, with new players entering the market regularly. The COVID-19 pandemic has also accelerated the adoption of on-demand service apps as people turn to contactless delivery and digital transactions. The market is expected to continue to grow in the coming years, with new technologies and innovations driving the industry forward.
Q: What are some popular on-demand service apps?
A: Some popular on-demand service apps include Uber, Lyft, Grubhub, DoorDash, Instacart, TaskRabbit, Handy, and Zocdoc, among others.
Q: How do on-demand service apps work?
A: On-demand service apps connect users with service providers who offer a range of services such as transportation, food delivery, and other services. Users can search for services, view service providers' profiles, prices, and availability, and book services through the app. Service providers receive the booking request and accept or decline it based on their availability. Once the service is completed, users can rate and review the service provider, and payment is processed through the app.
Q: Are on-demand service apps safe?
A: On-demand service apps take several measures to ensure the safety of both users and service providers. They conduct background checks on service providers, verify their identities and qualifications, and provide features such as real-time tracking, in-app messaging, and ratings and reviews. Users can also report any safety concerns or issues to the app's customer support team.
Q: How do on-demand service apps impact traditional businesses?
A: On-demand service apps are disrupting traditional business models and changing the way services are delivered. Traditional businesses such as restaurants and taxi companies are facing increased competition from on-demand service apps, as they offer more convenience, lower prices, and faster service. However, some traditional businesses are adapting to the changing market by partnering with on-demand service apps or launching their own on-demand service apps.
Get In Touch With Us