What made Zoom the biggest player in video conferencing apps?
The above question has led a lot of businessmen, IT enthusiasts, and developers worth pondering.
Has the pandemic helped Zoom rise to be the second most downloaded app in the world? Let's take a glance at the figures before delving any further into this topic.
If the figures are to be believed, then we are already nodding our heads in affirmation.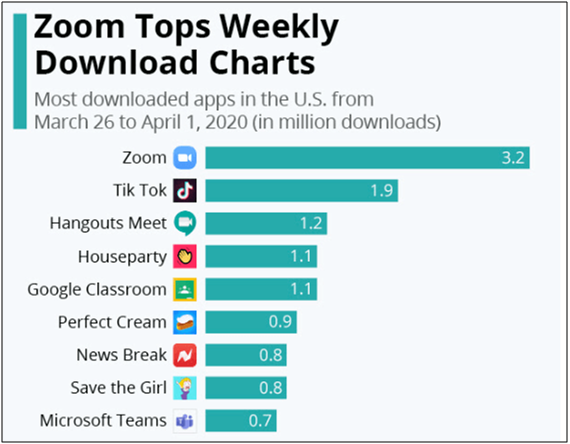 The world is battling a pandemic and to protect ourselves, WE among the ten million are working from home with using the Zoom app to connect with colleagues or clients.
The popular teleconferencing tool was already a dominant name in the video conferencing market, but to adapt to the current social distancing norms, it has become a household name. Now you may wonder why? Well, it can be due to easy connecting approach with your friends, relatives, co-workers and the second reason can be the various advantages it proffers to its users. If you are already familiar with the working of the app, then you might know that it is providing more time to interact as compared to its counterparts.
Some insights supporting the facts-
Moreover, if we have a glance at the stats, we may find that around May 15th 2020, Zoom's market capitalization witnessed an upsurge skyrocketing to exact $48.8 billion only in the three months of lockdown. And due to its innumerable benefits such as easy to use interface it has been used by people of all walks of like. The doctors are using it for a team meeting, the offices are using to plan the important discussions or brainstorming sessions and the educators are employing the same to conduct online classes.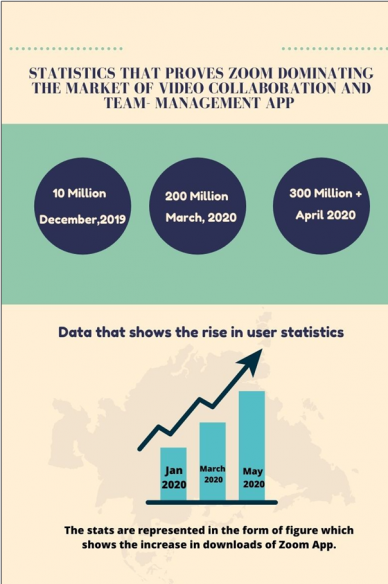 Therefore, the figures have increased from 10 million in December to a whopping figure of 300 million meetings in April 2020. As of July 2020, it was found out that the worth of Zoom is more than the biggest and renowned airlines. It can also be due to the airline's operations witnessing a standstill and hold due to the current pandemic. But, no matter what, the revenues generated by Zoom alone are far more as compared to the 7- biggest airlines in the world. The firm counted over 300 million daily users & the numbers of those paying to use the app have also increased gradually.
But now you may wonder how such software even came in existence?
Mr Yuan did not first plan to create Zoom for the general public. The Chinese born software engineer faced doubts when he tried to pitch the investors. Some did not even believe in his innovation, and few of them felt that there was already Microsoft and Cisco providing such services. What made Zoom wired differently to make such an impact?
It also has competitors who are giant players namely, Microsoft, Google and Jio. Speaking of Google Duo, it is currently working to increase the number of group participants to the number 32 or more. Moreover, seeing the current growth in market, Facebook has mapped the possibilities and has invested in around $5.7 billion to improve digital services across the globe. With such competitors, Zoom team indeed have much to worry about the serving on their plate.
And, if statistics are to be believed, people prefer Zoom more than its already existing counterparts. Did you know Zoom has in-built beautification filters that can help you look more appealing and flawless on your office video meetings? To add to this, it also provides you with a plethora of background options, no matter where you are, you can always opt Zoom.
Let's have a look at the advantages this app has to offer to its users, all around the globe.
1. Video conferencing anytime, anywhere:
The Zoom allows you to change or alter the background accordingly so you can connect with your team no matter where you are.
Moreover, it is built in a way that it works with wireless, wired and a Wi-Fi network for no hassle.
The participants can join via a link, telephonic dial-in or even H.323/SIP room system.
2. Team management tool:
Zoom has a feature that it allows you to organize meetings, webinars, plan a meeting and share a link with the participants so that they can be present before time, avoiding delay.
Not only this, it allows you to connect with over 40 participants over once in a not so paid trial.
You can interact with the means of videos, chat and share opinions or share the slides with the participants.
3. Software-based collaboration solution in their custom-designed Zoom rooms:
It is ideal for any business because it provides features such as-
A Zoom room supports MP4A or MP4 recording that can offer required high-quality audio. Speaking of which, it provides its users with dynamic audio detection features that improve the standard of any virtual meeting.
4. It allows the host to one touch controls:
If you are an admin of a Zoom call or meeting, then according to your requirement or convenience you can mute your participants in just one go. Therefore it omits the chances of any other voice distribution and puts you in a feel of the virtual video meeting.
5. It offers the feature of high quality recordings-
If you don't want to miss on any important point then you can always record the video meet for the future use. It can be done because of its HD quality MP4 as well as MP4A formats.
6. It is indeed a powerful collaboration tool-
Do you know Zoom allows a feature of white boarding? Yes, you can take notes, or even draw to make your participants understand better and share the same.
Not only this, if you need to show a presentation or explain using some stats you can always do by opting the screen sharing feature.
7. And did you know, it offers budget-friendly plans?
Zoom has everything in store for the free users as well as the buyers of its meeting plan.
If you are thinking that the meeting should have brainstorming session after your presentation, and it might take more than 40 minutes you can always choose a plan.
The plans are very reasonable priced and it allows 1 hour of video meet with 1000 participants in one go.
With such advantages, we wonder what went wrong.
Well, the journey has not been a smooth sailing one for the company. With the series of Zoom-bombing events such as the one where Zoom users found themselves less safe while operating a video conference. They claimed that the software or the app breached their privacy and shared the data to Facebook. All the apps that we use today provide us with a notification that it is end-to-end encrypted, but what about Zoom?
There was an incident where a group of uninvited users hijacked one of the Zoom meetings and thus raising questions on its overall security. With such prevalent issues surfacing and doubts popping up in the heads of their users, people are finding themselves in two minds. They are thinking to switch to the popular Internet giants, such as Microsoft and Google. But, wait, does this thought rings a bell for you?
The need of an hour is to understand the necessity, grab the opportunity and innovate! The residents of this planet are battling and adopting a new culture called the new normal. It paved the way and thus leads to the rise of video communication tools that assure us that our data is protected no matter what the cost.
If you are a business and looking for an opportunity to make a name for yourself, then this is the time. After all, success comes to those who know how to cater to the needs of their audience. But, you may be wondering if creating an app like Zoom is easy?
What all requirements do you need to have to design an app that not only befits to the user's video conferencing needs but also provides them with a plethora of advantages that their counterparts failed to offer?
The questions or the doubts we are facing are countless. But fret not, with the right offshore development team, you can easily find answers. The right company will guide you throughout the app-making process and will fill you in with concerned responses.
Speaking of which, the preferred app development company should have a team of experts mainly-
1 Project Manager
2. 1-2 iOS Developers
3. 1-2 Android Developers
4. 1-2 UI/UX Designers
5. 1 Backend Developers
6. 2 QA Specialists
7. 6. Tech lead
Additional things to keep in mind-
The person guiding the team should have analyzed and studied the market thoroughly. And when in need, should plan the layout for all the team members to stick by. Moreover, if you have all the experienced men in the team, right tools, and a perfect map, then it may take near to about 1400- 1500 man-hours to create an app like Zoom.
Once the app is created, run quality checks. Moreover, do not forget to add your value to this app. It will be its selling point or USP. It will be the one that helps you to cover the shortcomings of the former app while providing the baffled users with something of value. If you are looking for an expert guide who will consult and provide you with the state of art app development services in India then look no further and contact us!