A hiring software developer is a daunting task, and it has become more intimidating amid Corona times. Earlier, you have to write down answers for queries like what is the vision of your company, what are the current projects that you have in-hand, what is the hiring budget and so on. One more dilemma that every entrepreneur and business faces while hiring developers is between in-house vs remote developers.
In such a situation where the world is fighting with Corona Pandemic, and cities are locking down, having remote developers is the best backup plan. Setting up a remote development team in countries like India, which have managed to keep Corona in-control so far would be the right option to keep your productivity intact. India with 192 cases, has already adopted all the precautionary measures to prevent Italy-like situations.
Apart from the least number of Corona cases among other countries, India also has experienced and skilled resources when it comes to web and mobile app development. With whopping 10, 345 Engineering colleges across the country, India accounts for 2.2 million skilled IT professionals. Moreover, the pool of these IT professionals is English speaking, which is a major boon.
Which is Cheaper: Hiring in-house developers or remote developers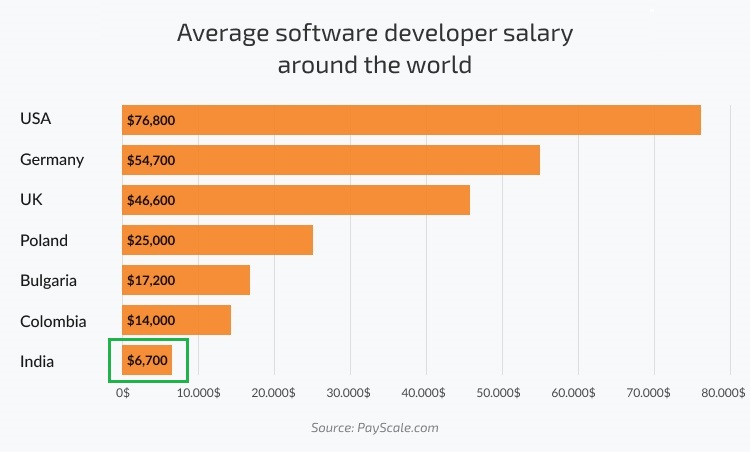 Above-image can help you in comparing the expenses you have to bear while hiring in-house developers in the USA or the UK and salary that you will be paying to remote developers in India.
Costs of Hiring In-house team?
Salary of Developer
According to the App Association, the average salary of a software developers is around $100,000 per year. Multiply that by the number of people you want to add to your team.
Other Associated Costs
Apart from the salary, there are lot of other costs associated with having an in-house team. Have a look:
Recruiting Expenses:
This will include having in-house recruitment team or outsourcing this task to recruiting agencies.
Employment Taxes:
Employment salary varies depending upon the industry and various other factors. This will include workmen's compensation premium depending on the category of your employee.
Benefits:
Basic salary and employment taxes are minimum-in most of the cases you are also required to provide some benefits. Typical benefits for a $50,000 salaried employee cover life insurance, and health coverage. Other benefits could include long-term disability insurance, dependent care assistance, tuition reimbursement and dental plans.
Read More: Benefits of Hiring Dedicated Developers
Working Space:
When you are hiring in-house developer, you have to also consider the expenses that will include rent of working space. Moreover, you have to provide your employees with a computer and uninterrupted Internet connection, which will increase your cost further.
Training Cost:
Every other day there is new technology in the market. And, to make sure that your company is aligned with the latest technology, training session at workplace becomes quintessential. The cost of these training sessions will also add up to the cost of hiring in-house developers.
In case of remote team, the training of employees is handled by the company you partner with. It becomes their job to train the employees on the latest technology in the market.
Other Expenses:
Apart from this, there will be other associated expenses such as electricity and the Internet. Expenses like birthday celebrations, 1-year completion rewards, bonuses, trips and parties to motivate employees.
When you choose to hire remote developers, you need to worry about any such expenses.
Cost of hiring remote developers?
The only costs associated with hiring developers is the cost of recruiting the employees and the salary of the developers based upon the per hour charges. Other than this, you need not spend any additional amount on birthday celebrations, electricity or the Internet connection.
Also, there will be no health and insurance benefits and training costs associated with a remote development team. Once you have hired a team, you only require to coordinate with them for project updates. If you are looking to collaborate with the team in India to set up your remote development team in India, then let's have a discussion over a call. Graffersid is based in Indore, India, which is still safe from the impact of Corona. Indore with 0 cases of Coronavirus is taking all the measures to prevent the virus from spreading in the city. Having a remote development team in Indore is the most reliable amid Corona times where another country is locking down all the major cities.