Remote working has been on trend for now and companies all over the globe are adopting it to provide more flexibility to their staff. More so, the outbreak of Coronavirus has played an important role in forcing the pace of change around remote working and workers are quickly adapting schedules so that work from home is not only manageable but also productive.
Remote working can bring up some challenges, however, with some effective changes, it increased collaboration amongst teams. For the companies which have already adopted remote working, here are some of the benefits that they would be enjoying:
Business becomes more attractive to top talent
Wages and services are cheaper in countries like India
Better talent is often is other countries too
Having team members who work at different time zones can give your business a 24/7 presence.
It enables you to build brand presence and expand in other markets.
Tools to manage work from home without the inconvenience is all you need in present-situation to manage the tasks of your team. Here are 6 remote work tools that we will be talking about and what are all the problems that they can solve:
Zoom: This tool offers a seamless video conferencing option with a distributed team.
Serene: To cut out distractions, stay focused on the task and do things faster.
Toggl: Time tracking tools for individuals and teams.
Monday: A project management tool for team managers and individual teams to complete entire projects faster.
Slack: A team collaboration and communication tool to make individual work easier.
InVision: A collaborative design prototype tool to turn concepts into reality
With these tools on your side, team members can achieve greater productivity, while working individually and collaborating with other members of the team. These tools help project managers and teams to be on the right track and make sure that they can meet deadlines.
Let's have a closer look at each of these tools
Zoom:
The free version of the tool is available and the paid version starts from £11.99/mo per host.
Zoom is a widely used suite of communication and video conferencing tools designed for virtual business conferences, remote teams, webinars, and other corporate purposes. In this time, businesses need to act wisely to prevent Corona hinder their business plan, hiring remote developers is the best solution to retain productivity. Zoom is used for virtual meetings with remotely working teams, which we can use to run voice and video calls, but can also help you with various things. Zoom is compatible with Windows, iOS, Android, Web, and Mac.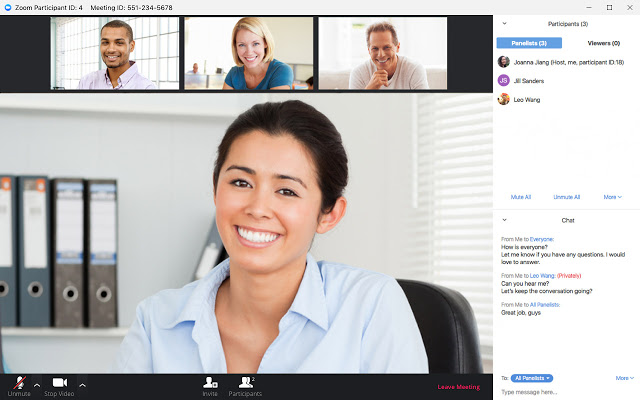 Zoom-Tool for team communication and collaboration
Key Features:
Video meetings: Remote teams can run one-to-one video calls and video meetings.
Voice calls: Zoom allows you to connect with your team through group or one-to-one voice calls.
Messaging: Zoom allows the team to send messages.
Webinars: You can also use Zoom to host webinars.
File-Sharing: Share files during or outside of video and voice chats for efficient collaboration.
A zoom is a feature-rich tool, which comes with very reasonable pricing. For group calls, you need to opt for the paid version of the application. The paid version of the tool starts from £11.99/mo per host. Here host is someone who invites team members to join meetings and up to 100 participants can join before you upgrade to a more expensive plan.
       2. Serene:
Serene is free of cost productivity tools for teams and remote workers. The app is compatible with Mac and helps individual team workers in maximizing efficiency by focusing on one goal at a time rather than dividing attention. Numerous studies show that multitasking kills productivity and this is a fundamental design principle behind Serene. The app's tagline: "Multi-tasking is a myth. Single-tasking is a superpower", says it all.
Serene-Tool to keep your team focussed
Key Features:
Website blocker: Block websites that distract you, such as news and social media websites.
App Blocker: Through this tool, you can also block apps which take your attention away from work, such as social media app, email app and other such things.
Session timer: This feature shows how much time is left to complete the tasks, which motivates you to complete the task on time.
Day Planner: Define your goal for the day, set tasks and get it done.
Phone silencer: Puts your phone on silent while working to avoid unnecessary distractions.
Serene ask team members to define a single goal at the beginning of each new day, which can be broken into small sessions to achieve days' objective. By keeping team members focussed on the daily tasks and blocking out distractions, Serene helps the team in maximizing the productivity.
3. Toggl:
Premium version available at $18/month per user.
Toggl is a time tracking app that runs in the background, while your team is working on any task. Essentially, it is designed to accurately track how much time it takes to complete any task and originally intended for freelancers to make sure that they are getting paid accurately. Now, Toggl is a productivity app designed for individual members and teams to maximize productivity. Above all, its data visualizations help you compare profits against time spent on labor costs so you can see which clients and projects are most profitable. It is one of the top tools available to manage remote teams amid corona-times.
Toggl-Time Tracking Tool
Toggl is compatible with Windows, Mac, Android, Firefox, Chrome and iOS.
Key Features:
Time Tracking: See how much time your team is taking to get things done.
Reports: See how productive you are being, how profitable your time with Toggl reports.
Boost profits: Check you are charging enough for the time it takes to complete projects.
Cross-platform:  Toogl's apps work across just about every operating system and online so you can access it whenever you need and wherever you need.
You can also see how much team members are spending on individual tasks to monitor productivity and see if anyone's taking too much or too little to perform any task.
4. Monday:
 Paid version starts from £15/month for 2 users and £34/month for 5 users.
There are plenty of project management tools designed for teams work remotely, but Monday offers a more advanced set of features than its alternatives like Trello.
Monday-Project Management and Task Management Tool
Key Features:
Project Management: Monday is an advanced project management tool that helps individual team members and large teams to hit a more ambitious target.
Task Management: Extensive task management tools that treat each task as project goals.
Views: Multiple views that allow you to check timelines, individual workflows, reports, checklists and project overviews.
File Sharing: Upload and share files can easily access the resources.
Weekly task loads: Team members can work on multiple projects without getting lost by Monday's overview.
Tasks can be created and assigned to team members. Tasks start with a default status of "Not Started" and team members can update their statuses to "Working on it", "Done" and "Stuck". Team managers can assign tasks to individuals based on their location, experience, workload and the rating of previously completed tasks.
Free version is available, paid version starts from £5.25/month per user.
Slack is a tool that makes communication seamless for the remote team. The platform organizes conversations into channels, which team members can join and leave depending upon the project requirements. The flexibility to join and leave the group enables team members to get notifications that are only relevant to them.
Slack-Tool for Seamless Communication With Remote Team
Conversations can also be in threads, which make sure that chats don't get in the way of main projects and topics.
Key Features:
Instant messaging: Live communication and seamless collaboration between every team member.
File Sharing: Drag and drop file sharing for PDFs, videos, images and other common file types.
Voice and Video calls: Slack allows you to directly use voice and video call options.
Screen Sharing: Allow team members to show their work to others in real-time for stronger collaboration.
There are myriad productivity tools available in the market and many of them offer a better set of features than Slack. However, Slack combines the basic communication essentials into easy-to-use and Single platform in a way no software can match.
The free version of the tool is available, Team version starts from $99/month.
Whether you are redesigning your website, developing your own software, building a mobile app or creating a presentation with more than the average Powerpoint effort, InVision is a collaborative tool that saves the time of the design team in the concept stage.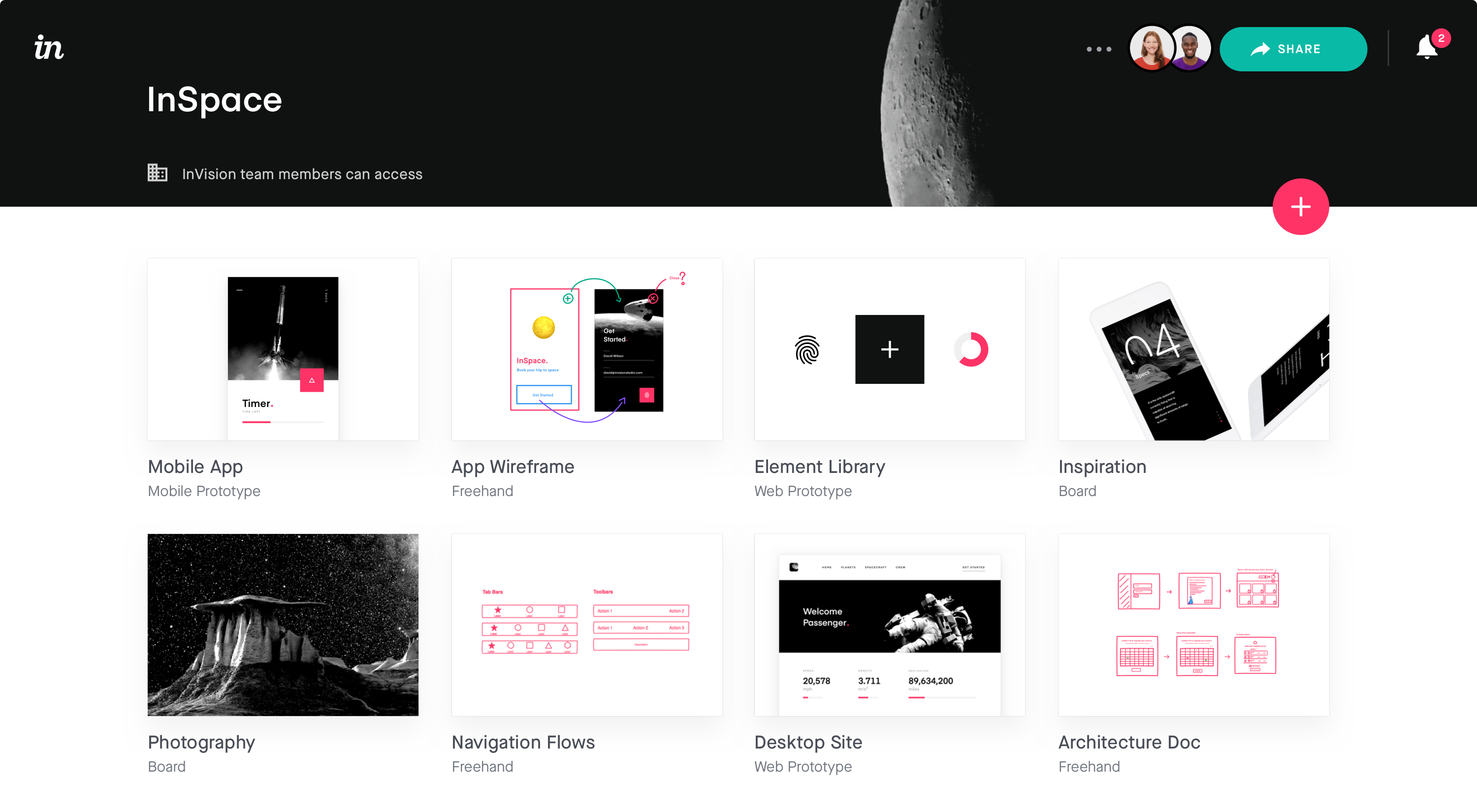 InVision-Designing tool for remote team
Key Features:
This helps you to create interactive prototypes with working links, animation and effects so that team members can see what the final product will look like.
Team members can work on ideas, provide feedback on the work of others and can also exchange ideas.
From idea creation to working on design files and file sharing, InVision is a top-notch collaborative tool remote designers need.
Team leaders can manage projects and ongoing design processes.
InVision creates a smooth design and development process where both teams can work and collaborate together as projects pass from one stage to the other.
For digital agencies, an InVision is an important tool for helping our design team work together. It is also used by some of the prominent tech firms, startups, online brands and media organizations. Above all, it is the collaborative design tools created by remote designers and this is why it deserves a place on this list.
How far will your remote team go?
Productivity tools are crucial for every business as they are the only connection remote teams have to rely on, so better make sure to choose the right ones. All of the tools we have looked in this article are for different purposes, but each of them is crucial for maximizing productivity and collaborative workflow. With the right tools at your behest, you can make a smooth transition to a remote development team.