Myriad companies around the world have gone remote due to the COVID-19 outbreak. But, what if your team is working remotely, how would you communicate with them?
How do you get project updates and how do you conduct meetings? Seems impossible, right?
The best remote teams rely on communication tools to collaborate efficiently with the teams.
What are Remote Communication Tools?
When your team works in the same physical office, communication is not a problem. You can hold meetings quickly or can even have a quick discussion with your team.
However, you can't do this with the remote team, right?
Actually, you can.
Remote team communication tools help you collaborate effectively with distributed teams. They allow you to stay in touch and keep track of coworkers who are working from different parts of the world:
Most of these tools have communication features like:
Live chat: Enables instant messaging over the Internet.
File sharing and collaboration: To coordinate over files virtually
Video calls: For having a face to face conversations with the team.
Here are different types of communication tools you can use:
Instant Messaging Tools:
Need an urgent response from team members?
Instant messaging tools are the perfect options for sending messages with a blink of an eye. They help you instantly connect with your team for quick discussions and clarifications.
Let's have a look at some of the best instant messaging tools for remote teams:
Slack is an extremely popular instant messaging widely used to manage the working of remote employees. It has several communication features, including, but not limited to private chats, integrations with collaboration tools like Jira and ClickUp, and Audio and Video calls.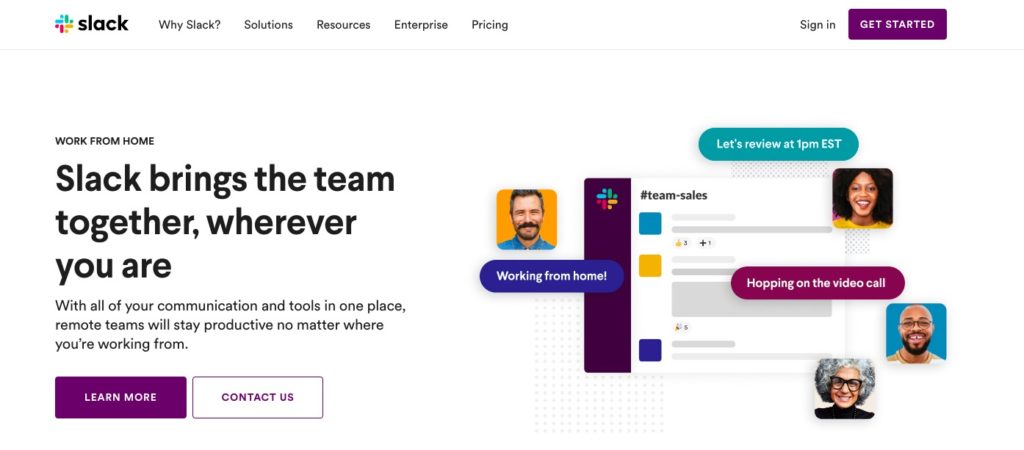 Slack-Instant Messaging Tool
Here are some of the key features of the tool:
With slack channels, conversations can be categorized into streamline communication. As each team or project can use their own channel, you don't have to scroll through hundreds of texts to find important messages.
Voice Chats and Video Calls:
Not everything can be discussed over text, right?
Slack lets you quickly connect with your team members through audio or video calls. This feature is the best for impromptu conversations rather than in-depth conferences or meetings.
Slack supports convenient file sharing from mobile devices and computers. Moreover, Slack can be easily integrated with Google Drive and Dropbox and let you share cloud files without leaving the Slack interface.
Pricing:
The base plan of Slack is priced at $3.20/month per user. It supports unlimited messages and 10 GB of storage per member. If you want more storage options and advanced features, then you can go for their higher plans.
Video Conferencing Tools:
Video Conferencing Tools help you interact face-to-face with your team members.
Video Conferencing can help you:
Explain tasks in detail
Host team discussions with prospects
Plan project roadmaps and hold reviews.
Here is one of the best video conferencing tools:
Zoom is a popular video conferencing tool that aids you in hosting webinars and HD calls. Zoom video call and screen sharing features, help team members conduct quick 1-on-1 check-ins and detailed meetings with team members.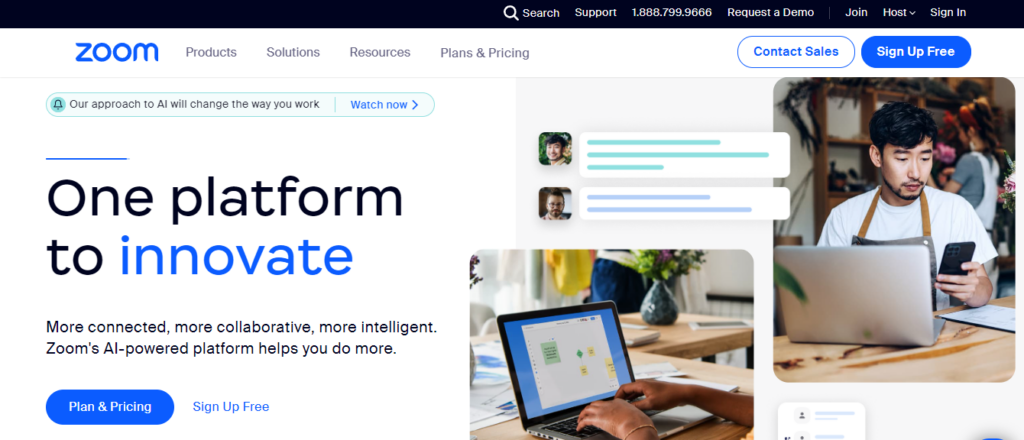 Key Features:
Full-Featured Meetings:
Zoom meetings have a myriad of features for remote teams.
While they provide annotation features and basic screen sharing, you can also record meetings and search transcripts. Additionally, Zoom also has a cloud storage feature for video recordings if you don't want to store them locally.
Zoom Webinars:
With Zoom, hosting webinars is easier than ever.
You can host up to 10,000 attendees and host webinars to social media like YouTube and Facebook Live. You can also use interactive features like chats and polls to keep live audiences engaged.
Pricing
Zoom has a free plan that supports up to 100 participants and HD video/voice call features. The paid version of the tool starts at $14.99/month per host and also includes features like cloud recording.
Other than Zoom, there are also tools like Trello and Jira that help you conduct meeting with the remote team.
Collaboration Tools
Collaboration tools give your team virtual space through which they can work efficiently. Most collaboration tools also include project management and file-sharing features for seamless coordination between your projects.
Here is a closer look at the best remote team collaboration tools available: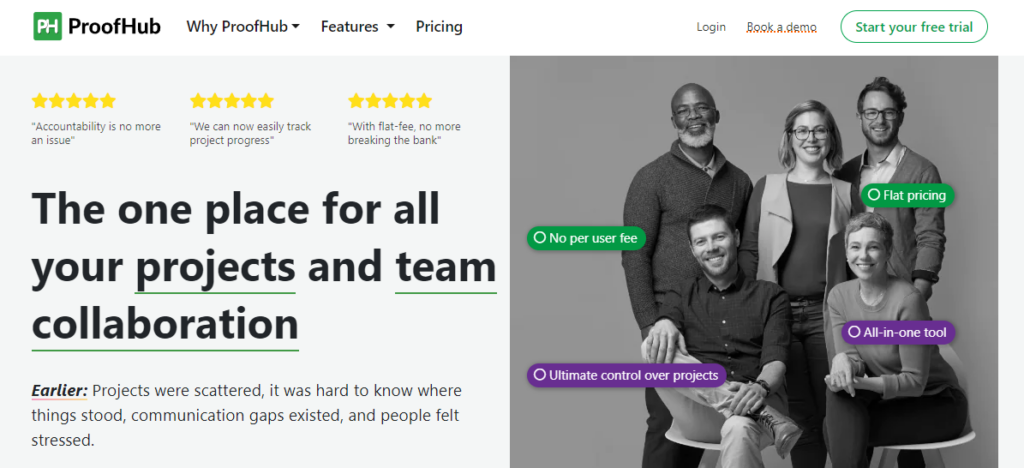 ProofHub is an easy-to-use project management software that simplifies your task management and team collaboration. It lets you stay in ultimate control of your teams, tasks, projects and communications with its powerful features.
Key features
Task management 
ProofHub gives you flexibility in task management. You can create simple to-do lists to add tasks with deadlines and assign them to team members or you can create custom boards for agile workflow management. You can even comment, attach files and mention the team members.
Real-time discussions
ProofHub provides a dedicated space to carry out discussions in real-time. You can create discussion topics and subscribe to your team members. In addition, you also have an in-built chat feature for quick communications.
Online proofing
ProofHub has a powerful online proofing feature that lets you collaborate on design files in real-time. You can review files, add comments to share feedback, annotate using markup tools, proof and approve them from one place.
Pricing
ProofHub offers a free trial, and its Ultimate Control pricing plan with unlimited users is available at $89 / per month. Due to the COVID-19 outbreak, ProofHub is offering its project management software free for schools.
ClickUp is a project management tool that helps remote teams collaborate and communicate with ease. It can be easily integrated with tons of remote tools like Time Doctor, Slack, and GitHub. ClickUp is a top-notch solution for efficient team management.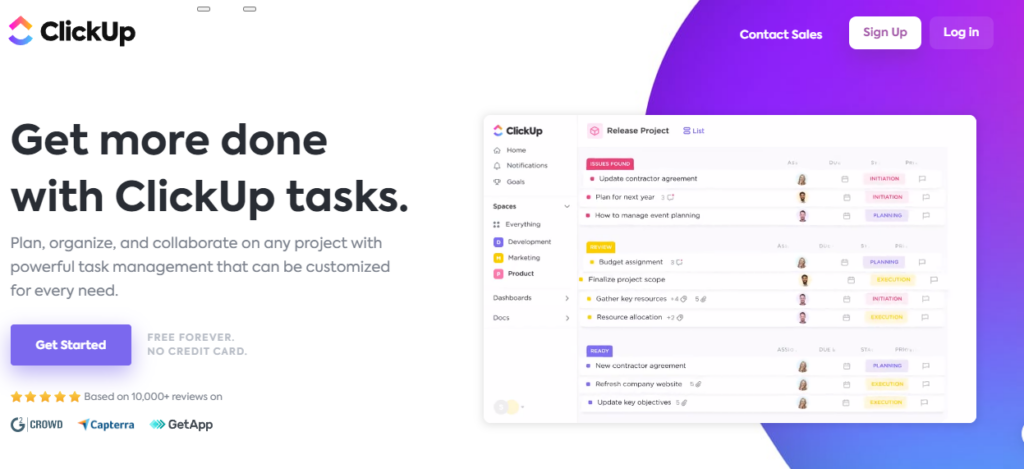 Key Features:
Here is a better look at why ClickUp's is an excellent collaboration tool for your remote team:
Comment Sections:
Want to send quick messages to your team members without leaving your current tasks?
ClickUp's comment sections have a myriad of features for simpler and faster communication. It lets you reply to specific parts of a link or comment to another comment as reference.
You can even format the task, attach files and mention other users and tasks. This increases accessibility and helps your team take action efficiently.
Assigned Comments:
ClickUp lets you instantly turn the comments into tasks. You can assign these comments to any of the team member to remain them of the allotted task. Once this is done, they can simply resolve the comment.
It is simple, quick and helps you instantly communicate the small tasks.
Real-Time Collaboration:
ClickUp helps the remote coworkers to collaborate in real-time. The Collaboration Detection feature of the application lets you determine who else is viewing the same task as you.
In addition to this, multiple team members can edit and work on the same task at the same time with Collaborative Editing
Pricing
The free ClickUp plan offers far greater functionality like unlimited users as compared to paid versions of Trello and Basecamp. Unlimited integrations, advanced reporting features and storage, which cost $9/month per user.
Miscellaneous Tools
Miscellaneous tools are remote platforms that don't actually fit into communication category, however, they assist remote workers to collaborate with their team. This can include tools that help in the project management with the remote team amid Corona.
A loom is a screencasting tool that lets you record your screen and share it with other team members.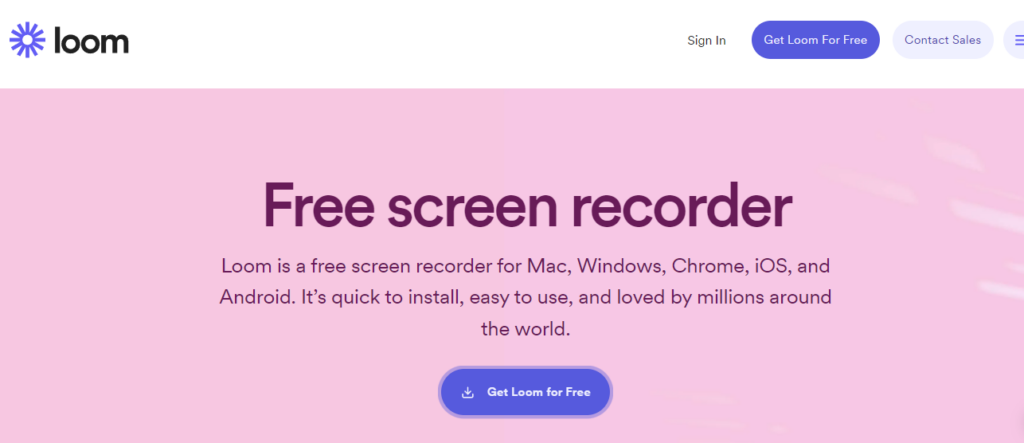 What are screencasts?
Screencasts are look screenshots, but they are in video forms.
They are perfect to explain to your remote team the new tasks and assignments. Instead of dictating instructions, you can send a video to your team members, showing them how to use a particular function.
Key Features:
Audio, Video, and Face Recording:
Loom can take screencasts as well as record your voice and display your face. This enables you to explain the projects clearly to your team, without setting up a video conference.
Universal Compatibility:
The loom is available as an app for Windows, iOS and Mac. It also has a Chrome extension that works within a browser for Android devices. This lets your entire access the tool, despite of the system you are using.
Pricing:
Loom's free plan supports an unlimited number of videos. Due to the Coronavirus outbreak, Loom is offering an unlimited number of videos till July 1, 2020.
Remote teams often make use of several communication apps depending upon their needs. This makes coordinating between the apps time-consuming and complex.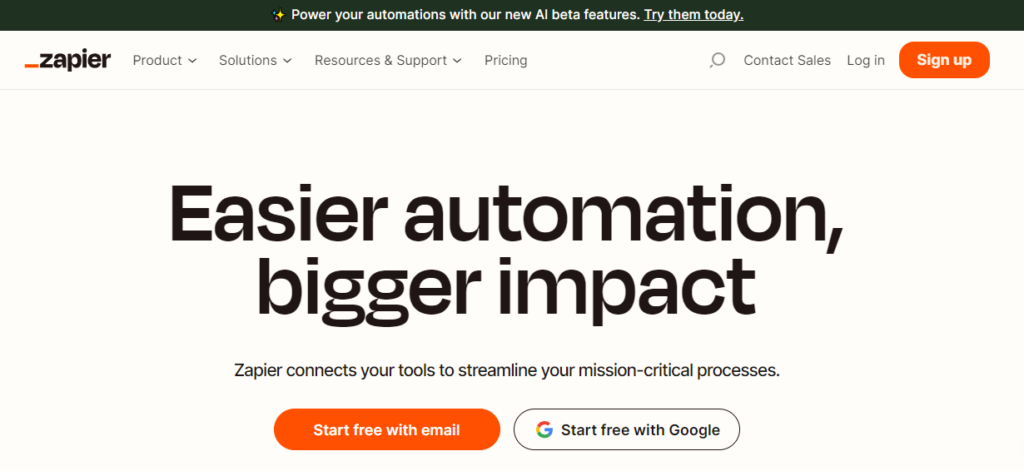 Zapier is a great automation tool that boosts your existing communication platform. By integrating multiple tools together and creating automated workflows, Zapier helps you make the most of your favorite tools.
Features
Send Reminders and Tasks
Zapier enables you to automate tasks and reminders for your team based on particular triggers. For example, you could receive a reminder to follow up every time someone replies to your email.
This eliminates the need for you to remember these things, hence boosting your productivity in the long run.
Pricing:
Zapier's free plan can automate 100 tasks/per month. The paid plan of Zapier includes more tasks and features starting at $24.99/month.