Over the past few years, there has been consistent growth in virtual and remotely working teams. Project delivery is no longer restricted to any specific physical location for the workforce due to the advance tools and software solutions. The advancement in remote team communication and project management has made it easy for businesses to collaborate with a remote team.
The outbreak of Coronavirus has made dozens of companies around the globe to transit to remote operation. And, they are effectively managing their work and achieving their deadlines with the help of project management tools.
In this article, we have compiled the 8 best project management tools for virtual teams to narrow down your research:
Trello
Trello is an online collaboration and visual planning tool that works for virtual workgroups. It utilizes uses a kanban style of organization and management of your boards that you can use in any way like whether it is for tasks, projects or schedules.
Here it is good for working remotely:
Trello tells what tasks are currently working upon, who is working on what projects and what things are in the process.
All the information is updated in real-time and remains in the tool 24/7. Hence, no need for face to face clarification meetings.
You can organize Weekly or Daily meetings by creating a dedicated board that includes the agenda for your team in a structured way.
You can create cards for important items like projects and team activities to provide an overview. Link the documents, related boards and chat channels for anyone who wants to learn more.
You can also set up configurable alerts to notify Slack channels for activities in Trello.
Pricing
Free version of Trello is available. Pro version starts from $9.99/month/user.
Zoho Projects:
Zoho Projects is a project management tool that helps you get the work done through effective planning, collaborating and tracking with your remotely working team. Project planning is streamlined with task lists and milestones for easy monitoring of progress.
Here are some of the exceptional features of Zoho Projects:
Zoho Projects allows you to divide your big projects into easily manageable tasks. Allocate tasks to your team and specify start and end dates.
The cloud-based software aids in the efficient collaboration of employees, vendors and consultants working remotely.
The Gantt-charts feature of the application helps you gain visibility over reports and in-depth insights into your team's progress.
Zoho Projects comes with tools for identifying, tracking, managing documents and resolving issues, which is essential for organized management of virtual teams.
The Task reports in Zoho Projects is grouped by status, milestone, owner, percentage complete and priority.
Pricing
It has free for managing a single project. It has a paid plan which starts at $25 month to $100 month for enterprises.
ConnectWise Manage:
ConnectWise Manage is the unique combination of customer service, sales, management, billing capabilities and project management. ConnectWise Manage collects and stores all your data and provides complete visibility on the progress of the project.
Here are some of the exceptional features of ConnectWise Manage:
You will be to follow supply and purchase orders, assign and manage projects, develop marketing strategies, control sales and serve customers all at once.
Powerful reporting feature by ConnectWise Manage offers numerous and powerful reports to make informed and data-driven decisions.
The system funnels of ConnectWise Manage funnels all your transactions, handle your billing and invoice activities and tracks time.
Pricing
The app comes in three versions namely, Basic, Standard and Premium.
Zoom:
Zoom is a widely used video communication tool that is increasingly being adopted by the remote working teams. Zoom comes with an easy, reliable cloud platform for audio and video conferencing, chat, collaboration and webinars across desktops, mobile devices, telephones and room systems.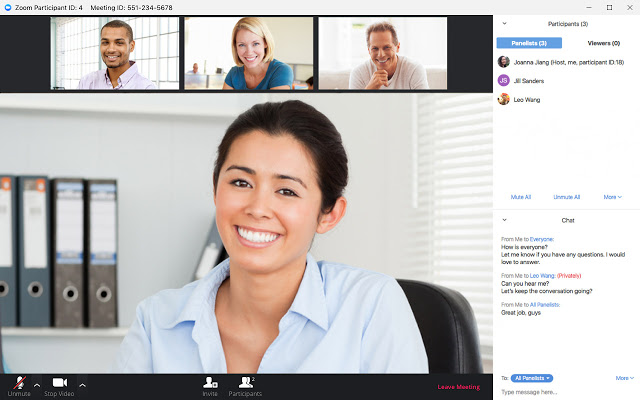 Why it is good for working of the remote team:
The tool allows different members of the team to join the in-person meeting, through the webcam or video conferencing, or via phone.
It allows mobile screen sharing so that you can stay in touch with your colleagues even when you are working remotely.
You can record meetings to your device or to the Zoom cloud, which can be viewed later.
Zoom can be easily synced to Slack.
Pricing: The Basic version of the app is available free of cost. Pro version starts from $1.67/month/user.
Jira:
Jira is a straightforward tool for agile software development teams working remotely. Its solutions are designed to centralize the processes performed by each member of the team. This starts with the planning sprints, distribution of tracks, and tracking that involves the prioritization of important tasks using full-content visibility.
Why it is good for working of the remote team:
It is perfect for development and technical support teams to get work done faster.
Jira offers transparency by giving your team a place to track the daily progress, make adjustments to estimates and check tasks on which other team members are working. This eliminates the need to go and ask your colleague what they are upto.
Jira makes communication easier as it allows the project manager to assign tasks to team members in Jira and they are notified by emails. As they work on the task, they can add comments and mark the progress of their team.
Like Trello, Jira also uses flexible Kanban boards that give full visibility to your team about future tasks.
It offers you access to a plethora of out-of-the-box reports with real-time and actionable insights about the progress of the sprint. Hence, eliminating the need for face to face reporting.
You can bring information from your favorite version control, deploy or feature flagging tool into Jira. This provides you instant visibility into your development pipeline. 
Pricing: The basic version of the tool is available is free. Pro version of the tool starts from $7/month/user.