Over the past few years, there has been consistent growth in virtual and remote working teams. Project delivery is no longer restricted to any specific physical location for the workforce due to the advanced tools and software solutions. The advancement in remote team communication and project management has made it easy for businesses to collaborate with a remote team.
The outbreak of Coronavirus has made dozens of companies around the globe transit to remote operations. And, they are effectively managing their work and achieving their deadlines with the help of project management tools.
In this article, we have compiled the 8 best project management tools for virtual teams to narrow down your research:
Trello
Trello is an online collaboration and visual planning tool that works for virtual workgroups. It utilizes a kanban style of organization and management of your boards that you can use in any way whether it is for tasks, projects, or schedules.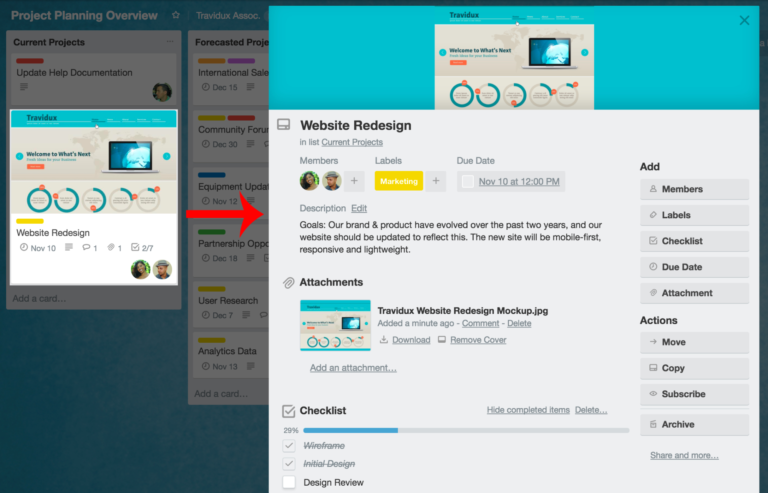 Here it is good for working remotely:
Trello tells what tasks are currently working on, who is working on what projects, and what things are in the process.
All the information is updated in real-time and remains in the tool 24/7. Hence, no need for face-to-face clarification meetings.
You can organize Weekly or Daily meetings by creating a dedicated board that includes the agenda for your team in a structured way.
You can create cards for important items like projects and team activities to provide an overview. Link the documents, related boards, and chat channels for anyone who wants to learn more.
You can also set up configurable alerts to notify Slack channels for activities in Trello.
Pricing
The free version of Trello is available. The pro version starts from $9.99/month/user.
Zoho Projects:
Zoho Projects is a project management tool that helps you get the work done through effective planning, collaborating, and tracking with your remotely working team. Project planning is streamlined with task lists and milestones for easy monitoring of progress.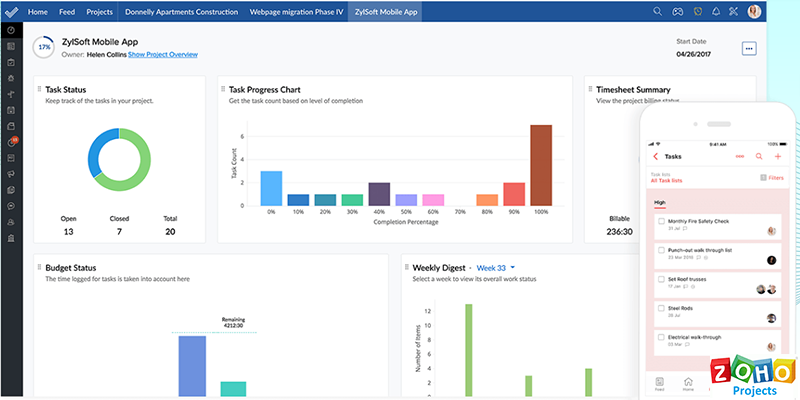 Here are some of the exceptional features of Zoho Projects:
Zoho Projects allows you to divide your big projects into easily manageable tasks. Allocate tasks to your team and specify start and end dates.
The Cloud-based software aids in the efficient collaboration of employees, vendors and consultants working remotely.
The Gantt charts feature of the application helps you gain visibility over reports and in-depth insights into your team's progress.
Zoho Projects comes with tools for identifying, tracking, managing documents, and resolving issues, which is essential for the organized management of virtual teams.
The Task reports in Zoho Projects are grouped by status, milestone, owner, percentage complete, and priority.
Pricing
It is free for managing a single project. It has a paid plan that starts at $25 per month to $100 per month for enterprises.
ConnectWise Manage:
ConnectWise Manage is a unique combination of customer service, sales, management, billing capabilities, and project management. ConnectWise Manage collects and stores all your data and provides complete visibility on the progress of the project.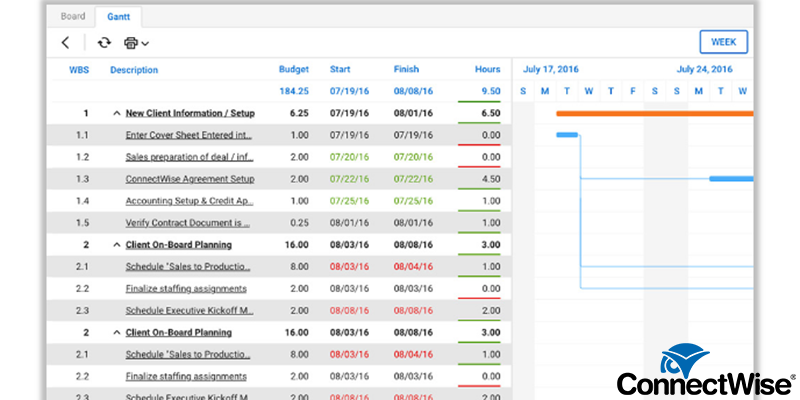 Here are some of the exceptional features of ConnectWise Manage:
You will be to follow supply and purchase orders, assign and manage projects, develop marketing strategies, control sales, and serve customers all at once.
The powerful reporting feature by ConnectWise Manage offers numerous and powerful reports to make informed and data-driven decisions.
The system funnels of ConnectWise Manage funnels all your transactions, handle your billing and invoice activities, and track time.
Pricing
The app comes in three versions namely, Basic, Standard, and Premium.
Zoom:
Zoom is a widely used video communication tool that is increasingly being adopted by remote working teams. Zoom comes with an easy, reliable cloud platform for audio and video conferencing, chat, collaboration and webinars across desktops, mobile devices, telephones and room systems.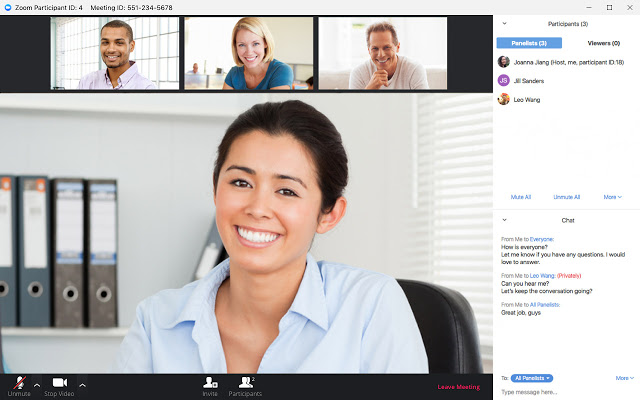 Why it is good for working on the remote team:
The tool allows different members of the team to join the in-person meeting, through webcam or video conferencing, or via phone.
It allows mobile screen sharing so that you can stay in touch with your colleagues even when you are working remotely.
You can record meetings on your device or to the Zoom cloud, which can be viewed later.
Zoom can be easily synced to Slack.
Pricing: The Basic version of the app is available free of cost. The pro version starts from $1.67/month/user.
Jira:
Jira is a straightforward tool for agile software development teams working remotely. Its solutions are designed to centralize the processes performed by each member of the team. This starts with the planning of sprints, distribution of tracks, and tracking that involves the prioritization of important tasks using full-content visibility.
Why it is good for working on the remote team:
It is perfect for development and technical support teams to get work done faster.
Jira offers transparency by giving your team a place to track the daily progress, make adjustments to estimates, and check tasks on which other team members are working. This eliminates the need to go and ask your colleagues what they are up to.
Jira makes communication easier as it allows the project manager to assign tasks to team members in Jira and they are notified by email. As they work on the task, they can add comments and mark the progress of their team.
Like Trello, Jira also uses flexible Kanban boards that give full visibility to your team about future tasks.
It offers you access to a plethora of out-of-the-box reports with real-time and actionable insights about the progress of the sprint. Hence, eliminating the need for face-to-face reporting.
You can bring information from your favorite version control, deploy, or feature flagging tool into Jira. This provides you instant visibility into your development pipeline. 
Pricing: The basic version of the tool is available is free. The pro version of the tool starts from $7/month/user.
Best Tools For Remote Teams To Conduct Meetings
Who said, "Work need not be done sitting in a specific place to be executed successfully"? Well, he was not wrong, especially in this situation when the Coronavirus outbreak has locked us down in our homes and we are practicing social distancing to protect ourselves and to manifest a civic spirit.
How Coronavirus can impact our work lives as designers/developers:
No more client meetings
No more office meetings
No more brainstorming and socialization
Anxiety caused by to spreading of COVID-19
Losing time by getting distracted
Thanks to the remote working tools, we can still be productive and enjoy seamless collaboration with our teams who are working from different parts of the world. Here, in this article, we are sharing the list of tools that are widely being used by remote working teams for meetings and presentations:
Slack is a chat room designed to replace the hassles that come with email and allow you to organize communication by creating different groups. It is one of the best tools for remote teams for the team working remotely.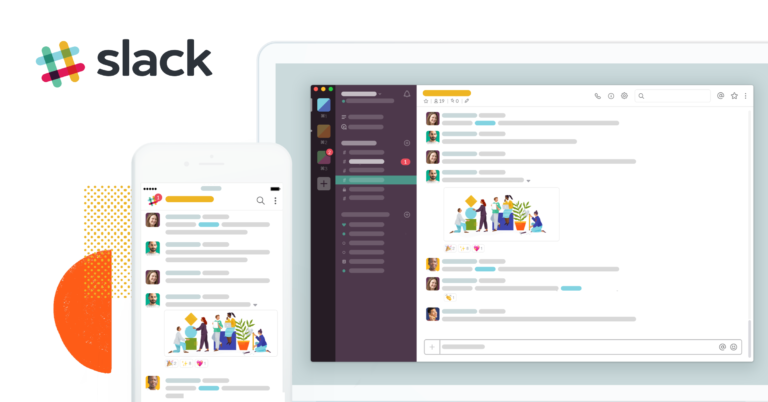 Slack-Tool for Effective Communication
Why it is good for the teams working remotely:
It is a fast and easy solution for communicating with your team. You can note down your points and get answers quickly.
You can use bots, which help you manage tasks, poll the office, run your team standup and more.
You can organize video conferences and conduct face to face meetings (without spreading viruses).
You can share channels with partners, vendors and customers, hence eliminating the need to travel and get out of your personal space.
You can move meetings to channels, which means you can set a weekly status meeting by fixing a specific time of the day during which everyone should post their status in the channel created for that specific project.
Pricing:
The basic version of the tool is available free of cost. The pro version starts from $6.67/month/user.
Basecamp is a real-time communication tool that helps the team to remain on the same page. It provides a way to the teams to track on the priorities and actionable items.

Basecamp Work Tools
Why it is good for the teams working remotely:
Every project in Basecamp includes the tools that teams need to work remotely together; to-dos, docs, file storage, message boards, automatic check-in questions, and real-time group chats.
Basecamp's real-time group chat function, known as Campfires, let you ask questions and get their answers quickly. All without reaching for a separate application.
You can have a private conversation with individual member of the team.
Basecamp also lets you change the color of Basecamp's interface, which makes working remotely more interactive.
Pricing:
Basecamp doesn't offer a free basic version. Its paid version starts from 99/month/team.
AnyDesk is remote desktop software that allows users to connect to a computer remotely from any part of the world. For this, all you need to have is an Internet connection. Being able to connect remotely is helpful for companies with on-the-go employees as well as IT professionals.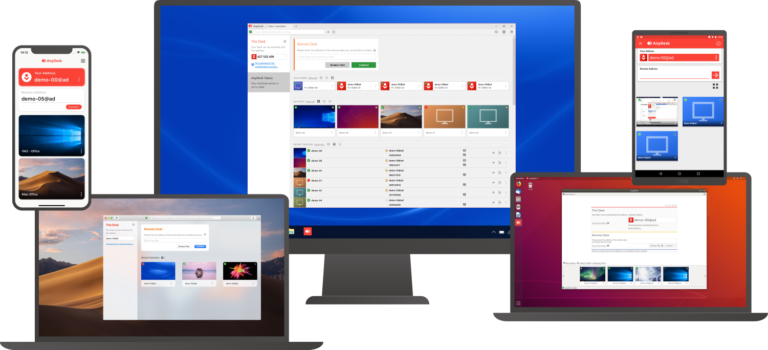 Anydesk-Remote Desktop Software Tool
Why it is good for the teams working remotely?
You can communicate and collaborate without any hassle, whether you are holding presentations or online meetings, or working on the same document from the other side of the world.
You can get a recording of each session.
You can access your office computer from anywhere. If you have forgotten your laptop at the office or you have to stay home due to sudden locked-down by the government, you need to worry. With Anydesk, you can access your work laptop from your personal laptop. All you will need is a password.
Anydesk is highly secure and your computer is protected from unauthorized access.
Pricing:
The basic version of the software is available Free and the Pro version starts from €8.99/month.
ProofHub is a project management tool used by a team of all sizes for managing their work. It replaces various tools for remote teams, which you need to plan, collaborate and manage daily tasks. Also, the easy-to-use interface of ProofHub makes onboarding effortless.
Proofhub-Project Management Tool
Why it is good for the teams working remotely?
You can assign tasks, create a deadline and add labels to differentiate different tasks from one another.
Teams can collaborate seamlessly through comments and chats.
You can track time using multiple timers and even by logging manually
Every member of the team remains updated with the progress of the tasks as they receive real-time notifications.
You can see the progress of your project and the team's workload to assign work efficiently using workload reports.
Pricing:
ProofHub offers ultimate control plan for $89/month and there is no per-user fee.
How to Make Sure That Your Workplace Is Corona-Safe?
Information and statistics on the Novel Coronavirus are changing every hour, spreading worry and chaos along with the illness. In order to prevent the spread of the coronavirus as well as the misinformation associated with it, employers need to have an open dialogue with employees about the spread of the disease. It becomes the moral responsibility of every organization to discuss the potential impact of the virus and what precautionary measures to be taken to prevent the spread of the disease.
As it is said, "prevention is better than cure", here, in this article, we are sharing the top tips to safeguard your workplace from getting hit by Corona.
Let's dive in:
1. Encourage Frequent Hand-Washing for Employees and Visitors:
The best way to prevent the spread of the illness is to keep your hands clean and avoid touching your nose, eyes, and mouth. Wash hands with soap and water for 20 seconds properly by rubbing and lathering the backs of the hands, cleaning between fingers and nails as well. To remind employees that they wash their hands regularly, please put signs around the building, especially in public areas such as the pantry and washroom.
2. Use Alcohol-based Sanitizer:
Keep alcohol-based sanitizers at multiple places, depending upon the strength of your workplace, and ask employees to use them before returning to the desk after tea and lunch breaks.
3. Routine Environment Cleaning:
Centers for Disease Control and Prevention (CDC) has recommended routinely cleaning and disinfecting all frequently touched surfaces in workplaces such as countertops, doorknobs, and workstations. Workplaces should be cleaned regularly and using top-notch cleaning agents. 
Also, it is suggested to provide employees with disposable wipes so that commonly used surfaces can be wiped down frequently and the risk of virus spread can be reduced further.
4. Encourage Sick Employees to Stay Home:
It is recommended by health professionals that employees who are showing symptoms of acute respiratory illness stay home and not come to work until there are no more signs of fever or for at least 24 hours. 
It is suggested that employers encourage sick employees to stay at home by offering them paid sick leaves. Sick leave policy should be flexible and align with public health guidance. A sick employee with symptoms of cold and cough could infect other healthy counterparts, which is why it is better to promote social distancing in case someone is sick.
5. Know the Travel Plans of your Employees:
It is recommended to cancel all upcoming work-related travel plans, especially to countries like China, the UK, and Europe, which have the maximum number of reported cases. 
Moreover, if your employees are visiting any of the heavily affected countries due to personal reasons, strongly suggest they cancel their plans. Employees who have a recent international travel history should be given work from home and should be directed for self-quarantine for 14 days.
6. Encourage Work from Home:
Encouraging employees to work from home has become quintessential as there is an exponential rise in COVID-19 cases around the world. Sick employees coming to the office/ workplace for jobs may impose a major risk on the health of others working with them. Hence, it is crucial for employers to consider how to decrease the impact of the spread of acute respiratory illness in the workplace and encourage employees to work from their homes.
Read More: Here are 6 tools that help you manage work from home without any inconvenience
7.  Consider Hiring Additional Resources: 
If you have a certain project that needs to be completed on deadline and that is the reason why you are unable to provide sick leaves, then you should consider hiring freelance developers. Hiring additional resources would ensure that you can meet the client's deadlines without taking any chances on the health of your employees.
8. Switch to Remote Developers:
Several countries around the world have been shut down to curb the spread of the pandemic. Such a scenario of a complete shutdown greatly impacts productivity. Business owners and project managers are finding it difficult to get the project completed in a committed period.
Under such a situation, a remote development team can be your savior. Setting up remote development in countries like India where the spread of the virus is highly under control can help you meet the deadlines of the project. 
Although hiring freelancers can also be the option to get your development project completed on time. However, freelancers can disappear at any point in time and show a lack of commitment toward the project, which makes it daunting to work with freelancers. 
In contrast to this, hiring remote developers simply means reducing the burden on your shoulders. Hiring a remote development team provides you with an opportunity to choose from a wide international talent pool of coders. They will be working just like your in-house team; the only difference would be they will be operating from a safe working environment and at cheaper prices.
This was all about the tips to reduce the risk of the Coronavirus at your workplace. Also, we have provided you with safe and cheap alternatives to your in-house team that will help you in meeting the project deadlines in the present situation of work-from-home and quarantine.
Five Strategies to Help Startups Survive Coronavirus
The startup is a risky venture and the life of a startup is frenetic, but the outbreak of Coronavirus has escalated this frenetic thing to all-new levels. Not since the September 11 horrifying attacks, the social and professional conversations have been entirely monopolized by a single topic.
Originating in China's Wuhan, Corona is a social and economic sledgehammer that has descended upon the whole world. Here are some of the biggest challenges for startups amid Corona: missing supply chain links, little cash on hand, eager but scared employees, consumers who are have shifted to staple products and services and online-only channels.
Time is hard for every industry, whether it is a web and mobile app development company or an eCommerce venture. Every business is hit hard around the globe, and for startups, it is the hardest. However, startups use to manage the business with limited resources, and if armed with the right approach, the startup ventures would be able to survive this difficult phase.
Here are the 5 Strategies for all early-stage entrepreneurs that will help your startup business to survive amid Corona:
        1. Accept the Problem:
When any disaster takes place, there is always some shared population that remains restrained and over-optimistic about it. While there are some startups have that started focusing on the negative ramifications to their business and started to adjust accordingly, there are still some that think their business will be insulated or might even see an uptick.
Over a couple of months, every industry would get to know that coronavirus is an unexpected seismic force that will turn every element of society upside down. No doubt, some businesses will witness the direct and immediate impact of the pandemic, but none of us emerge from the Corona in one piece.
The sooner startup ventures will move past denial and start extenuating the scope of the impact, the better off them and their stakeholders will have.
      2. Re-evaluate and Prepare Again:
No matter, whether you have prepared your operating plan in January, February, or 15 days before today, you need to re-evaluate it. Most startups tend to overestimate what they can accomplish in a year and underestimate the result that they will obtain after five years. Right now, many startups are overestimating the post-Corona growth but underestimating the impact that they will face in Corona times. This situation of whammy must be baked to get revised operating plans. It is important to note here that the risk of being unprepared is more significant than the downside of over-preparation. 
Make sure that your revised operating plans are more solid than it is required. In other words, plan for the worst and hope for the best. Corona will increase the length of the sales cycle and deal sizes will shrink as consumers will be more reticent while spending.
Companies involved in selling physical products will experience a disruption in supply chains and startups that are majorly dependent on in-person sales efforts will also take a hit due to travel restrictions and an increase in remote work. All in all, every startup venture should look now to start practicing the art of digital selling. Calls and video conferencing are not just, every sales plan should be re-evaluated and changed accordingly.
We all will be impacted, so plan accordingly. Spend time discussing the strategies of tomorrow and next week, rather than building plans for next quarter and next year.
Read Also: Mobile App Development Ideas for Startups to Thrive Amid COVID
         3. Be the leader your team needs right now.
It is the moment of crisis that reveals the true mettle of leaders. Nothing matters more than employees associated with you at this difficult time. Start by mandating telecommuting and make sure you are keeping the employees' safety above all. Also, if you can afford to keep contract workers who are not able to work remotely, then you must not lay off.
VCs often advise founders to raise more money than to safeguard the business in case the unimaginable occurs. Well, this is that unexpected time when you need that cash reserves. However, no decent investor will ever punish you for incurring costs from doing the right thing. Right now the crisis is happening in every part of the world and across every business sector. So, currently, it is important to do the right thing first.
         4. Overcommunicate and Empathize:
The current situation is panicking for everyone, whether it is your customers or employees. If you are physically away from them, be visibly and emotionally present. Try to communicate as much as possible. Try to conduct company and department-wide video conferences; you can use tools like Zoom, UberConference, FreeConference, and Skype.
Replace certitudes among your team with frequent words of affirmation. Use emphatic language over calls, texts and emails to communicate your support. Make sure you are showing empathy and flexibility towards your team in this difficult situation. There might be parents in your team with small children around, who are trying to be as productive as possible. Same with the young individuals with elderly parents who need to be taken care of. Tighten the belts humanely, and tell them you understand and support them during this situation.
There will be many startups that would crash under the impact of Corona and there will be many families that will go through unprecedented economic and social pressures. Yet as the CEO, it is imperative to keep your moral grounded high while fighting this state of insolvency and low sales.
If you are a startup venture with cash as a limited asset, here are the things that you can follow to balance the current phase:
Reduce hiring or at least postpone current hiring for quite a few times.
Plan to resume hiring whenever a company starts to stabilize.
Cut the discretionary costs by halting the marketing and sales campaign. Such expenditure encourages incremental growth and can be put on hold for some time.
If the cash situation becomes worse, then you might have to consider layoffs. If you are adopting it, make sure you are generous with severance and outplacement packages.
           5. Aim not to Survive but Thrive
There is no denial in the fact that months ahead are going to be freakingly tough. But, remember innovation and creativity also emerge during the situation of scarcity and reframed prospectives. In-person meeting with your sales team is no longer an option in the present situation; however, you can motivate your team to develop products that customers love.
Workflow automation will be at the center stage for the companies that sell products to consumers or enterprises. The usage of a lot of products and services will narrow down in the coming months, but it will return to pre-COVID-19 phase once we are on the other side. An innovative approach can also establish "new normal" across a myriad of products and services, which will pave the way for non-linear growth and expansion.
Before Corona companies faced challenges and emerged from downturns. So, don't quarantine your mind and keep looking for innovative ideas. The right idea will not only make us survive but thrive in Corona times.
Parting Ways
Coronavirus is not something that we'd have wished or prepared for, but now since it is here, rather than simply losing hopes, see it as a challenge and work to overcome it. Focus on what truly matters and how you can make up to the other side of it. But, before that, wash your hands with soap and don't forget to maintain social distancing. Stay at home and stay safe.
If you enjoyed this article, please do let us know by sharing your valuable comments.