Every business startup begins with high hopes and investor confidence. However, there are certain odd circumstances that can either make a business startup or mar its success.
According to various studies conducted recently, a number of business startups capitulate due to a myriad of reasons, one of the most common being lack of budget. Capital is the basic ingredient for any business to thrive. Without adequate finance management, business startups tend to fall down, and this malignant obstacle often causes early-stage startup owners to seek for financial backup.
If you are also one of those entrepreneurs who are finding effective ways to raise funds for your startups, then you are in the right place. In this blog, you will find everything right from what is funding to how to raise the funding at various stages of your startup.
Let's dive in:
What is Funding?
Funding refers to the capital that is required to start and run a business. It is a financial investment in the company for manufacturing, expansion, office spaces, product development, inventory, sales and marketing.
Many startups choose to not raise funding from external sources and are funded by their co-founders only, which prevents debts and saves them from equity dilution. However, as the startups grow large and scale their operations, they look forward to raising the funding.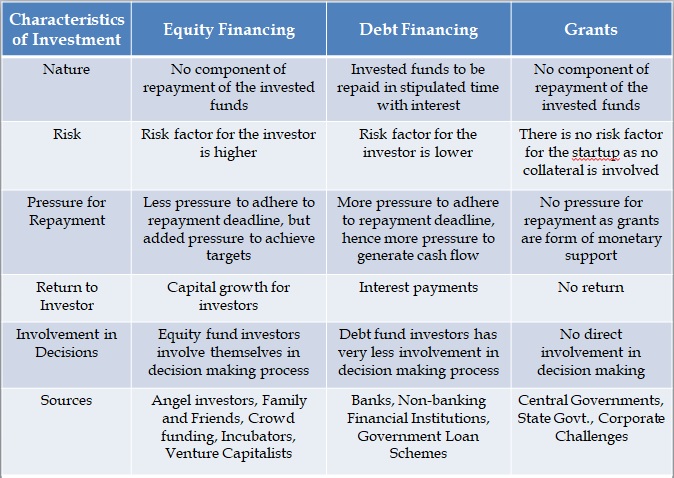 Why is Funding Required?
There are one, a few or all of the below-mentioned reasons for a startup to raise funding. As an entrepreneur, you should be clear about why you should raise funding and you should also have a detailed business plan before you approach the investors.
Team hiring
Working capital
Prototype creation, product development
App/Website development
Raw materials and equipment
Licenses and certifications
Legal and consulting services
Marketing and Sales
Office space.
Sources of Funding at Various Stages of Startups:
There are multiple funding options available for startups. However, the source of funding should align with the stage of your startup. It is important to note here that raising funds from external sources is a time-taking process and it can consume over 6 months to convert.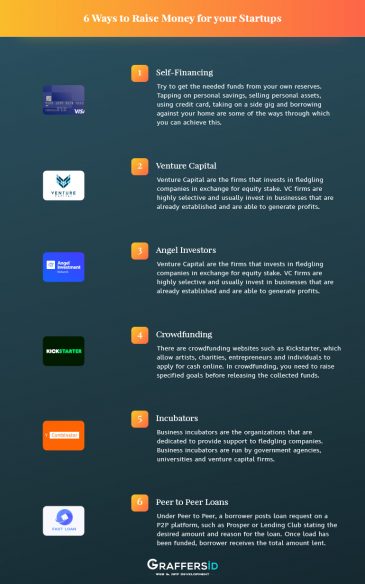 1. Ideation Stage:
This is the stage where you have an idea and working to bring it to life. At this stage, the amount of funds that is usually needed is small.
Given the fact that you are the very low stage of the startup lifecycle, there are limited sources for raising funds. Common funding sources that are used by startups in this stage are:
2. Friends and Family:
This is the best source to raise funding at the initial stage is to ask your friends and family. You can also ask them to become a part of your plan.
3. Bootstrapping:
Bootstrapping a startup means growing your business with no venture capital. It means relying on your own savings and revenue to operate. This is the best option if you have enough savings as there will be no pressure to pay back the fund or make people part of your plan.
Know How to find a developer for your startup
4. Pitching Events:
This is the prize money or financial benefit that is provided by organizations that conduct business plan competition and challenges. Even though the amount of money that you will get through this is not generally large, but it is usually enough for the idea stage. But, to win such pitching events it is a crucial and unique business plan.
5. Validation/Seed Stage
This is the stage where you have a prototype ready for your startup and you are looking forward to validating the potential demand for your startup's product. This stage is also known as Proof of Concept, where you launch the prototype of the product to determine the market needs. And, to do this, you will be required to conduct the test the product on potential customers and conduct field trials.
Here are Top 11 Swedish Startups to Watch in 2021
Common funding options that startups can utilize at this stage are:
Angel Investors:
No need to frown if you don't have a rich-uncle and you can't get enough cash from on your assets, you can always look for a wealthy non-relative. You can approach well-off individuals to invest in your startup in the exchange for an equity stake. These investors are known as angel investors. Angel investors are generally the ones who are successful in a particular industry and looking for new opportunities in that same industry.
There are angel investors who not only provide you with the finances to get your business off the ground but also share their experience. Moreover, they can also leverage their current contacts within an industry to open the doors for your startup. 
Here is a list of few organizations that put your business in contact with angel investors:
Go4Funding
Incubators:
Business incubators are your go-to option if you have an excellent business, but need aid in terms of both money and guidance. Business incubators are organizations that are dedicated to providing services and support to fledgling companies. Business incubators are mainly run by government agencies, venture capital firms and universities with the goal of nurturing new business. They are dedicated to providing early-stage startups with networking, infrastructure marketing, and financial assistance.
Here are some of the popular business incubators:
Crowdfunding:
There are crowdfunding websites such as Kickstarter, which allow artists, charities, entrepreneurs and individuals to apply for cash online. Prospective entrepreneurs who are planning to raise funding through crowdfunding need to understand the rules of the game.
Some crowdfunding asks you to raise specified goals before releasing the collected funds. If the goal is not met, funds are returned to the donors. The important thing to note here is these platforms also take a cut of the money raised to fund their own operations.
Here are some recognized crowdfunding platforms:
Peerbackers
RocketHub
Early Traction Stage:
Early Traction Stage is defined as the stage in which the startup's products or services are launched in the market. Key performance indicators such as revenue, app downloads and customers become crucial at this stage. At this stage, funds are required to increase product offerings, grow user base and expand to new geographies.
Here are Mistakes and Solutions: 5 Lessons from 10 Failed Unicorn Startups!!
Common funding sources available in this stage are:
Banks/NBFCs:
At this stage, startups can show the market traction and revenue to raise the format debt from banks and NBFCs. This is especially applicable for working capital. Here some entrepreneurs might prefer debt funding over equity as the former does not dilute equity stake.
Venture Capital Funds:
Venture Capital funds are professionally managed investment funds that are exclusively available for high-growth startups. Each VC fund has got certain investment criteria like the stage of a startup, preferred sectors and funding amount, which should align with the startup.
Venture Debt Funds:
These are private investment funds that invest money in startups mainly in the form of debt. Venture Debt Funds typically involve funding along with an angel or VC round.
Scaling & Above Stage:
This is the stage at which startup is experiencing a fast rate of market growth and boosting revenues.
Know about What is the best eCommerce platform to use for a startup?
Common funding sources utilized at this stage are:
Venture Capital Funds:
It is recommended to go for this approach only after the startup has achieved significant market traction. A pool of VCs may come together and fund your startup.
Private Investment Firms:
Private Investment Firms have lately started funding fast-growing startups who have successfully maintained a consistent growth record.

Conclusion:
Unless you already a high bank balance, putting together finances to launch new business demands serious planning and effort. While raising funds for your startup, it is crucial to weigh the benefits and downsides of available funding options. Make sure to check all the pros/cons of the funding option you are choosing so that you can enjoy the greatest flexibility at the least cost.
You can also consider obtaining funds from a mix of different sources. Even if you land a significant band, you may need additional cash to manage unanticipated events and expenses. Fortunately, the rise of financing sources like peer-to-peer lending and crowdfunding have brought more range of financing options for entrepreneurs than ever before.