If you are planning to start a business, having a strong online presence is very important to thrive in today's world. Therefore, owning a website is a prime necessity for businesses to sustain and grow in the current digital space. Well, just owning a website isn't enough. We have listed some of the best eCommerce platform for startups in 2023 for you. 
By now, many entrepreneurs have realized the significance of a good website design and e-commerce platform for the credibility of a business. Your website is the face of your business, as such; it should be built using the best eCommerce platform.
It takes around 50 milliseconds for a user to form an opinion about your website. With that being said, it makes sense to choose an efficient e-commerce platform for your business. Websites are subject to hasty decisions that are likely to influence the brand's perception and integrity in the market.
Don't believe it?
Check out the eye-popping facts and statistics on website design:
● 57 % of internet users avoid recommending a business with a poorly designed website.
● 88% of consumers do not return to a website after a bad experience.
● 39% of users stop using a website if images take too long to load.
● 38% of users stop using a website if the layout or content is not appealing.
● According to 77% of agencies, bad website User Experience is a significant weakness for their clients.
● 46% of consumers judge a website based on its visual appearance and aesthetics.
What does it imply?
From the aforementioned statistics, it is clear that your website is a prime factor for judgment. A bad quality website can impact your company's credibility negatively. It shapes the opinion of people and decides how they perceive your company as a whole. Therefore, a responsive web design with an attractive layout is essential to let your business stand out and extend its reach to maximum consumers.
So, if you want an effective and interactive website design, choose an experienced web design and Development Company. In this post, we will dig into the details of choosing a suitable e-commerce platform for your business needs.
But before we do that, we would also like to tell you that do not hesitate to reach out to a Web Design and Development Company, if you find the need to. And believe us, when you go that extra mile to recruit a professional web design and development company, you'll experience the difference. And more importantly, your brand will create a positive impact on a better market reputation.
Read towards the end of the post to know 'the right questions to ask before choosing the suitable Web Design and Development Company'.
Read Also: SCOPE OF ON-DEMAND SERVICE APPS AND ITS MARKET TRENDS
Best Ecommerce Platform For Startups to Choose in 2023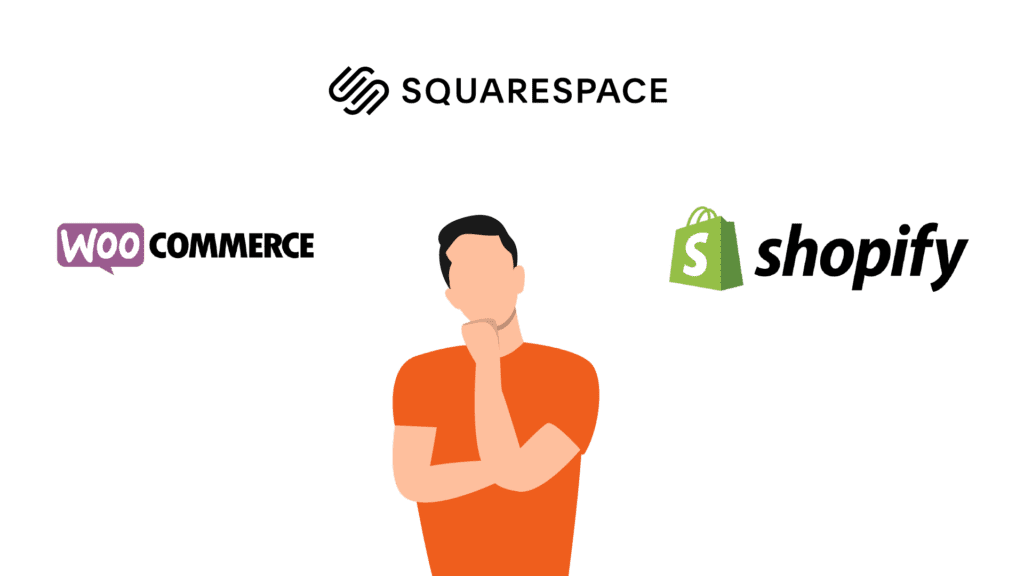 Building an online store was never easier, today, there are multiple options available offering different packages to suit every need. In order to choose the right e-commerce platform for your startup, have a look at some of the top choices:
Shopify:
Shopify, a 2006 platform is one of the most sought-after platforms. It has more than 4.4 million active users. With a number of templates available, you can easily design the look and feel of your store and get it running within minutes. There also is an option of exhibiting via 3D models and videos.
Shopify provides full CMS to manage the functionality and layout of the store and has a very responsive support system. Multiple payment gateways and credit card payment options make shopping easy on Spotify.
You can also customize your storefront for Facebook and Instagram marketing. Another compelling feature is the store speed report that greatly helps store owner market better.
Features:
● Offers great flexibility to customize an online store and manage inventory.
● Has unlimited products.
● Has unlimited online storage and bandwidth.
● Provides hosting and SEO services
WooCommerce:
WooCommerce is a robust platform that comes with several built-in benefits. It is not a stand-alone platform like others mentioned in the list, but it is a free plug-in that converts your WordPress website into a functional eCommerce store/website.
But for payment processing, stock control, and inventory management you need to install a number of third-party plug-ins. You can further customize your website with add-ons with cost a few dollars hardly.
Features:
● WooCommerce comes with multilingual support.
● Offers flexibility to add memberships and subscriptions, and various other WordPress plugins.
● Offers high customizability.
● Offers plenty of optimized themes.
SquareSpace:
Squarespace is one of the simplest platforms deemed suitable for creating personal websites, portfolios, blogs, and small businesses. It is one platform that has the most beautiful design templates and is also a fully hosted platform, so a shop owner does not have to worry about service maintenance and/ or associated cost. It also offers great online marketing features and ship station integration too.
Features:
● Offers great ease of use.
● Has stunning template designs.
● Efficient for simple stores.
● Has plenty of features and functionalities.
Big Commerce:
Established in 2009 promises to "support your business, not just your store." It offers a variety of templates and themes to get stores up and running in a giffy and also look their best with small efforts. Users also have an option to design their stores or take the help of their designers to get a customized store.
Big Commerce also offers multiple marketing tools, analytics, and payment gateways to help a store perform better. Another added feature is support for Amazon Import and Link and shopping on Instagram stories.
Features:
● Flexible Product Management
● Customized designing
● Great Service Support
Core Commerce:
Set up in the year 2001 is one of the older players in the market that focus on providing services to small and mid-sized businesses. It's a uniquely thought platform that lays stress on simplicity and transparency meaning customers will not fall prey to any hidden charges. Another unique aspect is all customers get all features regardless of the chosen plan.
Prices are distinguished depending upon the number of products, need for storage, amount of bandwidth, number of email addresses needed, etc. And like other platforms, Core Commerce also provides store designing, product management, and order processing functionality.
Features:
● All features offered regardless of chosen plans
● Emphasizes on transparency
● Additional support of higher-end plans
Read Also: PWAS ARE THE NEW DOSE OF VITAMINS FOR THE E-COMMERCE MARKET
Things to Know Before Choosing a Suitable Web Design and Development Company
Before you start your search, there are certain questions you need to resolve to outsource the task to the best agency as deemed fit for your business needs.
Here are the questions to be asked of the company you are hiring.
Professional Portfolio- what does it hold?
Checking portfolios will provide you insight into company experience and track of work. Moreover, it will showcase the abilities and expertise of the team in handling similar projects.
A portfolio is a window to the company's legacy in the field. It will make it easier for you to make decisions and resolve conflicts that might erupt later on. However, be sure to check each element of a website designed by the firm as many sites may trick you by showing a sugar-coated portfolio.
Read Also: WHAT ARE THE QUESTIONS NEEDED TO BE ASKED BEFORE HIRING AN IOS APP DEVELOPER?
What is the timeline?
Timeline is another important aspect to consider before outsourcing the web development project. Before signing an agreement, confirm with the company about the time it needs to complete your project.
Ask them to provide you with deadlines for completing different aspects of the website phase-wise. It is always good to hire a company that acquaints you with clear details on project delivery and timeline.
Will the website be responsive?
This is the most crucial question to ask for a website design and development company. With an ever-increasing number of mobile users, your website needs to be mobile compatible to get your business discovered by people across the globe.
In case if your website is non-responsive you may get overshadowed by your competitors. So be sure to ask the company you recruit whether the website developed by them will be responsive on all devices or not. If they cannot, divert your search for other companies.
Are design and development both inclusive within the cost?
This is the one relevant question that you need to ask a web development company. Web development and design are two different concepts that cannot be used interchangeably. Verify the quotation provided by the company, whether it covers the cost of both design or development or just a single service.
Ask the company to be clear with a quotation and also verify whether the amount is suitable as per your budget or not.
What are the core services?
The web design and development agency you pick must provide you all prerequisite services. They should have dedicated staff to handle core offerings of web development and design. Thus, it is better to inquire about the design and development team. The agency should be efficient to offer all services as per the industry standards.
Key Takeaway
Hope the above-mentioned tips help you find the best web development and design company and choose the right e-commerce platform for your business. However, if you are still confused about which option to choose then resorting to professionals is the right way out.
Professional companies like Graffersid are equipped with the proper tools, techniques, resources, and experience to execute tasks accurately that too on time, and on a fair budget. Remember it is an investment, you are paying today, but in the long run, you are saving your time as well as money.