If you are planning to start a business, having a strong online presence is very important to thrive in today's world. Therefore, owning a website is a prime necessity for businesses to sustain and grow in the current digital space. Well, just owning a website isn't enough. We have listed some of the best eCommerce platform for startups in 2023 for you. 
By now, many entrepreneurs have realized the significance of a good website design and e-commerce platform for the credibility of a business. Your website is the face of your business, as such; it should be built using the best eCommerce platform.
It takes around 50 milliseconds for a user to form an opinion about your website. With that being said, it makes sense to choose an efficient e-commerce platform for your business. Websites are subject to hasty decisions that are likely to influence the brand's perception and integrity in the market.
Don't believe it?
Check out the eye-popping facts and statistics on website design:
● 57 % of internet users avoid recommending a business with a poorly designed website.
● 88% of consumers do not return to a website after a bad experience.
● 39% of users stop using a website if images take too long to load.
● 38% of users stop using a website if the layout or content is not appealing.
● According to 77% of agencies, bad website User Experience is a significant weakness for their clients.
● 46% of consumers judge a website based on its visual appearance and aesthetics.
What does it imply?
From the aforementioned statistics, it is clear that your website is a prime factor for judgment. A bad quality website can impact your company's credibility negatively. It shapes the opinion of people and decides how they perceive your company as a whole. Therefore, a responsive web design with an attractive layout is essential to let your business stand out and extend its reach to maximum consumers.
So, if you want an effective and interactive website design, choose an experienced web design and Development Company. In this post, we will dig into the details of choosing a suitable e-commerce platform for your business needs.
But before we do that, we would also like to tell you that do not hesitate to reach out to a Web Design and Development Company, if you find the need to. And believe us, when you go that extra mile to recruit a professional web design and development company, you'll experience the difference. And more importantly, your brand will create a positive impact on a better market reputation.
Read towards the end of the post to know 'the right questions to ask before choosing the suitable Web Design and Development Company'.
Read Also: SCOPE OF ON-DEMAND SERVICE APPS AND ITS MARKET TRENDS
Best E-commerce Platform For Startups to Choose in 2023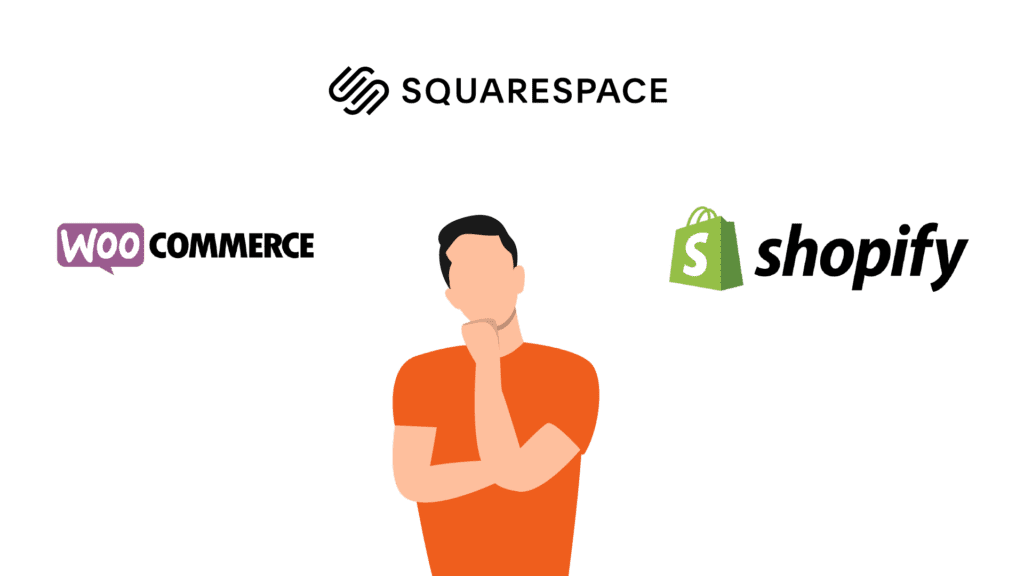 Building an online store was never easier, today, there are multiple options available offering different packages to suit every need. In order to choose the right e-commerce platform for your startup, have a look at some of the top choices:
Shopify:
Shopify, a 2006 platform is one of the most sought-after platforms. It has more than 4.4 million active users. With a number of templates available, you can easily design the look and feel of your store and get it running within minutes. There also is an option of exhibiting via 3D models and videos.
Shopify provides full CMS to manage the functionality and layout of the store and has a very responsive support system. Multiple payment gateways and credit card payment options make shopping easy on Spotify.
You can also customize your storefront for Facebook and Instagram marketing. Another compelling feature is the store speed report which greatly helps store owners market better.
Features:
● Offers great flexibility to customize an online store and manage inventory.
● Has unlimited products.
● Has unlimited online storage and bandwidth.
● Provides hosting and SEO services
WooCommerce:
WooCommerce is a robust platform that comes with several built-in benefits. It is not a stand-alone platform like others mentioned in the list, but it is a free plug-in that converts your WordPress website into a functional eCommerce store/website.
But for payment processing, stock control, and inventory management you need to install a number of third-party plug-ins. You can further customize your website with add-ons with cost a few dollars hardly.
Features:
● WooCommerce comes with multilingual support.
● Offers flexibility to add memberships and subscriptions, and various other WordPress plugins.
● Offers high customizability.
● Offers plenty of optimized themes.
SquareSpace:
Squarespace is one of the simplest platforms deemed suitable for creating personal websites, portfolios, blogs, and small businesses. It is one platform that has the most beautiful design templates and is also a fully hosted platform, so a shop owner does not have to worry about service maintenance and/ or associated cost. It also offers great online marketing features and ship station integration too.
Features:
● Offers great ease of use.
● Has stunning template designs.
● Efficient for simple stores.
● Has plenty of features and functionalities.
Big Commerce:
Established in 2009 promises to "support your business, not just your store." It offers a variety of templates and themes to get stores up and running in a giffy and also look their best with small efforts. Users also have an option to design their stores or take the help of their designers to get a customized store.
Big Commerce also offers multiple marketing tools, analytics, and payment gateways to help a store perform better. Another added feature is support for Amazon Import and Link and shopping on Instagram stories.
Features:
● Flexible Product Management
● Customized designing
● Great Service Support
Core Commerce:
Set up in the year 2001 is one of the older players in the market that focus on providing services to small and mid-sized businesses. It's a uniquely thought platform that lays stress on simplicity and transparency meaning customers will not fall prey to any hidden charges. Another unique aspect is all customers get all features regardless of the chosen plan.
Prices are distinguished depending upon the number of products, need for storage, amount of bandwidth, number of email addresses needed, etc. And like other platforms, Core Commerce also provides store designing, product management, and order processing functionality.
Features:
● All features offered regardless of chosen plans
● Emphasizes transparency
● Additional support of higher-end plans
Things to Know Before Choosing a Suitable Web Design and Development Company
Before you start your search, there are certain questions you need to resolve to outsource the task to the best agency as deemed fit for your business needs.
Here are the questions to be asked of the company you are hiring.
Professional Portfolio- what does it hold?
Checking portfolios will provide you insight into company experience and track of work. Moreover, it will showcase the abilities and expertise of the team in handling similar projects.
A portfolio is a window to the company's legacy in the field. It will make it easier for you to make decisions and resolve conflicts that might erupt later on. However, be sure to check each element of a website designed by the firm as many sites may trick you by showing a sugar-coated portfolio.
What is the timeline?
Timeline is another important aspect to consider before outsourcing the web development project. Before signing an agreement, confirm with the company about the time it needs to complete your project.
Ask them to provide you with deadlines for completing different aspects of the website phase-wise. It is always good to hire a company that acquaints you with clear details on project delivery and timeline.
Will the website be responsive?
This is the most crucial question to ask for a website design and development company. With an ever-increasing number of mobile users, your website needs to be mobile-compatible to get your business discovered by people across the globe.
In case your website is non-responsive you may get overshadowed by your competitors. So be sure to ask the company you recruit whether the website developed by them will be responsive on all devices or not. If they cannot, divert your search to other companies.
Are design and development both inclusive within the cost?
This is the one relevant question that you need to ask a web development company. Web development and design are two different concepts that cannot be used interchangeably. Verify the quotation provided by the company, whether it covers the cost of both design or development or just a single service.
Ask the company to be clear with a quotation and also verify whether the amount is suitable as per your budget or not.
What are the core services?
The web design and development agency you pick must provide you with all prerequisite services. They should have dedicated staff to handle core offerings of web development and design. Thus, it is better to inquire about the design and development team. The agency should be efficient in offering all services as per the industry standards.
2023 Next Innovation in E-Commerce Industry
To understand the next innovation we have to first understand the E-commerce industry. It's pain points, the reason, and then the solutions (innovations).
The E-commerce industry is one of the hottest markets and has been that way for over a decade now. E-commerce is a broad terminology that can involve anything from clothing to Pharmaceuticals to food-ordering apps. E-commerce accounts for USD 3.4 Trillion globally and is rising at an astonishing pace of 18% annually. Hence making it one of the fastest-growing domains. Where companies are getting funded and buyouts are happening on a daily basis.
In countries like India, the internet and E-commerce era started in this decade. There is a huge scope. It may seem like there are a lot of companies and tough competition. But, in fact, E-commerce sales only account for 8-10% of the total sales, which leaves a huge market open for the taking. There are already thousands of players in the market some of the names that you might have heard of are Alibaba.com, Amazon.com, JD.com, etc.
"Need is the Mother of Innovation"
To understand the Next Innovation in this Domain it is primitive to first understand the current challenges and the reason behind them. Like any business, the core of the E-commerce industry is to cut expenses and increase profits. E-commerce is contrary to the brick-and-mortar shop. Hence the challenges, even though they might sound the same, are unique in their own way.
Biggest Expenses to the E-commerce Industry 2023
Purchase order Returns:

Return requests for the purchased order are a nightmare for most of startups and it is so because of not just 1 but multiple reasons. Every time a customer purchases something, E-commerce portals are levied a charge by the payment gateways which make the payment possible. However, while returning they generally have to offer a full refund which makes it a loss-making deal.
Apart from this the companies also have to manage this order, assign a delivery boy for Pickup of the product, and then the product has to be manually checked for any defect before return. This complete process is very human labor intrusive making it an extremely expensive affair.

Discount Sales:

To attract customers the E-commerce industry is competing over prices. Although in this war the real winners are the customer but only till the monopoly doesn't exist (well, let's leave that point for some other time). In order to make customers trust and use E-commerce more. They offer very attractive pricing which no Brick-Mortar shop can offer. Now although the products they acquire are at cheaper prices they sell an old stock first. However, this is still a very cash-burning process and needs a lot of management.

Procurement and Delivery:

E-commerce portals offer a wide range of product deliveries. These deliveries are generally done by them or by a delivery partner. In both cases, apart from the management a lot of human hours and efforts are spent. Try sending a small parcel from one place in the city to another and escalate that price when you send it from one city to another, you will know how much it will cost.

Order Management:

Orders come from all parts of the country and each order has its own process to be fulfilled. For a big E-commerce industry, one product could be present one city and another in another city miles away. Before delivery, there are checks and packaging that need to be done all that add up to the cost. These days clients want more control over their order and would like to track it till it gets delivered.

Inventory Management:

The advantage of having E-commerce is the enhanced reach to your target audience. Which also means that they can be widespread. In order to deliver these products, you would like the product to be as close to the client as possible. Also if your website doesn't offer sufficient products to cater to all demand. The customers will simply flee to another competitor who can.
In order to have sufficient products, you need to have a big inventory. Inventories are of 2 types: Local and cloud-based. Local is having sufficient quantity distributed across multiple cities based on the demand. And cloud-based is having a single large inventory that can cater to everything. (It goes in more depth but I won't explain that in this article). Now think about the Warehouse space and the delivery cost, you will know where the cost is.
Things required to make the E-commerce industry sustainable in 2023
You can pick any of the above problems and start brainstorming the ways you can solve it. And that will become the next innovation in the E-commerce industry. I will be targeting specific problems here to just give you a head start. On how you should be thinking for 5 years ahead of time to make the next billion-dollar startup.
Now an E-commerce managing all this hassle and inculcating all these expenses just to find out. The customer doesn't like the order and he wants to return it. All these processes have to be re-done to make sure that the correct product is picked up and placed at the right place for the next order to be delivered successfully. Hence one of the biggest challenges for E-commerce today is "How to reduce the return of orders".
Reasons why people return orders:
The product didn't match the description or the image.
Inappropriate size.
Inappropriate fitting.
It doesn't look good after wearing it.
Defect in products.
"Money saved is the money earned. "
Next wave of Solutions:
Digital Trial Room:
For buying a product the most important criterion, according to the survey is user satisfaction after the trial of the product. For this, the E-commerce companies provide a free return and full refund policy to their customers. As convenient, it sounds for the customers, that much inconvenient as it is for the E-commerce portals.
However, it is a very valid request from the customers which cannot be ignored. If you buy a product but it doesn't look good on you will you be willing to keep it? In a traditional brick-and-mortar store trial room is probably more crowded than the Cash Counters. Hence telling you the story, you need to know.
Digital Trial Rooms are basically for the customers to try the outfit digitally. There is a need for software that can replace the model with your body posture. To check if the product fits and looks good on you. There have been a lot of advancements in the E-commerce industry in this field. The trend started in the Home Decor industry. And since then it has been making its way into all the E-commerce sectors. The most complex is the clothing experience and companies are slowly getting there.
The technology is advancing in 2 types:
3D Model-based Dress Try :
Matching Product fitting with individual Body Fitting:

Making a customer know if a product will look good on their face is alright. However, giving the customer the flexibility to try exact fitting is a whole different thing. And the biggest problem is most people don't even know the exact sizes of the different body segments. Human bodies are subjected to constant change based on their diet and habits.

There are companies who are trying to find the body measurements of humans with the use of the camera. Also ensuring there is no need for additional hardware or skills for acquiring accurate measures. On the other hand, Companies have also started flooding the market with more details about the manufactured product in terms of dimensions to assist the matching of the product with body shapes.

Surrounding-based Personalised Advertising:

This is one of the biggest available markets today, in my opinion. If you look at any of the tech startups/companies that were the fastest companies to billion clubs. You will find that most of the company's revenue model revolves around Advertisements. Google, Facebook, Amazon E-commerce, Instagram, Snapchat, Tinder, etc.
Since the beginning companies have been trying to make advertisements less of spam and more personalized. Be it tracking the cookies, your recent searches, or your page visits. The aim is always to show you the things that you would like to buy.
Now as per scientific research, a person's preferences are inspired by things that they see around them. Be it a brand or a color, or a pattern, or a fashion trend. It is always influenced by the things around the person (physically as well as digitally).

Hence the next trend technology scope is in gathering all the images that the person has been around digitally and analyzing them to see what colors/Brands/style is most relevant to the customer. And then giving this data to big advertisers like Google, Facebook, Linkedin, Instagram, YouTube, etc. To enable them to show the most relevant products to the customer.

Automated Deliveries and Pickups: Pickup / Delivery Bots

With E-commerce picking up the pace, the other segment that has profited the most is the logistics industry. With Doorstep deliveries becoming the new common for the E-commerce industry. There is a huge demand for delivery and pickup services. It becomes more critical with the startups competing to deliver the order on the same day.
The logistics system is the Human Resource and Vehicle heavy service industry. Where the products have to be shifted and managed multiple times before they reach the right customer. Now add human time and error percentage on top of that. It really holds the E-commerce giants from all domains (food delivery to clothing) in pushing the limits and gaining an advantage over their competitors.

There are new startups that are trying to automate the logistics from warehouse management. To pick up and deliver everything will be done by bots via a single brain. Which will help all the bots coordinate to save time and cost? It is not a thing of the future: Amazon has been using bots for more than 2 years now for Warehouse Management.
The ideas and discussion could go on forever and this article may never end. However, I think it would have helped you set up the base and given you a direction to think in. The E-commerce domain is gigantic and if you can solve even 1 problem there are people waiting to give you the money without a second thought. With the sheer number of E-commerce players in the market. And with the rate at which they are growing, it is only a matter of time. Before people start dedicating more time to the backend processes rather than the front-facing websites. Digitalization and automation will hold the key to all the processes because of human labor. Also, it is very expensive and people want to automate it as much as possible.
Go out there and make your startup successful. All the best !!
Key Takeaway
Hope the above-mentioned tips help you find the best web development and design company and choose the right e-commerce platform for your business. However, if you are still confused about which option to choose then resorting to professionals is the right way out.
Professional companies like Graffersid are equipped with the proper tools, techniques, resources, and experience to execute tasks accurately that too on time, and on a fair budget. Remember it is an investment, you are paying today, but in the long run, you are saving your time as well as money.