On Wednesday, 11th March 2020, The World Health Organization declared the rapidly spreading coronavirus outbreak, a pandemic. WHO acknowledged that the virus is likely to spread in all countries around the globe. 
According to the director-general of WHO, the situation will worsen and the number of infected cases, the number of deaths and the number of affected countries is going to climb.
The virus has now spread in more than 100 countries worldwide, infecting 120,000 people and killing more than 4000 of them.
The outbreak of this respiratory illness also poses a threat to the economies of the world. The virus is rippling through travel, energy and financial markets. The companies are closing offices, throttling air travel across the globe and asking employees to take work from home in affected areas.
As a result of pandemic increasing rapidly all over the world, many countries and regions have imposed quarantines and entry bans for citizens or visitors of the most affected areas of outbreak. 
The rising number of infections and deaths from the novel coronavirus in countries like USA, Italy, United Kingdom, Australia, China, South Korea, Japan and Hong Kong are rising drastically. This has imposed governments, school and companies around the world to take more effective measures to rein in the virus's spread. The moves are causing companies to accelerate the trend of work from home. 
Major tech companies are adopting quarantines, travel cancellations and work from policies to curb the rising cases of Coronavirus. The outburst of this pandemic has lead various startup organizations to hold up on their development project as the techies in major countries are given work from home. Not only this, but startup founders are also finding it risky to hire development partners in countries like the United States, Australia and the UK, where the number of virus-affected people is increasing at an alarming rate.
Here are the Number of Corona cases in Major Countries
How Tier-1 Cities of the World and Major Tech Companies are Fighting the Battle?
Major web development outsourcing markets like China, USA, UK, Australia and UAE are adopting work-from-home to prevent the rise of cases in the regions. The Tier-1 cities across the world have shut down colleges, schools, public places like malls as well as workplaces to control the spread of disease.
Globally recognized micro-blogging and social networking service, Twitter has made working from home mandatory for employees around the world in response to COVID-19. Earlier this month, Twitter was strongly encouraging work-from-home, but after the official declaration that COVID-19 is a pandemic by WHO, the company has made working from home a compulsion.
Apart from Twitter, other large tech companies namely Apple, Microsoft, Google, Amazon, and Lyft have also issued similar guidance to employees in various regions. In addition to this, global conferences like MWC and E3 have also been canceled or moved partially online owing to the global health emergency.
How does this Pose Challenges on Early-Stage Startup?
In such a scenario where employees are being directed for work from home and quarantine is prevailing around the world, bringing a new application or web product into existence has become highly challenging for startup ventures. This could be a perfect time to launch your product in the market, especially if you are planning a digital product that can ease up the lives in the present state where people are restricted from traveling. However, the unavailability of all the members who are inter-dependent in a development team can give rise to miscommunication which might result in issues in new development projects. 
Read More: Hire Dedicated PHP Developers to Develop Successful Web Application
What Could be the Alternative?
Fortunately, with countries like India, where the spread of disease is under control and no death cases due to COVID-19 to date, there is still a ray of hope for enthusiastic entrepreneurs who initially planned to give a kick-start to their startup business in 2020. India is taking all the preventive measures to thwart the spread of disease. All those who have come in contact with the affected persons are quarantined and their health is being constantly monitored in every affected region of the country. 
As a measure of prevention, the Government of India has also banned the visas till 15th April 2020. The country has also declared that all incoming travelers, arriving from or having visited China, the Republic of Korea, Italy, Iran, France, Spain and Germany shall be quarantined. The strict policies and precautionary measures by the Government have limited the spread of disease to only 11 states and 73 people, among which 17 are foreign nationals.
Thus, India is amongst the few left nations where the spread of COVID-19 is strictly under control. This clearly shows that currently, India can become your reliable partner for the development needs. Moreover, the state of MP in India not holds even a single case of COVID-19 and is safely running all the business, schools and businesses. The precautionary measures by the state government have restrained the infection till now and hope to hold back in the future also.
Read More: Why hire a remote team for your software development project?
What are the other factors that make India the best option for outsourcing the development project?
According to the recent forecasts, almost 80% of the world's Business Process Outsourcing will be catered by the Indian companies by 2022. There are a plethora of reasons why major companies all over the globe are planning to establish their offshore development center in India. Let's have a look at some of them:
Availability of skilled human resource:
Surveys suggest that almost 3.1 million graduates add up to the Indian workforce every year. It is expected that by the end of 2020 India will have approximately 2.2 million skilled IT professionals. The pool of these IT professionals is English speaking, which is a major boon.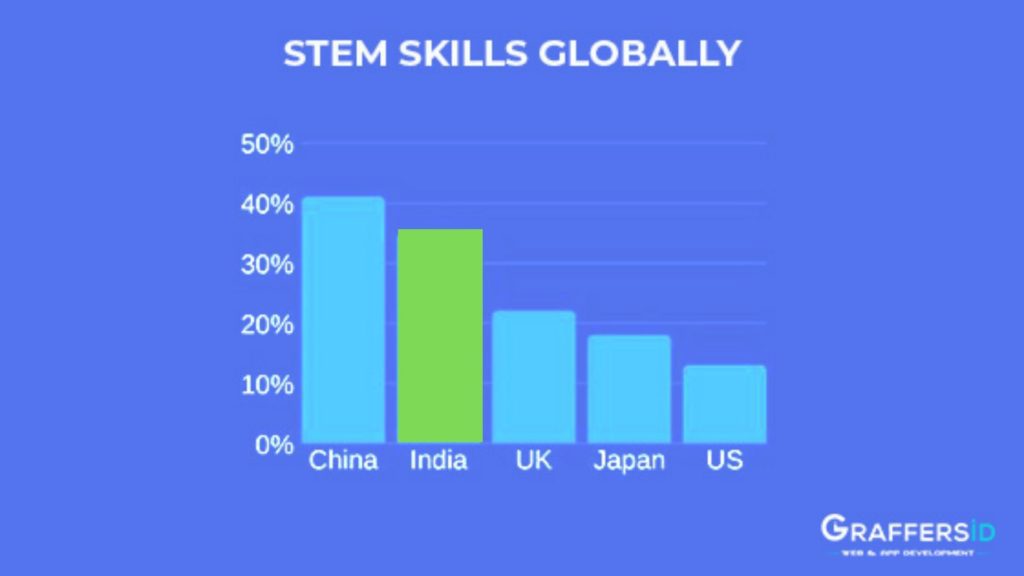 Privacy Regulation and Data Security:
India has strict policies for Privacy Regulation and Data Security. The Information Technology Act, 2000 mainly emphasizes on these two factors. As per the Act, if there is a breach of law the company and the associated personnel will be subjected to financial penalties and imprisonment.
There are stringent IT-related policies in India that support operations and yield maximum benefits. There are policies about investment and taxations; there is the service tax exemption for SEZ units and other such benefits that are aimed at promoting IT services in the country.
According to the NASSCOM report, outsourcing to India can save approximately 60% of the cost. The reason behind this is the cost difference between the domestic market in India and other countries. Companies can save on salary and other employee benefits by outsourcing.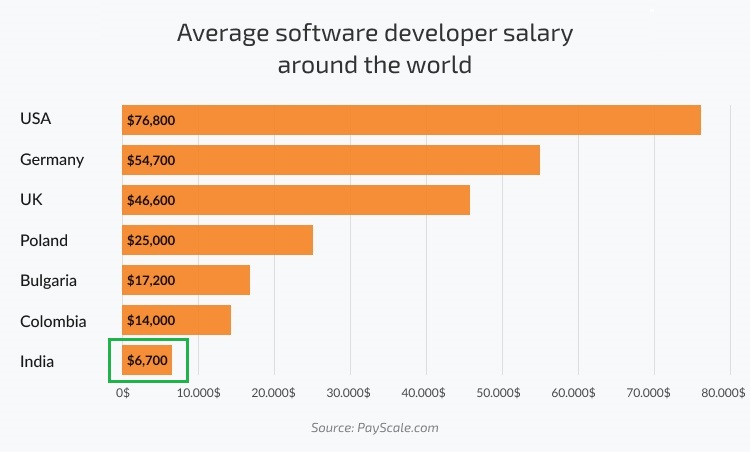 Infrastructural Availability:
India has state-of-the-art architecture in major cities of the country. Moreover, India IT companies make sure that they have an uninterrupted communication channel with the clients.
The time-zone makes India make it a favorable outsourcing option for major countries of the world. The best part here is that there is a single time zone i.e. GMT+5:30 across the whole, which is quite unusual.
India is 3 hours and 30 minutes ahead of Europe
India is 9 hours and 30 minutes ahead of the USA
Singapore in 2 hours 30 minutes ahead of India
Australia is 4 hours 30 minutes ahead of India
Time is also a competitive advantage for the companies that are working around the calls and wanting conference calls.
Read More: Benefits of Hiring Dedicated Developers
Made up your mind to hire IT development resources in India? Here are top IT companies in India, you can consider getting in touch with:
SeekNEO
SeekNEO IT Solutions is a premium design agency, based in Bangalore that utilizes the latest technology to provide the best results to their clients. The company is dedicated to provide clients with web design & development, software development and app development solutions.
Location: Bangalore
Team Size: 25-40
Specializes in: Software Development, Web Development, Online Marketing
Companies Served: Topgear Fitness, Pepper Grand, Vibrant Sunrise, JK Logistics
Client Base: Australia, USA, Europe
Contact: info@seekneo.com
Graffersid, based in Indore, is handing out sophisticated IT solutions as well as mentoring and consulting services to startups. The professional team of web and app development experts at the company deliver cutting edge IT solutions to clients from multiple business domains. The company is known for developing products which received funding from leading names such as Y Combinator, Google Incubation USA and BlueChilli Australia. If you have a startup idea in your mind but not finding a way how to bring it forth or you are looking for offshore development and looking for resources that can give you consistent support, then talk to the experts today.
Location: Indore
Team Size: 30-50
Specializes in: Web Design & Development, App Development, Ecommerce Development
Companies Served: Kratos, KargoLogic, Abbott, Tooreest, Tooreest
Client Base: USA, UK, Canada, Dubai, Australia, Singapore and India
Contact: hello@graffersid.com
Currently, Graffersid is offering a limited period offer to its partners who are looking to hire web or app developers for a minimum 3 months period.
Pi Technologies:
Pi Technologies is Indore-based IT company dedicated to provide clients with distinctive solutions to various technological advancements. The team at Pi Technologies can provide you with effective web design and development solutions. The company also specializes in delivering app development services.
Location: Indore
Team Size: 15-20
Specializes in: Web Design, Web Development, ERP Software
Companies Served: Edulogic, Market Social, Powermach Pumps, Console Dude
Client Base: USA and India
Contact: info@pitechnologies.org
Nexevo Technologies
Based in Bangalore, Nexevo Technologies built websites with inspiring design, engaging writing and amazing features. The team at Nexevo Technologies provide clients with custom web and app development solutions. The company utilizes futuristic technology and work with self-derived strategies.
Location: Bangalore
Team Size: 30-40
Specializes in: Web Development and Mobile App Development
Companies Served: USA, France, Australia, UAE and Canada
Client Base: Asian Heart Institute, Skiva, Master Mind Books
Contact: info@nexevo.in
Mind My Web
Based in Delhi, Mind My Web is again amongst the top IT companies providing web design and development as well as e-commerce development solutions. The team of technologists and marketers at the company helps businesses in achieving success by developing up to the mark products.
Location: Delhi
Team Size: 25-30
Specializes in: Web Development, WordPress Development, Mobile Development
Companies Served: The Chopras, Art for Concern, My Chef Book, Medtalks
Client Base: USA and India
Contact: info@mindmyweb.com