In the rapidly evolving world of mobile app development, choosing the right technology stack is crucial for success. React Native and Swift are two popular frameworks used to build mobile applications for different platforms: React Native for cross-platform development and Swift for iOS-exclusive development. In this article, we will delve into the strengths and weaknesses of each approach, helping you make an informed decision based on your project requirements.
What is React Native?
React Native is an open-source mobile application framework developed by Facebook that allows developers to build native mobile apps for iOS and Android platforms using JavaScript and React. It was first introduced in 2015 and has since gained immense popularity in the mobile app development community.
Benefits of React Native: The Cross-Platform Powerhouse
React Native, developed by Facebook, has gained immense popularity due to its ability to build mobile apps that work seamlessly on both iOS and Android platforms. Here are some key advantages of using React Native:
1) Code Reusability:
One of the primary advantages of React Native is the ability to write a single codebase for both platforms, reducing development time and costs. This makes it an attractive choice for startups and small to medium-sized projects.
2) Community and Libraries:
React Native boasts a large and active community, resulting in a vast ecosystem of open-source libraries and pre-built components. This enables developers to accelerate the development process and focus on creating unique app features.
3) Live Reload and Hot Reloading:
React Native provides the convenience of real-time code updates, enabling developers to see changes instantly on their test devices. This feature drastically speeds up the debugging and development process.
4) Performance:
With advancements in React Native and the use of native components, the framework has significantly improved its performance over the years. However, for graphically intensive apps, it may still lag behind native solutions.
Disadvantages of React Native
While React Native offers many advantages for mobile app development, it also has some disadvantages that developers should be aware of before choosing it as their framework. Here are some of the key disadvantages of React Native:
1) Performance Limitations:
While React Native provides a bridge to native components, it may not match the performance of fully native applications, especially for complex and graphically intensive apps. Native code is still faster and more efficient in handling CPU-intensive tasks and animations.
2) Dependency on Native Modules:
Some advanced or platform-specific functionalities may not be readily available in React Native's standard library. In such cases, developers may need to write custom native modules, which requires additional effort and expertise.
3) Large App Size:
React Native apps can have a larger file size compared to their native counterparts. This is because React Native requires including the JavaScript runtime and other components in the app bundle, which can increase the initial download size for users.
4) Limited Access to Native APIs:
While React Native has a wide range of available libraries, there may still be cases where developers need to access new or less commonly used native APIs. Integrating such APIs might require writing custom native modules, which can add complexity to the development process.
5) Development Tools and IDE Support:
React Native development tools and IDE support are not as mature as those for native app development. This can lead to occasional debugging challenges and may require developers to use third-party tools or workarounds.
6) Version Compatibility Issues:
As React Native evolves rapidly, newer versions may introduce breaking changes or compatibility issues with existing code and third-party libraries. This can lead to additional maintenance and update efforts for existing projects.
7) Steep Learning Curve:
While React Native is based on JavaScript and React, which are popular and accessible, mastering the nuances of React Native's architecture and the bridge to native components can be challenging for developers who are new to the framework.
8) Limited UI Customization:
Some UI customization and platform-specific design elements might be challenging to achieve in React Native, as it strives to provide consistent UI across both iOS and Android platforms. This can limit the extent of platform-specific user experiences.
9) Community Support for Less Common Platforms:
While React Native is well-supported for iOS and Android, its support for less common platforms like Windows or web browsers might be more limited. This could be a concern if you plan to target multiple platforms beyond iOS and Android.
What is Swift?
Swift is a modern, general-purpose, and multi-paradigm programming language developed by Apple Inc. It was first introduced in 2014 as a replacement for Objective-C, the previous primary language used for iOS and macOS app development. Swift is designed to be fast, safe, and expressive, making it an excellent choice for building software across various domains, with a particular emphasis on mobile app development for Apple's ecosystem.
Swift: The Native iOS Advantage
Swift is Apple's official programming language, designed specifically for iOS, macOS, watchOS, and tvOS app development. Here's why Swift is an excellent choice for iOS-exclusive projects:
1) Native Performance:
Swift code is optimized for iOS devices, providing superior performance and responsiveness. Native development allows access to all the iOS frameworks and APIs, ensuring the highest level of user experience.
2) Full Support from Apple:
As Apple's preferred language for iOS development, Swift receives regular updates and is well-maintained. Developers can take advantage of the latest iOS features and enhancements promptly.
3) Strong Type System:
Swift's robust type system enhances code safety and reduces the chances of runtime crashes. This can be especially crucial for large-scale applications with complex logic.
4) SwiftUI:
With the introduction of SwiftUI, a declarative UI framework, developing iOS interfaces has become more intuitive and straightforward. SwiftUI complements Swift and simplifies UI development, making it appealing to developers.
Disadvantages of Swift
While Swift is a powerful and widely used programming language, it also comes with its share of disadvantages. Here are some of the key disadvantages of Swift:
1) Apple Ecosystem Dependency:
Swift is primarily designed for iOS, macOS, watchOS, and tvOS app development. While there are efforts to make it open-source and available for other platforms, its full potential is best realized within the Apple ecosystem. This can limit its usability for developers targeting non-Apple platforms.
2) Less Mature Than Objective-C:
Swift is a relatively new language compared to Objective-C, which has been around for decades. As a result, the language and its libraries may not be as mature and battle-tested as those of Objective-C. This can lead to occasional bugs or inconsistencies.
3) Learning Curve for Existing Objective-C Developers:
Developers who are experienced with Objective-C may find it challenging to switch to Swift due to the differences in syntax, concepts, and the way certain tasks are accomplished.
4) Frequent Language Updates:
While Swift's regular updates bring new features and improvements, they can also introduce breaking changes and compatibility issues between different versions. This can lead to the need for frequent code updates and refactoring.
5) Slower Compilation Time:
Swift code compilation can be slower compared to other programming languages, particularly for larger projects. This can impact development speed and iterative testing cycles.
6) Lack of ABI Stability:
Swift's ABI (Application Binary Interface) is not yet stable, meaning that apps written in different Swift versions may not be binary-compatible. This can create challenges for distributing libraries and frameworks across different Swift projects.
7) Less Third-Party Library Support:
While Swift's ecosystem of third-party libraries is growing rapidly, it may still have fewer options compared to more established languages like Python or JavaScript. Developers may need to write more code from scratch or adopt Objective-C libraries, which might not be as Swift-friendly.
8) Limited Support on Non-Apple Platforms:
While Swift has been open-sourced and efforts are made to expand its reach, it may not receive the same level of support and optimization on non-Apple platforms, making it less attractive for cross-platform development.
9) Memory Management Complexity:
While Swift introduced Automatic Reference Counting (ARC) to manage memory automatically, developers still need to be cautious with strong reference cycles and memory leaks, which can be challenging to debug.
Choosing the Right Framework: Factors to Consider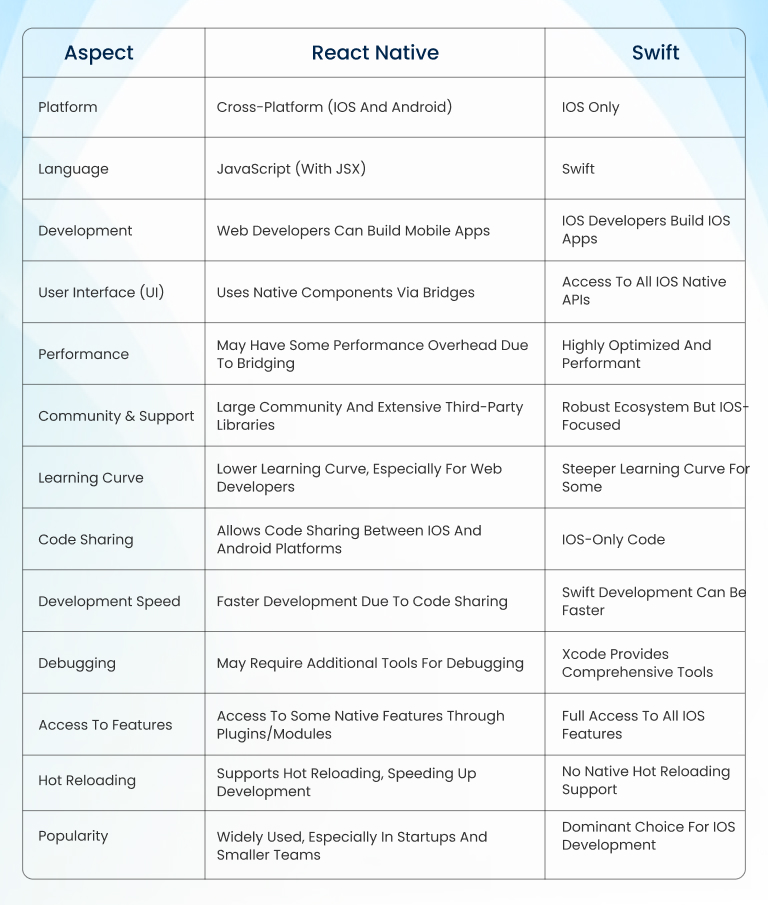 When deciding between React Native and Swift for your mobile app development, several factors should be taken into consideration. Each framework has its strengths and weaknesses, so understanding your project requirements and goals will help you make an informed decision. Here are the key factors to consider:
Project Scope and Budget:

If you have a limited budget and need to develop an app for both iOS and Android platforms, React Native's cross-platform capabilities may be more cost-effective and time-efficient.
For projects with a focus solely on iOS or macOS development, Swift might be a better choice, especially if you want to take full advantage of native performance and Apple's ecosystem.

User Experience and Performance:

If your app requires complex animations, heavy graphics, or advanced device-specific features, Swift's native development may offer better performance and a more polished user experience.
React Native has improved its performance significantly over the years, but for the most demanding apps, Swift is likely to provide a performance edge.

Development Team Expertise:

Consider the expertise and skill set of your development team. If your team is experienced in JavaScript and React, React Native might be a more comfortable and productive choice.
If your developers have a strong background in Swift or Objective-C and are well-versed in iOS/macOS development, using Swift will leverage their existing knowledge and provide a smoother development process.

Target Platforms:

If you intend to target both iOS and Android users, React Native's cross-platform capability allows you to maintain a single codebase for both platforms, saving time and effort.
If your app is designed exclusively for Apple users and will not be available on Android, Swift offers a more direct and native-focused development approach.

Third-Party Library and API Support:

Consider the availability and maturity of third-party libraries and APIs you might need for your app's specific functionality. React Native has a substantial community with numerous open-source libraries, while Swift has access to Apple's vast ecosystem of frameworks and APIs.

Development Tools and Ecosystem:

Evaluate the development tools and IDE support available for each framework. Swift has robust IDEs like Xcode, tailored for iOS and macOS development.
React Native development tools are evolving rapidly, but they might not be as mature as those in the Swift/Xcode ecosystem.

Long-Term Maintenance and Updates:

Consider the longevity and ongoing maintenance of your app. React Native updates might require more effort due to their rapidly evolving nature and the need to adapt to breaking changes.
Swift, as an official Apple language, enjoys stable support and updates, ensuring long-term compatibility with Apple's platforms.
Conclusion
Both React Native and Swift are powerful tools that cater to different needs in the mobile app development landscape. React Native excels in cross-platform development and code reusability, while Swift offers superior native performance and full Apple ecosystem support for iOS-exclusive projects. Ultimately, the decision between the two depends on your project requirements, budget, development team expertise, and the desired level of performance.
In summary, carefully assess your project's scope and objectives, and choose the framework that aligns best with your long-term goals and target audience. Regardless of your choice, both React Native and Swift remain popular choices for building top-notch mobile applications in today's competitive app market.

Build Your App with GraffersID's React Native Developers!
Looking for the best React Native developers to take your app to new heights? Look no further! GraffersID is your one-stop destination for hiring top-notch React Native developers. Our expert developers are ready to bring your mobile app ideas to life and deliver exceptional results.
With a passion for innovation and a wealth of experience in React Native development, our team will create stunning, cross-platform applications that captivate users on both iOS and Android devices. We understand the importance of a seamless user experience and strive to build apps that leave a lasting impression.
Unlock the true potential of React Native and gain a competitive edge in the market. Get in touch with us today and see how our skilled developers can elevate your app to success!