The real estate industry is one of the most dynamic and in-demand business niches in the market. According to grand view research, the real estate market is expected to grow and reach $4,263 Billion by 2025.  If you have an idea of real estate website development, then you should definitely go for it.
Observing the above mentioned statistics, it's quite evident that the real-estate business industry is growing exponentially, and developing a user-friendly website can be an effective way to reach more prospective clients and increase revenue.
Should you invest in developing real estate websites
Now, many of you must be wondering why you should invest in developing real estate websites when you can do the business offline. Aren't you?
Well, the answer is quite simple. With the evolution of the internet and smartphones, every business niche is shifting to promoting their business online. With digitalization, developing a website opens doors to greater possibilities for growth and development of businesses.
Developing a high-quality real estate website is perfect to target online audiences and connect buyers with sellers.
Know how to develop the best flower delivery app like Proflowers
Also, it will help you build connections and loyalty with your customers by gathering feedback and reviews from them. When you receive positive feedback from them, it helps to build a good reputation which increases credibility. Generally, people prefer going with real estate agents who have a good reputation in the market.
Hence, if you're in the real estate business, then developing a website can really turn out to be beneficial for your business growth.
If you're thinking about developing a website but aren't sure how to get started, then this article is the need of the hour as it will guide you through the features that should be considered when building a real estate website, their implementation, and a step-by-step guide on how to build one.
Key Requirements When Developing a real estate website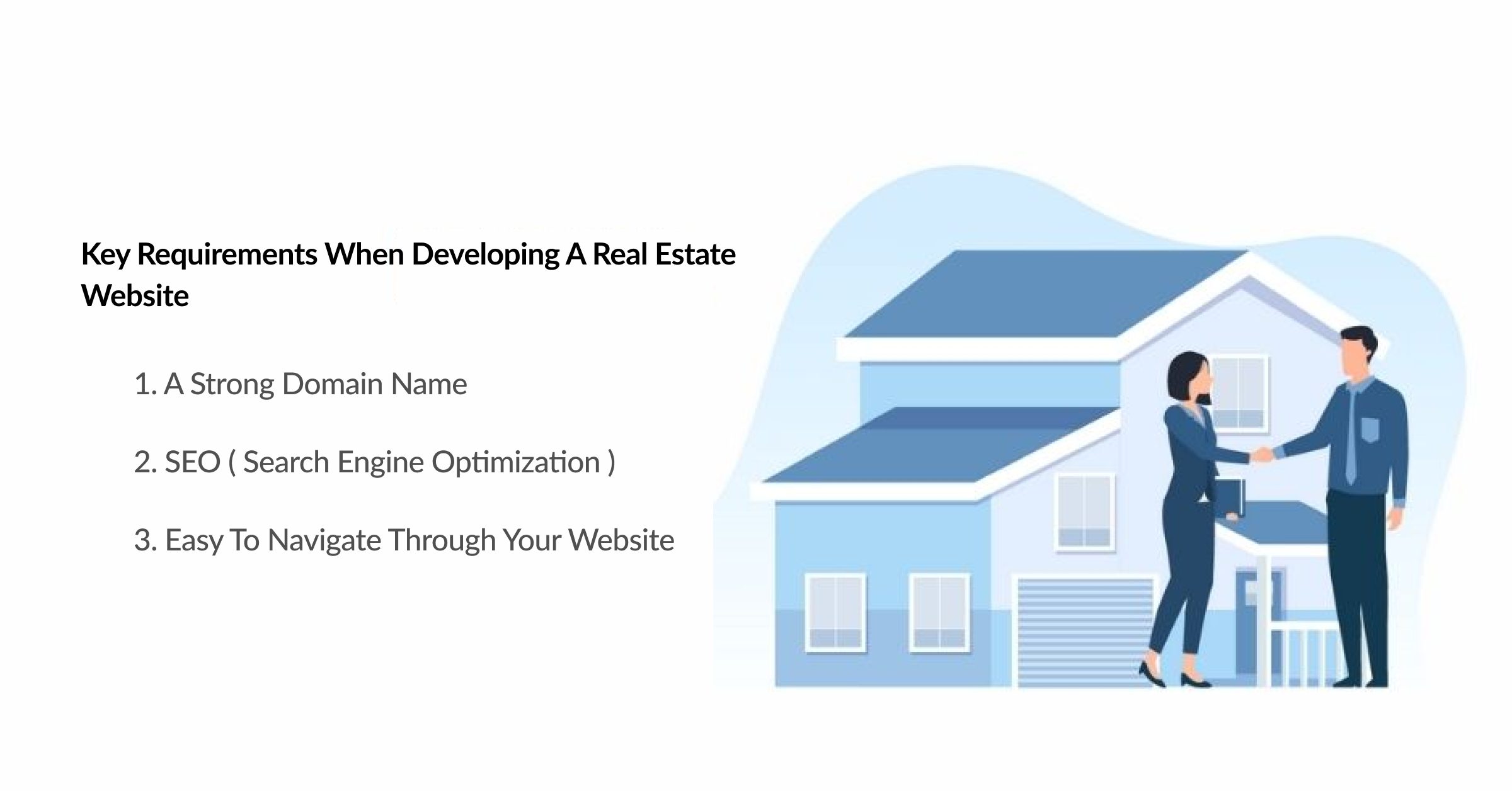 When developing the website, you need to consider implementing its key requirements for making it more dynamic and interactive. Here are the key requirements which you should implement:
1. A Strong Domain Name
Besides developing an attractive website, it's extremely important to choose a smart and strong domain name for your website. A domain name is chosen once. Make sure that you come up with an effective domain name on the first attempt itself such as .com .et, .org and .net. Among this .com domain are consider as most effective.
You can definitely consider these tips before choosing a domain name, such as keeping the domain name short and professional, which should go along with your brand identity; using keywords that connect well with your real estate niche.
Here is a Guide to Create an app like Netflix 
2. SEO ( Search Engine Optimization )
SEO helps to increase the visibility of websites which will increase the traffic of your website and will improve the ranking of your website. Isn't it amazing?
With strong SEO strategies you can boost the credibility and website usability of your website.
It's a good idea to consider hiring an SEO specialist to help you assist with planning effective SEO strategies to enhance the visibility of your website and reach more audiences through organic or algorithm search results.
Want to know How Does Website Design Impact Your Search Rankings?
3. Easy to navigate through your website
A real estate website, like any other website, is loaded with a lot of information that might get difficult to navigate. If you have designed a beautiful website that is difficult to navigate, it doesn't make any sense as no one's going to stay at your website.
You can create a good website navigation by integrating search functionality with your site by fixing a search bar icon. You can also include sitemaps to help users easily navigate to your website. Also, keep the design of your website simple to subtle to help users understand the website. They can search easily on the website.
Key Features of an Ideal Real Estate Website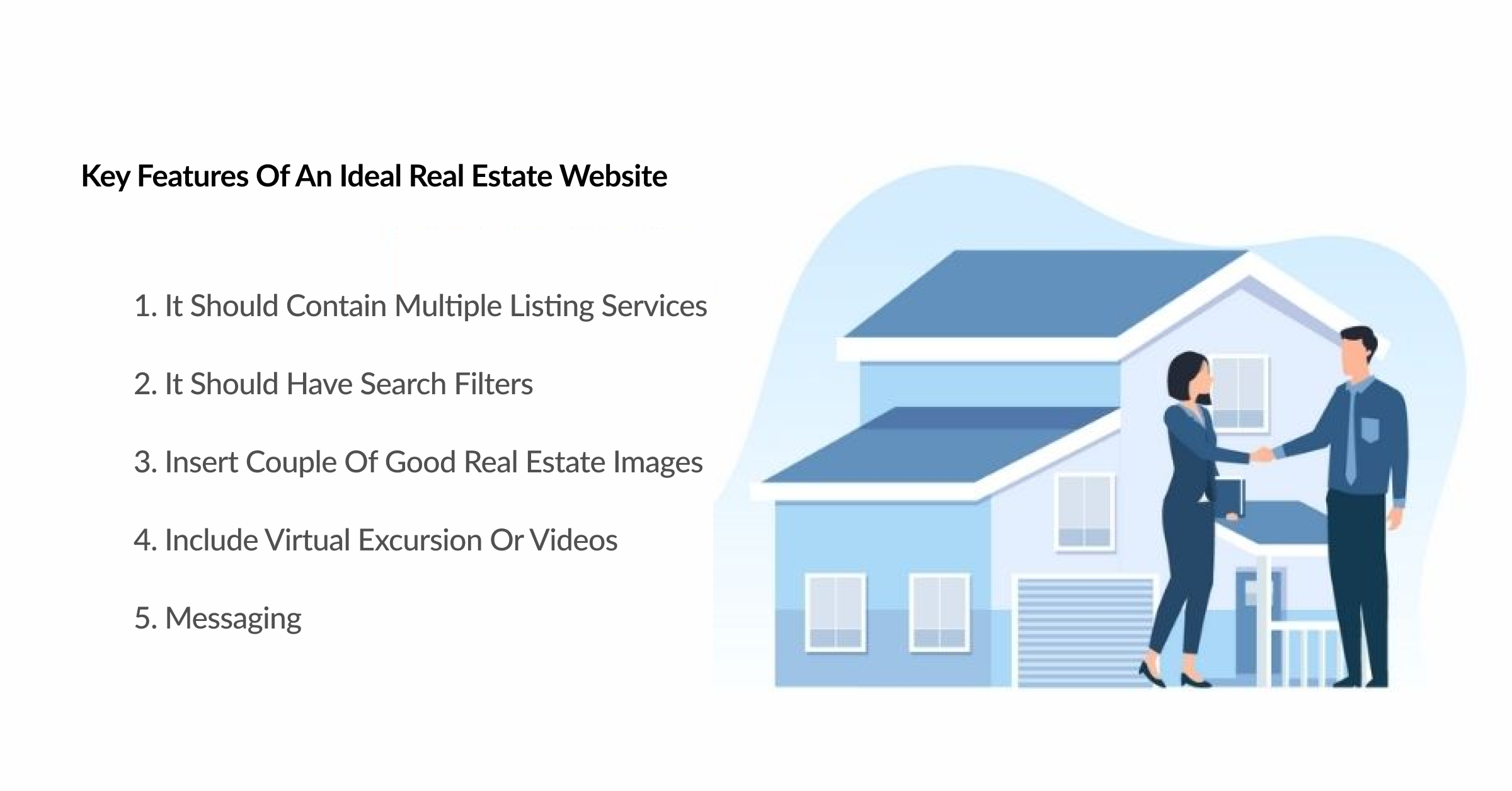 Here are the basic features which should be there to build in an ideal real estate website:
1. It should contain multiple listing services
An ideal real estate website should have the MLS feature to connect users to MLS data. With MLS, it creates an interaction between buyers and sellers making your website more visible and accessible to various agents. Also, it will connect your website directly to local MLS databases.
2. It should have search filters
Real estate and rental websites should, ideally, contain search filters to provide relevant results. You can provide users with search filters to filter the listing types, home types, prices, amenities, facilities, number of bedrooms, etc. Also, it helps users exactly search for the requirements and can filter them.
Want to know How To Build A Stock Trading App like Robinhood
3. Insert couple of good real estate images
Although easy navigation and responsive design enhance the user experience. However, to capture the interest of future tenants or buyers, captivating, high-resolution, and relevant property images are a great idea to bring more visitors to your website. You can also meet strict requirements for photo size, resolution, and format to ensure better quality photos on your website.
4. Include Virtual excursion or videos
Who doesn't want to see a detailed and informative guide about the interior and exterior modelling of a real estate asset for better decision making? A video excursion with virtual reality is a perfect feature to provide a comprehensive guide to real estate property. Its virtual excursion can help the buyer or rental with a clear visualization about the property.
Want to develop an the best On-demand doctor appointment booking app?
5. Messaging
Messaging feature is extremely important for better interaction between a buyer and a seller. An inbuilt messaging tool helps them to place their requirements before each other. It can be in the form of love chat, direct voice, or video messaging. Also, it's a great tool for contacting the realtors and getting feedback from the clients.
Additional Features of Real Estate Website
With basic features you can easily build a real estate websites, but with additional features you can enhance the user experience:
1. Comprehensive Listing
As mentioned earlier, it's quite obvious that potential buyers and tenants would be curious to know the details about the property. Make sure you provide a detailed listing on your website that involves demographics, price, crime rates, descriptions, etc. for comprehensive and detailed information.
2. Calculator
A calculator can be a great financial tool to calculate house affordability by considering factors such as salary, annual household income, interest rate, mortgage loan term, and many more. It will also give you an overview of buying and renting a property.
Here is a updated features list and cost to develop an app like UrbanClap
3. Calendar
Calendar enables users to book meetings with real estate agents to visit the property. Also, with calendar, realtors, customers, and property owners can view the details of events before booking them and can also synchronize the user's profile with some great calendar apps such as Google Calendars and Apple Calendars.
Steps to build a real estate website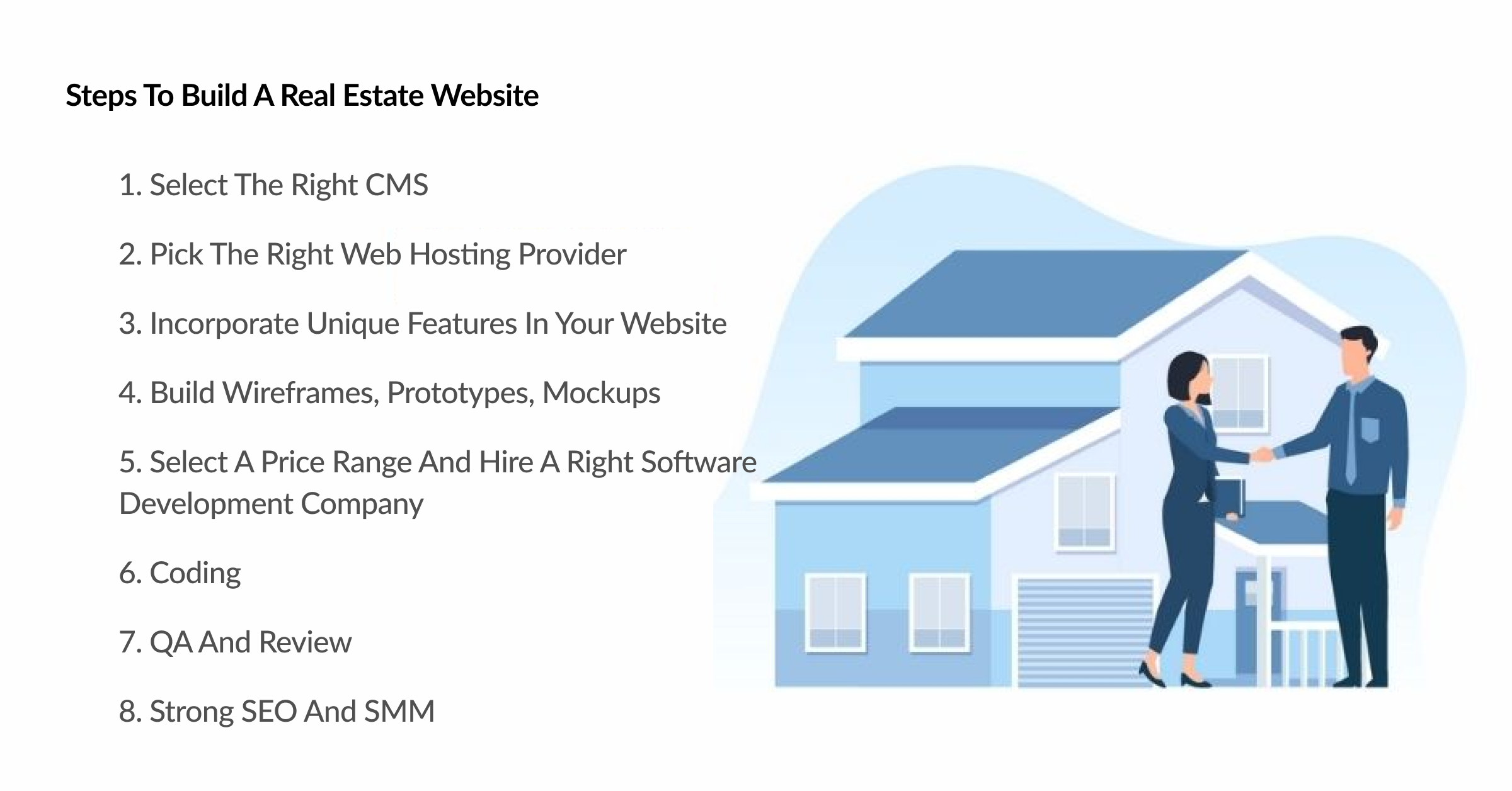 1. Select the right CMS
It absolutely makes no sense to build your website from scratch. With the right content management system, you can use the in-built functions and templates for your website.
Often, web developers use WordPress to get access to tons of plugins, themes, templates, and add-ons. In fact, it's a good option for real estate websites as well.
2. Pick the right web Hosting Provider
Websites need web hosting to store all the data and files while making it accessible to the visitors. When it comes to web hosting, it becomes extremely important to pick the right web host to improve and boost the website's performance.
For picking the right web host provider, you need to understand the needs of your website, that is why you are building the website. Understanding the needs will help you to decide which web host provider will be best for your website.
Also, with server monitoring tools you can find web host providers. You can look at the uptime score to decide whether a web host provider is right for your website or not. Try to go with the web host which offers great sever speed to ensure that your website loads quickly and efficiently.
Generally, web hosting isn't free and it costs you to host your website on someone else's server.
Want to know how to find/ hire a developer for your startup
3. Incorporate unique features in your website
Before building the website, you need to do extensive research on your competitors. It will help you identify the needs and expectations of users from a new real estate website.
Based on which you can add unique features to your website that will help you stand out of the competition. When creating a feature list, try to define the main purpose behind developing your website and its goals.
4. Build Wireframes, Prototypes, Mockups
An attractive website design can make your website look appealing, which will bring in more traffic, which isn't easy.
It will need proper planning to build a high performance website, which requires selecting color schemes, logos, images, and various other user interfaces to add them to the page.
Also, you need to select an order to organize the elements for easy navigation and an improved user experience.
Here is the difference between UI UX design
5. Select a price range and hire a right software development company
After defining the goals and purpose of your website, you'd get a brief idea about the price range you would want your website development to fall in. Considering your budget, it's always advisable to hire the right software development company. With the right software development company, you will reap good results.
When thinking about hiring a software development company, GraffersID could be the perfect choice for website development services as it will cater to your needs with the best services for real estate website development, which will save you time and money.
6. Coding
After deciding the features and design of the website, you will need to hire developers for coding and execution. They will use an appropriate tech stack for incorporating the features, and they can also take advantage of modules, APIs, and themes.
7. QA and Review
After developing the app, you will need skilled and professional quality assurance engineers to ensure a high-quality and user-friendly website for enhanced user experience for tenants, buyers, property owners, and realtors who are all visiting it.
8. Strong SEO and SMM
Developing the website isn't the end; it's extremely important to market it as well for increased traffic. Strong search engine optimization and social media optimization strategies can bring a massive boost to your website.
To increase your audience and increase the visibility of your website, what could be better than implementing SEO and SMM? Start optimizing your search engine to increase the visibility so that more traffic drives towards your website, and make sure to build a strong presence on social media platforms such as Instagram, Meta, LinkedIn, and others.
Know how to hire offshore developer or Overseas Programmer For Startups
How much does a real estate website cost?
Building a real rate website highly depends on your budget and whether you want to build through website software development company or freelance website developer
If your company is located in the US, then you can either hire a website development company or hire freelancers. If you don't have a high budget then you can also hire offshores from different countries such as Bangladesh, India.
If you're thinking of hire website development company in US, then it will cost you around $16000.
However, if you hire a software development company in India, it might get cut in half. And if you're searching for it, then you can check out GraffersID. It's a software development company that caters to high-quality services at reduced amounts of $8000–12,000.
Conclusion
Nowadays, most real estate agents consider developing high-performance, custom-based websites to bring their business more clients and revenue.
Nevertheless, it's quite important to hire a reliable web development company to make your work hassle-free while ensuring flawless website development.