Do you face any difficulties in managing patient appointments at your clinic? Do your employees take much time to schedule appointments and rationalize the clinical operations? In that condition, creating an on-demand doctor appointment app is an ideal method to take care of your clinical appointments without running after manual records.
Before developing an On-demand app, you need to understand the scope of On-demand service apps and its market trends.
In this techno-oriented world, individuals with diverse psychologies will choose to schedule their appointment before going to the place whether it is for a doctor, bar, or, salon, to save money and time.
Table of Content
Introduction
Why Have The Best Appointment Booking App For Doctor?
Benefits of On-demand Doctor Appointment Booking App
Benefits of Appointment Booking App For Patients
Benefits Of Appointment Booking App For Doctors
Steps Involved In Doctor Appointment App Development
Study & Research
App Planning
Designing & Prototyping
Designing & Prototyping
Key Features Of A Doctor Appointment App That You Must Have
Doctor Appointment Booking Both Offline & Online
An Admin Panel For The App
Doctor's Profile
Patients' Profiles
Listing Option With Search & Filters
Map API Integration
Reminders & Alerts Features
Online Video Consultation Feature
Digital Prescriptions Feature
Symptoms And Disease Identification
Online Billing And Payment Gateway
Cost Calculation And Health Monitoring
A Drug Implication Tool & Safety Consent Data
Success Blueprint Of Creating A Doctor's Appointment App
Final Words
All credit goes to the breakthrough technologies and ingenious doctor appointment booking app development that have made it feasible and ended all this disturbance linked to the previously tired conventional healthcare methods.
Why Have The Best Appointment Booking App For Doctor?
Nowadays, there is a rapid increase in the number of smartphone users. There is a mobile app for day to day activities from ordering groceries to booking a cab, from depositing money to bank to booking tables at your fav. Restaurant.
People are using their smartphones to plan their doctor's appointments, medication impromptu, and different factors with their health and wellness. As they don't want a long queue waiting for their booking number.
In this way, more people will select the healthcare service provider that gives the digital prospects as e-prescriptions, digital communication, distant tracking, and online appointment.
To fulfil people requirement, doctors are developing mobile app for creating online presence. For that they are Hiring Vetted Healthtech Software Developers.
Approx. 43% of patients choose to book health appointments online, and 57% of people search online for a doctor or healthcare provider, according to recent study. Additionally, 60 percent of healthcare experts and 72 percent of patients state that a digital appointment booking platform supports patients to schedule their appointments.
As a result, the online doctor appointment app plays a significant role while selecting medical services. It works like when you have a choice to book doctors' consultation online, you know that you are going to get the best of medical care.
Want to know the cost to develop an grocery delivery app like Instacart
Both doctors and patients wish to feel as they are availing of all the technological changes and saving their precious time.
These are both signals of usefulness for such a choice of arranging an online doctor's appointment. It shouldn't be absurd to suppose that all of these figures will continuously grow in the future, seeing the acclaim of this feature in the times of post-COVID.
Benefits of On-demand Doctor Appointment Booking App
Here are benefits of On-demand Doctor Appointment Booking App:
1. Benefits of Appointment Booking App For Patients
With an appointment application, patients do not need to call your office or wait for an appointment. Within only a few clicks, they can manage to see at their needed time with the doctor. It's highly beneficial in saving time for patients.
Arrange or rearrange appointments from any place.
Avail healthcare facility 24/7.
Can stay connected with doctors in real-time.
Can do online bill payments, no requirement of carrying cash.
2. Benefits Of Appointment Booking App For Doctors
A mobile app automated the scheduled booking measures, which your employees might have difficulty dealing with manually (e.g., feeding patients' very own understatements, setting up doctors' time allocations, handling regulatory work, and more).
Together with these settlements, an application additionally assists in improving clinic-patient interaction.
Handle staff successfully.
Save time.
Ignore overbooking.
Reduce human inaccuracies.
Helps in assessing performance.
Steps Involved In Doctor Appointment App Development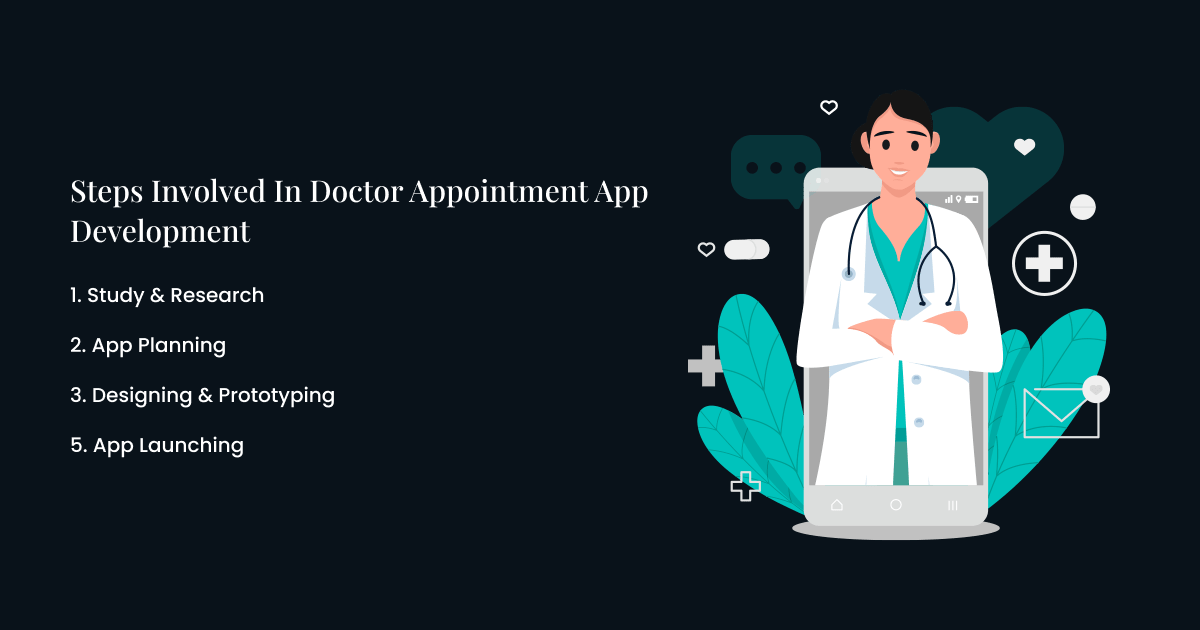 In general, mobile application development companies pursue the below steps to make sure feature-attributed, expansible, and powerful online doctor appointment apps:
1. Study & Research
In this step of the doctor appointment app development, the company searches for the market need for your doctor booking application, taking into account the patient's or user's requirements.
These points are included in this step:
Evaluating the competitor's application
Finding out their benefits and drawbacks
Integrate all of this with the user's demands
2. App Planning
This step will determine which feature you wish to insert into your application and which technology you need to choose. This also includes considerations via encryption technologies and different technical securities for your mobile app.
As a doctor appointment app involves patients' data, we also require thinking from the safety point of view.
Want to How to Develop a HIPAA Compliant m-Health App?
3. Designing & Prototyping
In the designing and prototyping step, you have to:
Select patterns, colors, and different visuals in the apps.
Develop a User Interface.
Build a simple-to-navigate appointment booking application system.
Design and development of the clickable elements.
4. App Launching
Once the final change is done, your appointment app is now all set for its launch. But the task of a mobile app development company like us is not finished yet.
Managing your application is also uniformly significant. We at GraffersID, a top web and app development company assure that you as a healthcare provider don't wish to spoil the patient's experience with technical setbacks.
Together with that, daily updates and the inclusion of the latest features are essential to keep your doctor appointment booking application stay apart from competitors.
Key Features Of A Doctor Appointment App That You Must Have
After going through all the benefits and steps to create a doctor's mobile app, you have come to a conclusion that now is the time to develop it, then there are essential key points you have to bear in mind.
Any medical app requires to have key health features that resolve the users' major issues to be outstanding. In the same way, a doctor appointment app must also have some particular built-in features to fulfill the users' needs. Let us find out what they are:
1. Doctor Appointment Booking Both Offline & Online
A doctor consultation or booking app must be featured as its basic online and offline booking functionalities that are innate and ever work properly the initial time.
There should be appointment status attributes and a completely working calendar.
Want to develop app like Saathealth – Building Healthier Communities
2. An Admin Panel For The App
A digital medical appointment system depending on PHP language should involve an administrator panel to manage doctor and patient profiles.
If there is a need to make any modifications to anybody's profile on the network, the system should also contain an alert section.
3. Doctor's Profile
A doctor section that is respectively for profile making and review should be available. There is a need for accessible data like doctors' specialization, their place, their images, reviews of patients, and what are their charges for booking an appointment according to different providers.
It will be best to keep real-time data for doctors and reports on their medical practice status. The doctor must also use this to keep up some marketing items if that is something they are looking to offer.
Want to develop Healthcare Management System for Hospitals
4. Patients' Profiles
In the patient profiles, they need to add personal details so that doctors can update themselves with a case history if they are going to examine the patient initially. Data uploading and searching facilities would surely come in handy.
5. Listing Option With Search & Filters
For your app to be successful it is necessary to have complete doctor listings, search and filter functionalities. You can personalize your search and modify the possibilities in a few seconds if you need to look for a medical expert.
Here is a guide to create an app like Netflix
6. Map API Integration
Map APIs can be simply added into the app to let patients get to the hospital for doctor visits without any problem. Users can also go through it when selecting the doctor because the location is also a matter of concern for patients.
7. Reminders & Alerts Features
Your appointment booking app must also have completely working appointment e-mail, mobile, or app alerts and push messages, therefore, no appointment would ever get missed.
Want to know Golang vs NodeJS: Which Is Better?
8. Online Video Consultation Feature
One of the most important things to remember in this is as time passes by, a growing number of patients will need the capability of consulting with their doctor without the need of going into the hospital or clinic.
You will need an HD-video function, audio, and chat facility into your app platform together with online booking.
9. Digital Prescriptions Feature
The doctor appointment scheduler needs to have a method for a doctor to lay down a required medicine inclusive of receipts straight in the app.
After that, the patient would be capable of ordering the prescribed medicines from your regional pharmacy or whatever they go for.
Here is the Average Mobile App Development Cost [ Breakdown ]
10. Symptoms And Disease Identification
You will be definitely aware of the prevalence of Artificial Intelligence-based assistants, which can generate a diagnosis depending on the user's disorders or symptoms.
Your doctor's appointment app must have a symptoms checker feature to identify what expert consultation the patient ought to have.
11. Online Billing And Payment Gateway
There is a prerequisite of handy billing feature for a doctor to create a bill and a safe payment gateway for the patient to reimburse for their booked consultations directly via the app. It also needs to add a card scanning facility.
Here are Eight Most Costly Mistakes in Software Development Outsourcing
12. Cost Calculation And Health Monitoring
A doctor appointment management system should possess a cost calculator, thus, patients will find out exactly what they are being charged all the time.
A health checker is also a feature that more people are preferring in today's time. Even though they are in the best position in their health, they would like to track their essential organ functionality and keep a record of how many steps they are walking during the whole day.
13. A Drug Implication Tool & Safety Consent Data
A drug implication tool is useful to include in any healthcare appointment management app. A patient should know what negative effects the drugs can impose that are being given to them.
Safety consent data is also effective to have. In that way, a patient is able to know that they are employing the app abiding fully with PHI, HIPAA, GDPR, and European health regulations and ordinances.
Success Blueprint Of Creating A Doctor's Appointment App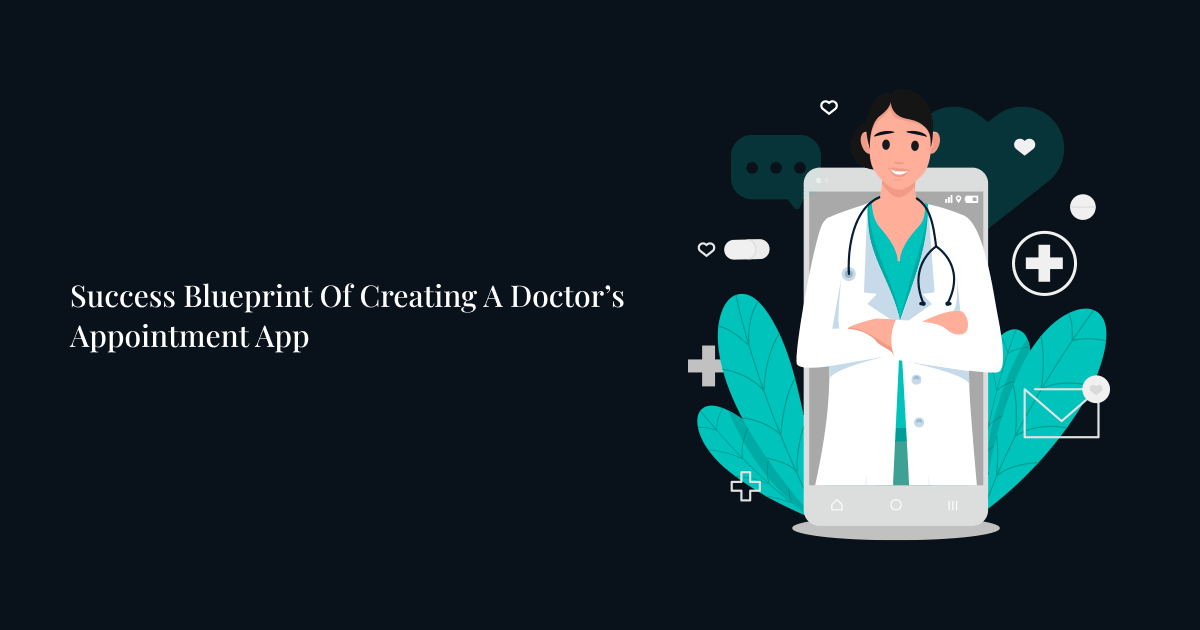 In spite of knowing all, there is something lacking that enacts you to the progress of your scheduling app. Accordingly, here we share with you the success blueprint of building the doctor appointment scheduling app:
During the development of the best doctor appointment app, one of the greatest challenges is to keep up the user base! By giving discounts, rewards, promos, loyalty points, and different benefits, you can keep your patients contented with your app for a long time.
Ensure you concentrate on developing a reliable network of doctors and checking their identity. You can put up a license, relevant certificates, and various important docs of the doctor.
To ascertain that your application runs well and increases income for your clinic or hospital, it is significant to choose the finest income model for your doctor appointment scheduling mobile app. Hence, it is indispensable to cautiously choose your app monetizing model to nail down long-term advantages to your profession.

Final Words
Without a doubt, technology has taken away the world, and the healthcare segment is no exception. Plus, doctor appointment booking applications have turned into a crucial need of the time where the lives of a large number of people are at a risk due to Covid-19.
As the healthcare warriors and authorized healthcare associates, it becomes your liability to serve better healthcare to the patients.
Surely, you have got some queries on building the best doctor appointment app after reading this post. We can help you identify the correct app model for your health services.
Having enough experience in healthcare app development of diverse levels and ramifications, we very well know this industry's key issues, risks, and targets and are always ready to share our technical specialties with you.
Contact us now to set up your own healthcare service app!