Coming up with a great idea is hard, but what's harder is finding and hiring the right app developer that can turn your idea into reality. There are around 23 million people working on web and mobile app development worldwide.
If you pick one of them without much thought, your idea might not turn into the big success you desire. In this article, you will find the step-by-step process of hiring the right developer.
No matter, whether you are planning to hire a freelancer, a mobile application development company, or an offshore app developer, there are a few general considerations to hiring any of these resources.
Before you start searching for developers, ask yourself a few questions. What specific business challenge would you like to solve by hiring a business developer?
There are three common scenarios:
You are looking forward to implementing technology that you never used before. For example, say that you want to rewrite a website in a particular programming language. You can wait until your developers learn that language or hire a developer from an offshore web and mobile app development company.
You already have an in-house team, but need more specialists. Depending upon the requirement of your project, you can hire an in-house professional app developer or a freelancer through an outsourcing company.
You want to develop a project from scratch. This scenario is common for both existing businesses and startups. Startup owners usually have budget constraints and thus opting to outsource a project is a reliable option for them.
Here are the benefits of Hiring a dedicated developer
Existing businesses want to automate business processes and thus they can go for any one of the options i.e. hire a dedicated or in-house team.
There is no denying the fact that business owners want to release a new app quickly and without investing much of their hard-earned money. And no doubt, the app should be of the highest quality. At this point, the question arises whether you should outsource the project, or hire an in-house vs Remote team.
Let's have a look at both, the pros and cons of both options:
As the name suggests, the in-house team means hiring a group of developers that work with you in the same office. The in-house team provides you with the following advantages:
They will be working in the same workplace as you, hence they will be possessing a deep understanding of your company, your product, and your corporate culture.
Easy communication and quick responses to your inquiries.
Want to know How to hire an offshore developer?
But this option also comes with a wide range of disadvantages, such as:
You will be hiring full-time employees and thus you have to pay them a full-time salary, even if they have no tasks or take sick leaves.
You need to take care of office supplies, workspaces, equipment, and so on.
Just by hiring an on-site team you can remain assured of effective work and quick response to your inquiries. So, if you want to meet the deadlines and get the project to be completed without any flaws, you will also be required to hire a manager.  This in turn will increase your expenses.
Earlier companies were skeptical about outsourcing, but nowadays it has become a common practice. While outsourcing, another company takes care of your development project and you don't have to get involved in every step of the process.
Want to know how to hire a senior NodeJS Developer for your startup
Here are a few benefits of an outsourcing development project:
When outsourcing, you can hire coders from any part of the world, which means access to more talent.
You can quickly add or replace the team members, which will help you start your development quickly.
You only till the time the developer is working on your project and there are no expenditures on things like office space and costly equipment.
You can hire experienced developers, leading to product development as per your needs.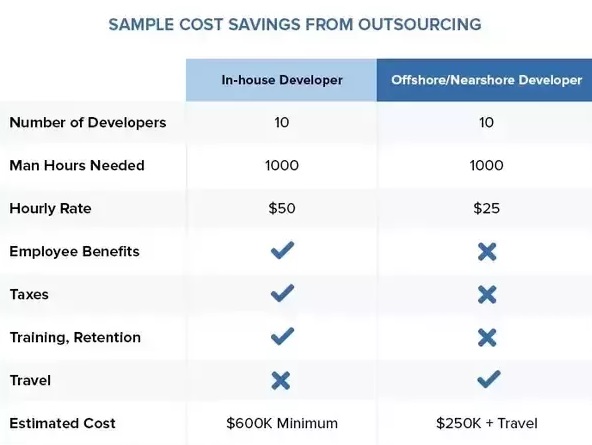 Lack of face-to-face communication is the major drawback of outsourcing. But this challenge can be easily overcome with tools like communication software like Slack, conferencing tools like Zoom, and project tracking software like Jira.
You can also consider hiring a ready-made dedicated team to automate the processes. Here is a guide to help you understand how to set up an offshore development team in India.
Why Hire a Company over Freelancer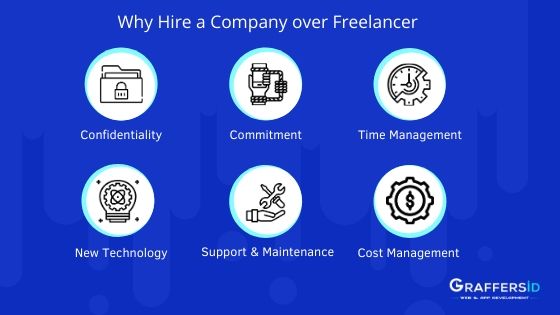 The answer to this question depends on whether you can want to manage the development process and the degree to which you can lead the project on your side. If you are looking forward to hiring a freelancer, then think twice, it is quite intimidating to manage people located thousands of miles away.
Hiring a freelancer comes with various challenges, such as:
Freelancers work on several projects simultaneously, so there is the risk that the developer won't meet deadlines.
There are also chances that freelance developers can suddenly leave the project. After all, there is no CTO or manager involved.
On the contrary, with an app design agency, you get designers, QA specialists, and developers, who deliver you, project management services. Hiring an agency comes with benefits like established communication channels, methodology, streamlined control, and quality control.
Another great advantage of making a deal with an offshore web developer is they have already come across development challenges and know how to overcome them.
Over the years, the different members of the team accumulate knowledge which evolves into development approaches, ready-made components, and best practices. Unless and until have a small task, we recommend hiring a web development company over a freelancer
You have defined your goals and made up your mind to go for the outsourcing development team. Now, comes the question of how you will find the developers.
1. Firstly, define the destination
North America, India, the UK and Ukraine are the most popular outsourcing destinations. Let's learn about them more.
North America is the house for approximately half of the IT specialists in the world. Headquarters of leading IT companies are located in the US, even if they have their R&D in a different region of the world. Thus, the United States could be one of the good choices for building your offshore development.
Want to know Why Outsourcing Software Development to India is a Success?
However, it is important to note here that building an offshore development team in the US can be a bit heavy in your pocket.
India is one of the preferred choices for building an offshore development team. Business in India is concentrated in so-called IT clusters, which also include the
Silicon Valley of Bangalore. According to the recent stats by Evans Data Corporation, by the year 2023, India will be ahead of the US by the number of developers.
Countries like the UK and Ukraine also hold a good share of web developers. The only thing that keeps India above all the three countries is you can find highly enthusiastic and skilled developers in India at quite an affordable cost.
| | | |
| --- | --- | --- |
| Region | iOS ($/hour) | Android ($/hour) |
| North America | 150 | 168 |
| Australia | 110 | 110 |
| UK | 70 | 70 |
| South America | 43 | 34 |
| Eastern Europe | 35 | 35 |
| India | 30 | 26 |
| Indonesia | 11 | 12 |
2. Conduct Research
Here is where you can find the right offshore development team for your business:
These websites can prove resourceful if you are looking for a freelancer. However, they are less helpful when you are looking for an outsourcing company that provides full-cycle development. Upwork, People Per Hour and Guru are some of the reliable solutions for finding web and mobile app developers.
The best developer should not only be perfect in his designs but should also be strong in coding. GitHub is a platform where you can check samples of source code put by various developers.
B2B Directories generally contain lists of companies that are categorized by their ratings, specialization and location. Clutch.co and Goodfirms.co are some of the best platforms where you can find the finest app developer in the country of your choice.
You can check design communities like Dribble and Behance to find some creative and unique designs. These two communities are the best places to find a great design team. 
Want to Know how and what cost to hire a WordPress developer? 
3. Make a list of candidates and analyze them
After you have found a list of developers that can make your dream come, it is time to carefully analyze them. There are several things to check while choosing an app developer for your project:
Once you are done preparing the list of candidates, you should create a list of questions that will aid you in making a wise decision. Here is a list of some crucial questions that will help you find reliable developers:
What feedback they have received from their client?
What market segment do they focus on?
Do they have experience in creating apps for your niche?
What are the technologies they work on?
How will they ensure the quality of development?
Here is a step-by-step guide to hiring ReactJS Developer for your startup
4. How will the development process run?
This question won't arise if you hire one developer, however, if you need a team to develop your product, try to find a company that has a streamlined development process.
Here are a few things to consider while choosing a development team:
SDLC or Software Development Lifecycle is a framework that defines tasks performed at each stage of the development process. Look for a company that has a clearly defined SDLC that adjusts to the client's needs and provides stability during app development.
Project Management Framework:
Project management framework and methodologies are also crucial to a well-structured SDLC. The most famous frameworks and methodologies are Agile, Scrum, Waterfall, and Rational Unified Process. The right choice of the framework will define how quickly a team responds to changes, while still delivering product on time.
Communication and transparency:
Communication and transparency, both are crucial, especially when you are opting for outsourcing. A good team should provide you with a kick-off meeting, demo presentations, call upon request, and sprint reports. Many companies use project management like Jira, where you can constantly check the progress of your project.

5. What about the high load?
Your app may become so popular that thousands of people will be using it simultaneously. Ask your potential vendors how they will deal under circumstances of high load. A development company should thoughtfully clone the app server and pick the tech stack.
After you have carefully analyzed the list of developers, it is time to make a decision and hire app developers. Before jumping to a conclusion, it is advised to clear all the controversial questions with your potential developers. Get an answer to all your queries to define whether the company you are hiring can fulfill your business needs.