Social media is a tool for staying in touch and exchanging information for personal and professional purposes in the twenty-first century. It's a universe of visual media, from posting posts to stories and sharing content to advertising your product. Numerous needs for photo and video editing have arisen as a result. Additionally, filters have also gained popularity. Nonetheless, the "Celebrities Look alike Generator Apps" is one of the newest trends you may have seen on social media.
These practices are being promoted by social networking sites like Facebook, Twitter, Instagram, and Snapchat through various features, including reels, filters, and other tools.
The fact that there are 4.2 billion active social media users globally may not surprise you. Surprise! And 4.15 billion of them use social networking applications on their phones.
The potential for images on social media is enormous. The demand for photo filters, photo editing software, and AI-based celebrity look-alike apps is consequently very high. Social networking sites like Facebook, Twitter, Instagram, and Snapchat promote these things with features like reels, filters, and other tools.
What Are Celebrities Look alike Generator Apps?
It's a face recognition tool that analyses a user's face and compares it to celebrities' faces. The closest match force was using a combination of taking a look from different angles, face recognition technology, and machine learning techniques.
Users can alter the features as per their requirements and take a look from different angles. However, these artificial intelligence based celebrity clone apps have captured the hearts of millions.
Typically, there are several critical features of the celebrity look-alike application:
You can upload the image from your gallery seamlessly.

Users can experience the different filters and take photos without leaving the application.

The user can also get information about celebrities who look alike (age, gender, hair color, height, and so on).

Celebrity resemblance with

the help of machine learning techniques, you can modify your face to include a celebrity's face and resemble it as you look like your favorite celebrity.
Are you wondering, for example, which famous person I resemble or want to know what the Best celebrities look alike generator Apps are? Then find your celeb look alike app list, which includes features and essential details to simplify the download of such apps.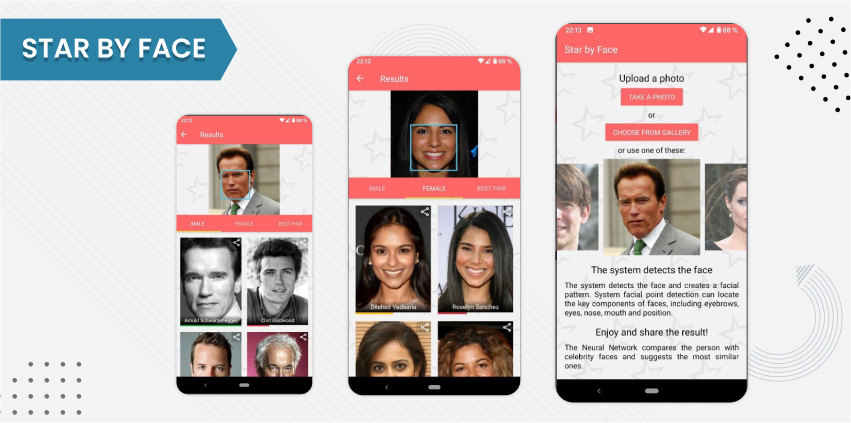 Star By Face differs slightly from other mobile applications that impersonate celebrities. Instead of snapping selfies and searching for your famous doppelgänger, you must upload your photo, and the mobile app will modify it to include a celebrity face. Your facial expression is recognized by the machine learning function, which then delivers the result appropriately.
The app is available for free on Google Play Store and App Store.
Features:
A database with thousands of famous faces

For accurate results, machine learning combines facial recognition with machine learning.

The easiest-to-use interface

Results for celebrity lookalikes in HD resolution.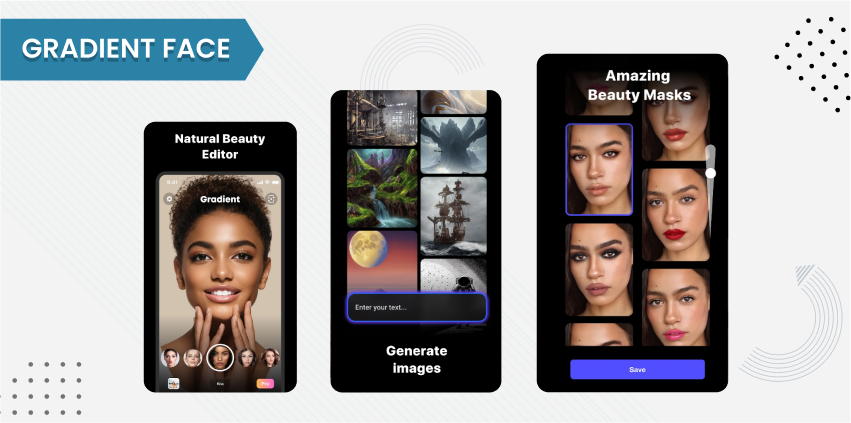 Gradient The Gradient is a top-notch look-alike celebrity app that imitates famous people while offering much prettier and cutting-edge face attributes while safeguarding user data in the background.
This photo-editing program enables users to quickly submit a photo, and an AI-driven interface will find the celebrity who most closely matches the user's face.  Artificial intelligence and contemporary methods are combined in this doppelganger detector to provide a fantastic user experience.
The Gradient app is available on both Google Play Store and App Store. It comes with multiple subscription plans which begin with a weekly charge of 9.99 USD.
Features:
A photo app is driven by AI and has a doppelgänger feature.

Amazing hair collages and unique AI effects

Handcrafted filters and fantastical beauty features.

The AI feature transforms into a cartoon figure.

Traditional portraits are created with the best painting AI technology.

Resize eyes, lips, noses, skin tones, and other facial features with makeup tools and apps.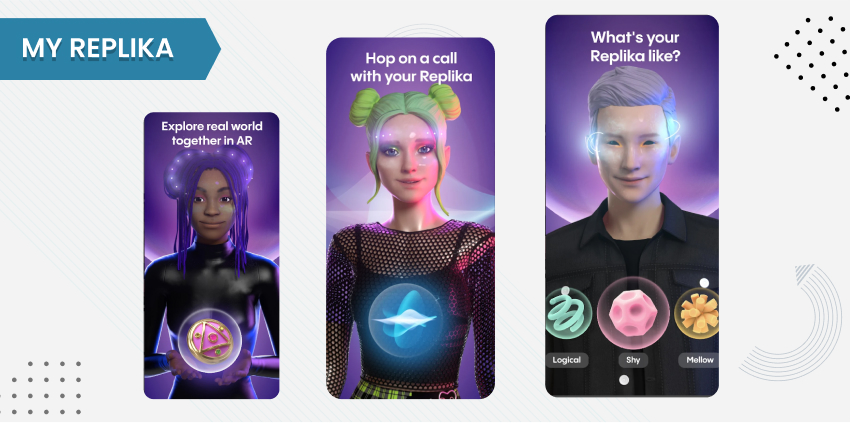 My Replika is more than a mobile app for finding celebrities who look like you. Users of this smartphone application can expertly modify their photos. This mobile software compares your image to a massive database of every notable person who has lived, including athletes, musicians, actresses, vocalists, scientists, and many more.
You can use several built-in capabilities to edit your final photos before sharing them on social media sites like Snapchat, Twitter, Instagram, Facebook, and many more.
My Replika can be downloaded on both Android and iOS smartphones. The app comes with its amazing Pro features which costs 59.99 USD for the lifetime.
Features:
Find the star that resembles you the most.

Facial recognition technology ensures that the features are accurate.

It results in the production of HD results.

Professional-quality photo editing tools.

Excellent and precise celebrity lookalike results.

A database collection of famous people includes actors, singers, athletes, historical figures, and much more.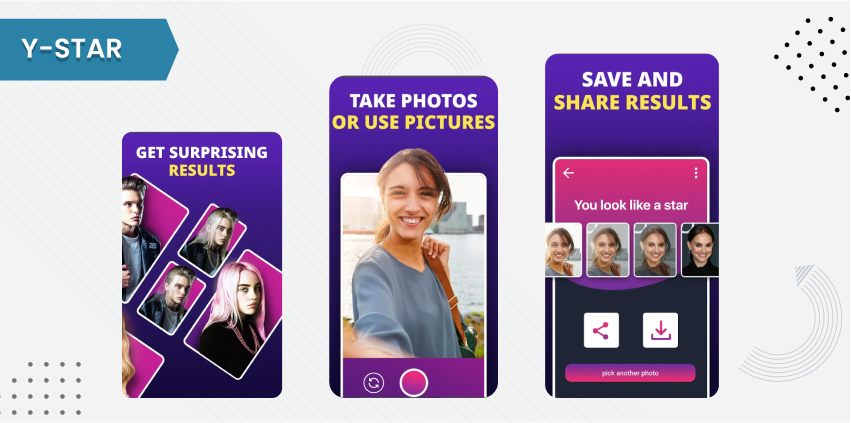 You can use Y-star to take images and check your face against the enormous database. It offers speedy results with the best celebrity match among the group of celebrities. Any gender of celebrity twins can be found on the celebrity look alike app.
By analyzing facial points and using face-mapping technology, this celebrity lookalike software uses the front camera to take a picture and produces remarkable results.
The app can be downloaded from both Google Play Store and App store for free.
Features:
Photo Modification.

This application supports HD pictures.

There are many famous people to compare yourself to.

Excellent and accurate findings for celebrity lookalikes.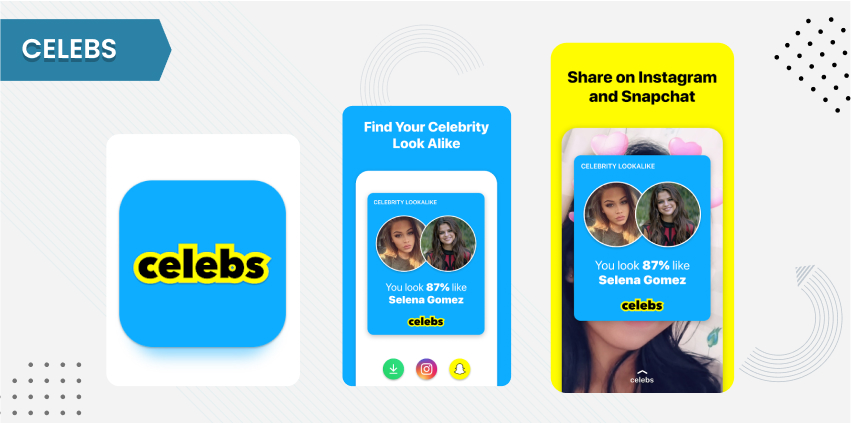 The Celebs application is a celebrity look-alike software that relies on comparison and accuracy and advertises that it's free. In terms of photography and editing, it's the quickest, most enjoyable, and most popular software for features that make celebrities look alike.
It recognizes emotions, faces, and features while maintaining accuracy with machine learning. The app utilizes facial recognition algorithms to quickly identify your doppelgänger by comparing your traits to those of thousands of celebrities.
The Celebs app is available for free on both Google Play Store and Apple App Store.
Features:
Identification of twins and the search for the best resemblance.

Users can compare products quickly and for free.

AI cartoon figure transformation capability.

Exceptional facial results for Snapchat and Instagram. 
Read Also: Best Food Delivery Apps & How Do They Work?
How do celebrity look alike apps work?
The key component of the celebrity look alike app is face recognition software. By examining the face, facial recognition can recognize a person. It analyses a face's patterns in addition to simply capturing them. To find the best match with celebs, the celebrity look-alike app uses a machine-learning algorithm.
Consider the below components while developing the application:
A strong server to store different profile databases.

Face recognition techniques and useful comparison.

A high-end video camera.

A well-controlled neural network with unfettered access to countless images
Additionally, with the aid of AI, applications recognize the face of the user and try to match it with the celebrities and with some sort of editing using AI technology applications stretches look-alike result for the users.
Read Also: Trending App Ideas for Startups
Important Factors To Consider to Develop a Celebrity Look-alike App
Numerous people are drawn to the variety of features, therefore you should think outside the box when developing celebrity lookalike applications. Along with the basics, make an effort to add something distinctive to the app that will set it apart from other comparable mobile apps.
Embedding cartoon characters
This function works wonders to draw in younger viewers. A face from a picture may be turned into a cartoon character with this capability. You may design a basis for a cartoon figure with this AI-based function. Additionally, you may assign your app a theme and keep changing it periodically to raise engagement levels.
It's best if there is more entertainment. Users adore gamification because it enables them to make humorous movies, take quizzes, design greeting cards, and earn points for doing quick activities in an app.
Sign-in using social media
This is another element that is necessary for a seamless user experience. This feature enables users to join up quickly and start using the app by utilizing their existing social networking accounts, such as Gmail or Facebook. Additionally, the social media feature encourages users to post their results or recommend the application to their mates.
Filters that mimic celebrities' features
Users adore filters and effects like facial retouching and virtual makeup. They enjoy adding interesting effects, stickers, and filters to their images to obtain creative results and afterward sharing them with their pals, in addition to researching which celebrity they resemble. Therefore, this feature would significantly contribute to the success of your app.
This modern age is characterized by an increase in voice assistance. Voice-based technology can thus be implemented in celebrity look-alike apps, allowing users to identify their looks-alikes with voice assistance.

Wrapping Up
Other than these, there are numerous other celebrity lookalike mobile applications. You can use any of them to discover your famous twin. But each has a unique feature available only in that particular mobile app. 
Star By Face, for instance, offers exceptional privacy and security to user data, while Y-Star offers a facial point recognition feature.
A similar database collection is available in My Replika; Celebs, which lets you find animals-like faces, and Gradient, which creates cartoon creatures based on your face.
Nevertheless, if you're looking to build a celebrity look-alike generator app or if you're going to use celebrity look-alike apps, we recommend you enjoy using different features and share them among your friends and relatives. To build such an application, you need a dedicated developer who assists you in delivering the unique app as per your requirements. To get help with this, GraffersID can help you. Let's connect and build amazing apps.
Have an App Idea? Contact Us to Get Started