Planning to build an app but unaware of the exact cost of developing the app? Well, determining the exact app development cost is undoubtedly a complicated process. So to help entrepreneurs, and startups we have tried to provide an estimated mobile app development cost in India.
In this article, we are going to cover all the significant points that can clarify the pricing of making an app and the factors taken into consideration. We will help you build a budget-friendly and high-quality app.
There are mainly two questions that concern you- How much does it cost to build an app? What are the factors of pricing?
In brief, the affordable cost of making an app is dependent on the development and the hourly rate of hiring a developer which varies from $20 to $150 based on the region and complexity of your mobile app. The price may also vary based on the skillset, scope of work, and app type.
Comparatively, the cost to develop an app in the US is higher, based on the app type-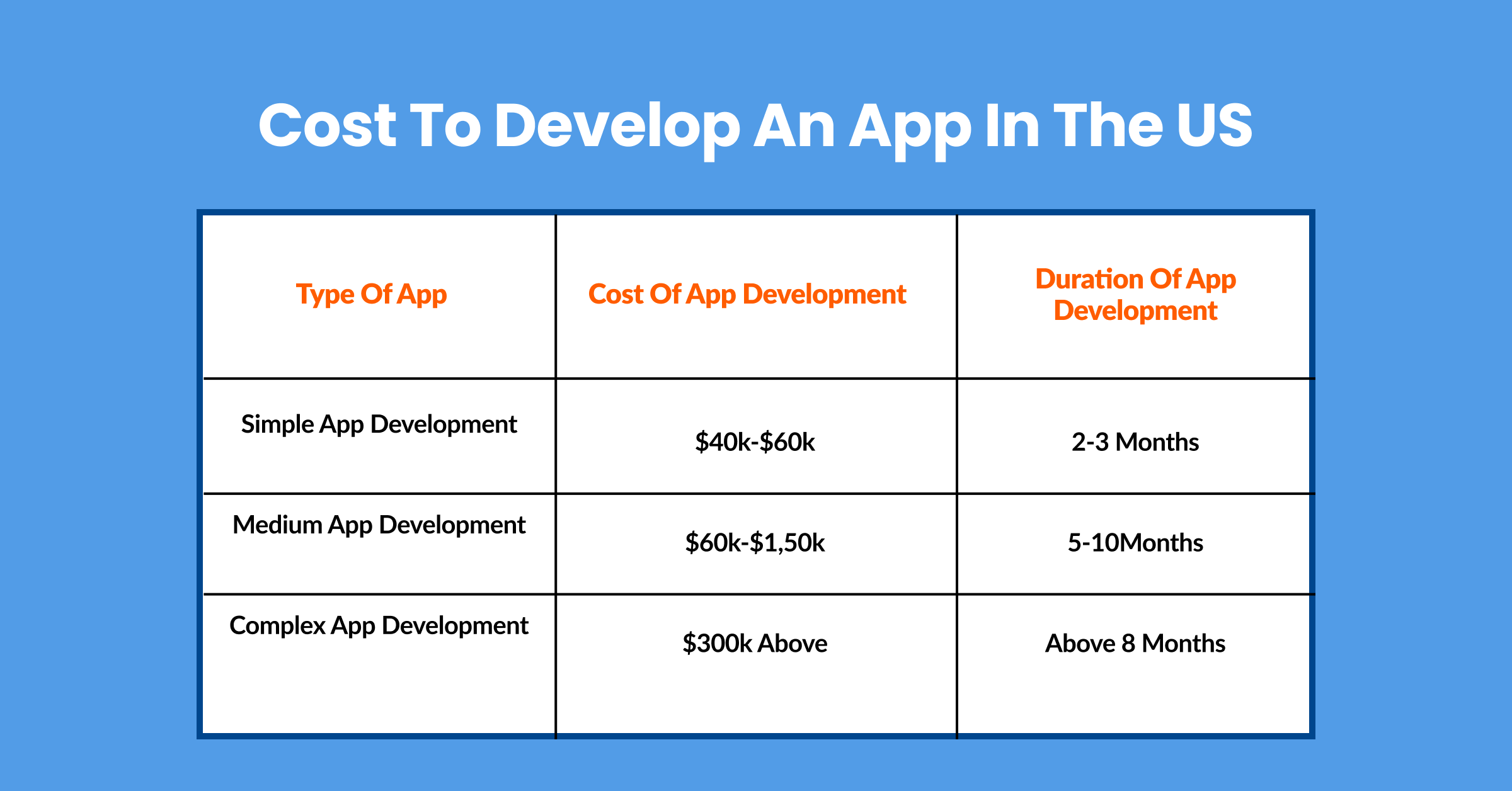 From the above table, we can see the pricing structure of building an app in the US is quite high, on the other hand, the pricing structure of building an app in India is quite low and affordable.
Our highly skilled team at GraffersID, an award-winning web and mobile app development company provides you with app development service at a fairly affordable rate and productive development.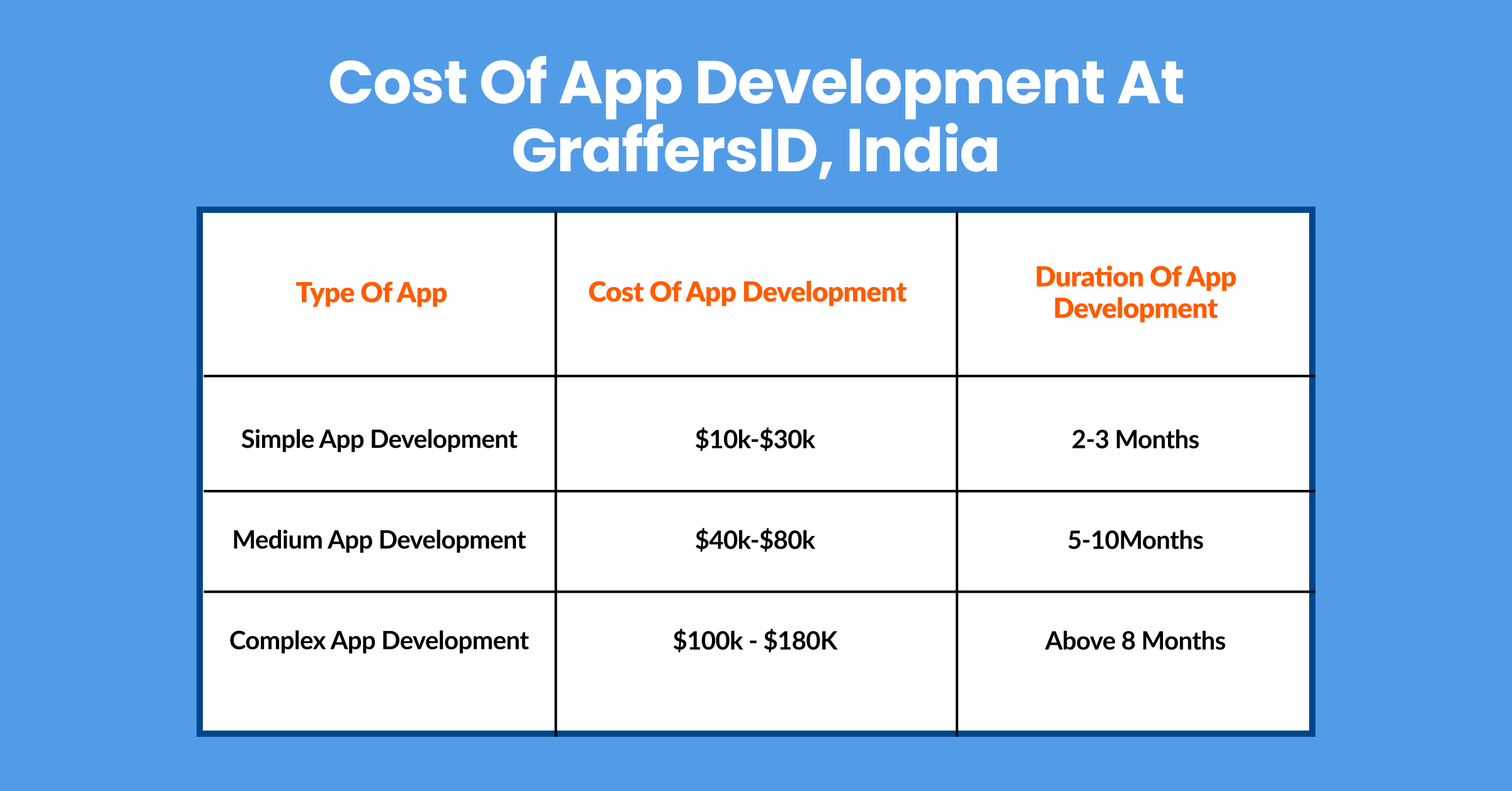 Steps to Develop User-Friendly Mobile App
Based on the selection of your app type, now it is time to build an app. The entire App development process is complicated and each step includes a huge cost depending on a heap of variables. The procedure for developing an app includes-
Research and Planning.
Designing
Development
Testing
Maintenance and Marketing
Let me take you through the pricing structure of each step-
A) Research and Planning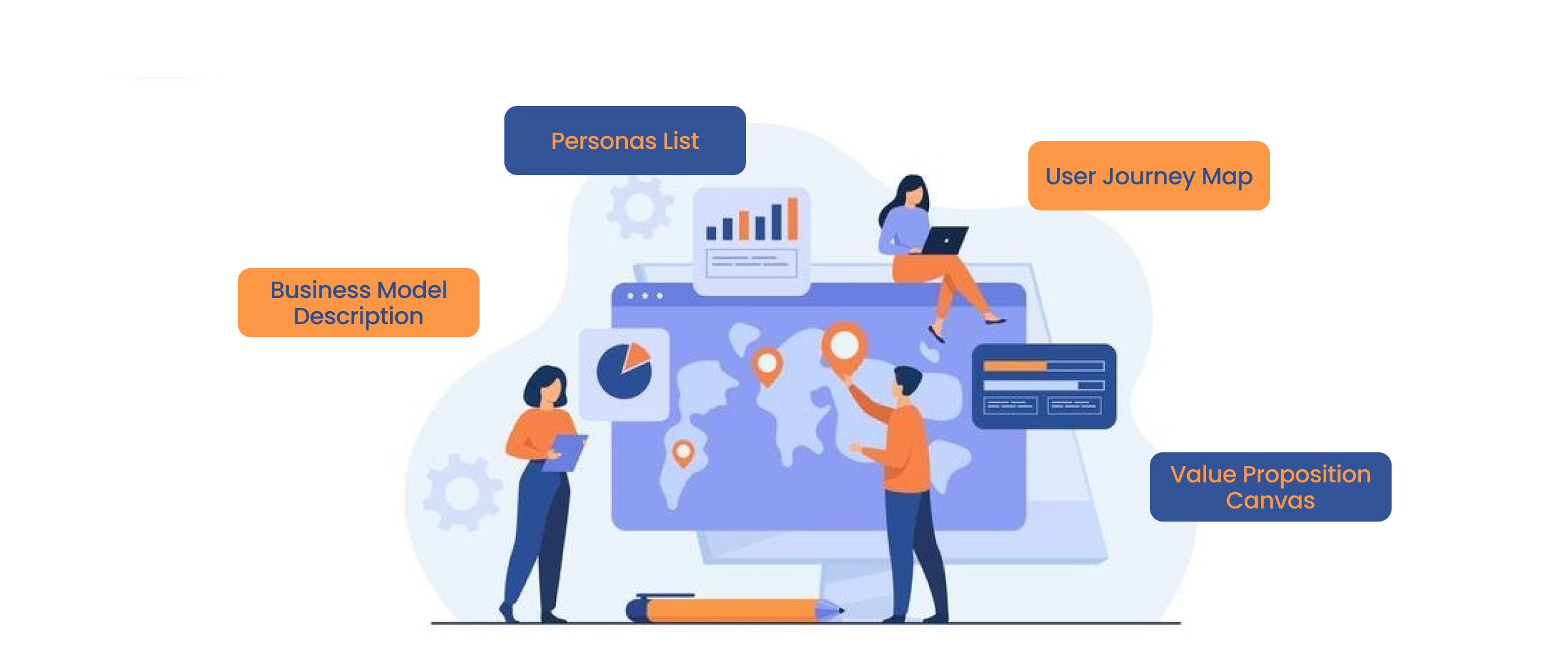 In this phase, your app ideas start taking shape. You begin with planning different use cases, preparing detailed functional requirements of your app, and building a roadmap. Now for verifying your app idea and for market analysis, you need business analysts.
This phase includes-
Business model description
Value proposition canvas
Personas list
User journey map
The cost of the research and planning phase in India takes around 2-3 weeks.
Listing out key factors that determine the app development budget-
Quality
Cost
Speed
Every app development budget is based on these three factors, now, it is on you to decide what is your application's requirement. If you need to develop a high-quality app on a low budget then the timeframe should be an additional few weeks to your development schedule. The reason behind this is you need more time in advance to design your product. Similarly, if you go for a higher budget the development timeline can be 2-3 months only including offshore resources.
Now, let's hop onto the basic pricing structure of designing an app-
B) Designing and Structure Of A Mobile App
Designing an app is equally important as the development process. The inclusion of many attractive and important features and their functionalities leads to a higher cost of building an app. Mainly this phase includes Wireframes and developing Prototypes.
The overall budget for designing an app on a single platform in the USA is around $70 – $150 per hour. On the other hand, If you outsourcing UI UX design to affordable countries like India can reduce your app development cost. The Average cost is around $15-$35 per hour. The overall time taken to design an app can be 20 days and can vary accordingly.
Designing an app comprises four steps and each step requires a strategy to bring the app into a reality similar to the visualization.
Let's take a look at each of the steps and the required amount-
1) UX Design
UX is all about the user's friendly use of an app. UX designers have to plan the idea following the user's perspective. Thus, UX completely brings the screens into the paper for a better user experience. This procedure needs an understanding of the market, the goals of users' utility of an app, and who are the users.
For example, an app includes color psychology, button placements, and designing solutions for users. These tasks are performed by a UX designer and the cost of it fluctuates according to the requirement.
2) UI Design
Designing an application requires creating mockups to get an idea of how the app will look like. Visually presenting what you have planned is a difficult task and to perform it requires more money. Visual designs include-
Layout, Typography, Colors, Screens, Shapes, and Elements.
Know in detail about difference between UI UX
3) Branding
Branding plays a vital role in marketing your product. If you develop an app, then it is equally mandatory to market your brand. The branding for an app involves Marketing and Logo Branding.
4) Copywriting
Copywriting is a must to keep users engaged and interact with the application solutions you are providing. It includes text like- Newsletters, Landing pages, Technical documents, and Blog Posts.
Now, if you hire a good writer, the cost of writing a copy changes accordingly.
C) Mobile App Development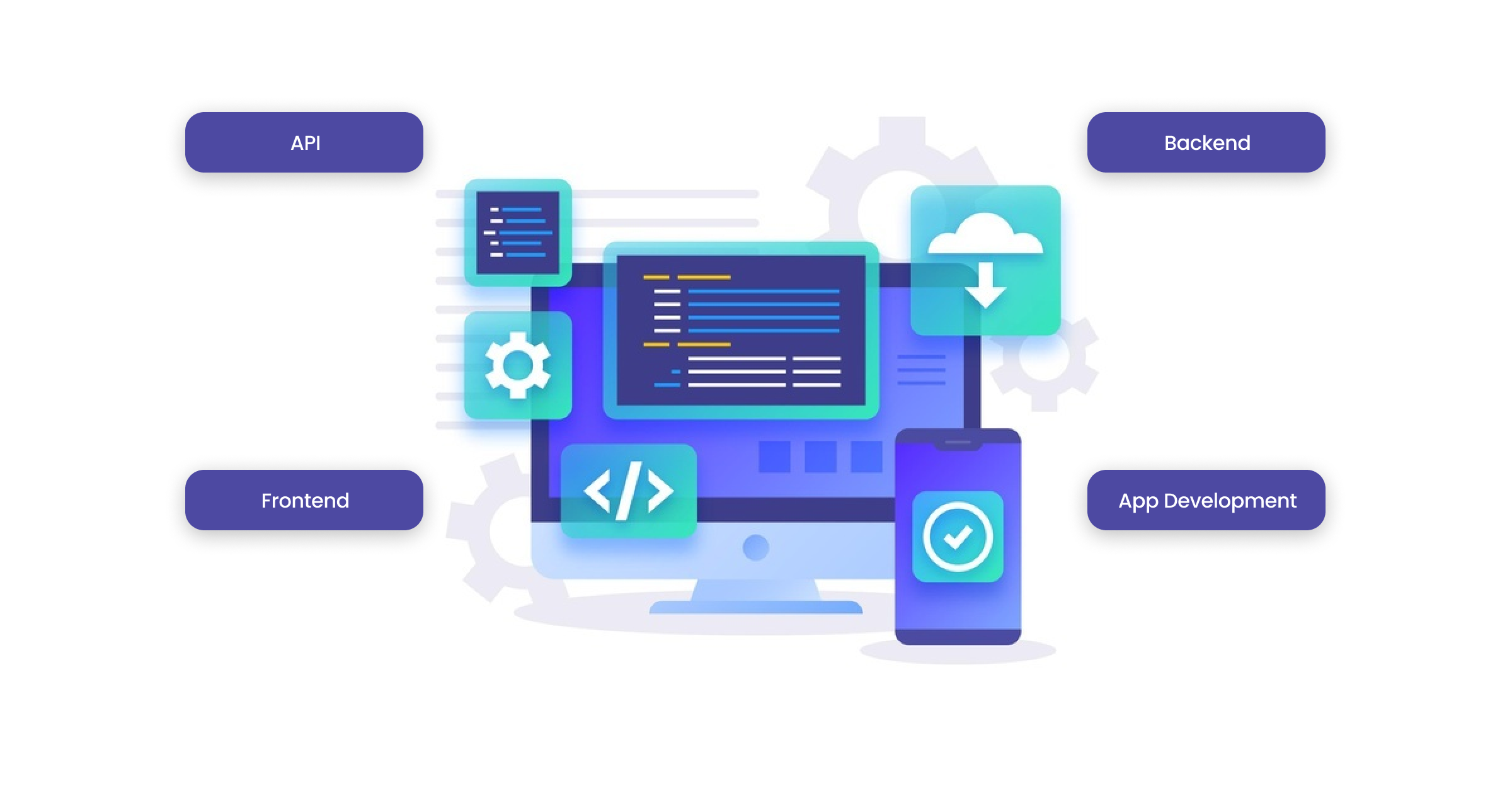 After the conceptual and detailed design of an app, we move on to the app development process. Developing an app consists of three important parts-
1) Backend
For supporting the functionality of an app, the server-side object and databases are required.
2) API
Through the Application Programming Interface, the backend database/server and the app are connected.
3) Frontend
It is cited as the application's client side. The front-end developers provide the structure, content, and behavior of an app to make it interactive.
The number of team members in the development team depends on the size of the application and the in-app features.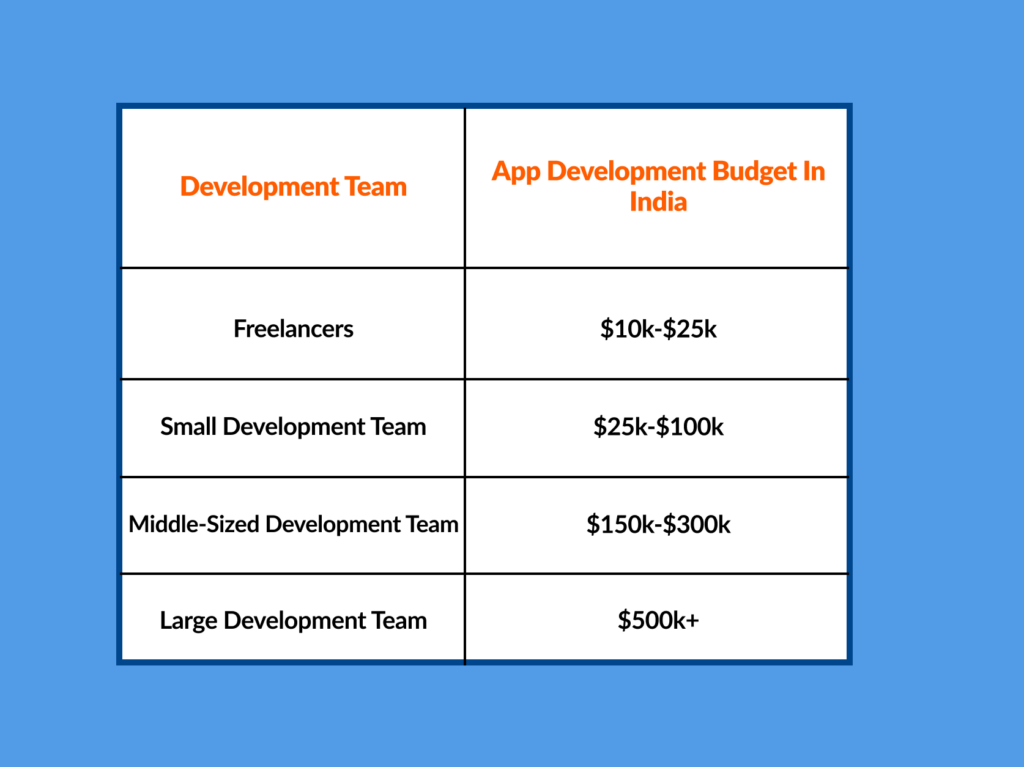 Hire Local Developers vs Offshore Developers
Now, the development process can be managed by a team of local developers or developers outside the country. To execute the plan you need brilliant developers.
Why India
Specific to Asia, India is the prime outsourcing country in Asia, known for delivering cost-effective and efficient subcontracting mobile app development services. Also, India was nominated as the second-world country with the greatest number of graduates in science, technology, engineering, and mathematics.
The cost of living in India is significantly lower. In general, for the development of iOS and Android applications in India, the average hourly rate of developers extends to $20-$35 depending on their skills and experience.
D) Testing
To validate an app's functionality and to make sure the application is secure and usable, testing is done. It requires a QA tester throughout the development process to make an application bug-free and to provide quality development. Overall development including coding, testing, and deployment may take 25 days.
E) Maintenance and Marketing
After your app has been launched, now it is ready for the users to use. To keep your app running in the eyes of users, you need to keep promoting your app and its features to the users. And, to do the same you have to follow the procedure-
1) Marketing and Promotion-
Once your app is launched on app stores, you need to promote it on web stores too. Marketing and Promoting your app will redirect your users to their app stores. Besides, you can go for SEO marketing, and promote your app through bloggers using promotion codes.
2) Bug fixing and Maintenance-
No app is perfect, but to make your app error-free you have your development team who will identify the defaults and get back to you with errors if found any. Every software needs maintenance and you have your team to help you with your app's ongoing maintenance process that will further let you know the activeness of your app.
Other Factors Affecting App Development Cost In 2023
Region
Specific to a location, costs for creating an app vary from region to region. It is dependent on the developers you are hiring from. Talking in general, the Hourly rate for programmers in developing an app in the US is 120$-150$ while in India the cost for the same is $20-$35, and similarly, in other countries, it differs accordingly.
Now, other than the country from which programmers are hired, the cost depends on the hired developers' programming languages like Java, Kotlin, PHP, and many more, the specialists involved can be testers, business analysts, project managers, scrum masters, and last but not the least, the qualification or the requirement categorized into the senior, middle and junior level.
Complexity of App
App development is not as easy as it seems, it needs planning and research. You should be acknowledged for your target audience, your business goal, an understanding of the whole app development process, and the platform where your app is going to run.
To make an application engaging and unique, its physical features including screens, buttons, colors everything matters which takes hold of the overall development cost.
The complexity of an app is dependent on the features and the technology used for the development.
Based on complexity, there are three types of apps-
1) Simple Apps
These include mobile applications having the necessary features, a simpler outlook, and new tech screens. Features of such apps are mainstream in every app-
Login/Signup
Profile Update
Dashboard
Search/Explore
Messaging
Notifications
Thus, the complexity level of simple apps is very low and so the cost and duration of the same are less.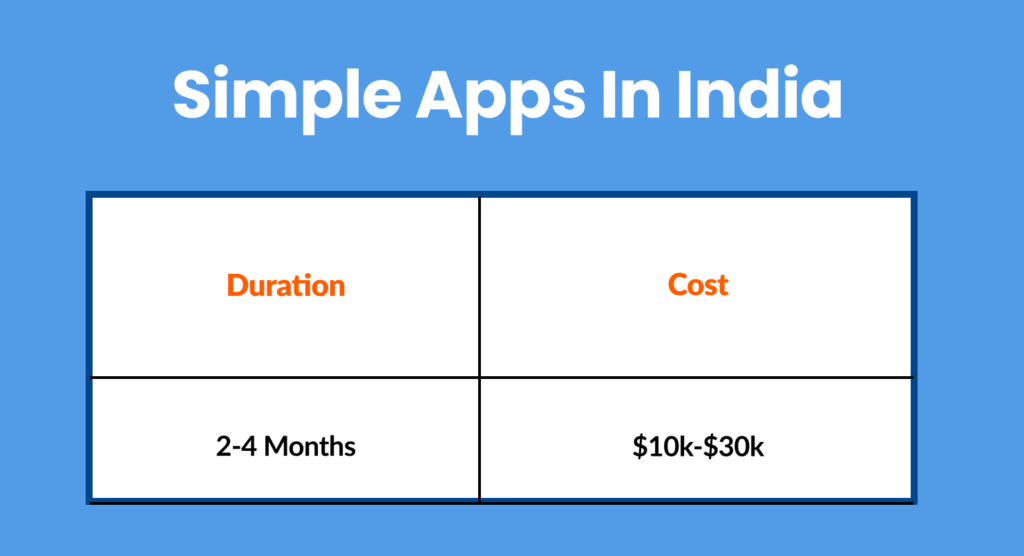 2) Moderate Apps
These apps include additional features, databases, and a higher-quality user interface. Features of such apps are highly complex-
8-15 Screens
In-App purchasing system
UI animations
Location tracking system
Thus, the medium complex app has add-on features that affect the development cost and is higher than the simple apps.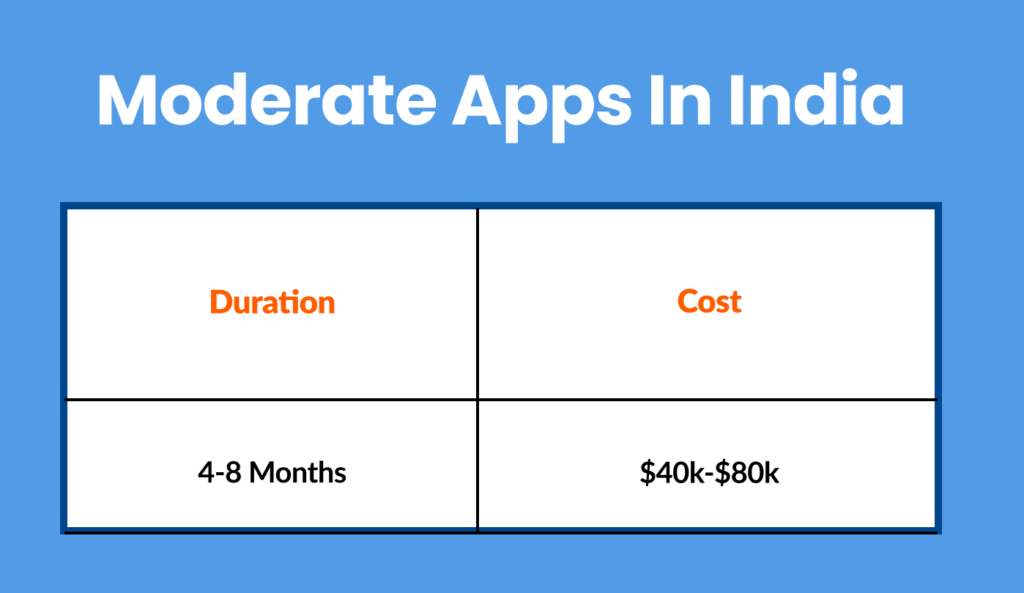 3. Highly Complex Apps
These apps have some high-end features along with integrations which leads to higher development costs. These apps are designed for bigger businesses.
More than 8 Screens
Video chatting and In-app call service
Online streaming
Thus, a highly complex app not only requires a large number of members for development but planning and research are also a part of it. Such apps have several databases, servers, and highly complex infrastructure.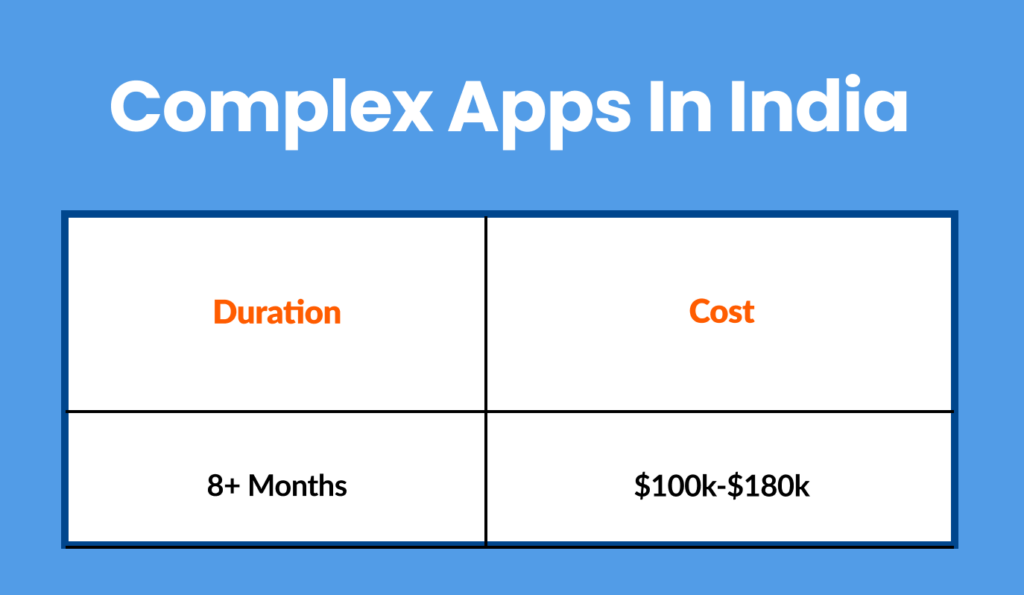 Native vs Hybrid App
Now, it's time for you to decide where your app is going to run. There are various platforms on which you can run your app but for startups, it is advisable to let your app perform on a single platform i.e. go for the native platform, where you can run your app either on iOS or Android.
Another platform to run your app is a Hybrid platform where you can run your app on both iOS and Android.
Now the cost of developing an app on both platforms differs a lot. For native apps, the cost is higher than for hybrid apps because you need two teams to develop the two apps concurrently.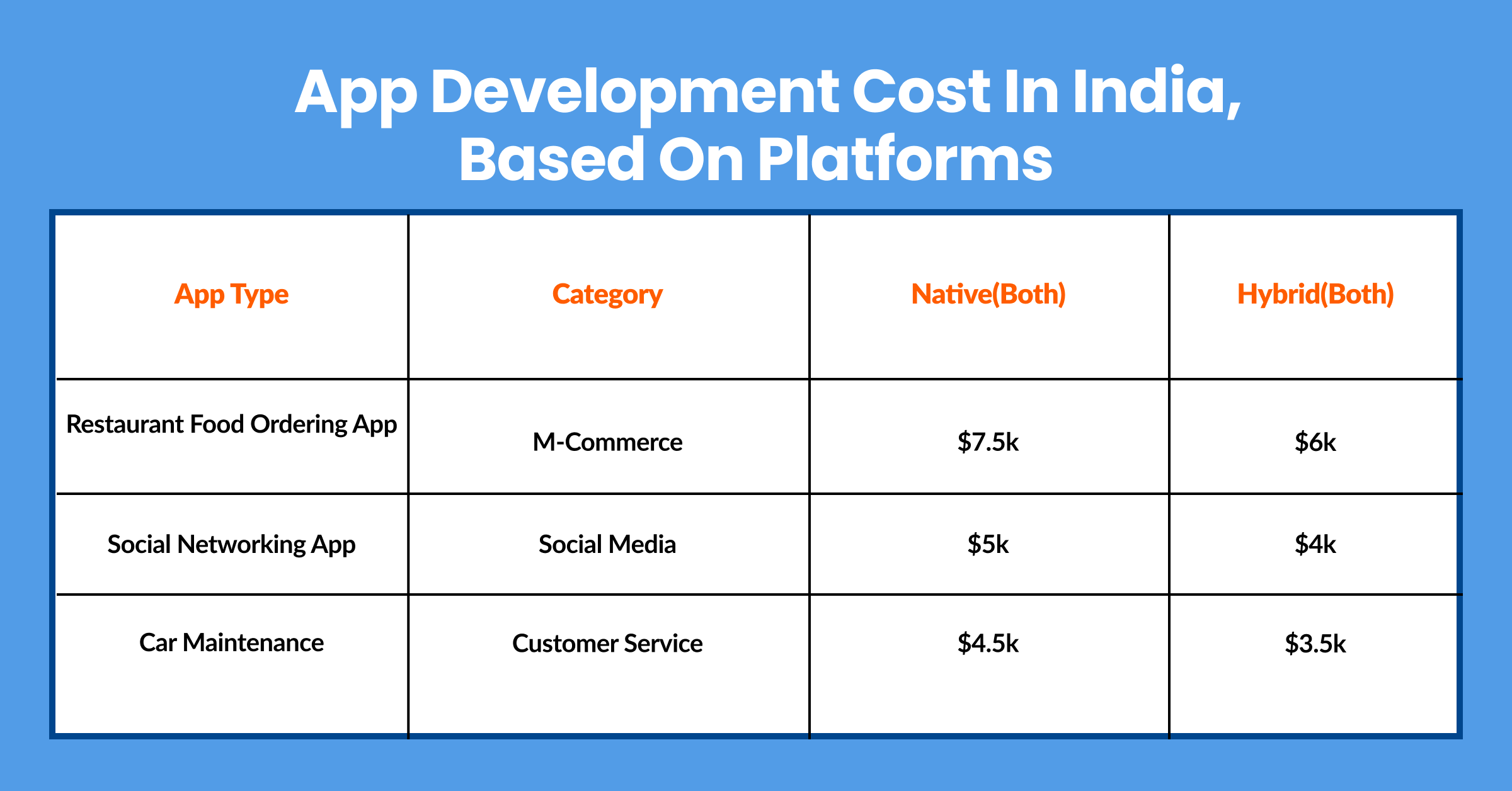 Estimated Cost And Time of Hiring App Developers
The estimated cost of app development is also dependent on the cost of hiring developers. The factors that affect the cost of hiring a developer are the years of experience, and specialization in technology is dependent on the type of developers you are hiring. The developers can be Freelancers, In-house developers, and Offshore developers.
Correspondent to different hiring platforms like GraffersID and Upwork, the hiring cost in different countries varies.
Let's have a look at the hiring cost of developers for software development in India-
Eventually, catching sight of these factors you will have a clear understanding of your app development budgeting.