It's true that the IT industry dramatically grew a million folds during the pandemic, but so did the food industry. So, whether you are confined in your spaces while an airborne virus affects millions or just feeling too lazy to get out of bed, it's safe to say that the trend of ordering food is here to stay. And, so, if the trend of food delivery apps in USA.
But, what makes a food delivery app in the USA a great choice? Before we get into this, let's take a look at the numbers.
The food industry's order delivery sector had significant growth in 2020. For instance, the sales of the top four meal delivery services in America increased by a billion combined in the second and third quarters of 2020. And in 2021, the market will still be expanding.
This is why entering the online food industry is a great idea. But what would your app need to stand out from the crowd? 
If you are trying to figure this out, you have landed on the right page. Here are the best food delivery apps USA and what features you need to embed in your app to make things work out. 
Table Of Content
How Do Food Delivery Apps Work? 
Let's start by discussing the fundamentals of on-demand meal delivery services. Customers may place food orders from retailers or restaurants for delivery using the software. These systems also offer dashboards for restaurant management and organize the delivery couriers in charge of delivering orders. 
The two most popular approaches for how meal delivery services operate are described here.
Logistic Models 
The most well-known meal delivery services in the world, including Uber Eats and DoorDash, use this paradigm. In this scenario, you arrange for food delivery and link customers with restaurants or shops. It may be difficult to put such a plan into practice because you'll need to create a sizable logistical network. Long-term, it may provide you with significant advantages. For instance, charging a 15%–30% delivery fee for each order placed through your food delivery service app might increase your profitability.
Aggregator Models
It is the model used the most frequently by meal delivery applications. Such applications link clients with businesses like restaurants and shops without handling delivery. Zomato is among the greatest instances of this type of meal delivery software. The aggregator model's key advantage is that it is relatively easy to use. You do not need to engage staff and establish your own delivery driver app-coordinated courier network. It makes a similar strategy far less expensive than the logistical paradigm. The primary disadvantage of the aggregator approach is that it only offers restaurants and shops with in-house delivery services.
Simply put, here's how the best food delivery apps work: 
Keep in mind that a meal delivery system links many user types, including diners, couriers, and eateries. As a result, such a platform typically incorporates a number of linked meal delivery applications, such as: 
 A restaurant/store order management app. By enabling businesses to accept and handle orders, it arranges internet ordering for restaurants and retail establishments.

A delivery service app. Such a program organizes the delivery of the meals by the drivers.

A diners' app for meal delivery. Customers may order meals from restaurants or ask for on-demand groceries delivery to their area using this app.
Want to build an app? Get in touch with our team here!
10 Features Of Food Delivery Apps To Look Out For: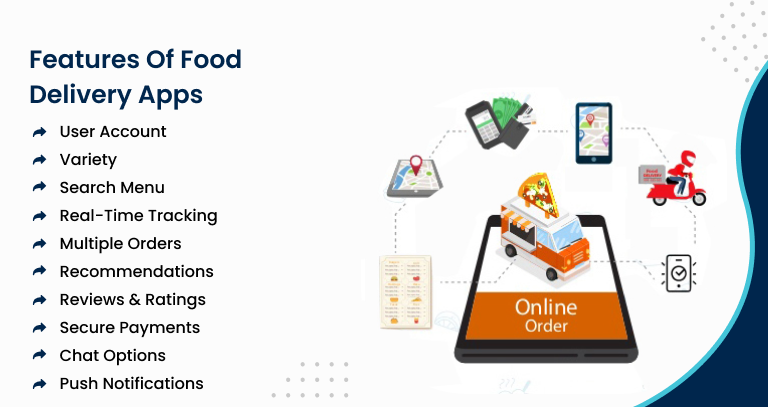 Here's what your food delivery app should have to be successful: 
User Account 
Any meal delivery software must include a user profile as a core component of the user experience. You must make it as simple to use as you can. This calls for enabling quick and secure log-ins and log-outs. The user will appreciate the option to log in using their Facebook or Google accounts to save time. 
Additionally, you have to include more user-friendly and customizable user profile pages. Personal information about the user, payment preferences, order history, and a customized list of suggestions are a few examples.
Variety 
Some eateries or shops can close after some time or just be too busy to take orders. As a result, you should implement dynamic lists of eateries and grocery stores that are constantly updated to display the possibilities. Because they would only see offers that are pertinent to them, users will have a better overall user experience. Additionally, make sure your list contains a lot of filters and is simple to browse. This rule is applicable to all menus and lists in your grocery delivery app as well as your restaurant delivery app.
Search Menu
You merely need to add a conventional search box to your food delivery software; you don't need to reinvent the wheel. The user can enter the name of the preferred eatery, shop, or meal in this field to get a list of recommendations. Be aware that many customers might not be familiar with the exact names of foods, restaurants, or shops. This implies that even when users make mistakes, your interactive search tool should still offer pertinent ideas.
Real-Time Tracking 
App users who order meals are frequently impatient. Add order monitoring capabilities to food delivery applications to appease the hungriest and least patient diners. It offers real-time information on the status of the order and the option to find out where it is. When adding location tracking capabilities to your food delivery service, be careful to stay away from typical map-driven software mistakes. 
For instance, a map error can present the client with a depressing image of a courier who remains stationary for more than five minutes. Every order that is canceled due to such problems is a significant setback for your delivery monitoring software. 
Fortunately, this issue and a lot more GPS-related problems may be resolved with a quick and reliable connection and effective integration of GPS devices into your program.
Multiple Orders 
Implement a group order function to make it simple for guests in groups to place their meal orders. Multiple users will be able to place separate meal orders from their personal devices and then combine them into a single order. Users' time will be saved by an automatic split bill feature for group orders. 
The development of a group order function and securing app connectivity might be complex. It will also considerably raise the price of developing a meal delivery service. However, this feature will greatly enhance how customers interact with your product.
Recommendations 
Users frequently lack particular preferences when activating a meal delivery service. If they can't determine which food to get or where to get it, they could just scan through your lists. 
Integrate fundamental analytical techniques for lists of suggestions with your meal delivery program to assist them. Such recommendations may be based on both the past performance of specific orders and broad patterns in restaurant online ordering. In any case, they will spare the hesitant users from laborious decision-making.
Reviews & Ratings 
It is not surprising that customers in the food and beverage business like reading reviews. By implementing a straightforward rating and review system in your app, you may satisfy the desires of these customers. 
Every user who orders delivery from a certain restaurant or grocery shop ought to be given a chance to provide some brief text comments and score the company's offerings. It raises the ranking of grocers' or restaurants' in-app search results. Additionally, patrons of restaurants or stores who are displeased with their services have a chance to voice their complaints.
Secure Payments
Allow users of food delivery software to add a variety of payment options and quickly switch between them. Ensure communication with the newly deployed payment systems as well to prevent delays or failed transactions. 
Finally, remember to use tools for transaction verification, data encryption, and tokenization to safeguard all transactions as well as the client's payment information. Minor payment security concerns can have a negative impact on your reputation or even subject you to liability.
Chat Options 
Additional requests are often handled over the phone because most delivery grocery apps or restaurant ordering websites provide consumers access to the necessary phone numbers. Some customers, though, might choose to keep their phones private or have mobile network troubles. 
Thus, adding a live chat function is the ideal solution. It will link the courier delivery app, the restaurant online ordering app, and your ordering software. As a result, customers will utilize the chat to get in touch with waiters, salespeople, or delivery drivers and express their complaints or preferences.
Push Notifications
Establish a notification system that will inform customers of their orders, exclusive deals, and delivery status. The industry standard for push notifications is within the app. 
They are delivered in real-time to the customer, ensuring that they are not missed amid the many SMSes that are being received. By presenting exclusive deals to consumers, in-app alerts may complement your marketing strategies. Here are some pointers on how to make judicious use of in-app alerts. 
Latest Technology You Might Need On Your Food Ordering App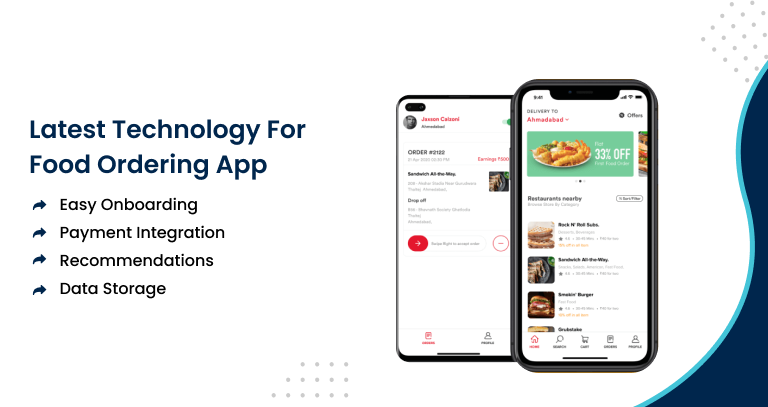 Now that you are aware of the crucial components to incorporate while designing a food delivery app, let's move on to some useful applications. Choosing the right tech stack is vital when creating a food delivery app. 
Here are some tech stack suggestions to assist you in successfully creating an on-demand food delivery business application.
Easy Onboarding 
Users of your app can save time by completing user profile authorization through Facebook or Google. Use the Google and Facebook software development tools, respectively, to guarantee a smooth connection. 
Payment Integration 
To ensure safe and quick payments, choose the most reliable and well-liked digital wallet systems. The ideal option is to incorporate the most frequently used payment services with excellent connection, such as Google Pay, Amazon Pay, or iOS Wallet.
Recommendations
Implement specialized APIs for creating a meal delivery app, like GrubHub or FourSquare. They compile directories of site-specific suggestions that will make your offering more individualized and customer-focused. 
Data Storage
Use cloud platforms for creating food delivery apps to save costs associated with unused capacity and increase software scalability. The finest cloud service providers in the world, including AWS, GCP, and Microsoft Azure, provide a wide range of tech stacks needed to construct cloud, hybrid cloud, or serverless applications.
Top 6 Food Delivery Apps in the USA
GrubHub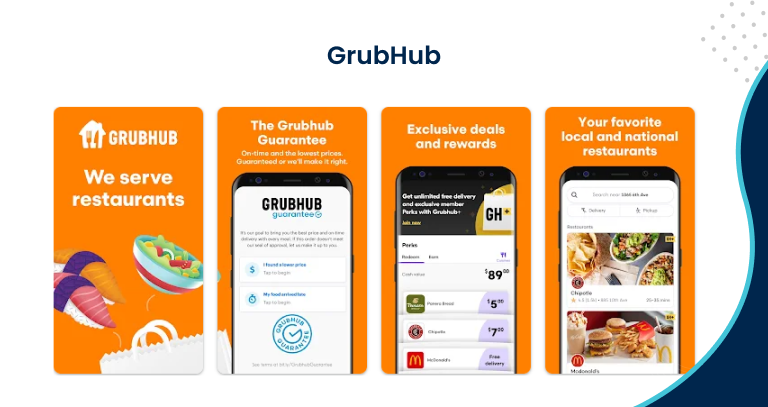 Grubhub is a mobile application for ordering food from restaurants and getting it delivered. Grubhub is rated highly by customers and offers delivery to approximately 1000 US locations. This is the most widely used application for on-demand meal delivery. Currently, Grubhub links to over 50,000 locations and provides a variety of cafés and snack bars. 
Its pleasant user interface is the main factor in Grubhub's great success. Its program offers a completely customizable search option with more than 30 criteria. The app will automatically offer the nearest and best options when you select the food category you want to order from.
App Availability: Android and iOS
Price: Free
Features:
Easy-to-use interface

Real-time delivery tracking 

Customizable search option 

Top-rated 
UberEats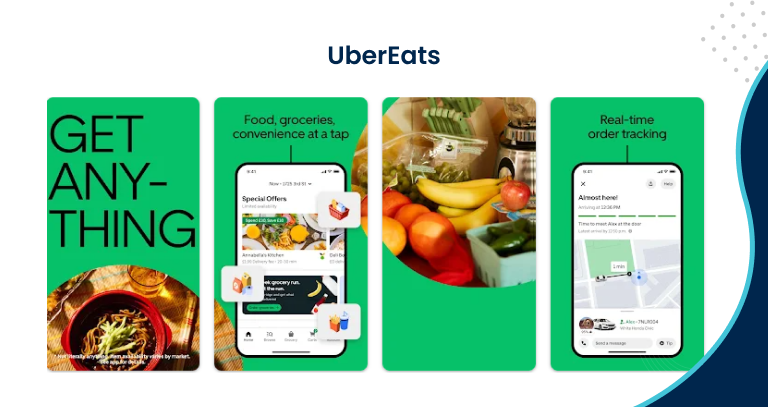 Over the years, Uber Eats has won several accolades, including Best Food Delivery App in America. Uber is a trustworthy and well-known company. Without registering, anybody may log in to Uber Eats using their Uber cab service credentials. Like GrubHub, Uber Eats uses location to display the nearby open cafés and restaurants. Similar to the Uber cab booking apps that are already well-liked in the USA, UberEats swiftly acquired appeal.
Availability: Android and iOS
Price: Free
Features:
Perfect for metropolitan areas

Best recommendations 

Rated as the best food delivery app 

Easy-to-use interface
DoorDash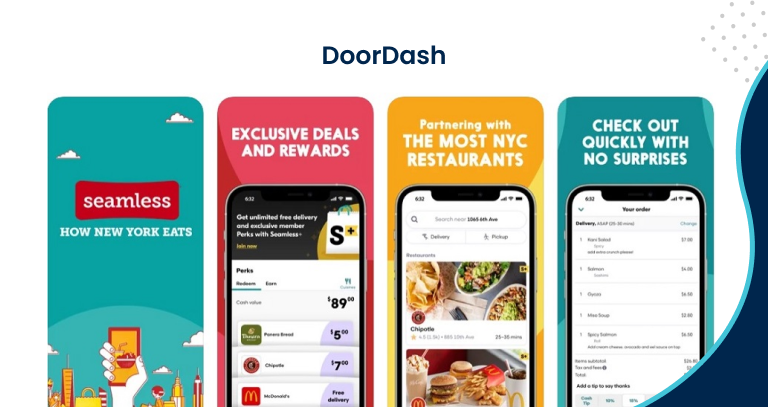 A very well-liked software called DoorDash is renowned for its functionalities. This software, in all seriousness, is all about practical features. You'll note that they also bring booze as the first thing. The DoorDash application's menus also adjust to the time in other ways. For instance, it will display supper dishes at night and breakfast dishes in the morning. 
The pleasure mode in the DoorDash app rates restaurants according to many criteria, including comments, the typical delivery time, and charge costs. All American cities and a few Canadian ones have access to this programme. Cutting-edge software like DoorDash can only be created by qualified, dedicated mobile app developers.
Availability: Android and iOS
Price: Free
Features: 
Several features 

Customizable options 

Good recommendations  
Seamless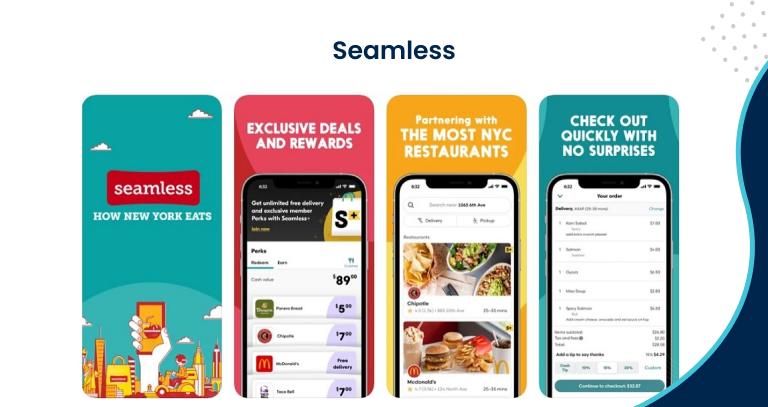 Seamless is the following application on the list. In the USA, Seamless is the second-most-downloaded meal delivery app on Google Play. These advantages, which are numerous, account for its enormous appeal. The ability to get your purchase anywhere is the seamless app's most cherished feature. 
For instance, if you are traveling to the office, you might request to be received there rather than at your house. The software also has additional features like automated coupon integration and real-time tracking. Seamless also take a little commission, much like other applications.
Availability: Android and iOS
Price: Free
Features: 
Easy-to-use application 

Top-rated 

Several features

Good recommendations 
Postmates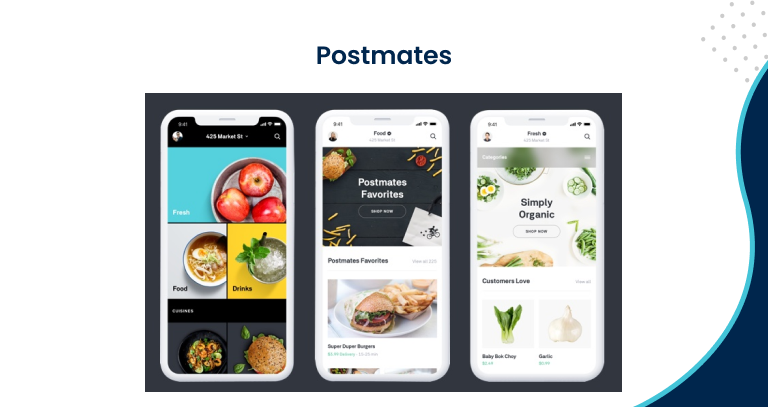 The online meal delivery service Postmates is free of commissions. One of the pioneers of the trend of online meal delivery is Postmates, which is also the oldest. Postmates was formerly the only program offering this particular feature, and its creators were well-received by the public. How do Postmates make money? I'm sure you're wondering. They want a $ 10-a-month membership instead of a commission. 
Postmates is a common choice for small offices or workstations as they might be required to place an order almost every day. Almost 3500 American cities are covered by the application. This application's success is entirely attributable to the unusual pattern. By engaging custom mobile app developers, you may have a feature-rich application with a distinctive design, like Postmates.
Availability: Android and iOS
Price: Free
Features: 
No commission for restaurants 

Distinct design 

Feature-rich

Free to use

Order tracking
GoPuff Delivery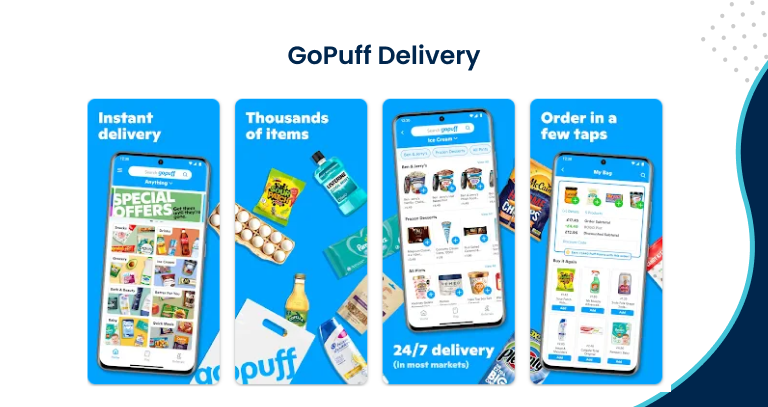 The goPuff delivery app is more than just a typical food delivery app since it allows you to purchase anything from a simple bag of chips to a pair of socks. GoPuff is primarily a food delivery service, although they eventually began transporting everything. The fact that this program has a $2 fixed price is its finest feature. Other than that, the features of this software stand out. 
You can leverage several smooth AI features built on high-end algorithms to search for any product regardless of the category they belong in. 
A user may also compile a list of their preferred food items to order at a later time. The development of food delivery apps is already generating innovation and expanding at a good pace. 
Availability: Android and iOS
Price: Free
Features: 
High-end categorization

The premium membership at just $2

High features 

Other Popular Food Delivery Apps in the USA are:
Munchery
Caviar
Delivery.com
Instacart
ChowNow
Design The Best Food Delivery App With The Right Team
We at GraffersID, are an IT Staff Augmentation company that helps you cater to all your development needs by helping you get in touch with the best Indian remote developers. Our developers understand your particular needs and offer the best solutions to help your business grow. 
Reach out to us now to hire the right team.
Frequently Asked Questions
1. What are food delivery apps?
Food delivery apps are mobile applications that allow users to order a variety of food items from local restaurants and have them delivered to their doorstep. These apps provide a convenient way to access a wide range of cuisines and dishes without having to visit the restaurants physically.
2. How do food delivery apps work?
Food delivery apps operate by connecting users with nearby restaurants through their platform. Users can browse restaurant menus, select items they wish to order, customize their choices, and then place an order through the app. The app's delivery partners or drivers then pick up the order from the restaurant and deliver it to the user's specified location.
3. Which are the popular food delivery apps in the USA?
Some of the popular food delivery apps in the USA include Uber Eats, DoorDash, Grubhub, Postmates, and Instacart. However, the popularity of these apps might have evolved since then, so I recommend checking the latest app stores or reviews for the most up-to-date information.
4. How do I download and use these apps?
You can download food delivery apps from your device's app store (such as Apple App Store or Google Play Store). Once downloaded, you'll need to create an account or sign in, provide your location, browse through restaurant options, select your desired items, add them to your cart, and complete the payment process. After placing your order, you can track its progress and delivery status within the app.
5. Can I customize my orders through these apps?
Yes, most food delivery apps allow you to customize your orders according to your preferences. You can often specify things like extra ingredients, special instructions, dietary restrictions, and more. However, the extent of customization might vary depending on the restaurant and the app.
6. How do I pay for orders on these apps?
Food delivery apps typically offer various payment options, including credit/debit cards, digital wallets (like Apple Pay or Google Pay), and sometimes even cash on delivery. Some apps might also offer gift cards, discounts, and loyalty programs.
7. Are there any delivery fees or additional charges?
Yes, there are usually delivery fees associated with using food delivery apps. These fees can vary depending on the app, location, distance, and order amount. Additionally, some apps might apply surge pricing during peak hours. It's advisable to review the app's pricing details before placing an order.
8. How do I track my order's status?
Most food delivery apps provide real-time tracking features that allow you to monitor the progress of your order. You can typically track the driver's location, estimated delivery time, and updates on when your order is being prepared, picked up, and delivered.
9. Can I schedule orders in advance?
Yes, many food delivery apps offer the option to schedule orders for a specific date and time. This is particularly useful if you want to plan your meal ahead of time or if you're ordering for an event.
10. What if I have issues with my order or the app?
If you encounter any problems with your order or the app itself, most food delivery apps have customer support options. You can usually find a "Help" or "Contact Us" section within the app, which will provide you with various ways to get assistance, such as through live chat, phone support, or email.
Have an app idea? Get in touch with us