The digital universe is brimming with new tools and technologies and every business whether it is a startup or an established one prefers to develop websites to ground their clients for presenting their work portfolios. For developing a user friendly, they need to hire expert WordPress developer. But many people still have question that how and cost to hire an expert WordPress developer?
Table of Content: 
Which software or tool should be chosen for your websites?

Who is a WordPress Developer?

How to Hire Expert WordPress Developer the USA
Aiming for your project idea

Cost to Hire Expert WordPress Developer

Platforms for locating WordPress developers

Searching out for potential candidates
Pricing

Examining work portfolio

Go for References or testimonials
Other factors affecting the hiring of expert WordPress Developer

Plan Milestones

Provides Maintenance
Now, the question arises-
Which software or tool should be chosen for your websites?
The study finds that 38% of websites are created using WordPress and the underlying reason for this huge acceptance is that users can easily build the website even if they are green in programming languages.
Even though you have the least knowledge about coding, you can induce the functionality with the aid of plugins, create and manage the content, modify the themes accordingly and a lot more can be done using WordPress.
Nevertheless, to create user-friendly and interactive websites you should Hire Dedicated WordPress Developers. Many amateur users encounter difficulty in securing their sites, redesigning the websites, entirely custom-making the themes. To sidestep these problems, WordPress developers are required by many users.
Thereupon, WordPress developers with technical expertise are highly demanded by customers. However, the question is 'Where do you look for talented WordPress developers? And, how can you hire them?
The answers to your questions are right here, GraffersID, a top web and app development company, helping businesses to grow 10x by developing digital solutions for their business.
Also offering them to hire dedicated remote developers on a contract basis as per their project requirement.
In this article, we will cover all the essential information for hiring WordPress developers but before that let's begin with 'Who is a WordPress developer'?
Who is a WordPress Developer?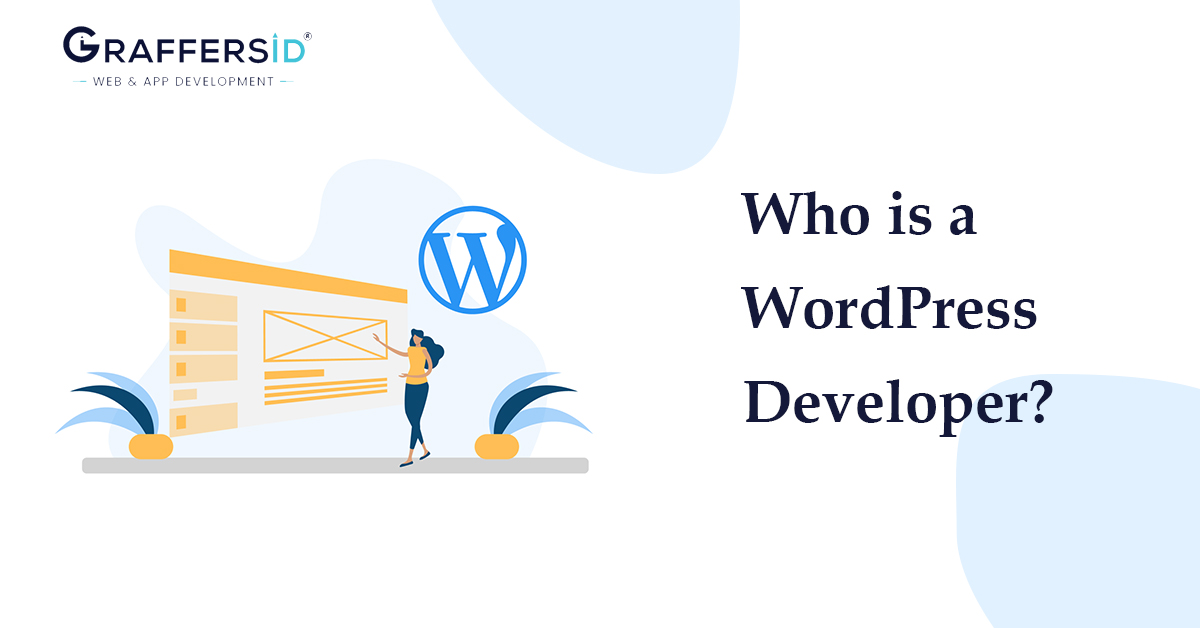 A WordPress developer who specializes in managing and improving the WordPress website by managing multiple themes and plugins to develop an interactive, user-friendly and SEO optimized website in correspondence with the client's requirements.
Listed below are the roles and responsibilities of a WordPress developer-
Roles and Responsibilities of a WordPress developer
A WordPress developer is responsible for creating intuitive and interactive business websites. They work on conceptual understanding, creating and testing the site structure.
For securing websites, WordPress developers use codes and create different layouts. As well, analyze and clear up all the issues and bugs associated with the websites.
Know The Advantage & Disadvantage of WordPress Website
Listed below are some functions that WordPress developers perform:
Designing and performing the latest attributes and functionality.
Settling and directing the website's framework.
To make sure the website is high-performing.
Handling all the technical facets of Content Management System.
Formulating a flexible design and transforming it into running plugins and themes.
So, we have a better knowledge of the roles and responsibilities of a WordPress developer.
Now, we need to focus on getting the best WordPress developers who can perform the functions in accord with the clients or organization's goals.
Here 8 Ways to Make your WordPress Website Standout from the competition
Though locating a talented and experienced WordPress developer is quite a troublesome act as there are numerous platforms on which millions of personnel screen several projects. But, fortunately, few platforms aid with better hiring experience and entice great talents.
How to Hire Expert WordPress Developer USA
For hiring the best developers, our hiring personnel undergo a simple procedure which is beneficial in many ways-
Aiming your project idea
Cost to hire expert WordPress developer USA
Platforms for locating/ hire expert WordPress developer USA
Searching out for potential candidates
Starting with the initial step-
1. Aiming your project idea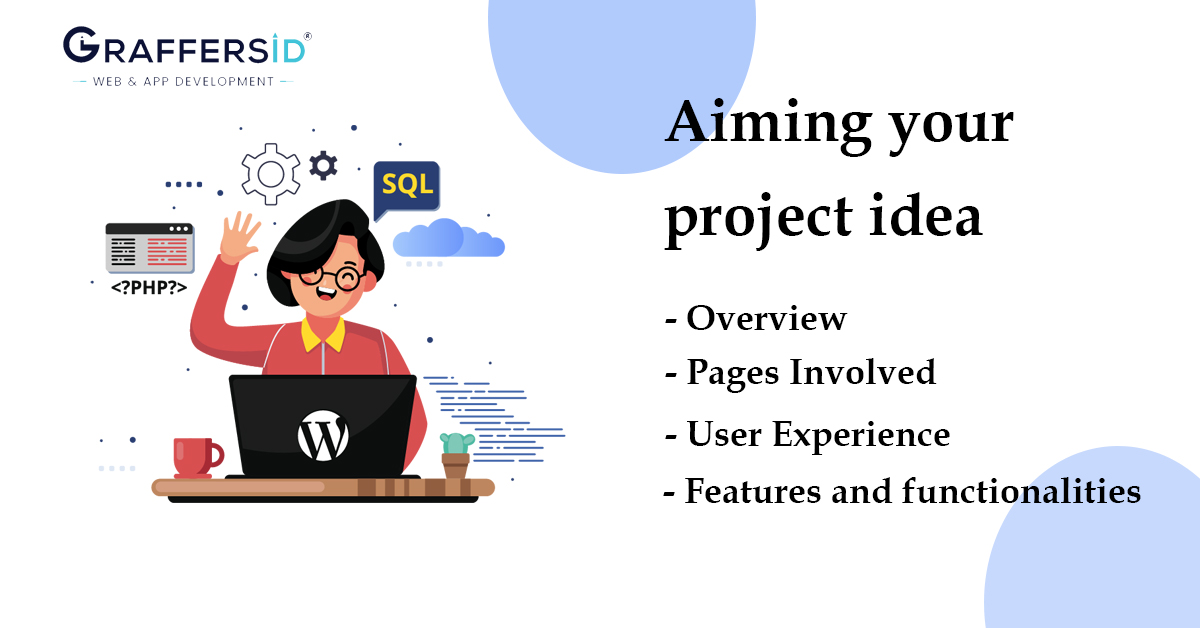 Significantly, it is required to know the purpose of your project. You need to have a clear mindset of why you need WordPress developers. Do you need to customize the website or are you building a website from the beginning?
Scoping the project idea evidence the need of hiring a WordPress developer. Hereunder, are a few points to be considered-
Overview: Be prominent with your project goals and needs.
Pages Involved: Examine the number of pages your website should have and what content it involves.
User Experience: Plan out your user's interaction with your website, initiating the first page to every page they land upon.
Features and functionalities: If your website demands any special features like calendars, booking, etc. structure it accordingly for the developer's consideration.
Besides building a full website many clients demand partial work such as updating the existing plugin or need to pitch your sales. In this instance, you need to have fully documented details about their project and their specific needs. Also, deadlines need to be discussed beforehand for better communication.
2. Cost to Hire Expert WordPress Developer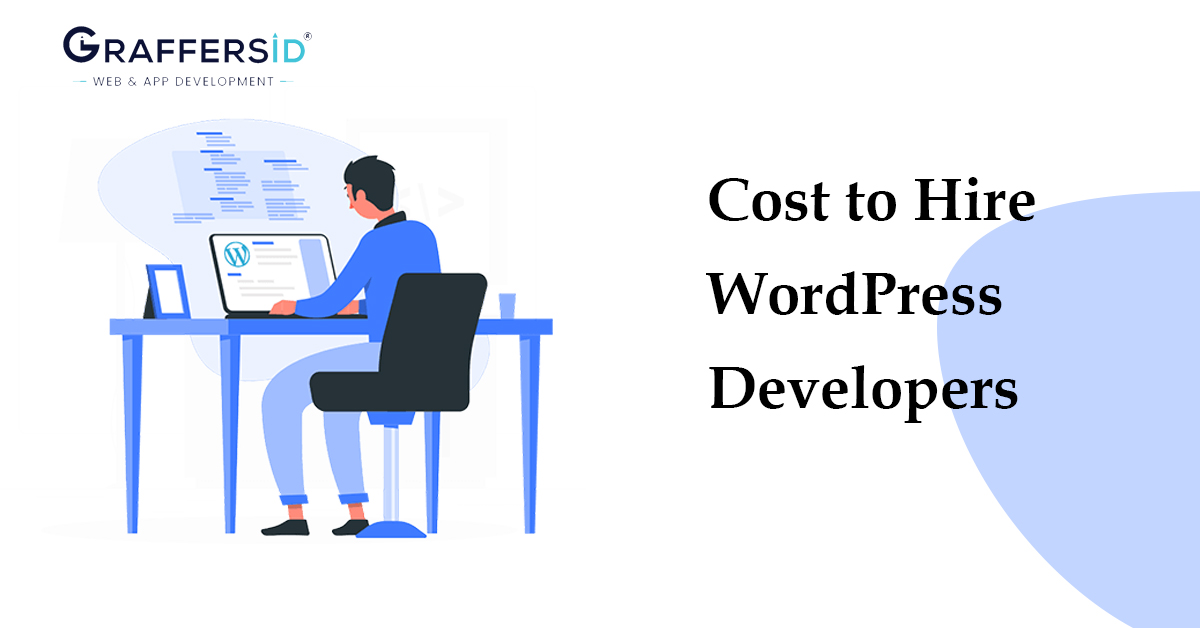 Depending on what your project demands, you need to make it clear whether you need to outsource your software development project or hire a freelance WordPress developer.
If you reside in countries like the USA, UK, Eastern and Western Europe, the cost to hire WordPress developer is around $ 80 to $ 200 per hour, depending upon the developer years of experience. At this you can set up a software development team or get your software developed with your software development partner.
There is another option that can save your money, which is, you can hire expert WordPress Developers on Contractual basis.
For that you can directly connect with GraffersID: Top web and mobile app development company. We can provide you expert WordPress developers for $15 – $30 per hour based on years of experience. When you hire remote developers from GraffersID you can directly communicate with them and they will work solely for your project.
3. Platforms for locating WordPress developers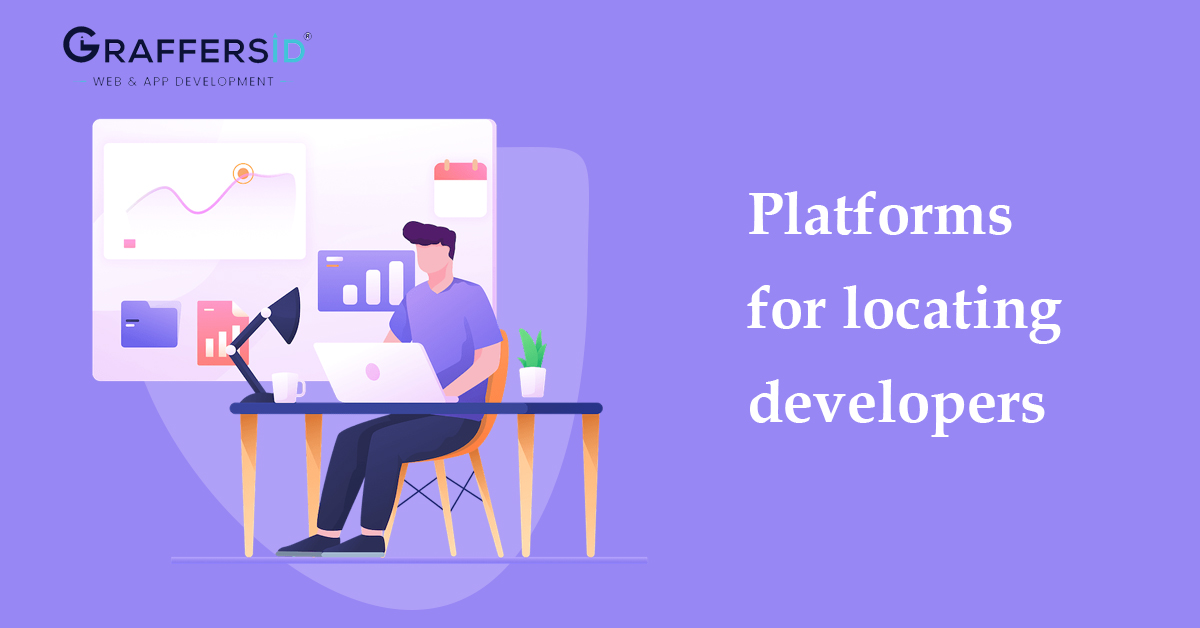 After planning the idea, the next process to step in is to locate the developers from various platforms.
Though there are many sites, mostly Upwork and People Per Hour is the go-to site for many users.
Upwork is the simplest and quickest platform that provides you with the vetted developers in a while. You can easily get developer at a pricing of $10-$28 per hour. You can get 75k+ WordPress developers to hire regardless of small or large projects.
But there is not surety that they can complete the work on time. Their will be a communication.
Here are Benefits of hiring dedicated developers
There are many other platforms that provide dedicated developers depending on the region.
Preferably, hiring developers from various online platforms like freelancer, Upwork, fiverr and others becomes hectic after following a long procedure. As you can not directly evaluate work of any person until and unless you have a one on one communication with them.
To get the vetted WordPress developers, you should consult with well-established IT companies like GraffersID. They provide dedicated developers to unicorn startups and the hiring process is quite simple yet effective. They emphasize talent over degree.
They examine the potentiality of the candidate through a given test performed right in front of us.
Based on the skills and experience they decide the salary
4. Searching out for potential candidates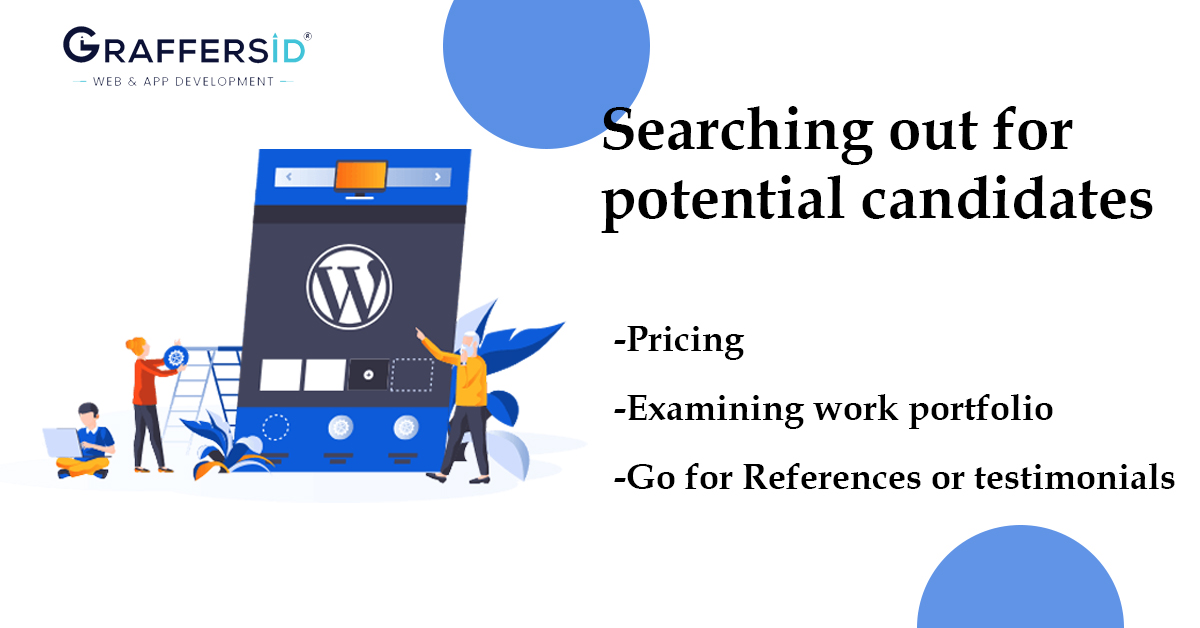 After winning over the scope idea, it's time for hiring WordPress developers through different aspects.
The first and foremost task to do is to list out the applicants who you think don't meet the client's requirement or do not fit in the role.
Now, the time comes where we need to evaluate the applicants based on three essential factors-
A. Pricing
You need to know the hourly rate for WordPress developers of different countries such as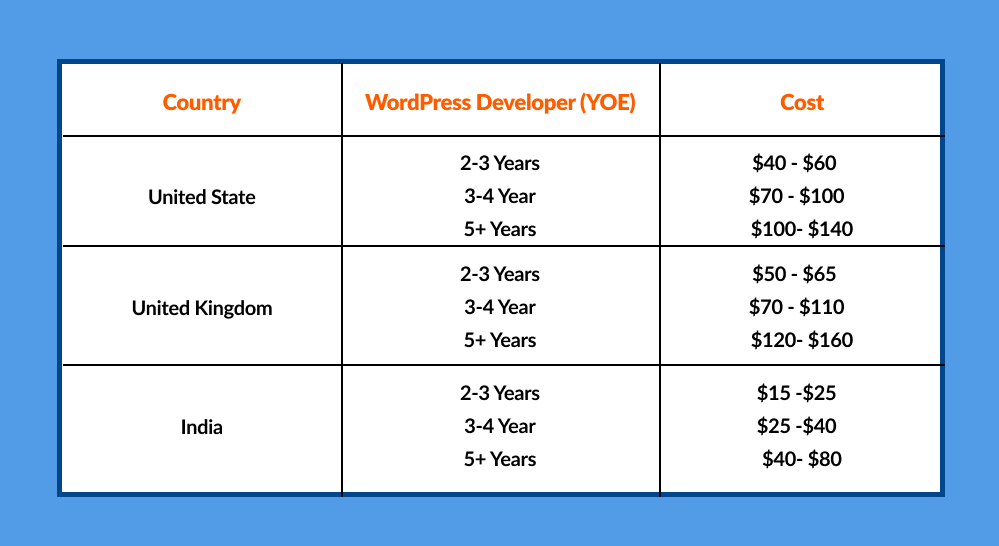 ($15-$20) per hour indicates an experienced developer with an excellent communication skill, which is very affordable in comparison to developers  in USA, UK, Eastern and Western Europe.
Besides the hourly rate of WordPress developers, you have to consider the training and onboarding of a new developer.
For many tech companies, a fixed model is the best as they know the services they need and the requirements. But when it comes to ideas without estimating the price then working on an Hourly model is appropriate for many clients.
B. Examining work portfolio
Hiring developers that can fulfill your project goals are essentially needed. For this, it is good to walk through their portfolios and look through the required details-
Proficiency level Complex project demands more functionality and for this, you need developers with experience who can easily build your site.
Past Projects You must go inspect the developer's portfolio to extract out whether they have worked on projects similar to yours or not.
Project Type Hire developers based on what your site wants. If you hire developers who work on only customizing themes and you need to build the whole website then it won't work.
Are you confused between "Custom built website" vs "WordPress" ?
C. Go for References or testimonials
Working with someone unknown is risky and challenging. Bundles of questions drive-in whether they will fulfill the requirements or will they be able to meet the deadlines?
Therefore, it is better to search for any references where you can find their previously completed projects and perhaps have a word with someone they have worked for.
These are a few aspects that need to be considered before selecting the potential candidates.
Other factors affecting the hiring of expert WordPress Developer
Before moving ahead, let's have a look at some other factors that define whether you are settling for the best or not.
1. Plan Milestones
Many projects are difficult to manage, hence, the best way to make them manageable is to propose milestones. This way it will be easy for you and the developer to have a timely report of your work and you can keep track of your progress.
It is good for the developers if they set the milestones by themselves so that they can calculate the time needed to complete a particular task.
Want to know Webflow vs WordPress: Detailed Comparison?
2. Provides Maintenance
Before your project comes to live the developers need to check. Many other platforms provide. Many other platforms provide any issues and make corrections to them.
Communicate with the developer about the support and maintenance before hiring them.
Eventually, the hiring process gets completed after finalizing the contract. The contract should contain details like
Client Details
2. Developers Details
Milestones details
Project scope
No. of working hours of developers
To-do task if any feature is out of project scope
Post-launch support
Shared Passwords
These details should have to be mentioned in the contract to avoid miscommunication between the client and the developer.
Types of WordPress Developers to Hire:
If you're hiring WordPress developers for the first time, it's wise to get familiar with different kinds of experts. It will give you a crystal clear idea of each type, which could be a great help for you.
1. Contract-Based WordPress Developers 
Nowadays, most organizations consider hiring WordPress developers on a contractual basis as you get leverage to instantly hire them with higher flexibility, lower cost, and wider access to a pool of talents.
The only silver lining to contractual hiring is that you don't have to get bothered about infrastructure. There's no hassle of serving them your devices for work as they will be working on their own. In addition, you don't have to worry about managing them. It's entirely the responsibility of management that is of the hired company.
Also, you tend to get more time to indulge in other development activities and can work hassle-free.
Make sure when hiring on a contractual basis, you end up picking the right company, or else it wouldn't be worth it. Conduct extensive research on the best IT staff augmentation companies in the market that can deliver the highest quality services.
If you're looking for the best IT staff augmentation companies, GraffersID is the standout company in the market that's recognized for serving the best IT staff augmentation services by offering vetted and dedicated WordPress developers that can cater to your work on time without any hassle.
2. Full-Time WordPress Developers
Hiring full-time remote WordPress developers make quite a sense as it's cost-efficient. Certainly, remote developers don't have to work from the office; they can work remotely. The remote nature of their work makes it more cost-effective.
The only setback that most companies face while dealing with remote developers is a lack of communication when there's a difference in geographic locations. Often, communication becomes a threat due to different time zones. Lack of communication can indirectly hamper the work.
However, the company when hiring remote developers from different locations combats the challenge by adopting different modes of communication and incorporating effective work collaboration. 
In the first instance, it's always recommended to hire developers from the same geographic location to ensure that there's no communication lag and also the clarity of conversation is far better.
3. Full-Time In-House WordPress Developers
On the flip side to remote developers, in-house developers work from the office and become a part of your team. Also, they get access to employee benefits, incentives, and wide exposure to learn more.
The bright side of hiring in-house developers is that you get stress-free and can delegate the entire project to them if deemed fit.
In addition, they will solely work for your products and services. However, the only setback that hiring in-house developers have is limited access to the pool of talent as you exclusively have to search for those who reside in the same location and can meet your company's requirements. 
Furthermore, if you're tight on budget then you shouldn't go ahead with in-house developers as hiring them is quite expensive and you will have to pay them regardless of their services.
4. Freelance WordPress Developers
If you have a limited budget and are looking to hire the best talent, hiring freelance developers is a wise opinion. Freelance developers are independent and aren't part of any agency or company. They work independently by taking on projects and charge accordingly. The charge of freelance developers is quite low in comparison to in-house developers and can either charged hourly with a flat rate or on a project basis.
You can find an abundance of platforms that offer top-notch freelance developers or can look for recommendations.
However, the one drawback of hiring freelance developers is that it increases your responsibility and you can't delegate the project entirely to them without keeping an eye.

Conclusion
WordPress is the most preferable software used by many entrepreneurs, and small and large businesses to build their websites. Thus, finding/hiring an expert WordPress developer is not that difficult but what makes it difficult is looking for that WordPress developer who benefits the company with their technical assistance, brings out the best user experience, and can handle the SEO issues.
A comprehensive approach to hiring a WordPress developer is essential to check whether they are the right fit for your team. Save your hiring time and cost by contacting us.