Setting up an offshore development company has become the most popular way of outsourcing software development. Offshore development means having a dedicated in-house team at a cost that favors your pocket. 
Offshore developed has become a favored approach for established businesses as well as startups to orderly maintain, implement and improve software products for the benefit of their business. A dedicated offshore development company leverages the business by implementing flexibility, cost benefits and knowledge concentration for your business.
The offshore development acts as an extended team that works at an overlapping shift. They follow the company's culture when you train them as per your needs. When you hire offshore developer or team make sure that they are knowledgeable and ensure quality results. Hiring an offshore development team means having an efficient team with outstanding working talent. 
You don't have to spend extra resources on them. Moreover, with the offshore development team, you not only get developers but many types of specialists. Whether it is project managers, graphic designer or content writers, every role is important.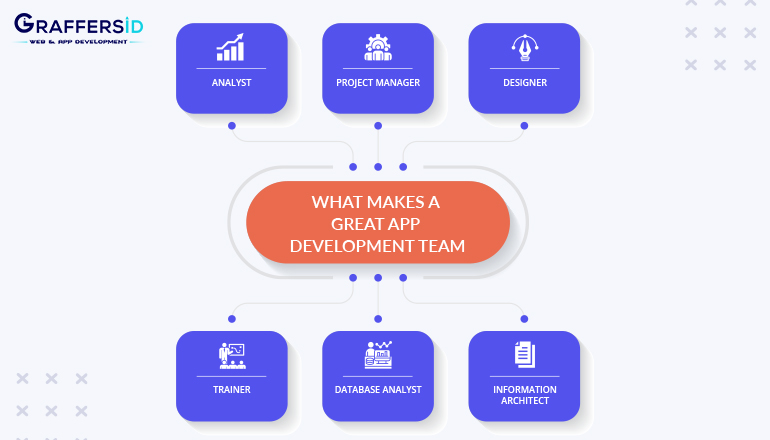 Must Need App Development Team 
Here are a few roles that are expected to perform:
1. Designers and Developers:
Designers and developers hold the responsibility of the planning, drafting designs, developing software, website or app, testing and maintenance.
2. Accounts Manager:
Works with company clients and grants them loyalty. Account manager work is to make sure that clients are satisfied with the work of the company.
3. Project Coordinator:
Project Manager or Coordinator is the one who prioritizes the task to manage offshore development and control communication. You PM ( Project Manager) is responsible for building the development plan, grouping up the team and making sure there is timely delivery of the project.
4. Tester/Quality Analyst:
Tester or Quality Analyst keeps a check on the quality and integrity of the project.
5. Content Writer:
To deal with the content creation of application or website.
6. Usability Engineer:
Before the release of the product, it is the responsibility of the usability engineer to evaluate the user-friendliness of the application or website.
Read Also:  5 Ways to Find and Hire the App Developer
Why do you need an offshore development center?
The offshore development center is always good to be established in an affordable country rather than maintaining an in-house team. India is one of those countries with a low cost of living, which makes India one of the widely preferred countries for setting up an offshore development.
According to the recent report by AT Kearney, India is the first country based on skills, finance and developer availability.
7.707: India
6.32: China
6.11: Malaysia
5.99: Indonesia
By launching your offshore development in India, you can reduce the company's workload and get more time to focus on the core business objective. If you are not convinced to outsource your software development projects to India know more about
why outsourcing development projects to India is a success.
So, all set to launch your offshore development in India? The process of looking for a right offshore partner is way easier than hiring an in-house team. Here are a few steps to follow will set up an offshore development team:
1. Setup your Business Goal:
Have a crystal clear idea of what projects you would like to outsource, if not the entire project what are the specific tasks you are looking to un-burden. First and the foremost thing is to define whether you want to develop a project from scratch, or just want to outsource the part of it. There are also chances that you simply require a python developer and looking forward to hiring a dedicated python developer from the offshore development company.
2. Non-disclosure Agreement
Compile a strict policy norm that has a non-disclosure agreement. Mention the details and a clause on the details which you seem to be most important and should not be disclosed to a 3rd party. Both you and the offshore team should have a clear understanding of the agreement before duly signing it.
3. Provide Detailed Specification 
Before putting pen to paper make sure to provide the remote developers with complete specifications with set deadlines. Try to be as thorough as possible and always leave some scope for them to improvise and be creative.
Want to hire remote developers or Offshore development company? Consult US Now
Communication and transparency are important pillars that support offshore development. Make sure your team is providing you with the call upon requests and sprint reports whenever needed. There are tools like Jira and Trello that can be used for maintaining communication with your offshore development team.
4. Follow Up
Set aside a particular checklist and parameters that will best describe the progress of your project weekly and monthly. Follow-up doesn't mean providing the negative feedback, it also includes reinforcing good performance. With follow-up, it becomes easy to find out what's happening. The priorities are getting fulfilled or not and remove obstacles if there are any. 
There are online tools such as Freedcamp through which you can track the daily tasks. Review the progress and don't hesitate to give your feedback on changes you would like to see.
For an in-depth understanding of considerations and challenges while setting up an offshore development team,
Here is All You Need to Know About Offshore Development Centre
When it comes to finding a reliable offshore development team, Graffersid is your best bet. With a 95% successful client rate, Graffersid provides its clients with unmatched solutions for their projects. We strive to develop a customer-centric software solution that imparts a unique identity to our clients. Our team of expert web developers come up with ideas that meet the business needs of our clients impeccably.
Do you have any prior experience working with offshore development centers based anywhere in India? Let us know your experience, and what could've made the process even smoother for you and your team.