Apps have revolutionized the way people work in this digital era. Every business, whether big or small represents its services with high-end applications that are not only user-friendly but are innovative and mature. The simultaneously growing app demand makes the competitive market more obsessed with finding and picking the best app development platform, and tool, that are available. Mobile app development companies all around the globe lookout for discovering the fastest methods and best practices for iOS and Android app development.
Let us have a look at some top platforms for app development that you can pick for your app development purposes-
1. Appery.io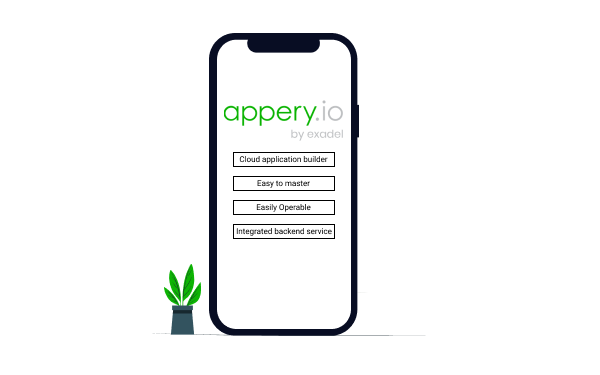 Appery.io is a cloud platform for a faster and simpler development of hybrid apps, native mobile applications, and progressive web apps (PWAs) that are connected to APIs. It is considered suitable for medium to large-scale businesses and can be deployed on cloud-hosted & open APIs.
The cost of building an app with Appery.io depends upon the type of plan that you choose. For beginners, the cost per month is $25 whereas for a team, it ranges from $135-$500 per month. Every plan gives access to different and variant features, hence choose your plan wisely if you opt for Appery.io for your mobile app development.
What are the benefits of using Appery.io as your App development platform?
1. It is a Cloud application builder
Being a cloud app builder, Appery.io makes the construction of custom app UI extremely easy. The JavaScript code and amazing drag-and-drop functionality make the app development process a task of just some days.
2. It is easy to master
Building your app with Appery.io is easy, simple, and yet powerful and fruitful. Whether you are an absolute beginner or an experienced app developer, you can leverage Ionic and Angular frameworks, augmented with visual tools to boost your business productivity.
3. It is easily operable
Cross-platform applications built with Appery.io work efficiently and are operable across all types of operating systems. Build your application easily and faster within days and deploy them as web apps and PWAs⁠⁠- whatever you prefer.
4. It uses integrated back-end services
You can instantly import and use services like server-side scripting, authentication, push notifications, and more.
Read Also: How to Develop an app like Clubhouse
2. AppBuilder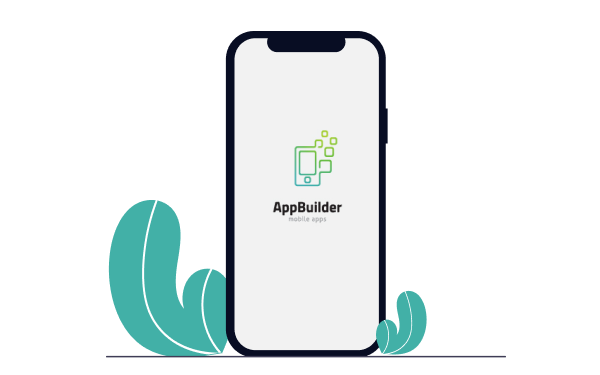 AppBuilder is a fairly robust application. You can view your PDF, RSS feeds, website, or online presence on Facebook, Twitter, Instagram, Google services, etc. It offers a range of models that can be customized to suit your tastes or your brand or services. You can put it online on the App Store or G in a few clicks after using the test program. Drag-and-drop is used for the platform.
From changing prototypes to environmental colors, you can customize your application according to your selected preferences with App builder. App-Builder Peche has been regularly updated by some bugs due to its many new features. They are logically solved easily, but they are not binding.
What are the benefits of using AppBuilder as your App development platform?
1. It makes native apps development easy
AppsBuilder enables your company to develop native applications for smartphones and tablets with professional tools. Publishing and managing your apps directly on your desktop removes the need for complex techniques or coding and reduces time spent on the market.
2. It provides customizable services
AppsBuilder gives you the adaptability to construct the app you envision with simple to alter plans and components. You have full control over the see and feel with incalculable textual styles, color palettes, symbols, and more!
3. No software installation is required with it
AppsBuilder helps you to drive agility and scalability without investment in hardware. You can safely store your content in the cloud and edit them anytime, anywhere.
4. It provides powerful layout options
with AppsBuilder you'll effortlessly add/remove pages to make a great transformation app that surpasses desires! Its top-quality and proficient formats are based on demonstrated UX best hones and are particularly created to meet your portable promoting objectives.
Read Also: How to Develop HIPPA Complaint m-Health apps?
3. AppyPie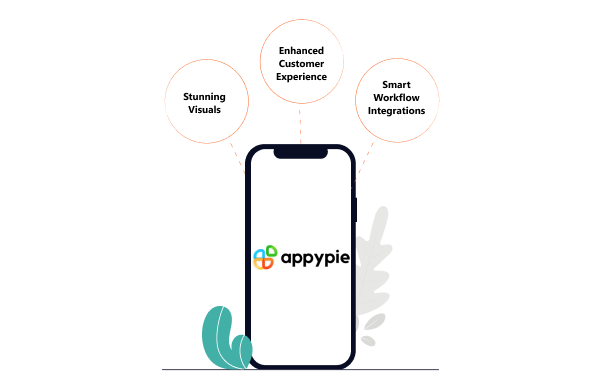 AppyPie is one of the leading no-code application development platforms that is listed internationally in the Wall Street Journal. It is considered as an ideal platform for almost every type of app feature requirement but can 100% satisfy your feature needs if you are planning to build a restaurant app. It has premium features such as GPS trackers for geographical area and customer targeting with inbuilt management tools to track the company's application voting behavior.
Appypie is suitable for all business sizes from small to medium and large company sizes. It comes with its three plans, basic, gold, and premium which start at $18/month,$36/month, and $60/month with a 15-day free trial.
What are the benefits of using AppyPie as your App development platform?
1. It provides stunning visuals
The value of the graphics is paramount whether your next project is mobile app design or website design. Appypie Design helps anyone to produce stunning and appealing pictures on blogs, posters, business cards, flyers, or some other type of media regardless of their knowledge of design and experience.
2. It offers smart workflow integrations
Switching to different platforms and apps to perform a specific task can be time-consuming. Appypie's special automation tool doesn't require your end coding and simplifies your tasks and gives you time.
3. It provides enhanced customer experience
With the help of chatbot integration, Appypie helps in enhancing the customer experience for various businesses of different niches. Appypie's no code proprietary enables even the non-techies to create a chatbot and smoothly integrate it on websites and mobile apps.
Read Also: How to Create an app like Netflix? 
4. Bizness Apps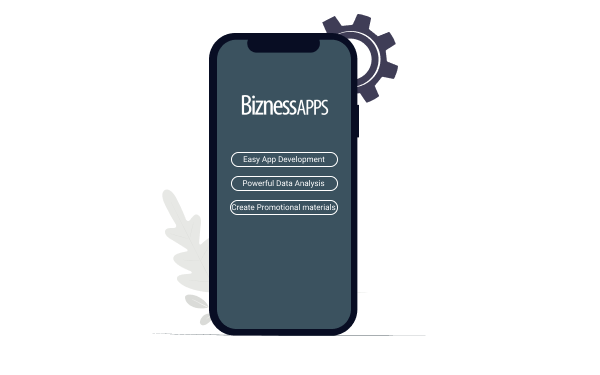 Bizness Apps focuses on providing a mobile app experience that everyone loves. It prioritizes small businesses and their requirements by solely focusing on delivering the right mobile solutions to them.
Bizness Apps is suitable for all business sizes from small to medium and large company sizes. Bizness Apps comes with its four plans, small business, standard, gold, and platinum which starts at $99/month,$300/month, $360/month, and $400/month with a 30-day free trial.
What are the benefits of using Bizness Apps as your App development platform?
1. It involves an easy app development procedure
Bizness Apps requires basic business logistics to develop an app with ease in no time at all. It sets workflows to eliminate steps and iterations for automating business applications.
2. It helps in a powerful data analysis
Bizness Apps allow complete power to its users over data collection, improvements, or interactions from our user-friendly CMS.
3. It helps in creating promotional materials
Bizness Apps have marketing material designed especially for its users to beautifully showcase their apps.
Want to Develop an App? Get a Quote Now
5. Zoho creator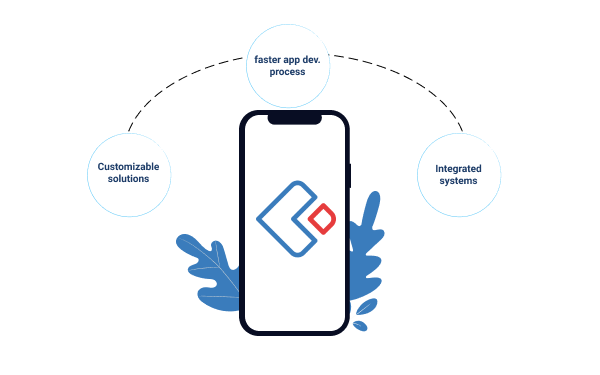 Zoho creator is an app development platform for creating low code apps that helps you to create high-class applications running on smartphones, tablets, and the Internet. With Zoho Creator, you can build custom forms, set workflows, create detailed pages and upload the software in minutes.
Zoho creator is suitable for all business sizes from small to medium and large company sizes. It comes with its three plans, basic, premium, and ultimate which start at $10/month,$20/month, and $35/month with a 15-day free trial.
What are the benefits of using Zoho creator as your development platform?
1.It offers customizable solutions
Zoho creator helps in building multi-platform applications from simple call logs to complex ERPs. With the Zoho creator's visual builders, code editors, and pre-built templates, you can design and run your application smoothly and efficiently.
2.It provides a faster app development process
Zoho creator understands the business needs of every company and delivers the best version of the required application in no time at all with minimum iterations and small steps.
3.It provides integrated systems
Zoho creator's pre-built connectors let you easily integrate systems old and new by filling gaps in the old version and seamlessly extending its functionality.
Read Also: How to Create an App Like Airbnb? 
Final Thoughts
You don't have to learn how to code an app to make your ideas come true considering the ease of work these platforms provide. Different application types require different platforms. Considering the features, requirements, and affordable monthly cost, you can successfully develop a low-code or no-code mobile application in no time at all. With so many options on your plate, the selection procedure might look difficult, but once you put all of the above benefits into consideration, most of your queries will be answered.
In case of any questions, consult with our mobile app development team – we're here to help you with all your tricky questions and software development needs.