Do you also have a Home-Away-from-Home idea and looking to get a replica of a giant in the industry-Airbnb? If yes, then you just need to spend 8 minutes to learn how to create app like Airbnb for vacation rental.
Although there are rumors that the vacation rental industry has become oversaturated. But Unicorn in the market like Airbnb currently owns only 10-15% of the vacation rental market, which means there is still a lot of space for another unicorn to disrupt this niche.
So, now the question is how to create an app like Airbnb and how much heavy it will be for your pocket. Here is a full guide that can help you build the same model as Airbnb to launch your startup.
This blog covers:
What is Airbnb?
Funding's of Airbnb
Why you should consider building an app like Airbnb?
Who are Airbnb Competitors to take into account?
How Airbnb works?
Airbnb business model
Airbnb results
How to make an App like Airbnb?
Airbnb features and costs to develop them
Team and Technologies
Final Estimate to Create an App like Airbnb

Let's dive in:
What is Airbnb?
Airbnb is one of the best and most popular homestay platforms, which through its property rental service allows travelers to stay at the local's place and make the experience better for both hosts and guests. With its headquarters in San Francisco, the company operates online hospitality and online marketplace service all over the world through web and mobile applications. The members can use the services to offer homestays to tourists visiting their place.
It took a long journey of 9 years for Airbnb to generate sustainable revenue out of its product, and to turn it into the mobile application, which was initially started with a website.
Funding of Airbnb
This homestay app connects travelers who are seeking comfortable and affordable places to stay with homeowners who have such inspiring places around the world. Airbnb has more than 4,500,000 listings in around 191 countries and 65000 cities.
The company had already funding from 15 companies round to date and has raised $4.4 billion.
Read Also: Create you First iPhone App
Why you should consider building an app like Airbnb?
Applications like Airbnb and Uber are considered to be the best examples of progressive ways of human-within-society interaction. These two companies have successfully earned unicorn status because they aided in building a "sharing economy" model. Airbnb helps travelers in getting a property to stay at a cheap cost and also an opportunity to host to earn by renting their property.

There is significant growth in terms of vacation rental demands in the travel industry; however, the supply has not increased to that level. Hence, there is a wide scope to venture into this niche by launching your startup with an application like Airbnb.
What Apps and Websites Are Similar to Airbnb?
Airbnb is not the only platform that has put its foot in the game-changing travel format. Some of the companies, which can also be considered while building an application like Airbnb:
HomeAway: It holds over 1 million global listings and offers similar services like Airbnb. There are also a few additional services that it offers like an insurance program. It operates some other sites also like TravelMob, VacationRentals and VRBO.
Roomorama: This app asks users to share their personal IDs, bills and also personal pictures to ensure that the application is safe for guests.
FlipKey: This is a company owned by TripAdvisor and has a large base of users. They offer more than 5000 special deals every day to maintain the loyalty of users.
Read Also: How to create a dating app
How Does Airbnb Works?
Airbnb has two types of users-guests and landlords.
How Does Airbnb Work for Guests?
Users go to the web or mobile applications and registers as a guest.


Next, they complete the profile and add necessary data such as ID number, profile picture and more.


Clients can choose an appropriate place to live like the type of space, price, location and more.


Guests request a stay and receive a confirmation for the same.


It is required to pay for the reservation before using the service.


The final step is to enjoy the stay.
How does Airbnb work for hosts?
Here are a few steps for the users
The users are required to register as a host and confirm that they over the age of 18.


After that, the user can add the property on Airbnb. The host can add data about the accommodation like the type of apartment, location and number of guests who can accommodate.


Landlords are required to upload the real pictures of the apartment and also mention the price.


When the guest requests a stay, discuss all the details like clean standards, quiet hours and a host can start a conversation.


If everything is fine, the host approves the stay. However, the landlord also has an opportunity to reject the stay if it is required.


The host receives the payment in 24 hours after the check-in by guests.
Airbnb Business Model
It offers applications for two major mobile platforms i.e. iOS and Android, and also have a web application. Airbnb also supports smartwatches so that users can receive a notification faster and stay up-to-date without any changes.
The company generates its revenue by the booking fees that it receives:
For every transaction, the host has to pay 3% to Airbnb.
A guest has to pay 6-12% of the booking fee, depending upon the size of the reservation.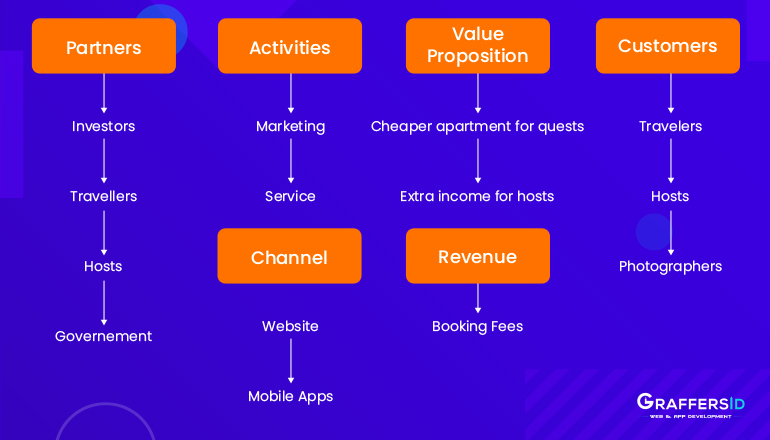 Airbnb Results
According to SimilarWeb, Airbnb is the fourth downloadable in the Travel niche.
On average, more than 2 million people chose Airbnb every day.
Airbnb generated around $1.26 billion in revenue in 2019, which means a growth of around 14.7%
The service is available in 191 countries, offering around 7 million accommodations.
Airbnb has more than 150 million active users across the world.
How to Build an App like Airbnb?
There are several steps to follow while building an application like Airbnb:
Step1: Make a business plan:
Coming up with an idea is not enough. You need to decide your goal, follow the business plan and stay organized.
Step2: Find the developers:
To create an Airbnb clone app, you need an experienced web development team. You can go for building an in-house team or outsource your development needs to countries like India.
Step3: Build a User-friendly Design:
The Airbnb app interface is easy-to-use and intuitive. Users tend to abandon applications that have an interactive design, so make sure to pay attention to your UI UX prototyping.
Step4: Integrate essential features:
Initially, you can consider building an application like Airbnb with some basic features. Get the MVP version of the application, understand the needs of users and get feedback. After you have found what users are looking for, you can consider adding advanced features to make your application unique.
Step5: Test the App
Before launching an application, make sure your development team tests the application carefully to eliminate the bugs.
Step 6: Update regularly
Maintain the app regularly and keep adding new and exciting features.
Read Also:  Create an App like Netflix: An Ultimate Guide
How to create an App like Airbnb With Affordable cost?
Airbnb App Features for the Guest and Their Cost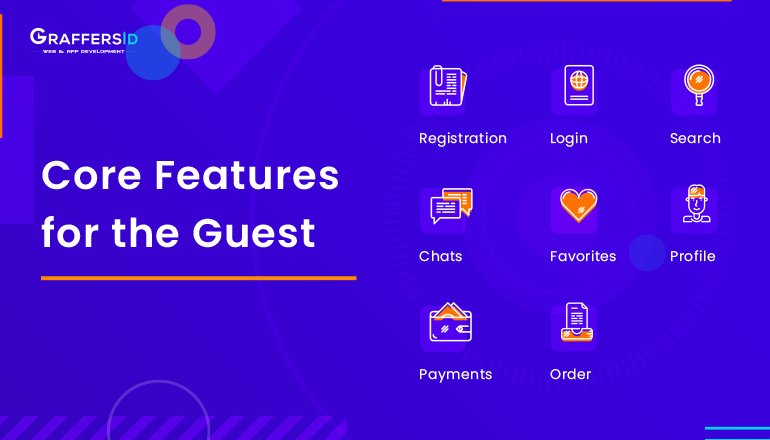 Registration: 
To start using the application, the guest would be required to first register on the application. The basic model would include providing users with email and password registration. Additionally, it is important to create a "Term and Policy" screen since users should agree with the policy of use.
Login:
Make sure to add provide users with options like login with Google account, Facebook and email. Each integration takes approximately 8 hours of development. In addition to this, it is important to add functions like "Log-out" and "Forgot Password" to make sure your application is user-friendly.
Search:
It is better to add an advanced search system to option, where user can find their temporary dwelling applying various filters like the number of guests and date of the trip.
Favorites:
This feature offers users the option to add their favorite places to the list. After that, they can select the desired one from their "favorite marked" accommodations.
Profile:
An app like Airbnb has two types of users-guests and hosts. Make sure to add a feature so that both guests and hosts can edit the profile and add personal data like name, age, sex and so on.
Chats:
With chat features, guests and hosts will find it easy to communicate and discuss things like location after requesting a stay. Guests can ask for photos of the property before visiting the place. Moreover, developers can also add various statuses like reading and typing to make the application more user-friendly.
Payments:
It is good to offer various payment methods to make the process easy for the user. Also, there should be an option available to add and remove cards.
Order:
The last feature of any booking service application is requesting for a stay. The users select the house to stay in and should be able to book it if the accommodation on the required data is available.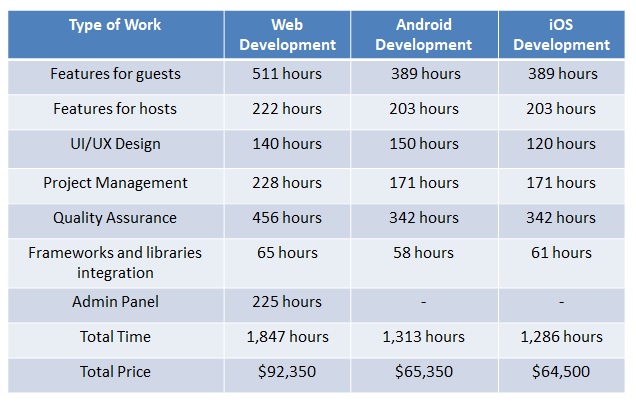 Airbnb App Features for the Host and Their Cost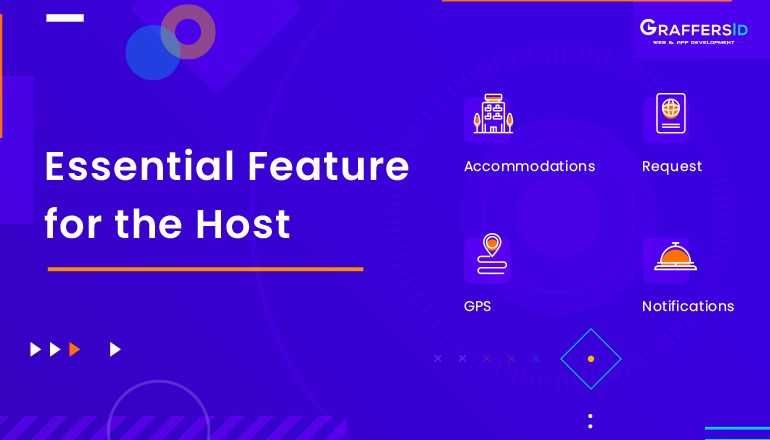 Accommodations:
Airbnb lets the landlord create an ad about their accommodation. They are required to describe all the details like the number of guests, the apartment type and more. Additionally, it is required to upload photos and videos, and set the price of listed property according to per night.
Notifications:
This function is useful to make Airbnb more convenient. For instance, as soon as the guest made a request, the owner can get an instant notification. Hosts can also be notified about booking changes, unchecked requests and more.
GPS:
Clients can look through the location where they want to stay in to find apartments near cafes and exciting sights.
Here are some advanced features that you find on Airbnb application, which you can consider adding at a later stage:
Superguest and superhost
Multiple language support
Currency Converter
Airbnb Plus, which provides high-quality and well-equipped homes.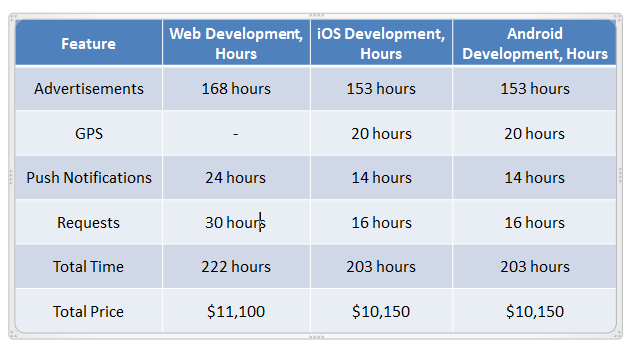 Team and Technologies to Build an App like Airbnb
Building web and mobile application like Airbnb require the following specialists:
Business Analyst
Project Manager
2 Android Developers
2 iOS Developers
UI/UX Designer
Back-end Developers
Front-end Developers
QA Engineer
To build a mobile application like Airbnb, the developers must be skilled in trending programming languages such as Kotlin (Android) and Swift (iOS). For web development, you require software engineers who know JavaScript.
Tech Stack for App like Airbnb
To build an app like Airbnb, you need the following tech stack:
Programming Language: Kotlin, Swift and JavaScript
Front End Frameworks: React.js, Express.js and Angular
Backend Frameworks: Ruby on Rails, Node.js, Meteor.js, Django
Server-Side Technologies: Azure, OpenStack, Google Cloud, DigitalOcean
Network-level caching services: Redis, Nginx
Databases: MSSQL, MySQL, Cassandra, Azure DocumentDB, MongoDB.
Want Developers to Create App like Airbnb? Get a Quote Now
Final Cost Estimate to Create an App like Airbnb
Considering all the factors, the final cost of building an app like Airbnb can reach approximately up to $92,350 for web version and $65,650 for mobile app (one platform)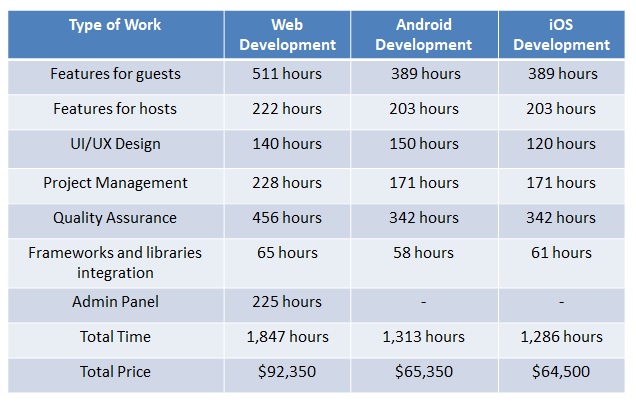 Summing Up
Making an app like Airbnb is a different thing and scaling it to get a million users is a completely different thing. In this guide, I have explained the process, all the necessary features and technology stack that is required to build an app like Airbnb. However, if you are still struggling to start with the MVP or develop a prototype, feel free to get in touch with us.