Christmas Countdown Apps help the user in counting the days until the Christmas holiday. It is a countdown timer app that provides different types of notifications to remind users about things near Christmas.
The app keeps you updated on how many days, hours, minutes, seconds, and even heartbeats there are until Christmas 2022. There are multiple 'time modes' including counting down the number of total weeks, nights, hours, minutes, total seconds, or heartbeat-minutes past midnight.
Table of Content:
Why You Should Use a Christmas Countdown Apps
For many of us, Christmas is ranked as the most celebrated and anticipated holiday of the year. This can be attributed to a number of reasons. Firstly, it marks the end of a year filled with stress, disappointment, and all sorts of challenges. Secondly, it is an opportunity for us to reflect on what has happened and what we have accomplished over the past twelve months. And lastly, it is a time to share love, joy, and happiness with our near and dear ones by giving gifts or celebrating together.
The christmas countdown clock on your home screen helps you keep track of when Christmas day will be arriving soon. It may not be able to bring you joy or fill you with excitement like your loved ones do but it will count down the number of days until Christmas which can help make this difficult period easier to manage for some people as they prepare for these festivities.
A Christmas countdown clock app that can allow people to focus on what this season means for them rather than whether
Best Christmas Countdown Apps in the Market
The countdown app is a perfect way to get in the Christmas spirit! So, the app basically counts down the days until Christmas with an appealing snowy countdown. With Christmas just around the corner and waiting for a miracle, use this app to count down the days – day by day, minute by minute.
You can choose from a variety of nice themes to match your company's branding & style. They also offer a lot of beautiful, modern covers that you can customize to suit the needs of your company. It features a countdown timer and some beautiful Christmas music which helps make the room feel even more Christmassy.
Every day you receive a "gift" from the app. This can be songs, pictures, or HD wallpapers that are on your desktop. It doesn't cost anything to get this gift every day but the Christmas countdown apps has a premium version. It has more bells & whistles – music, wallpapers. You'll also get an extra 3 countdown widgets on your desktop. Watch the snowfall, as it prepares you for Christmas! It's coming sooner than you think.
Availability
Price – Free and Paid
Device – iOS and Android
How many days are there until Christmas? And minutes? And seconds? If you're getting impatient with Christmas, Sleeps to Christmas Lite is your solution. Every day, the app provides a crazy reminder of how many days are left until December 25th. There's also a playlist available for you to listen to while waiting for the big day!
Insert a countdown to Christmas on your phone. The App Sleeps To Christmas here! Choose from a variety of lovingly drawn characters who hold signs that count down the nights, hours, minutes or seconds to Christmas. You can now see winter in all its glory! Snow falls as you listen to your favorite carols and experience the joy of holidays.
Availability
Price – Free and paid
Device – iPad, iPhone
Here is the choice you can select in the sleep to Christmas App
Sleeps to Christmas' (the default)
Total 'Hours to Christmas' Total 'Minutes to Christmas'
Total 'Seconds to Christmas'
Days, hours, minutes, and seconds to Christmas
This app offers 4 characters that all have a neat little animation. They also have a board that shows the days, hours, minutes, and seconds until December 25.
All of the presented characters (Gingerbread Man, Santa, Snowman) are animated to make your experience more engaging. Gingerbread man is doing tricks in front of you, Santa laughs at you and Snowman gets into ridiculous situations. It is evident that Santa Claus has impacted and been an integral part of the lives of many people. Even if you have not believed in him for a long time, he still has sentimental value and leaves an impression on your heart.
The app contains standard Christmas music, which you can hear everywhere. However, there are also bells ringing when you shake your phone! So get into the holiday mood and have a great time with this app that has everything a Christmas song needs!
Availability
Price – Free and Ad-Free Version
Device – iPhone & iPad
Here are the carols included in the countdown app:
Jingle Bells Merrily on High
Deck the Halls
Joy To The World
We Wish You A Merry Christmas
Christmas Countdown with Carols
This app can help you during this Christmas season. You can't just enjoy the lights, but also the sounds and melodies it plays for you to make your wait more enjoyable.
A countdown widget is usually a small, outer window placed on the screen or desktop of your device. To track how many days are left until Christmas, you would first need to search for and download the Countdown App onto your phone. Once it's successfully installed, open up your app drawer to find the widget, where you can place it anywhere on your home screen and
The display color will change depending on the time. Maybe it'll be a soft white or blueish tone during nighttime. Or maybe a nice green or yellow color when the morning comes around. There will be 3D countdown images accompanying your hover as another way to get into the holiday spirit. They're already available on Google Play and have a high rating there, so it's likely you'll like them too.
Availability
Price – Free with in-app purchases
Device – Android
Christmas Countdown 3D scene
The Christmas Countdown 3D scene lets you enjoy the countdown to Christmas by looking at various interactive 3D scenes. Most modern touchscreen Christmas trees are made up of colorful LEDs. Some even have a realistic appearance, while others use glowing garlands instead.
To see the effect of the hologram, just click on the star on top of the tree and the spruce will clear the space with a ray of light. Or by clicking on the countdown button itself, you will get a surprise – an animated firework
Christmas carols can be accessed through this app on your phone by simply clicking on the screen. Take screenshots of the app and share them! Every day carries a time-sensitive greeting, so your friends will probably enjoy receiving such a message.
Availability
Price – Free
Device – Android & ios
Christmas Tale is a different kind of storytelling app. It tells seasonal stories in the comfort of loved ones. If Christmas is your main holiday, you might find this app helpful. We've got great Christmas stories here for you right on your smartphone so that you can be entertained anytime.
For your convenience, there's a countdown to Christmas. This is a full-fledged Christmas watch that will keep you informed on the holiday. But Christmas Tale is not limited to this! You can read the story, play mini-games, and give Santa Claus a hand by delivering gifts to the good kids. The snowman's clothes are also very beautiful.
Imagine you and your kids fall asleep by the fireplace. Your AI assistant tells them a story they can't resist! The holidays are just around the corner so it's time to countdown and plan for Christmas. Make the most of this magic time and enjoy the company of your whole family.
Availability
Price – Free with in-app purchases
Device – iOS
Final Countdown Timer is an app that features a calendar and a timer. It syncs countdown from your other devices, and it is designed with 12 widget skins to choose from. The Countdown Timer app features a calendar and timer. It syncs countdown from your other devices, and it is designed with 12 widget skins to choose from. Users can also choose alert ringtones for reminders and tasks. .The size of the app is 9.1 MB and can be downloaded from the Google Play Store. The app is compatible with iOS 8.0 or later and devices that run on iOS 9.0 or later.
Availability
Price – Free
Device – Android
How to Build a Christmas Countdown Apps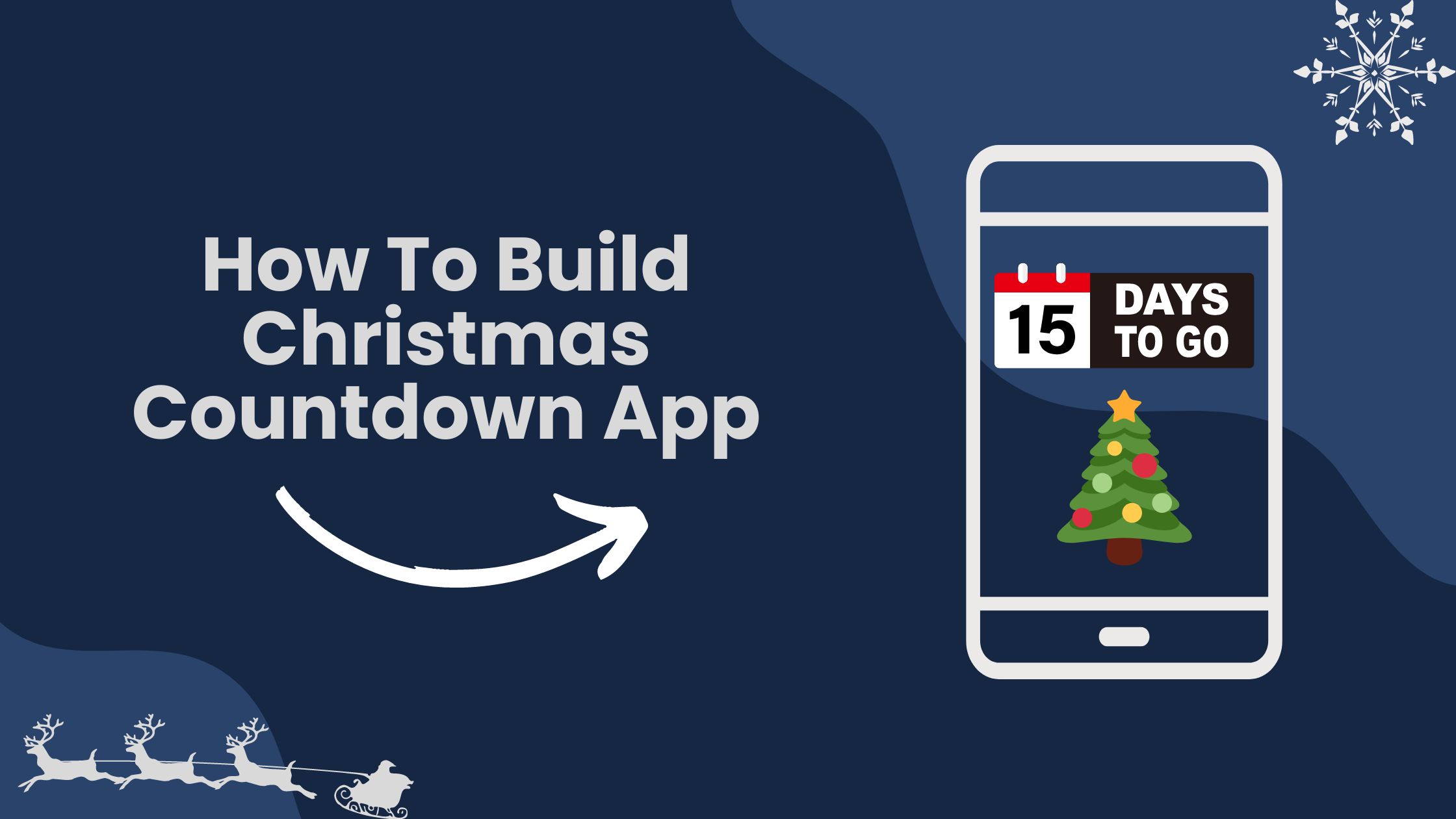 This section provides information on how to build a Christmas countdown app that can be used by individuals to countdown the days, minutes, and seconds until the end of the month.
A countdown app typically has three parts: an input field where users enter how many days they want in the countdown, a timer that counts down the days, and a ticker that displays the number of remaining days.
A key feature of an app like this is that it is accessible at all times so there is no need to open up another browser window or go back to find it when you need to check on your countdowns.
A countdown to Christmas app is a great way of getting people in the festive spirit. In this tutorial, we will create a countdown to Christmas app that retrieves data from an API to calculate how much time is left until December 25th.
People often use apps such as this one as part of their marketing campaign during December, especially if they sell gifts or Christmas supplies.
How do I add a Christmas countdown widget?
The Christmas Countdown widget displays a countdown to the big day in your sidebar and on Christmas day, it shows a message. The countdown will reset every year on the day after Christmas and start where it left off. This allows you to have a countdown of time till your next birthday literally all year round in your sidebar!
You can add a Christmas countdown widget to your blog by following these steps.
Add a new gallery with images to 9 slides, each slide contains an image of a chocolate bar.
Name them as Dates.jpg, 10days.jpg, 3days2go.jpg, 2days1hour1minute1second.jpg, and so on till the last one that you name as 1daytogo.jpg
Create a new post and insert all the images at the same time and save it to your blog
Select all the slides for insertion and upload them into the post.
Select it from the list of images inserted from the media library and click on "Insert into post".
Click on the "Add Gallery" button under it – Click on the "Gallery Settings" tab under the gallery option – Change the slideshow interval to "Loop continuously"
In addition, the countdown timer will now appear in your sidebar on a transparent background so it'll look good no matter what your website theme is. All you need to do is use the [countdown] shortcode and voila!
Which Productivity-Boosting Tool Fits Your Needs During Vacations
In the workplace, we are always looking for tools that can help us get more done in less time. Whether it's a tool to help us stay on task or a tool that can stretch our productivity across the day. Vacations have always been seen as a time to relax and recharge, but what about when we need to use these tools?
There is no one size fits all answer. It is important to determine what you need from your vacation days and then find the best tool for you.
Here are the top 5 tools that help to manage your task & team during vacations.
Clockify: time tracking tool

Right Inbox: Email Reminders, Tracking, Notes

Trello: Manage Your Team's Projects

TeamViewer: The Remote Desktop Software

Figma: Collaborative interface design tool

Pumble: Chat & Collaboration App for Teams

A Christmas Countdown App or Something Else?
The idea is that you can set it up to remind you of the dates leading to Christmas Day and what events are happening on those days.
In recent years, there have been a number of Christmas countdown apps released, but most have not proven to be as successful as expected.
One reason for this is that such apps are available for free and a lot of people just don't want to pay for them. It also means that the app developers have less incentive to improve their product or release new updates when they're not generating any revenue from the app.
If you're casually searching for apps to use during the vacation season, you should consider the above-mentioned apps without any doubt but if you're planning to make an app for vacation planning and traveling in the future, it will require well-researched strategies, At GraffersID, We strive to solve development team management issues for startups and help them focus on product growth using latest disruptive technology.