So you have a built website using WordPress, but you don't have knowledge about WordPress maintenance and cost for the same. Then, don't worry we are here to resolve your queries. Do check this blog to get details about website maintenance, factors after WordPress website maintenance cost, and step to reduce the cost. 
Creating websites either by hiring expert developers or by your own or with the use of various tools requires proper maintenance. Well-maintained websites ascertain safety, security, and smooth working.
We researched for most popular platform for website development. Came across a report, according to it 38% of the responsive and user-friendly websites are created on WordPress, the highly demanding website building platform. And, to make these WordPress websites successful, it needs to be kept upkeep always.
Web developers put all their efforts to ensure that websites do not experience any downtime due to maintenance issues. Though, there are various factors on which the WordPress maintenance cost depends. Knowing these costs will help you in saving your spending and enhance websites performance.

Here, at GraffersID, a leading IT staff augmentation company, we have skilled developers who work effortlessly to provide productive services at an affordable rate with timely delivery. Besides, we provide dedicated remote developers for assisting you with quick, easy, and friendly maintenance services.
Now, before acknowledging the cost of WordPress maintenance, we will find out what WordPress maintenance is and why is it needed?
What is WordPress Maintenance?
WordPress maintenance is a service offered by website development companies to make your website work regularly without any technical concerns.
Overall website maintenance sidesteps the issues related to, heavy working, ranking, broken links, inconvenient themes, or outdated information.
Thus, WordPress website service is essential for keeping your website healthy and secure.
Want to know the cost to hire WordPress Developer?
Need for WordPress websites Maintenance
Maintaining a WordPress website regularly is mandatory to avoid unpredictable expenses and to lessen your high budget possibly caused due to ignorance towards website maintenance services.
Expenses that can be easily saved through WordPress maintenance services-
Break-down costs by regularly updating and maintaining your website.
Data recovery costs by securing information.
Avoiding possible vulnerabilities while code injections can save Security costs.
Maintenance aids in speed optimization which can prevent your revenue loss.
What do WordPress Maintenance charges include?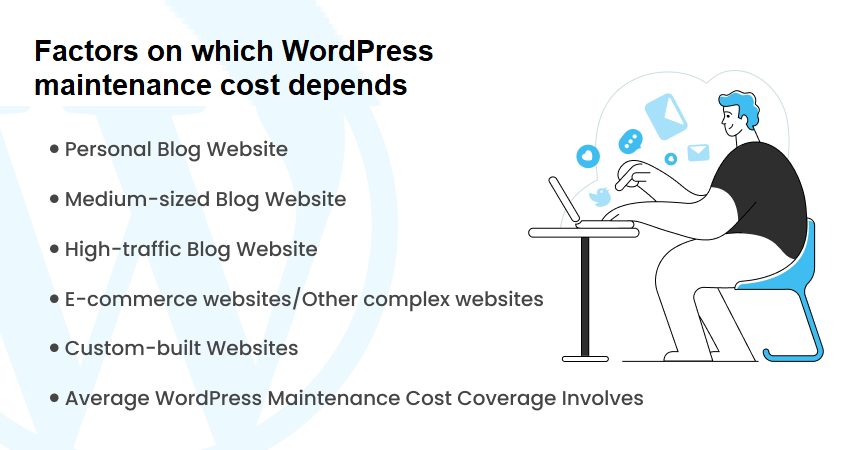 The charges for maintaining WordPress sites depend on different factors-
1. Type of Website:
Whether you manage complex websites or maintain multiple sites for the client, the cost for each varies. The average costs for maintaining WordPress websites majorly depend on the size of the website.
Listed below are the average costs based on the type of WordPress website-
1. Personal Blog Website
Retaining a small personal blog website does not require additional plugins thus, the cost is estimated for domain and hosting. The monthly expense for maintenance of a personal website is around $200-$220. Also, there is no need for website designs as enough free themes are available.
Know the advantages and disadvantages of WordPress Website
2. Medium-sized Blog Website
Medium blog site comprises nearly a hundred to thousand visitors. This requires additional charges as the size increases, the maintenance requirements expand. Thus, the cost for maintaining a medium-size site is $250-$350. The costs indicate the safeguarding site from spam and upgrading security for the same by adding specific plugins.
Other expenses are possibly saved in a way that content is created by the owner itself, technical assistance is performed by freelancers, and marketing is done through social media. So, all in all, domain and hosting expenses are mainly demanded.
3. High-traffic Blog Website
High-traffic blog websites cost includes $350-$500 monthly charges as it calls for thousand and above visitors. The expenses comprise additional plugin fees, regular content planning, advertising, and marketing tools to engage the visitors.
Here is detailed comparison between Webflow vs WordPress
4. E-commerce websites/Other complex websites
If you are creating a website for an e-commerce store or making multilingual websites or a multisite network then the maintenance costs raise around $500-$800 monthly. The pricing includes speed optimization, hosting plans. Plugins and premium themes.
5. Custom-built Websites
Custom-built websites are created and maintained by professionals since your site doesn't use platforms like WordPress. This expects the monthly expense up to $1000 depending on the size of the site and the customization level.
2. Average WordPress Maintenance Cost Coverage Involves: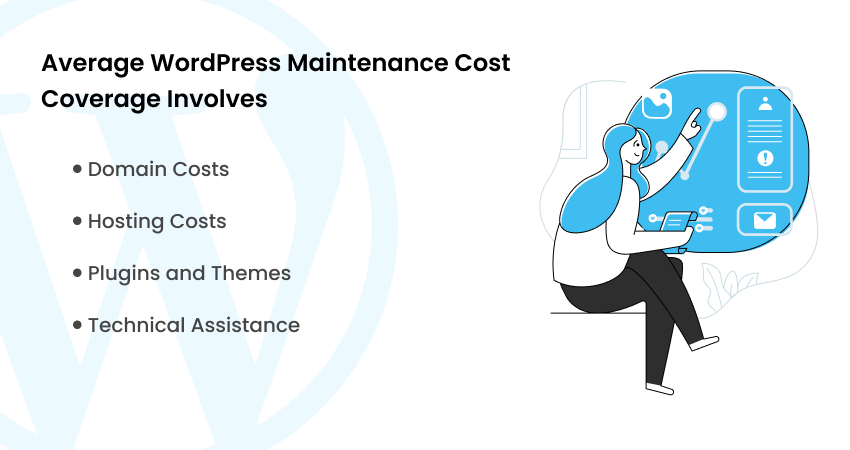 Based on the type of website, the cost of maintenance changes as per the requirements. But, most of the websites include a few common costs.
Discussing the maintenance cost breakdown below will give you a clear idea of the average monthly WordPress maintenance package.
1. Domain Costs
Depending on the plan you choose, the domain cost varies. If you go with the annual plan then you need to renew the domain registration in one or two years. The domain charges rely on the domain extension (.org, .store) or domain registrar (GoDaddy).
The average domain cost ranges between $10-$20 annually. Also, the price can reach thousands of dollars, if you are picking any pre owned domain. For that purpose, you can connect with the owner and bids for that domain.
Here are 8 Ways to Make your WordPress Website Standout from the competition
2. Hosting Costs
Hosting charges are depends on the type of sites and business needs. A small blog website will cost the least hosting cost while the medium to large blog sites will cost you up to $100 per month. Also, most of the eCommerce websites demand all-inclusive hosting services like SSL licenses for securing data and your website's identity. Thus, the cost for an eCommerce website's hosting services raises to $500 per month.
3. Plugins and Themes
Though WordPress offers free plugins and themes for licensing the paid ones, the cost ranges between $10-$100 per month. Following the changes in themes and plugins, you need to hire WordPress developers for maintaining the websites accordingly.
4. Technical Assistance
For bug-free and speedy websites, you need technical assistance. It is crucial to maintain the infrastructure of your website and to make sure that all elements are working properly.
WordPress maintenance services pricing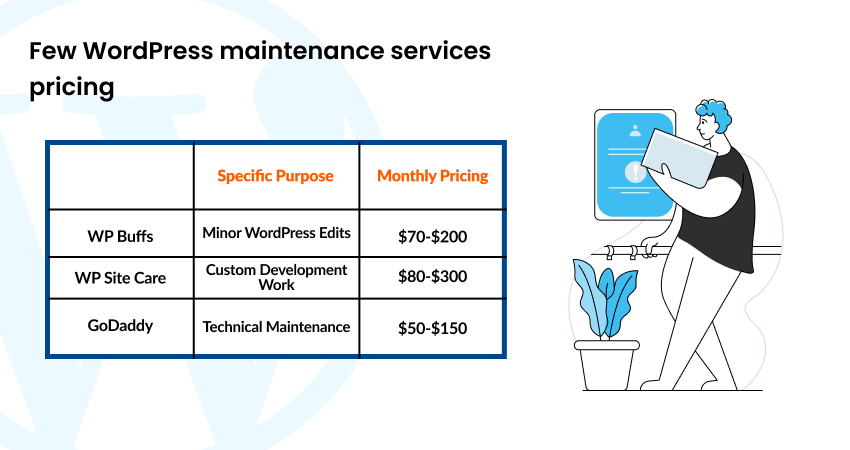 There are various WordPress maintenance services that offer the overall maintenance of your website regularly. These services manage basic tasks and a lot more for your business.
These WordPress maintenance services are significant for specific purposes and have a pricing structure as given in the table below-
Why outsource WordPress Maintenance professionals?
Investing abroad for WordPress maintenance service can be helpful in saving your expenses for recovering your website. Outsourcing experts or professional teams from India is affordable and reliable.
Moreover, it will be helpful in eliminating the training costs as you will be facilitated with highly-skilled employees working for your WordPress website.
Confused between What to choose "Custom built website" or "WordPress" ?
Wrapping Up
Website is an innovative and useful way of engaging various businesses and users. And, to secure your website and keep it user-friendly and highly performable, you need to undergo WordPress website maintenance services and understand the cost required for the same.