Remote development is being used extensively by several organizations these days. It allows for more significant work freedom for remote developers, facilitating quicker delivery of practical solutions. Even if hiring someone to work remotely for you offers challenges, finding the right remote development team may be challenging. Suppose you wish to hire remote developers in Canada. If that is the case, this article will guide you through the process of assessing each skill set required for remote development if you're still debating whether to access the global talent pool.  
How to Hire Remote Developers From India?  
There are a few tried-and-true techniques that are quite successful for hiring dedicated remote development teams in Canada:
Define Requirements
Describe the product's major features and the different user categories it will cater to. Once you've specified the features, deciding the skills you might require to finish the tasks will be simpler. Examine the platform that would be necessary to develop the product right away. Additionally, the remote product developer must be an expert in the language.
Find the Ideal Applicant
If you intend to hire a dedicated remote development team or developers in Canada, you need to look into possibilities where you may find the top applicants.
Search for top Companies: When looking for a remote developer, the first step is to conduct an online search for reputable technological organizations. They have easy access to a sizable talent pool that is frequently internal and might be used immediately.
Job sites:

Posting job advertising on career portals or contacting tech newspapers are two of the greatest strategies to discover experienced developers. Regular job seekers and techies looking for remote or full-time work frequently browse these portals. You might specify your criteria, indicating that the job is only remote.

Outsourcing companies:

Nowadays, there are several companies that offer outsourcing services to organizations that need remote working candidates.

GraffersID

is one of the top outsourcing companies which offer the best skilled and experienced candidates as per the job requirement.

Freelancing portals:

Hiring freelancers can be very intelligent and cost-effective when you have a highly urgent job. You may easily approach developers by using websites like Upwork and Fiverr.

Social media:

Any platforms, such as LinkedIn, Facebook, Instagram, StackOverflow, or Twitter, can be used to advertise a job opportunity, and you will quickly receive a huge number of applications.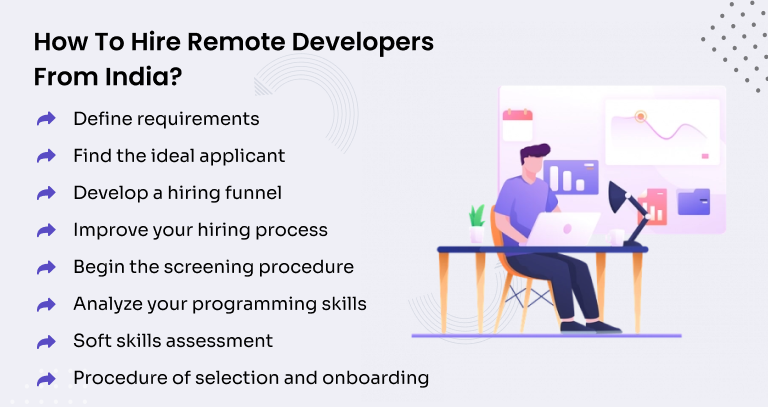 Develop a Hiring Funnel
The next stage is to create a hiring framework that outlines the process's sequential processes, including applications, shortlisting, assessments, and final selection. By doing this, you may speed up and streamline the hiring process.
Your hiring funnel needs to outline the criteria for each stage's evaluation of candidates to guarantee consistency across the entire process.
Improve Your Hiring Process
Once you've built your hiring funnel by detailing each stage, it's time to refine it. Because you are employing technical individuals, you must enhance the evaluation process by identifying important interview questions, technical competence testing, and soft skill evaluations
Begin the Screening Procedure
Now that the employment funnel has been optimized, it's time to start analyzing the applications of prospects you have received from various sources. By carefully evaluating prospects, you may decide whether a developer is a good fit for your business. In order to shortlist them for the next stage, you can use it to assess their skills, qualifications, and prior experience.
Analyze Your Programming Skills
It is essential to provide prospective remote developers with a coding or programming exam in order to evaluate their practical skills. By putting candidates through numerous job scenarios, online testing tools can help assess candidates' programming skills and teamwork qualities.
Soft Skills Assessment
Once you have further narrowed down applicants based on the assessment of the test of their technical skills, it is time to conduct interviews. To ascertain whether a candidate is a suitable fit for your business, look at their interpersonal skills, such as communication, courtesy, and a sense of ownership. 
The procedure of Selection And Onboarding
The pay, the job's scope, deadlines, checkpoints, conditions of engagement, nondisclosure agreements, legal contract, and notice period must all be determined after choosing which developers you want to work with. Once these are chosen, it's time to recruit developers for your project. 
Want to Hire Remote Developers in the USA
Various Pricing Models to Hire Remote Developers 
You can choose four alternative recruiting methods when hiring Indian remote developers.
When the project's scope and total cost are predetermined, devoted developers are hired under a fixed fee model. Fewer than 5% of projects will depart from the scope and delivery that were originally planned.
The hourly rate of engagement is when remote developers are engaged and compensated according to the number of hours they put in on a project. The range of the task varies. 
When software engineers are employed and compensated for a set number of months, the engagement model is known as the monthly-based method.
When two or three of the engagement methods discussed above are combined, it is referred to as the hybrid model of employing Indian developers.
Cost of Hiring a Remote Developer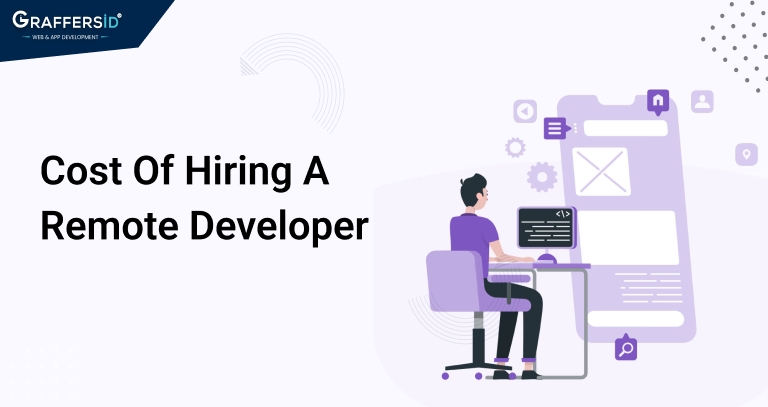 Between 10,000 USD and 150,000 USD is the standard pricing range for hiring a remote developer. Engineers working remotely are paid between 5 USD and 95 USD per hour. Let's first examine the factors contributing to the strong demand to hire remote developers in Canada before delving into the technique utilized to calculate these figures. Currently, more websites and mobile applications are being developed than ever before. 
Remote employment has become more common since the pandemic. Before hiring remote developers, you will need to change your management style and workflows to successfully integrate remote workers into your team. You will find the transition challenging, but once you do, you will be a true entrepreneur of the twenty-first century. Another advantage is that your overhead costs will decrease and become easier to manage. 
Determinants For the Hiring Cost of a Remote Developer
Hiring developers will be affected by a variety of factors. You can determine your priorities more precisely if you pay close attention to the following factors. 
The application size is one of the primary business factors influencing the cost of hiring remote engineers. According to size, there are three categories of apps: 
There are many little apps on your smartphone, such as clocks, calendars, and books. User interface components are simplistic and have limited functionality. It is only possible to develop such simple applications with a single developer. Employment is, therefore, less expensive. 
These advanced applications' user interfaces and payment options are typically distinctive—for instance, any wearable, progressive web, or IoT-based applications. As a result, hiring will cost more money. 
Applications used on a large scale or at the enterprise level have various features and functionalities. A vast database and competent backend programming are required. You'll need a team of educated and skilled developers to create these apps. Therefore, the cost can be the greatest of the three categories of apps discussed here. 
Therefore, if you have a general idea of the size of your application, you can estimate the generally necessary working hours, which in turn may help you precisely estimate the entire development cost. 
Benefits of Hiring Remote Developers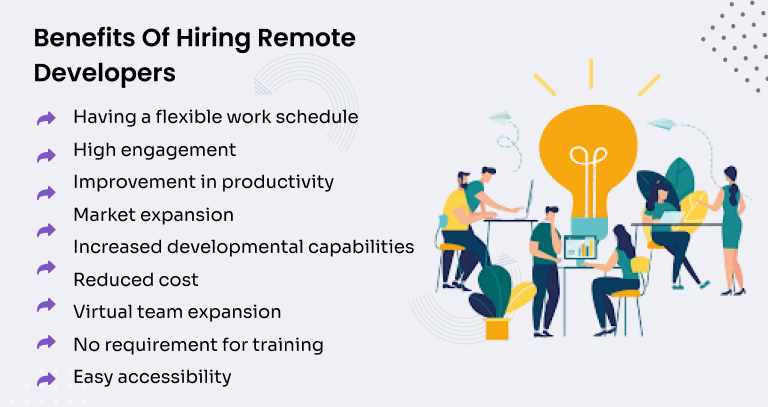 Having a Flexible Work Schedule
To achieve high effectiveness and quality standards, remote developers follow a strict schedule. As a result, you have more time to concentrate on crucial business issues. As a result, this setup is advantageous to remote developers. 
According to surveys and research, remote developers are significantly more engaged than those who work in offices. 
Improvement in Productivity 
People who worked in remote development settings were happier and more productive than those who worked in conventional offices. 
You can indirectly broaden your market reach by working remotely with developers in different parts of the world. 
Increased Developmental Capabilities
Compared to in-house professionals, remote teams have significantly better development skills. Managing remote development teams is more superficial than working with internal ones. 
It can be very cost-effective for businesses to hire a dedicated remote development team in Canada. They efficiently and affordably achieve significant benefits.
Business investment in infrastructure development is not very expensive. They can virtually increase their team.  
No Requirement For Training 
There is no formal training required. Projects are offered to those who are already specialists in their fields. 
The use of only regional resources isn't mandatory for businesses. They can access tens of thousands of possibilities to meet their demands by using the potential of remote offshore recruiting.
Read Also: Top 13 ReactJS Development Companies USA
Why Choose an Indian Remote Dedicated Development Team?
India makes sense as a destination for developers outsourcing because it is the second-largest English-speaking country in the world after the United StatesThe educational system in India also places a lot of emphasis on mathematics, which helps the nation produce up to 2.6 million STEM graduates each year. According to Gild's research, Indian developers outperformed American developers in math and logic evaluation by 11%.
Out of all the well-known huge countries like Argentina, Poland, Ukraine, and others, India is the most preferred location for recruiting remote Developers and remote development teams. Because of its less expensive labor force and the usual hourly wage for developers there of $15 to $30, it is the appropriate location for enterprises with limited resources. Additionally, you benefit from the time zone difference and culturally suitable talent because India is greatly influenced by western society. All that is necessary is to find the perfect remote service provider or developer to fulfill your company's needs. According to PayScale, the average software developer in India earns 11, 139 USD annually. 

In summary
Finding a great team of developers who can deliver outstanding digital solutions for you might be challenging when creating tech products. However, this is a straightforward task if you plan and do your homework. Hiring a remote developer is typically advantageous and cost-effective because they help your company increase production, lower office space costs, and increase efficiency. 
If you want to hire remote developers in Canada, visit GraffersID to hire the top Indian developers. You get the option to hire a dedicated remote development team in Canada with different skill sets to choose from. Hire the top 1% industry experts from GraffersID who'll maximize your revenue and earn fame in the industry.
Contact Us To Hire Remote Developer in Canada