Software development is a trendy career choice in today's era. A vast amount of career switchers aspires to become a software developer. If you are one of them, you should know or begin learning the skills that will help you get the desired position. Being a highly competitive field, becoming a software developer requires a deep knowledge of programming, soft skills, and various technical talent.
Although the demand for software developers is growing consistently, acquiring new technical and soft skills with existing ones benefits a job seeker. Today, the blog will discuss the software developer skills applying for the position should have.
What Are Software Developer Skills?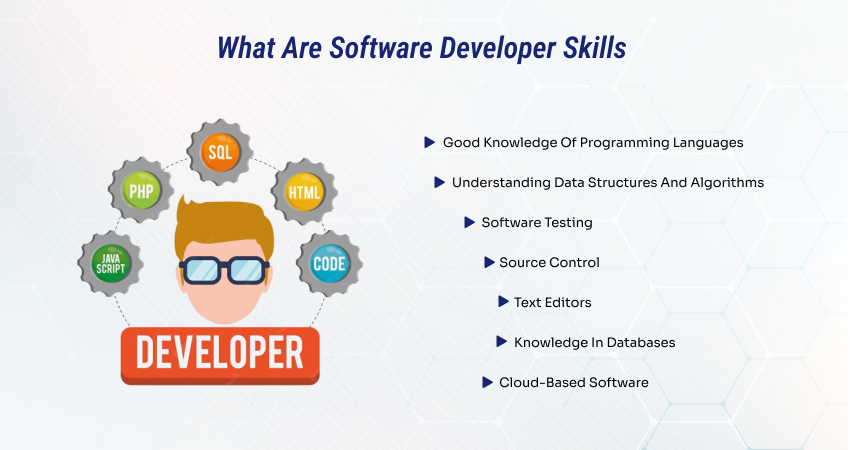 The responsibility of a software developer is to design and develop software that can tailor to the company's needs. Also, the developer should understand programming skills, analytical thinking, and creativity. Since so many people are applying for the position, it becomes hard for the firm to choose the best applicant. Someone with a master's in software development and the required skills can help employers hire the one they are looking for. The software developer skills will generate more interest from hiring managers in your CV.  
1. Good Knowledge of Programming Languages
Knowledge of programming languages is the first skill you should have to become a software developer. There are various programming languages used in software development for varied reasons. The languages are classified into various categories: backend, frontend, and many more. Thus, a candidate must be skilled in two or more languages for the software developer position. 
2. Understanding Data Structures and Algorithms
A deep understanding of the algorithms and data structures is the second most crucial software developer skill every firm search for in an applicant after programming languages. Software developers should possess data structure knowledge to create programs and data efficiently. 
Software developers use data structures to build algorithms that simplify tasks efficiently and quickly. Heaps, arrays, linked lists, and trees are some concepts you will study in the data structures. 
3. Software Testing
Testing is the next after software development. Before launching a product, the employers conduct a test using tools and technologies to identify potential errors or bugs. Hence, as a software developer, you should be acquainted with the software tools and build algorithms that run the tests. 
Read Also: Important KPIs for Software Development
4. Source Control
Source control lets you save and identify the changes in the code. Because of this reason, most IT firms are looking for software engineer who already understands source control, such as GIT.
5. Text Editors
Every programmer begins their coding journey with text editors like visual code, notepad, and many more. There are various text editors, each with its specified features. Hence, the software developer must know text editors. 
6. Knowledge in Databases
Good command over databases is one of the essential software developer skills you should possess. The database is where a firm stores the data related to records and fields. A professional software developer must know how to update, alter, delete and secure a firm's data in the database. 
7. Cloud-Based Software
The developers or programmers can use the cloud-based software to keep their software on the cloud, instead of the physical media. The trend of cloud storage is consistently growing and thus firms are adapting to store their software and databases, instead of developing a data warehouse. Thus, it is essential for the aspirants to know about cloud-based technologies to cater to the employer's needs.
Software Developer Soft Skills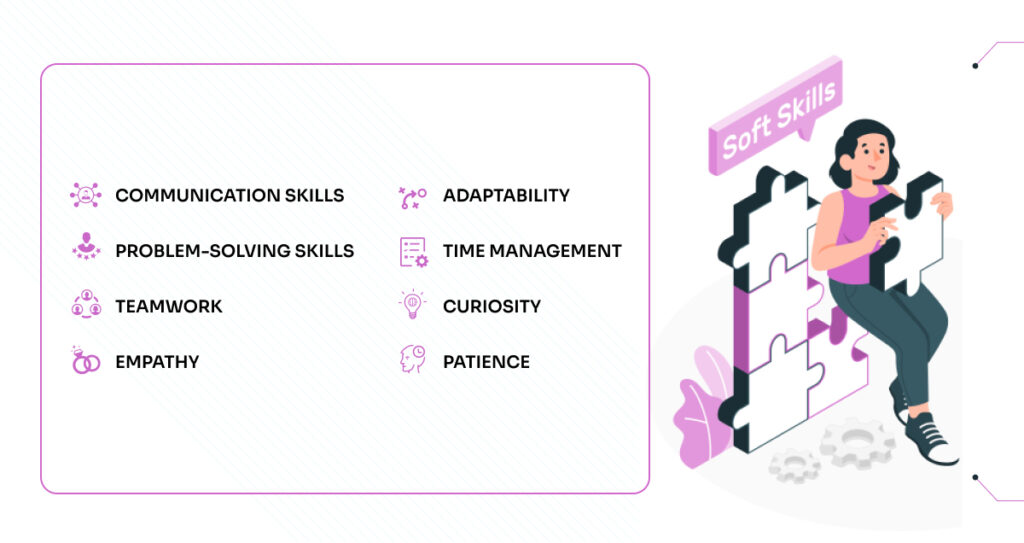 While you must know how to do programming for software development, the software developer's soft skills are equally important. The firms appreciate the candidate for the time and dedication they give to their work. Similarly, they also acknowledge the additional skills that the candidate pursues. It includes communication skills, problem-solving skills, time management, etc. If you possess these non-technical skills, your CV must show them. Let's discuss some of them. 
1. Communication skills: 
It is one of the most significant software developer soft skills that tests your ability to explain the work methods and answer the questions in a group setting. In software development, good communication helps minimize conflict via respectful dialogue. 
2. Problem-solving skills 
For programmers and developers, problem-solving skills are as essential as technical skills. It is the key to increasing your knowledge and breaking a problem into manageable pieces. 
3. Teamwork
Sharing thoughts and ideas and supporting the other developers is critical to the team's success. Sharing opinions and helping each other bring different backgrounds to a table and generate effective results. This is how the different ideas are tested and applied in a group setting, and it is what makes outstanding collaboration. 
4. Empathy
Empathy and understanding others' feelings, thoughts, and experiences are essential software developer soft skills. Empathy for others results in higher satisfaction levels and good acceptance. It improves team connections and builds a culture of mutual assistance and trust. 
5. Adaptability
Adaptability to changes is another vital skill for programmers and developers. With time, technological advancements bring the latest versions of the software release, multiply client needs, and underscore the requirement changes. Because of this reason, programmers need to be resilient and adaptable when it comes to handling the occasional setbacks and changes. Evaluating what should be done and adapting the modifications is the secret to success in the software development field. 
6. Time management 
The software developers must manage the time correctly, be it assigned budget hours, a team deliverable, or a client's deadline. It comprises everything from predicting the time to finishing the project, supporting the team to be on familiar grounds concerning deadlines, or completing the individual project efficiently. It also involves identifying when you are lacking behind and asking the other members for help and support. Making time management encourages you to be more productive in your individual task and performance and motivates you to be a reliable and better team member. This is the reason why hiring managers take this soft skill into account. 
7. Curiosity
The best programmers or software developers are curious about what else can be done to make the app or software the best team project. This soft skill encourages them to explore more ideas and search for innovative and new ways towards enhancement and advancement. Curiosity and exploring ideas are the significant drivers defining the software developer's progress and success.  
8. Patience 
Calm people tend to be less worried about the challenges and obstacles that come their way. Studies prove that people with a negative nature have a harmful impact on their overall performance, which is key to successful coding. As a result, having patience that positively impacts the coding and results is one of the most significant software developer soft skills, you should possess.
Read Also: Why hire a remote team for your software development project?
Conclusion 
As one of the highest salaried professions, the demand and competition for a software developer are consistently increasing and becoming intense simultaneously. Because of this, the candidates should have various technical and non-technical skills to consider for their job role. Computer science or computer application graduates who aspire to become software developers can use the above checklist to succeed in this field. All that it takes is a few hours of investment every day, and you will get a good command of the JavaScript, CSS, and HTML languages that eventually helps you in software development. 

If you want to hire remote software developers, visit us and get in touch with our offshore development center. Our team of remote developers are experienced, motivated, and trained professionals who can give your website the enticing vibe your clients so desire.