We are currently witnessing a trend for a healthy lifestyle. Even when gyms are shut down and people are asked to stay at home to prevent the spread of coronavirus, we still can find endless workout photos on our Instagram feed. The popularity of yoga and meditation, gluten-free, healthy diet-everything tells us that wellness is a new luxury.
Health and fitness apps already have a high level of engagement. And, amid the Coronavirus situation, user engagement on such apps has increased by many folds. People sitting at home are looking for apps that can help them achieve their fitness goals with a home-based workout and diet plan. Over 75% of users visit health and fitness apps at least two times a week while 25% access the application more than 10 times a week.
Do you have an idea and are willing to create a fitness app or do you own a gym and thinking of building an app to remain connected with your clients during a lockdown? We have designed healthcare and fitness apps for clients and we would like to share our experience through this guide to help you create an outstanding product:
How to Create a Fitness App?
Here are steps to follow while building a fitness app:
Choose a type of fitness app you want to build. Here are different types of fitness applications that are trending.
Make an analysis of the market.
Perform a competitive analysis
Pick the features for MVP of your app
Make sure you are adding functionality that allows your app to stand out
Find an enthusiastic and reliable software development company
Get a detailed estimate of your fitness application
Set a budget
Make sure to take part in the planning stage of app development
 Keep checking the app's readiness by testing its demo
Publish the app to the app store
Get the source code of your application
Keep track of metrics and create a promotion strategy
Update your app on a regular basis and add new features
Once you have decided what type of healthcare/fitness app you need, the next step is to find enthusiastic and experienced developers who can deliver your desired app without wasting time. You can still get your app development in the present scenario of locked down by outsourcing the project to a remote development team.
Stages of App Development Process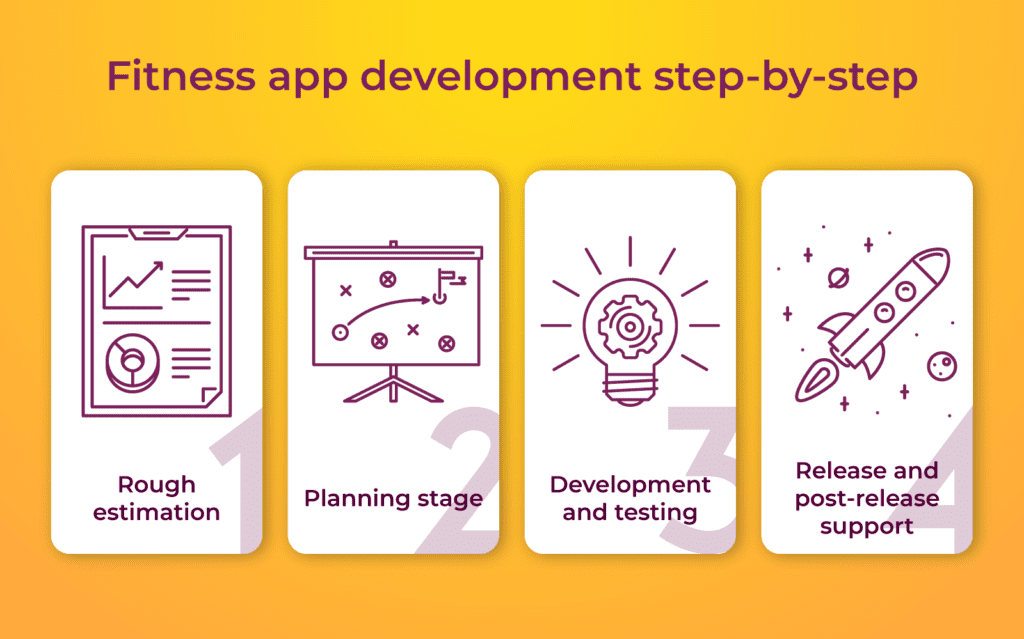 Rough Estimation
At this stage, you need to decide the type of fitness app you want to create, features that you think should be present in your fitness app and other details that you want to include. By providing a rough idea that you have an in your mind about the application, you can also ask your team about the rough estimate of the cost and time.
Planning Stage
This is the stage during which the remote development team you have hired will create the complete set of documentation and materials including a list of requirements, basic design, and prototype of your future app. With these details ready, the offshore development team will tell you the exact cost and time that would be spent in developing a fitness app.
Development and Testing
When you outsource the fitness app development project to a remote team, make sure you hire a company that works on Agile software development methodology and on the latest DevOps principles. This makes developers develop and test code at the same time.
Release and Post-Release Support
Along with product development, it is also important to support the product after its release. When you hire a remote development team in India, ask them how many days they will provide the product support.
Fitness App Development Cost
Well, the cost to develop fitness depends on the complexity and flexibility of the application, time duration, cross-platform feature, and the per-hour development cost of the company you are hiring. The app development charges in India range from $8-$25 per hour.
Here is a small breakup of costs for different activities while developing an average fitness app:
Specification and Design Prototypes (40 hours-$1000 to $2000)
Front-end and Backend Development (400 hours-$10,000 to $20,000
UI Designing (60 Hours- $1500 to $3000)
Testing (80 hours- $2000 to $4000)
Hence, for an Ideal Android fitness app with average features, the basic estimate ranges from $15,000 to $30,000 for a single platform (Android or iOS). And, if you are choosing a cross-platform, the cost may reach up to $50,000.
Parting Ways
The demand for fitness apps is rising in the present situation of work from home and lockdown. People are looking for applications through which they can learn to work out at home. Now, you have the golden opportunity of having a slice of the cake.
Deciding on the right fitness application and picking features for it is intimidating. Feel free to get in touch with us to discuss your requirements in detail.