AR Zone App- The Beginning of a New Era in Technology
Technology changes now and then, making the competition tough for the firms to stand and sustain in the market. Coming up with creative ideas is the need of the hour, especially in mobile technology. If we look at today's scenario, Samsung seems like winning the game with its latest AR Zone app.
AR Zone is hot and trending in technology that is offering its users the best and most explicit experience. AR in AR Zone stands for Augmented Reality that comes with interesting features like AR Emoji and AR Doodle.
Want to know the Cost to Develop an App Like Clubhouse?  
Though it is exclusively available for Samsung android users, it has made headlines with the extraordinary features that boast of its 3D view experience.
Well, after enough anticipation if you are still wondering, then let us tell you that AR Zone is an augmented reality app launched by Samsung about which we will learn in detail in this blog.
We know you are excited to know about this new application; so, without further ado, let's jump into the blog.
What is AR Zone app on Android smartphones?
AR Zone app allows users to experience augmented reality on Samsung Android devices. The users have the liberty to choose a feature and capture photos and videos with all the fun elements.
You can add virtual items such as emojis, clothing items, makeup, or furniture to your images and videos. Thus, it contributes to a great 3D experience with a simple to use interface.
Know about how much does it cost to hire an expert WordPress Developer?
With such a feature-rich application, the manufacturing company is paving the way for customer satisfaction in a great way.
Now let's see the features included in the app, but before that, it's important to acknowledge the devices where this AR Zone app is available. The primary Samsung models where this app is available are:
Galaxy S20
S20+
S20 Ultra and Z Flip
Features and Functions of AR Zone App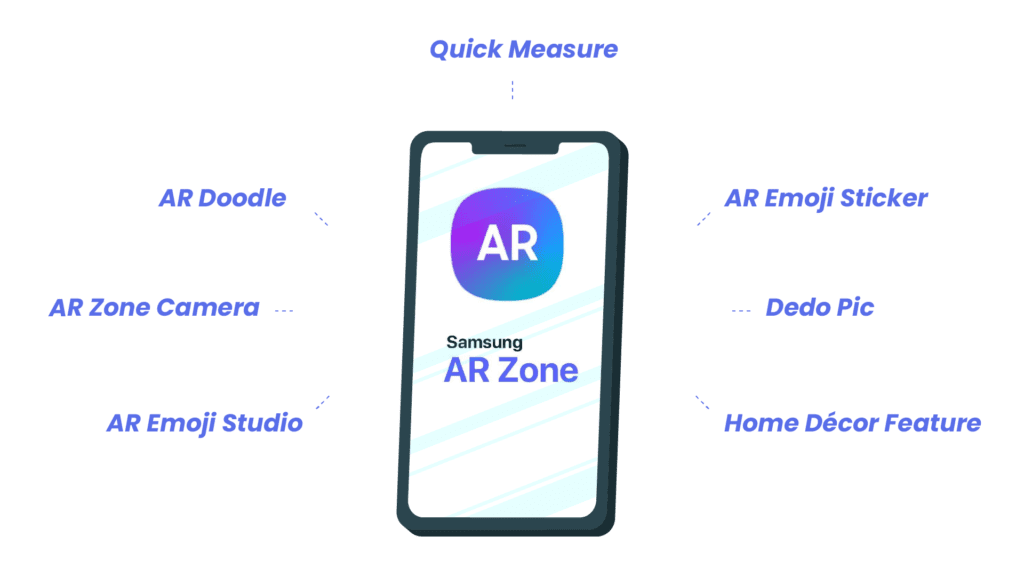 When it comes to the features, technically there are six features that every Samsung user can avail of in their smartphone through the AR Zone app.
These features include- AR Emoji Camera, AR Emoji Sticker, AR Emoji Studio, AR Doodle, Deco Pic, and Quick Measure.
Want to know how much an mobile app development cost? 
Moreover, some recent models that the company has launched also offer 3D Scanner and some styling options. So, now let's move to the features, and try to understand in detail what does AR Zone App do:
1. AR Zone Camera
The very first feature is the AR Zone camera that allows you to make your own emoji version. Moreover, you can easily take pictures and record videos without any hassle.
To create an emoji version, you can begin with clicking pictures of yourself, your colleagues, friends, and family whose emoji you would like to create.
Go to the My Emoji section to create the emoji version and find the pic you recently clicked.
Apart from that, you also get access to a variety of camera modes with numerous characters. Also, you can record videos while enabling the animation mode.
Know about How to hire ReactJS developers for startup from India
Here's what you need to do to turn your wonderful imagination into reality:
Firstly, you need to move to the Home screen to choose "Camera".
After you have selected the camera, click on the "More" option and then choose "AR Zone".
Go to the "AR Emoji Camera" from the drop-down options.
Now, if you want to add a new emoji character, the camera will prompt a "+" sign.
The best part is that you will get directed to the screen where you will get simple guidance to technically use the feature.
With a single tap, you can go to the next screen and get the AR emoji app camera modes.
If you want to record videos, you can simply tap on the "Mask" mode. It will enable you to record videos and capture selfies, where you can use the mask emoji to create an animated version.
As you scroll down, you will get other camera options to click pictures or record videos that include the "Scene, Mirror, and Play" mode.
So, that's all for the camera mode, you can follow the steps and capture memories. Now, let's move on to the other features in the list.
Know How to Start a Streaming Service Like Netflix
2. AR Doodle
If you love making Doodle arts, you have a great opportunity to showcase your Doodle art with the help of the AR Doodle feature.
You can easily create random anime characters and abstract patterns with this app that can act as a great stress buster for you.
All you can do is use this feature to create your own Doodle art and include the same in the background of the image you have clicked. The best part of this feature is that it can track the user's face; so, the Doodle art will automatically move when you move your head. Even a slight movement in your head can change the art.
Want to know How to choose the right Software Development Partner
3. AR Emoji Studio
Another great feature that AR Zone comes with is the AR Emoji studio that's easy to navigate and animated characters can be created with it.
You can pick the preferable characters and enjoy the life moments by transforming the entire experience. With the help of this feature, you can change the hairstyle, sunglasses, dresses, and even shoes. Exciting, isn't it?
Want to know Is an App better than a website?
Now let's see how this feature functions:
As you move to the AR Zone, all you need to do is to tap the AR Emoji Studio. In case you haven't created an emoji, it's better to choose "Create My Emoji."
The screen will prompt some instructions that you will have to follow for customization to proceed with the makeover.
After you are done with the emoji customization, tap and hold the back symbol for other AR features that you want to use.
4. AR Emoji Sticker
After you have created your emoji character using AR Emoji Studio, if you think there's still some editing left to be done or you want to add more characters, you can choose "My Emoji." Here's what you need to do:
All you need to do is to move to the "All" section where you will get access to numerous emoji characters.
Select the contact numbers with which you want to share your emoji and GIFs you created.
To create a GIF, you can begin with tapping onto the "Get Started" option and then follow the on-screen instructions.
Know why Outsourcing Software Development to India is a Success?

5. Dedo Pic
Dedo Pic is also a feature of the AR Zone app that allows you to send your own animated sticker to your friends and family. You can go to the Dedo pic and show your creativity by adding lip color, mustaches, and eye color to the character. The best part of the feature is that the Samsung users can incorporate it into their existing devices and enjoy capturing fun moments.
6. Home Décor Feature
AR Zone also comes with a Home Décor feature that allows you to add virtual furniture along with other home essentials. You can use it to see how you can bring colors and elements to an otherwise dull looking space.
Want to know How Do I Hire Dedicated Senior NodeJS Developers From India
7. Quick Measure
Another best thing about the AR Zone app is the ability to measure the size and distance of the subject. It really adds to the user experience and makes things a lot easier for the users.
Important Note-
If you are not a Samsung user, you may be wondering how you would be able to use such exciting features. Well, you don't need to worry anymore as you can easily download the AR Zone app from the Google play store and can enjoy creating your favorite emojis.


It's Time to Explore
So this was all about the AR Zone app. We hope that you have got the answer to your question, what is the AR Zone app? Knowing the features and functionalities, now you can use the app easily to capture images and record videos.
We hope you found this information useful. If you are a gizmo freak and like reading about technology, stay tuned with us!
Contact GraffersID, we diversify your team with talent, helping you reach your goals. 
Get In Touch With Us