AR is revolutionizing the way we interact with technology, and AR Zone is a cutting-edge application that brings this exciting technology right to your fingertips. In this blog, we will delve into what AR Zone is, explore its features and functions, and discuss its availability on different devices. Whether you're a tech enthusiast, a creative professional, or simply curious about the latest advancements in AR technology, this guide will provide you with a comprehensive overview of what is AR Zone app and how you can make the most of its features.
Table of Content
AR Zone App- The Beginning of a New Era in Technology
Technology changes now and then, making the competition tough for firms to stand and sustain in the market. Coming up with creative ideas is the need of the hour, especially in mobile technology. If we look at today's scenario, Samsung seems like winning the game with its latest AR Zone app.
AR Zone is hot and trending in technology that is offering its users the best and most explicit experience. AR in AR Zone stands for Augmented Reality which comes with interesting features like AR Emoji and AR Doodle.
Though it is exclusively available for Samsung Android users, it has made headlines with the extraordinary features that boast of its 3D view experience.
Well, after enough anticipation if you are still wondering, then let us tell you that AR Zone is an augmented reality app launched by Samsung about which we will learn in detail in this blog.
We know you are excited to know about this new application; so, without further ado, let's jump into the blog.
What is AR Zone App?
AR Zone app allows users to experience augmented reality on Samsung Android devices. The users have the liberty to choose a feature and capture photos and videos with all the fun elements.
You can add virtual items such as emojis, clothing items, makeup, or furniture to your images and videos. Thus, it contributes to a great 3D experience with a simple-to-use interface.
With such a feature-rich application, the manufacturing company is paving the way for customer satisfaction in a great way.
AR Zone is powered by Samsung's AR technology, which uses the smartphone's camera and sensors to track the user's movements and overlay digital content onto the real world. Some examples of AR experiences available through AR Zone include measuring tools, virtual makeup try-ons, and animated emojis that can be placed in the user's environment.
Now let's see the features included in the app, but before that, it's important to acknowledge the devices where this AR Zone app is available. The primary Samsung models where this app is available are:
Galaxy S20
S20+
S20 Ultra and Z Flip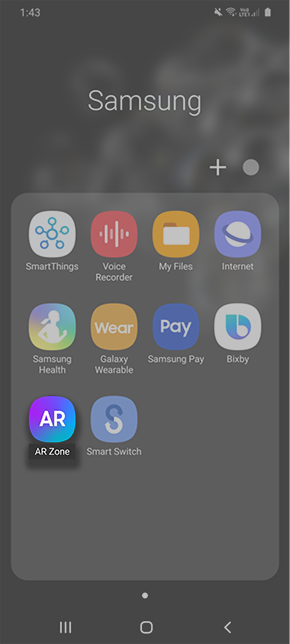 How does the AR Zone App Work?
The AR Zone is a Samsung app that lets you experience augmented reality with as little visual obstruction as possible. One of the most effective tools for Samsung smartphones is the Samsung Apps Store. Many long-time Samsung users are familiar with it, but newcomers are usually not. Here's a guide on how to use this app and what benefits it provides. An AR app that uses the camera on your Samsung phone to virtually turn your living room into a skating rink. How do I download and use this app? The AR Zone is a free app without ads but no in-app purchases. You can find it by searching for "AR Zone" on the main page of Samsung Apps, or you can go directly to https://galaxystore.samsung.com/prepost/000005227810. For an easier way.
How to Use the AR Zone App
The AR Zone is really easy to use. Here's how:
Slide the unlock bar to the right and select your apps menu.

Tap AR Zone.

Tap on the feature you want to use.
Book An Consultation With GraffersID
Features and Functions of the AR Zone App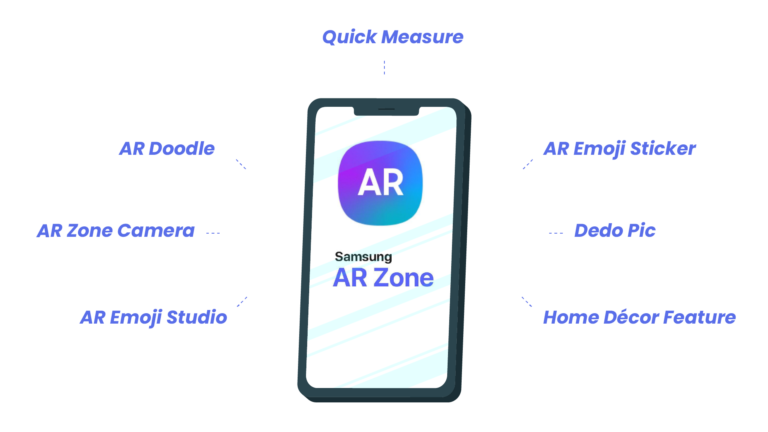 When it comes to the features, technically there are six features that every Samsung user can avail of in their smartphone through the AR Zone app.
These features include- AR Emoji Camera, AR Emoji Sticker, AR Emoji Studio, AR Doodle, Deco Pic, and Quick Measure.
Moreover, some recent models that the company has launched also offer 3D Scanner and some styling options. So, now let's move to the features, and try to understand in detail what does AR Zone App do:
1. AR Zone Camera
The very first feature is the AR Zone camera that allows you to make your own emoji version. Moreover, you can easily take pictures and record videos without any hassle.
To create an emoji version, you can begin by clicking pictures of yourself, your colleagues, friends, and family whose emoji you would like to create.
Go to the My Emoji section to create the emoji version and find the pic you recently clicked.
Apart from that, you also get access to a variety of camera modes with numerous characters. Also, you can record videos while enabling the animation mode.
Here's what you need to do to turn your wonderful imagination into reality:
Firstly, you need to move to the Home screen to choose "Camera".
After you have selected the camera, click on the "More" option and then choose "AR Zone".
Go to the "AR Emoji Camera" from the drop-down options.
Now, if you want to add a new emoji character, the camera will prompt a "+" sign.
The best part is that you will get directed to the screen where you will get simple guidance to technically use the feature.
With a single tap, you can go to the next screen and get the AR emoji app camera modes.
If you want to record videos, you can simply tap on the "Mask" mode. It will enable you to record videos and capture selfies, where you can use the mask emoji to create an animated version.
As you scroll down, you will get other camera options to click pictures or record videos that include the "Scene, Mirror, and Play" mode.
So, that's all for the camera mode, you can follow the steps and capture memories. Now, let's move on to the other features in the list.
2. AR Doodle
If you love making Doodle art, you have a great opportunity to showcase your Doodle art with the help of the AR Doodle feature.
You can easily create random anime characters and abstract patterns with this app which can act as a great stress buster for you.
All you can do is use this feature to create your own Doodle art and include the same in the background of the image you have clicked. The best part of this feature is that it can track the user's face; so, the Doodle art will automatically move when you move your head. Even a slight movement in your head can change the art.
3. AR Emoji Studio
Another great feature that AR Zone comes with is the AR Emoji studio that is easy to navigate and animated characters can be created with it.
You can pick the preferred characters and enjoy the life moments by transforming the entire experience. With the help of this feature, you can change your hairstyle, sunglasses, dresses, and even shoes. Exciting, isn't it?

Want to know Is an App is better than a website?
Now let's see how this feature functions:
As you move to the AR Zone, all you need to do is to tap the AR Emoji Studio. In case you haven't created an emoji, it's better to choose "Create My Emoji."
The screen will prompt some instructions that you will have to follow for customization to proceed with the makeover.
After you are done with the emoji customization, tap and hold the back symbol for other AR features that you want to use.
4. AR Emoji Sticker
After you have created your emoji character using AR Emoji Studio, if you think there's still some editing left to be done or you want to add more characters, you can choose "My Emoji." Here's what you need to do:
All you need to do is to move to the "All" section where you will get access to numerous emoji characters.
Select the contact numbers with which you want to share the emoji and GIFs you created.
To create a GIF, you can begin by tapping on the "Get Started" option and then following the on-screen instructions.
5. Dedo Pic
Dedo Pic is also a feature of the AR Zone app that allows you to send your own animated sticker to your friends and family. You can go to the Dedo pic and show your creativity by adding lip color, mustaches, and eye color to the character. The best part of the feature is that Samsung users can incorporate it into their existing devices and enjoy capturing fun moments.
6. Home Décor Feature
AR Zone also comes with a Home Décor feature that allows you to add virtual furniture along with other home essentials. You can use it to see how you can bring colors and elements to an otherwise dull-looking space.
7. Quick Measure
Another best thing about the AR Zone app is the ability to measure the size and distance of the subject. It really adds to the user experience and makes things a lot easier for the users.
Important Note:
If you are not a Samsung user, you may be wondering how you would be able to use such exciting features. Well, you don't need to worry anymore as you can easily download the AR Zone app from the Google play store and can enjoy creating your favorite emojis.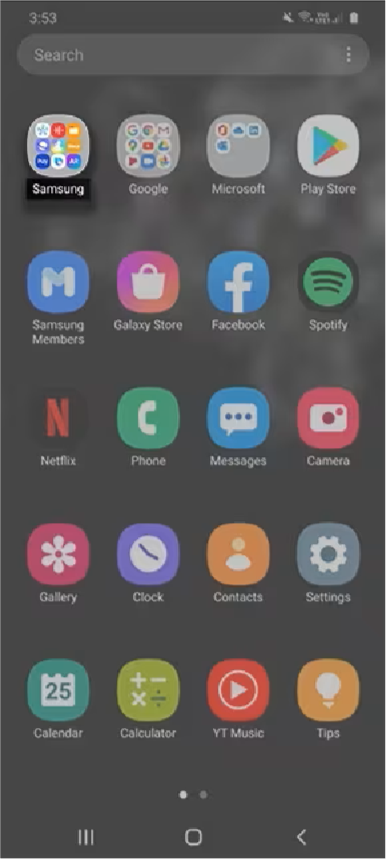 What is AR Zone on the Galaxy S20?
AR Zone is a software feature that is available on Samsung Galaxy S20 and some other Samsung devices. It is a platform that allows users to access a variety of Augmented Reality (AR) features and applications, including AR emojis, AR doodles, and AR stickers.
To access AR Zone on the Galaxy S20, users can swipe up from the home screen to open the app drawer, then find and tap on the AR Zone icon. Alternatively, some Samsung camera modes, such as the "AR Doodle" mode, may also launch AR Zone automatically.
Features:
AR Emojis: create a 3D avatar of yourself and use it to send personalized messages and emojis.
AR Doodle: draw and add virtual images to the real world using your camera.
AR Stickers: add fun and interactive stickers to your photos and videos.
Quick Measure: use your camera to measure the size of objects and distances.
My Filter: create custom filters using your photos and add them to your camera app.
Deco Pic: add frames and decorations to your photos.
Uses:
AR Emojis can be used to create personalized animated messages that are unique to you.
AR Doodle can be used to create fun and creative content that incorporates virtual objects into the real world.
AR Stickers can be used to add a touch of fun and humor to your photos and videos.
Quick Measure can be used to measure the size of objects and distances, which can be helpful in a variety of situations.
My Filter can be used to create custom filters that you can apply to your photos, giving them a unique look and feel.
Deco Pic can be used to add frames and decorations to your photos, making them look more visually appealing.

Top Benefits of the Samsung AR Zone App
The AR Zone app by Samsung is a new way to experience the world around us. It allows you to place an augmented reality (AR) character in your surroundings, interact with them, and find out more about the world.
Samsung's AR Zone app offers a lot of benefits including:
It provides interactive content that allows people to explore their surroundings in a whole new way.
It enables people to place an AR character in any location that they want and have them interact with the environment around them, giving people the chance to explore their surroundings in a whole new way.
It provides information on landmarks and places of interest, making it easier for people to find out more about these places when they are traveling or exploring their own city or town.
How Can You Uninstall the AR Zone app?
If you're not too keen on AR avatars, doodles, stickers, and emojis, then you might already have tried to uninstall the AR Zone app only to find you can't.
AR Zone is a system application and once it's on your phone, you can't delete it. It also means the app is safe, but if you don't want to see it on your phone you can remove it from your app screen. It will only be visible when you access the app through your phone's camera.
Here are the steps to remove the AR Zone app from your phone.
Open the App

Head to the gear icon in the top right-hand corner.

Toggle off Add AR Zone to Apps screen.
The app will be removed from your home screen but will still exist on your phone.
In order to access the app or re-add it back to your phone's app page, head to the MORE option in the phone camera and select AR Zone from there. Once in the AR Zone, you will find a gear icon. Press this icon if you want to get back to the page for this app.
What Can You Do in the AR Zone?
What we currently have with this app is more of a gimmick than a solid piece of software with the potential to be great. Many people think that it's just another AR emoji app rather than the AR experience Samsung intends for it.
Users can turn themselves into an emoji with AR Emoji Camera and even create AR doodles in AR Emoji Studio. It also has Deco Pic and AR Emoji Stickers which are much simpler to use than the other ones.
In order to fully enjoy the AR features of this app, you need to acquire an additional AR Emoji Editor app to create your own AR avatar to mirror your personality. For now, the app is not very useful because it does not have in-app purchases.
How is AR Zone App Different from the rest?
AR Zone Samsung app is a mobile augmented reality application that offers a unique experience. It has many features that make it stand out from the rest.
The AR Zone Samsung App is different because it offers users the experience of being in the game with the ability to interact with objects and characters in real-time. This is not possible with other apps, which are only limited to displaying images on a screen. The AR Zone Samsung App also has many other features that make it stand out and give it an edge over other apps of its kind.
The AR Zone app was developed by Samsung Electronics. It became available for download from Google Play Store and Apple App Store, after just two months of development time.
Can You Download the AR Zone App on My iPhone?
Samsung's AR Zone app has gained popularity among Android users for its AR capabilities, but what if you're an iPhone user? Can you download the AR Zone app on your iPhone? Before we dive into iPhone compatibility, let's understand Compatibility with iPhones.
Unfortunately, the AR Zone app is not available for iPhones. Samsung developed this app exclusively for its Galaxy series of smartphones. The app relies on Samsung's hardware and software integration to deliver its AR experiences, making it incompatible with iPhones. Here are some alternative options for you.
Alternatives for iPhone Users
While iPhone users cannot access the AR Zone app, they have access to a variety of AR-related apps and features. Apple has invested heavily in AR technology and provides several built-in features for iPhone users. Here are some alternatives to the AR Zone app:
a. ARKit
Apple's ARKit is a robust framework that allows developers to create augmented reality experiences for iOS devices. Many apps available on the App Store leverage ARKit to provide engaging AR content.
b. Snapchat
Snapchat offers a range of AR lenses and filters that are compatible with iPhones. Users can enjoy interactive and entertaining AR experiences when using the Snapchat app.
c. Pokémon GO
For those interested in gaming, Pokémon GO is an AR-based game that can be played on iPhones. It combines the real world with the virtual world, allowing players to catch Pokémon in their surroundings.
How To customize AR effects in the AR Zone app?
Before we dive into customizing AR effects, you need to make sure you have the AR Zone app installed on your Samsung device. If it's not already installed, you can easily download it from the Samsung Galaxy Store or Google Play Store.
Once you've installed the app, open it, and you'll be greeted with a user-friendly interface. Here's how to get started:
Step 1: Launch the AR Zone App
Open the AR Zone app from your app drawer or home screen.
Step 2: Grant Permissions
The app may require certain permissions, such as access to your camera and storage. Make sure to grant these permissions to ensure the app functions smoothly.
Step 3: Explore the AR Effects Library
You'll find a wide variety of AR effects and features in the app's library. These can include face filters, stickers, animations, and more. Browse through the available options to get a sense of what you can customize.
Customizing AR Effects
Now that you're familiar with the AR Zone app, let's delve into how you can customize AR effects to make your photos and videos truly unique.
Step 4: Choose an AR Effect
Tap on the AR Effects icon within the app.
Browse through the available effects and select the one that appeals to you the most.
Step 5: Customize the Effect
Once you've selected an effect, you can often customize it further. This might involve changing the color, size, or other parameters of the effect.
Experiment with the customization options until you achieve the desired look.
Step 6: Apply the Effect
After customizing the effect, tap the "Apply" or "Add" button to add it to your camera's viewfinder.
You can now use this effect in real-time while taking photos or recording videos.
Step 7: Capture Your Moments
With the AR effect applied, start capturing your photos or videos.
The AR effect will be visible in the frame, adding an extra layer of creativity to your content.
Top Alternatives to the AR Zone App
2.1. Snapchat
Snapchat, the popular social media platform, is not just for sharing disappearing photos. It also offers a robust AR experience. With its array of filters, lenses, and AR games, Snapchat allows you to transform your surroundings in real time. Want to know more? Let's explore Snapchat's AR capabilities.
Snapchat's AR Features:
Filters and Lenses: Snapchat boasts a wide range of filters and lenses, from funny masks to striking visual effects.
AR Games: Engage in interactive AR games like "Snappable" for some fun challenges.
Landmarker AR: Explore augmented reality landmarks in select locations around the world.
Snapchat is an excellent choice if you're looking for a social and playful AR experience. It's a fantastic platform for sharing your augmented reality adventures with friends.
2.2. Google ARCore
Google ARCore is a versatile AR platform that supports a variety of Android devices. It offers developers the tools and capabilities to create rich AR applications. Whether you want to measure objects or place virtual furniture in your room, Google ARCore has you covered.
Google ARCore's AR Features:
Environmental Understanding: ARCore can detect flat surfaces and create a virtual map of your environment.
Motion Tracking: It tracks the movement of your device precisely, enhancing AR realism.
Cloud Anchors: Collaborate with others in augmented reality experiences.
Google ARCore is a powerful choice for those who seek a versatile AR platform with endless possibilities.
2.3. IKEA Place
If you're passionate about interior design or furniture shopping, IKEA Place is a must-try AR app. This app allows you to place virtual IKEA furniture in your home to see how it fits before making a purchase decision.
IKEA Place's AR Features:
Furniture Visualization: Visualize how IKEA furniture items would look in your home.
Accurate Measurements: Measure spaces accurately to ensure furniture fits perfectly.
Realistic Rendering: Experience high-quality, realistic 3D models of furniture.
IKEA Place is an invaluable tool for home decorators and furniture shoppers, making it easier to make informed choices.
2.4. Pokemon GO
While Pokémon GO initially made headlines for its location-based gaming, it's also a great example of AR gaming done right. Explore the real world, capture Pokémon, and engage in exciting battles using your smartphone.
Pokemon GO's AR Features:
AR Exploration: Discover Pokémon in the real world through your device's camera.
AR Photo Mode: Take stunning AR photos with your favorite Pokémon.
Gym Battles: Engage in AR battles with other players in real time.
Pokémon GO is an excellent choice if you want to combine gaming and augmented reality in an immersive outdoor experience.
3. Why Seek Alternatives?
Users often explore alternatives to the AR Zone app for several reasons:
Diverse Experiences: Different AR apps offer unique experiences, ensuring you never get bored.
Device Compatibility: Some AR apps are not limited to specific devices, giving users more options.
Specialized Functions: Certain apps cater to specific needs, such as interior design or gaming.
Enhanced Features: Alternatives may provide advanced AR capabilities.
It's Time to Explore
So this was all about the AR Zone app. We hope that you have got the answer to your question, what is the AR Zone app? Knowing the features and functionalities, now you can use the app easily to capture images and record videos.
We hope you found this information useful. If you are a gizmo freak and like reading about technology, stay tuned with us!
Contact GraffersID, we diversify your team with talent, helping you reach your goals. 
Frequently Asked Questions 
Q: What is AR zone app?
A: AR Zone is a mobile application developed by Samsung for Android devices. It is designed to enhance the user experience of the device by providing a range of augmented reality (AR) features.
With AR Zone, users can create fun and interactive AR emojis, apply AR filters to their photos and videos, and use AR stickers to decorate their content. The app also includes AR Doodle, which allows users to draw and create animations in the real world using their cameras.
Q: Is the AR Zone app available for all Samsung devices?
A: The AR Zone app is available for most Samsung devices, however, some older models may not be compatible.
Q: What kind of AR effects can I use in the AR Zone app?
A: The AR Zone app offers a variety of effects, including stickers, animations, and filters. You can also scan QR codes to access additional effects.
Q: Can I use the AR Zone app to create videos?
A: Yes, you can use the AR Zone app to create videos with AR effects.
Q: Can I share the photos and videos I create with the AR Zone app on social media?
A: Yes, you can share the photos and videos you create with the AR Zone app on social media platforms such as Instagram and Facebook.
Q: How do I access the AR Zone app on my Samsung device?
A: The AR Zone app should be pre-installed on most Samsung devices. You can find it in the camera app or in the app drawer.
Q: Is the AR Zone app free to use?
A: Yes, the AR Zone app is free to use.
Q: Are there any in-app purchases available in AR Zone App?
A: There may be in-app purchases available for additional effects and filters.