Mobile and web application users are increasing tremendously. Most companies use these robust technologies for developing mobile applications, and experiencing a flawless and seamless user experience.
React JS is one of the robust technologies that are highly popular and in-demand for web app development.
React JS is an open source library used for mobile and web development. It enables developers to build reliable, fast, and scalable web applications. It works on the UI in the application and enables the creation of reusable UI components.
You can hire ReactJS developers to use it along with other frameworks or JavaScript libraries, which include Angular JS.
If you're wondering why it is popular, then dive into this article to know the purpose of using React JS:
What's the purpose of using React JS?
The main question that arises is when you have a bunch of open source platforms, then why should you choose ReactJS over other platforms? If you want to know why React JS  stands out amongst all the front-end frameworks, then here are the benefits of using React JS: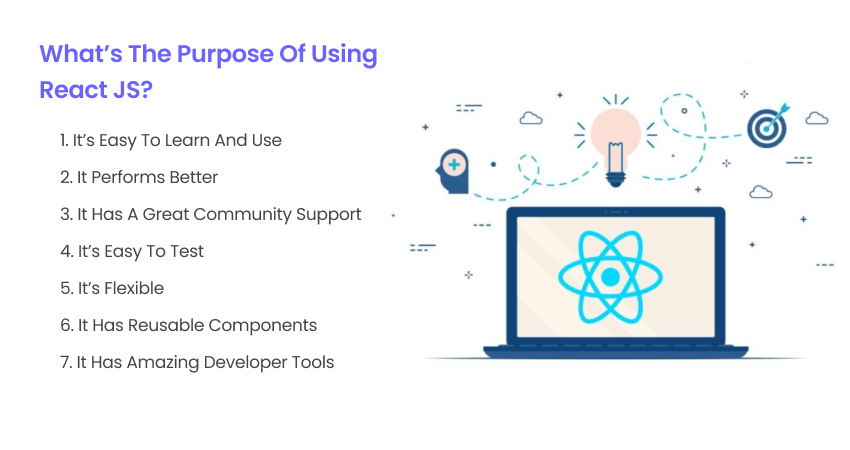 1. It's easy to learn and use
ReactJS is quite simple and easy to use. You can easily build any professional website with it as it uses less coding and provides high functionality. It's built on syntax called JSX. It's usability and applications sets it apart as JSX syntax is easy to code and use.
Also, it can be learned by anyone with a basic programming language. You just need to have a fundamental understanding of programming languages such as HTML and CSS.
2. It performs better
You can easily develop websites quite fast as it uses virtual DOM. The benefit of a virtual DOM is that it only updates the components that have changed instead of updating all of them.
Earlier, JavaScript was fast, but due to the update of the DOM, it became slow. Most libraries used to update them inefficiently, which resulted in changes in specific pages of the web.
Want to know the difference between React vs React Native 
Instead of updating all the components, the React team found an efficient way of updating the components' existing state changes. Initially, React would monitor each component and find significant changes. If the component state has changed, it would compare the changed state with what the new DOM will look like. Then it would find an efficient way to update the components.
This might sound complicated, but ReactJS does it effectively.
Also, most people use applications on their mobile devices, so it saves the battery.
Moreover, React JS is speedy as it automatically changes the state when the data gets updated as it's stored in the memory.
3. It has a great community support
ReactJS has become quite popular and, due to its growing popularity and demand, it has attracted a massive community and has become one of the top repositories on GitHub.
In fact, according to a Stackshare report, more than 9,000 companies use React for front-end web development.
You would be amazed to know there's a community specifically for React JS called React flux. It has over 1,10,000 members who actively share and discuss their reactions to the problems.
4. It's easy to test
ReactJS is user-friendly and is easy to test. Generally, UI browser testing is quite a hassle as it becomes difficult to set up, while ReactJS requires less configuration for testing.
Also, you can easily test React's components as it uses the node command line. The node command line works fast.
Unlike traditional UI browsers, which consume a lot of time, ReactJS can be written fast with tools such as enzymes and jest. This makes testing quickly and efficiently.
Know about Develop progressive web applications using React JS
5. It's flexible
What makes ReactJS more flexible than other libraries is that it is easy to use and can be used on various platforms for creating better user interfaces. You just have to learn it once, and then you'll be good to go.
React was specifically created to make components for web applications. Since its popularity is growing tremendously, its ecosystem has grown massively to cover cases.
You can easily create static websites with ReactJS and develop applications with React Native.
The silver lining is that it can be used for more than just developing new applications. In fact, you can use it in existing applications as well.
If you change a small part of the application, and if the changes work, then you can easily convert the entire application into react JS. Isn't it amazing?
Want to know how to hire ReactJS developer for your startup from India? 
6. It has Reusable components
React has a component structure. It all starts with building buttons, checkboxes, dropdowns, etc. Once you start with these tiny components, they start creating wrapper components. Here, each component has its own logic and can decide how it has to be rendered. What makes it stand out is that you can easily reuse the components.
The reusable feature makes it consistent and easy to develop the app and grow the code base.
7. It has amazing developer tools
Undeniably, react JS has amazing developer tools such as redux developer tools and react developer tools. You can easily install and add them into your chrome extensions.
You can use the React developer tools for inspecting the components and for observing the current props and states, while if you are using redux library then you can dispatch actions, current or modify stores, and can also see the changes in stores.
Interestingly, you can time travel as well as updates that would be done within the extension. Also, to debug, you can go to any state of the application and record it.

Conclusion
ReactJS is an awesome tool for building dynamic and flexible web and mobile applications. It's great for projects that require component reusability, interactive user experience, and excellent animations.
It also features a powerful user interface library that works well for any company, large or small. As a result, the organization is significantly reliant on React JS.
With this purpose, we hope you have understood why companies are so obsessed with React JS!