Are you a tech enthusiast or a business professional looking to diversify into the tech world? If yes, you better get started with selecting the right development process. This brings us to choosing the right "stack." A confusing word, right? Levering the technology starts with selecting the right technology stack between Java full stack VS MERN stack. 
And, if you are looking for answers in these two selected fields, you are at the right place. This detailed piece will allow you to navigate the complexities of choosing the right software development process and help you figure out the weak points and merits of a MERN stack VS Java full stack developer. 
When it comes to app or website development, one can leverage a multitude of technologies to ensure some extravagant characteristics. This is how the Stack terminology came into existence. Simply put, to build an app, you would need to use different stack technologies. And with regular technical advancements, custom app development always comes with a huge buzz. 
To select the right option between Java full stack vs MERN stack, you would need to understand the objectives, benefits and actual meaning of the two to make the right choice. 
Table of Contents
What Is Stack?
A stack is a mere combination of programming languages with compatible technologies. Generally speaking, a stack is of two types: technology stack and application stack. These two can be used to create highly engaging and supportive web and mobile applications. 
To be precise, a stack consists of a programming language, libraries, patterns, tools, frameworks and a UI or UX solutions software. 
The minimum components of a typical web application are a database, web servers, operating systems, and the development environment. Any company that creates websites should have the expertise and personnel to incorporate these features using the many platforms that are on the market. Additionally, because tech stacks have an impact on user experience and application functionality, clients should be aware of them. Web development stacks provide a complete set of tools and technologies as the base platform to assist in creating a usable web application.
Popular Stacks For Web Development
To manage various operations and development duties for web applications, multiple stacks are available, in addition to MERN stack VS Java. 
The top stacks for front-end, back-end, and full-stack web development are as follows:
Front-End Frameworks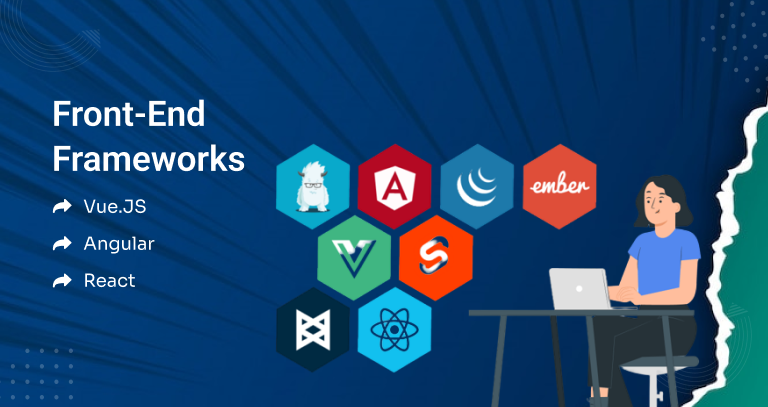 JavaScript frameworks are often the sole option for front-end development because they are the only ones that can be used with the Open Web Platform.
Popular front-end Javascript frameworks include:
Vue.JS
A model-view-view-model progressive open-source Javascript framework for building user interfaces. The deployment and management of single-page apps are made easier with Vue thanks to a user-friendly core library and several supplementary libraries. The framework may be implemented gradually, making it simple to scale up or down in accordance with workload and use case.
Angular 
An open-source Javascript front-end web framework for creating single-page websites, supported by Google and the open-source community. Angular seamlessly integrates with other libraries and is very extensible.
React
An open-source declarative Javascript language used to create user interfaces and UI components. React is a platform for creating single-page web pages and mobile applications supported by Facebook and an open-source community.
Back-End Frameworks
Popularity is frequently regarded as a reliable indicator of back-end framework viability since the most popular tech stacks receive higher community support. 
 Several well-liked back-end frameworks are:
Django 
A model-template-views-formatted online framework that is free, open-source, and based on Python. While allowing rapid development and deployment, the high-level framework promotes straightforward, helpful design. Every web application's web functionalities, including Forms, User Authentication & Permissions, Caching, and Data Serialization, may be built with Django.
Node.JS
A Javascript runtime that is open-source, cross-platform, and uses the Chrome V8 engine to execute JS code externally. Scalable network applications are created using a server environment created by Node employing asynchronous, event-driven processes.
Express.JS
A lightweight, adaptable framework for web applications that are based on Node.js and offers rich feature sets for application back ends. Express.js implements several HTTP utility methods and middleware, which enables the quick creation of APIs.
Famous Full-Stack Frameworks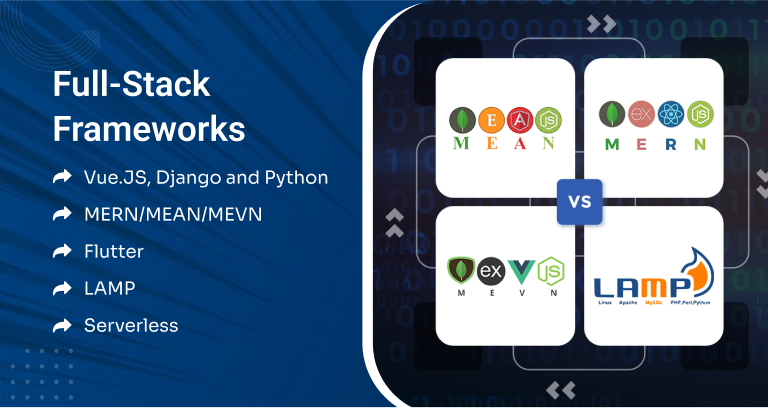 In full-stack development, developer teams are in charge of setting up servers, the platform underneath, the user interface, and all other elements necessary for a functional website.
Several well-liked full-stack frameworks are: 
Vue.JS, Django and Python
This stack expands upon Python, a general-purpose programming language, to produce a practical, simple-to-read, and simple-to-learn framework. 
By utilizing technologies like Class-Based Views and Object Relational Models, this OS-independent stack makes it possible to create rapid prototypes (ORM). Teams may develop databases without writing SQL code by abstracting the difficulties of creating and managing databases with Django ORM. This framework for building Single Page Applications combines the best of Angular.js and React.js into one library using Vue.js for the front-end.
MERN/MEAN/MEVN
These stacks provide a straightforward alternative to Javascript for the deployment of single-page apps. For certain of its parts, the following technologies are frequently used: 
Database Express.js and the server-side framework MongoDB 
Angular/React/Vue is the client-side framework. 
Node.js – Javascript Runtime
Flutter 
A toolkit for creating cross-platform web applications for Mac, Windows, iOS, Linux, and Android that is open-source. With the kit's user-friendly interface, programmers may produce natively generated programs from a single codebase for various devices. The layered architecture of Flutter allows for complete customization, flexible design, and short front- and back-end rendering.
LAMP
A model for a generic software stack that may be used to deliver high-performance web apps. A LAMP stack's frequently utilized technologies are as follows: 
Linux as the operating system

Apache as the server

MySQL as the database

PHP as the client-side language
Serverless
A feature of the Cloud Development Kit from Amazon Web Services enables businesses to create apps with managed back-ends. Organizations may concentrate on writing clean code while a cloud service provider performs functions that dynamically assign resources using the Serverless Stack (SST).
Want to develop a web app? Get in touch with us here
Web Development Stack: The Famous Components 
Typically, a web application has two parts: the server-side (back-end) and the client-side (front-end). 
Each of these parts comprises successive layers of technology that execute various functions and are stacked on top of one another. Thus, the data ecosystem that supports the operation of an application is created by combining a variety of technical services. Selecting the tech stack is frequently regarded as one of the most crucial aspects of application design and development due to its significance in the creation of an application. 
The tech stack not only affects the technical elements but also aids in the following: 
Determine the human resources that the company should employ. 

efficiency expectations for development teams 

Variety of things that the business can produce
Front-End Components 
The front end of an application consists of several elements that the user can view and directly interact with. 
In addition to the user interface, front-end development uses Open Web Platform web development tools to construct websites and apps. 
The front end of an application is made up of three primary parts:
The visual representation of data produced by front-end software is known as the user interface, which offers a graphical way to view, access, and change website data 

The set of symbols, guidelines for their use, and instructions carried out by each sign to convey information to the user makeup markup language. Websites frequently employ HTML markup languages to instruct browsers and content-viewing software on how to read and display material. 

Dynamic web pages are made possible by scripting and programming languages. These languages are designed to function as a component of the program, adding interactive features that enrich the user experience.
The fact that client-side programming tools and methods are continuously evolving presents a number of issues for front-end development. Users are also dependent on various devices with differing screen sizes, resolutions, and refresh rates, which complicates development considerations.
Back-End Components 
Several processes that operate in the background to handle user requests and transaction processing are found on the back end or server side of an application. Back-end frameworks provide communication between the web service and the database that stores and retrieves the site's content. 
A back-end also includes procedures for carrying out business logic and gaining access to other IT assets like file servers and cloud services. 
The back end of an application consists of a stack of many layers, including:
Application Logic: To create the application, application logic requires a server-side programming language. These coding environments are employed to create the instructions that inform web servers how to respond to user requests. These languages are often a component of a framework that makes coding easier by getting rid of repetition and the requirement to create new things.
File System: Every online application needs a file storage platform to manage the system and user data, which is called a file system. Modern web applications are data-driven, with IT operations, development, and data analytics working together closely to enhance user experience and product quality.
Database: A database is a structured data collection that allows for the organization, storage, and access of data created by an application, including information on items, transactions, user IDs, and other data. 
Hosting: Organizations can publish and expose their online services to the internet using the hosting service. Applications may be hosted internally, through third-party hosting, or through public cloud services. Based on the security, responsiveness, and dependability of their offerings, the best hosting company is selected.
Web Server: The part of the web application that manages user interactions with the back-end service is the web server. Transfer protocols (HTTP/HTTPS) are used by the webserver to convey data between the front and back ends. 
Web development frameworks: These frameworks offer models, structures, and parts to speed up the development of back ends and front ends. 
Operating System: Every server has an operating system installed, which serves as an interface for many software tools and hardware resources.
Want to hire remote developers? Get in touch with us here!
Full-Stack Development 
Full-stack engineers, who are unable to handle different software development streams, work on all facets of a platform. Full-Stack engineers might write original code for projects involving many technologies and different technologies, as well as provide a fantastic UX/UI. 
Full-stack developers are new programmers who have a broad grasp of all platforms. They resolve problems in several software development projects for full internet apps. 
In order to improve development, full-stack developers write original code employing a variety of technologies and a UX/UI.
The front end (client-side) and the back end (server-side) of a program are both included in full-stack development. Therefore, the presentation layer (which deals with the user interface), the business logic layer (which deals with data validation), and the database layer are all included in the full-stack web development process. 
A full-stack developer is an expert who manages the full-stack development procedure. As long as they comprehend how each technical layer (MEAN, LAMP stack, or any other) may interact with one another, this stack of engineers is capable of creating any dynamic web application from the ground up.
What Is Full Front-End Development? 
The creation of software, websites, and applications that code and create the front-end components are referred to as "client-side" development. These are the UI design components and features that the user, or client, may access and utilize. 
Everything you see on the screen is under the authority of a front-end developer, who also strives to improve user interface usability. Simply said, front-end web development is concerned with an application's interface and design.
What Is Full Back-End Development? 
The creation of mobile and web applications that take place in the program's back end is properly referred to as "back-end development." Unlike front-end development, which concentrates on customer-facing goods and programs, back-end web development incorporates server-side application logic and integration. 
Back-end programmers write the code that enables the communication between databases and online applications. Evidently, what you can't see is managed by back-end engineers.
Benefits Of Full Stack Development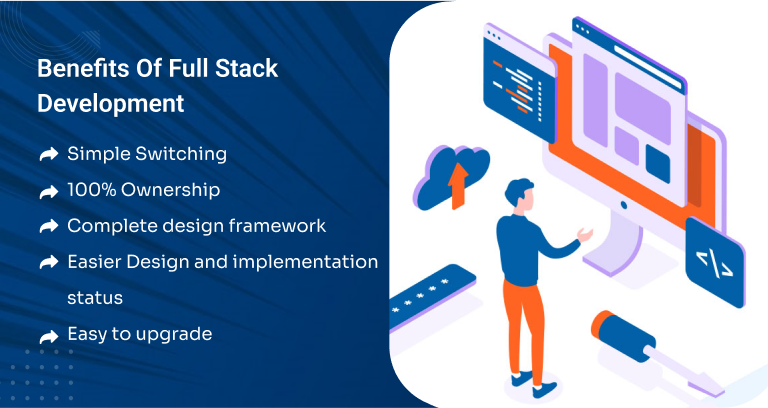 Due to its pervasive presence, the increasing aura of full-stack development is quickly gaining appeal. There are talented engineers here from a variety of backgrounds, including testing, mobile app databases, front-end, and back-end. 
Full-stack programmers pay close attention since they gain from the work they do, and they frequently work on projects using various technologies to provide excellent UX/UI. 
Today's full-stack programmers are capable of understanding and resolving possible issues with various software development streams. No companies are making a serious effort to distinguish MERN Stack VS Java in order to execute whole web or mobile apps from scratch without any cutoff.
Why go for Full-stack development? Here are some reasons why. 
Simple Switching: Depending on the requirements of the project, full-stack programmers always have the option to switch between front-end and back-end work. 
100% Ownership: When you hire a full-stack developer, the shifting duties come to an end. That resource is solely responsible for the development and resolution of bugs if any appear. 
Complete design framework: The main benefit of hiring a full-stack programmer is that they can look at the entire design structure and are connected to web development. 
Saving money on hiring a front-end developer with specialized training and a different back-end developer will boost costs. 
Easier Design and implementation status: A seasoned full-stack development firm may take charge of the whole design and process implementation for the website. 
Easy to upgrade: Full-stack developers can get up to the data with the new technologies and tools faster than someone particularized only in front-end or back-end technologies. 
Why Hire A Full-Stack Developer?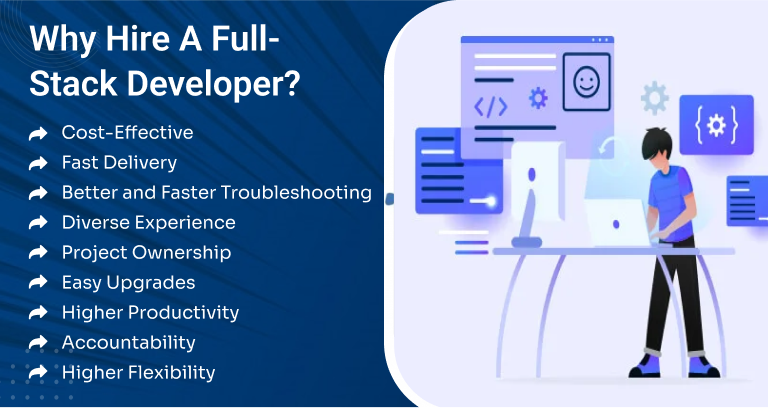 Although full-stack web engineers have significant knowledge and awareness of every aspect of software development, this knowledge and comprehension may not be sufficient to make a choice to hire full-stack developers. The benefits of your web development project are listed below.
Cost-Effective:
Hiring separate back-end and front-end developers will just increase expenses; a full-stack software company would handle both. All of the software applications required to build a website are familiar to developers working for a reputable company that specializes in full-stack development. 
Their expertise and adaptability assist in removing factors that might eventually lead to cost overruns. No business owner who is creating a web application can afford to overlook this.
Fast Delivery:
Full-stack developers frequently collaborate with others on a project or in groups. As a consequence, it is feasible for the participants to divide up the tasks involved in developing the web application architecture and collaborate for the best outcomes. As a result, the project is completed fast and according to plan. 
Additionally, because they maintain their skill sets and knowledge current, professional full-stack web developers are able to make the client's website comply with the most recent online safety standards and laws. Additionally, they may swiftly develop solutions for speed bottlenecks in already-running programs and websites.
Better and Faster Troubleshooting:
A variety of faults and mistakes might appear when an app or website is being developed. And it may occur at any stage of the construction of a website. For the majority of developers, locating the cause of such problems may be tedious and time-consuming. This means higher costs.  
A full-stack developer, however, will help the development process since they will immediately identify problems and come up with solutions. These programmers can debug better than most.
Diverse Experience:
Web programmers that can handle the whole stack are familiar with the complexities of network and application development. They will swiftly assess the project requirements and produce a workable plan with steps for implementation. 
These developers are better than others at coming up with original ideas and overcoming unforeseen difficulties because of their industry expertise. There is no other coder that can offer this.
Project Ownership:
You may discover it simple to concentrate on full-stack web developers for project specs. They are in charge of overseeing the entire web development process. Despite starting work in the middle of the project, they would map in the best way feasible. It is advantageous to have a full-stack web developer on staff since it helps with project quality assurance.
Easy Upgrades:
The process of managing and improving the Minimum Viable Product is simplified since full-stack web programmers are conversant with the most recent updates and innovations, boosting the chance of positive feedback from potential customers. 
As a consequence, they are able to use the same strategy in their practice, giving their clients access to the most recent technologies. Additionally, the greatest bilateral and open software programs will be provided to the clients.
Higher Productivity:
Having a seasoned full-stack developer on board for a website or software development project improves the team's overall competitiveness. The front-end and back-end teams are connected by these brilliant programmers. The team's younger members look up to these full-stack web programmers for references and cross-checking before release. 
The rest of the team will benefit from the inspiration of full-stack web developers. Consequently, the team gains from enhanced team communication. One of the finest advantages of full-stack development is that it would eventually help to increase the web development capability of your software project.
Accountability:
You will be in charge of overseeing the whole project, from front-end architecture to back-end programming and database maintenance, with the full-stack web developer you hire. He and his group will be in charge of overseeing the construction of the whole project. 
As a result, the entire stack developer will be held accountable for any issues that arise with the delivery schedule or the consistency of the final product. There won't be any passing of the buck between the two development teams. Projects handled by a full-stack web developer almost definitely have a higher quality than those handled by other types of developers.
Higher Flexibility:
Because they are familiar with both the service side and the client side, a full-stack programmer gives a great deal of flexibility and makes transitioning between responsibilities simple. The presence of a full-stack web developer cuts down on misconceptions between implementation sides and accelerates web development. 
The front-end developers and back-end developers do not need to hold a conference in order to explain the issue to one another when there is a full-stack developer present. The benefits of full-stack web development make it feasible for developers to oversee your project.
MERN Stack Development 
A web development framework is called the MERN stack. ExpressJS, ReactJS, NodeJS, and MongoDB are its functional components. Full-stack web applications may be deployed more quickly and easily with the MERN Stack, a JavaScript stack. 
Each of these four excellent technologies plays a significant role in creating software applications and offers developers an end-to-end framework in which to operate, offering it an upper hand in the Java VS MERN stack debate. 
With these tools, the back-end runtime environment is Node JS, the front-end framework is React, the back-end web framework is Express JS, and the database system is MongoDB.
Four Components of MERN Stack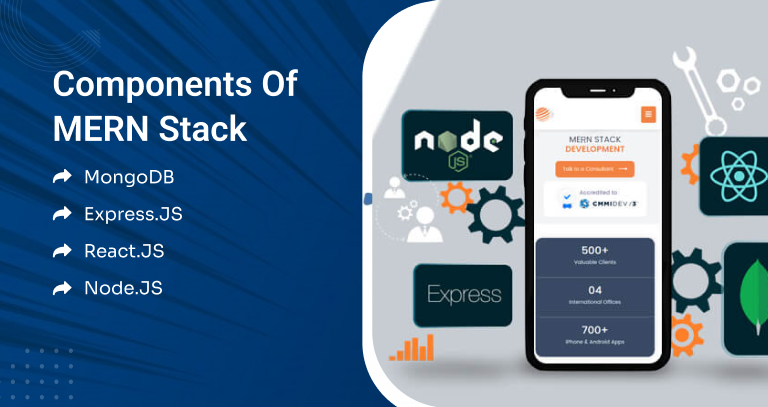 Here's a detailed analysis of the four key components of MERB stack development: 
MongoDB
Each entry in MongoDB is a document made up of key-value pairs that resemble JSON (JavaScript Object Notation) objects. MongoDB is a NoSQL database. Due to MongoDB's adaptability, users may build schema, databases, tables, etc. The fundamental building block of MongoDB is credentials that are made unique via a primary key. 
After installing MongoDB, users may also utilize the Mongo shell. Users may interact with Mongo Shell and perform actions including querying, updating records and removing records using its JavaScript interface.
Express.JS
For the Node.js framework, Express is a back-end web application framework. Express makes it simpler and easier to develop the back-end code than using Node.js and producing several Node modules. Great web apps and APIs may be created with the aid of Express. Express offers a wide variety of middleware, which results in quicker and simpler code. 
Developers use Express to make developing server code simpler than manually writing the entire web server on Node.js directly. There's no need to keep saying the same code. The Express framework is regarded as capable of producing reliable APIs and online applications. It is renowned for its lightning-quick performance and simple structure, and many capabilities are accessible via plugins.
React.JS
A JavaScript package called React is used to create user interfaces. Mobile apps, sophisticated software programs, and single-page web applications may all be created with React. React quickly to switch info that is changing a lot. With React, clients may write JavaScript code and build UI components. 
React is a JavaScript package available as open source that may be used to create views that are shown in HTML. React is not a framework, in contrast to AngularJS. A library is present.
Node.JS
A JavaScript runtime environment that is cross-platform was first created for Google Chrome before being made available by Google in 2008. It has the ability to run JavaScript code outside of a browser and is designed to help create scalable network applications. 
The JavaScript Environment provided by Node.js enables users to run their code on the server (outside the browser). The user may select from thousands of free packages (also known as node modules) to download using the Node Pack Manager, or npm. Instead of requiring an enclosed HTML page, Node.js assembles multiple JavaScript files using a module system based on CommonJS.
Want to hire remote MERN developers? Contact our team here!
Benefits Of  MERN Stack Development
When it comes to the Java VS MERN stack, it's safe to say that the MERN stack is an updated version of the MEAN stack. Acting as a merger of high-end technologies, MERN makes software development easy and offers an end-to-end framework for an easy development process. 
Here are some of the benefits of MERN stack development: 
Designed with outstanding neighborhood support. 

A vast range of in-built testing tools 

Access to top-notch tools for developing apps thanks to the React framework. The library is available to developers for use in creating web applications. 

Model view controller (MVC) architecture supported

With JavaScript, this tech stack can handle both front-end and back-end development cycles. 

React-based programming may be used by developers on both servers and browsers. With this JS stack, pages may be created on the server as needed.

MERN stack Advantages
The main advantage of the MERN stack for developers is that every line of code is written in JavaScript and JS, two languages that can be used for both client-side and server-side applications. 
Developers must work out how to interface Full-stack with numerous programming languages. Developers using stack just need to be knowledgeable in JavaScript and JSON. Generally speaking, web application developers may create incredibly efficient apps by utilizing the MERN stack.
Include a large pre-built suite of technology tools. 

A component that both keeps its state and renders itself is the fundamental unit of React. This is how it is rendered: a factor that describes the status of the data and the display. The developers may concentrate on the design and logic of the program by breaking the application up into components. 

The viability of MongoDB, Express, React, and Node.js. 

Supports the model view controller architecture to provide a seamless development cycle. 

React's code can be utilized on both servers and browsers since it can execute on the server. 

Every component of the MERN Stack is free and open-source.

Once more, the MERN stack spans the entire development cycle, from front-end to back-end development. 

Use javascript to complete the entire web development lifecycle, from front-end to back-end. You must be knowledgeable about JSON and javascript. 

The MERN stack supports the MVC design, eliminating obstacles to the development process. 

A selection of proprietary testing tools is pre-built inside the MERN Stack. 

A library is React. The React library gives you the resources you need to create your application, and you have total control over the library methods you use.
Factors Affecting Your Choice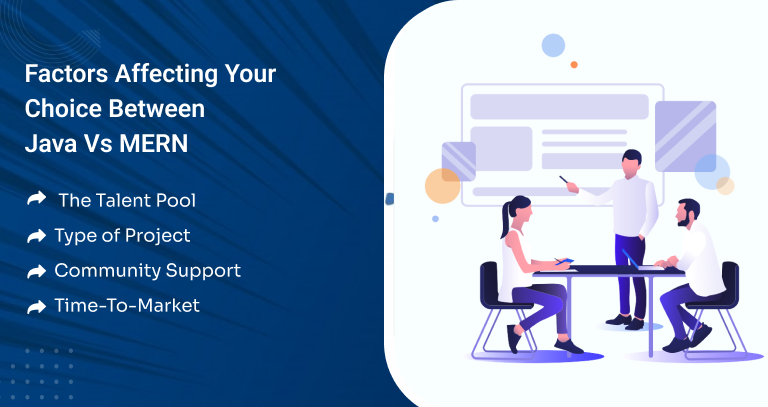 Given the complicated and dynamic nature of contemporary software creation, selecting the best tech stack to operationalize a web application between MERN Stack and Java may seem like an impossible undertaking. To operationalize an application, it is crucial to choose the proper mix of tools and processes since they are what will ultimately define how well the product performs in use. 
When choosing a tech stack or hiring between a Java full stack developer vs MERN stack developer for web development, consider the following factors:
Type of Project 
The amount of time and effort needed to deploy the program depends on the project's kind and scope. 
For instance, firms creating Minimum Viable Products need easy, quick development with flexible syntax. Therefore Ruby on Rails might be useful. On the other hand, Python is the most outstanding choice for projects involving machine learning, big data, and artificial intelligence since it provides rich libraries and a universal language for handling massive amounts of data. 
In addition to this, projects for general usage may be created using stacks that rely on the Java programming language for the variety of capabilities and advantages it provides.
The Talent Pool 
The organization has to have skill sets that are comfortable with the selected technology stack. Operational costs rise as a result of employee upskilling or recruiting requirements when new techniques are added to the toolchain. 
However, other tools call for transferrable abilities, which employees may learn while undergoing on-the-job training or changing roles.
Community Support 
Every well-known technology has a community that ends up being the most prominent supporter during various stages of the technology's development. Organizations should consider if the technology is supported by enough documentation, information, and remedial forums before choosing a tech stack. Tech stacks like Java VS MERN stack should also enforce robust source control and have a documented versioning mechanism for upgrades and fixes.
Time-To-Market 
Since quicker development and deployment provide a competitive edge, Time-to-Market is a crucial development component for any tech startup and software firm. 
Rapid application development and deployment also lower application development expenses. The following are some elements that affect how quickly a tech stack produces products: 
Operations that are not standard

Development accessibility 

Third-party Integrations Support and Documentation
Limitations to using Java Full Stack vs MERN Stack
Both the Java Full Stack and MERN Stack (MongoDB, Express.js, React, Node.js) have their own strengths and weaknesses. Let's explore some of the limitations associated with each of these stacks:
Java Full Stack Limitations:
Learning Curve: Java is a versatile language, but it can have a steeper learning curve, especially for beginners, due to its strong typing and complex syntax.
Boilerplate Code: Java-based frameworks like Spring can require a significant amount of boilerplate code, which can slow down development and make the codebase harder to maintain.
Performance Overhead: Java applications might have more overhead compared to more lightweight languages, which can impact the performance in some scenarios.
Scalability: While Java can scale well, the architecture and setup can sometimes be complex, requiring a good understanding of distributed systems and related concepts.
Deployment Complexity: Java applications typically require a Java Runtime Environment (JRE) to be installed on the host machine, which can make deployment more complex.
MERN Stack Limitations:
Complexity for Beginners: Learning the MERN Stack can be challenging for newcomers, especially if they are new to JavaScript or web development. The stack involves multiple technologies that need to be learned and integrated.
Security Concerns: JavaScript frameworks can sometimes face security vulnerabilities due to the vast number of third-party packages and dependencies used. It's important to stay up-to-date with security patches.
SEO Challenges: While modern search engines have improved in indexing JavaScript-based content, MERN applications might still face some challenges in terms of search engine optimization (SEO).
Real-time Performance: While Node.js is known for its asynchronous capabilities, its single-threaded nature can become a limitation when it comes to handling heavy real-time workloads, as it might block the event loop.
Database Scalability: MongoDB, the "M" in MERN, is a NoSQL database. While it's great for certain use cases, it might not be the best choice for all scenarios, especially those requiring complex joins and transactions.
Versioning and Compatibility: The fast-paced nature of JavaScript frameworks can sometimes lead to compatibility issues when upgrading packages or libraries, requiring careful management of dependencies.
Difference Between MERN stack vs JAVA full stack
| Aspect | Java Full Stack | MERN Stack |
| --- | --- | --- |
| Technology Stack | – Backend: Java, Spring Boot<br>- Frontend: HTML/CSS, JavaScript, JSP/Thymeleaf | – Backend: Node.js, Express.js<br>- Frontend: React.js |
| Backend | – Utilizes Java and Spring Boot framework<br>- Offers robust security features and mature ecosystem | – Relies on Node.js and Express.js for a lightweight and efficient backend<br>- Offers a simpler and more modern approach to backend development |
| Frontend | – Combines HTML/CSS and JavaScript for user interfaces<br>- Often employs server-side rendering (JSP/Thymeleaf) | – Utilizes React.js for building dynamic and interactive user interfaces<br>- Embraces client-side rendering for faster UI updates and user experience |
| Database | – Commonly uses SQL databases like MySQL, PostgreSQL, etc.<br>- Offers strong data integrity and consistency | – Relies on MongoDB, a NoSQL database, for flexibility and scalability<br>- Suits applications with unstructured or semi-structured data |
| Scalability | – Scalability can be more complex due to traditional server-based architecture<br>- Requires careful consideration of scaling components | – Easier scalability due to Node.js's event-driven, non-blocking architecture<br>- Can handle a higher number of concurrent connections efficiently |
| Language | – Develops backend and frontend using Java | – Entire stack is built using JavaScript |
| Development Speed | – Initial setup might take longer due to configuration and boilerplate code<br>- Development may require more time due to the compilation process | – Faster setup and development due to unified JavaScript language and tools<br>- Hot-reloading in React accelerates frontend development |
| Community | – Java has an established and diverse developer community | – MERN stack has a rapidly growing and dynamic community |
| Learning Curve | – Involves a moderate to steep learning curve, especially for beginners to Spring Boot | – Offers a moderate learning curve, especially for developers already familiar with JavaScript |
| Frameworks | – Utilizes Spring Boot for backend development<br>- May use Hibernate for database operations | – Relies on Express.js as the backend framework<br>- Employs React.js for frontend development |
| Flexibility | – Provides high customizability and allows tailoring components and architecture | – Offers flexibility through React's component-based UI development |
| Ecosystem | – Java ecosystem is rich with libraries, tools, and frameworks | – MERN ecosystem is growing, with numerous libraries and tools for each component |
| Job Market | – Java developers are generally in demand, especially in enterprise settings | – MERN developers are increasingly sought after as modern web applications gain popularity |
| Maintenance | – Maintenance can be complex due to a variety of tools and technologies used | – Simpler maintenance due to the unified stack and component-based architecture |
| Hosting/Deployment | – Various hosting options are available for Java applications | – Node.js hosting is common for the backend, while React apps can be hosted using various platforms |
| Complexity | – Java Full Stack can be more complex due to the integration of multiple technologies | – MERN Stack offers a simplified architecture, with a unified tech stack for the entire application |
| Suitability | – Well-suited for larger, enterprise-level applications<br>- Projects that require strong security and performance | – Ideal for smaller to medium-sized projects where rapid development is a priority<br>- Fits well for applications with real-time features |
Detailed Comparison: MERN Stack vs. Java Full Stack
Learning Curve and Skillset
MERN stack predominantly relies on JavaScript for its components, making it an attractive option for developers who are well-versed in this language. If your team is already comfortable with JavaScript, adapting to the MERN stack can be relatively smooth. On the other hand, Java Full Stack requires proficiency in Java, which might be advantageous if your team has experience with the language. Consider your team's existing skills and the learning curve associated with each stack.
Development Speed and Efficiency
The MERN stack's use of a single language, JavaScript, across all components can accelerate development speed. Developers can seamlessly transition between different parts of the stack without the need for context switching between languages. This uniformity can lead to faster iteration and more efficient development cycles. In contrast, Java Full Stack's comprehensive approach, while offering a wider range of tools, can sometimes result in a slower initial development pace due to the additional considerations required for both front-end and back-end components.
Performance and Scalability
MERN stack's Node.js, with its asynchronous architecture, is well-suited for real-time applications and scenarios where high concurrency is essential. This architecture allows for efficient handling of multiple connections simultaneously, making it a strong contender for applications that require rapid data processing and updates. On the other hand, Java Full Stack provides a mature ecosystem for managing scalability in large applications. With robust tools and libraries, Java Full Stack can effectively address the challenges of building and maintaining complex systems that need to handle a high volume of traffic.
Ecosystem and Third-Party Libraries
MERN stack leverages JavaScript's extensive ecosystem, which is rich in third-party libraries and tools. This abundance of resources can expedite development by providing pre-built solutions for various challenges. However, the sheer number of options can sometimes lead to a paradox of choice, where selecting the right library becomes a decision in itself. Java Full Stack, with its long-standing presence in the development world, boasts a plethora of well-established libraries and frameworks that cater to various needs. These mature tools can provide a sense of stability and reliability when building complex applications.
Use Cases: What Should You Choose?
The choice between MERN stack and Java Full Stack often comes down to the specific use cases of your project. MERN stack shines in scenarios where rapid development and MVP creation are critical. It's flexibility and real-time capabilities make it well-suited for startups looking to iterate quickly and launch their product to market. On the other hand, Java Full Stack finds its strength in enterprise-level applications that require a high degree of security, scalability, and robustness. If your project involves complex business logic and demands stability under heavy traffic loads, Java Full Stack could be the better choice.
Hire Remote MERN Developers Today
Choosing MERN stack for your development process? We bet you'll need the best MERN stack developer for your upcoming projects. You can hire remote MERN developers by getting in touch with us today. We serve as an IT staff augmentation company that helps you meet all your professional goals in time by connecting you with remote, global talent. 
Frequently Asked Questions
Q1: What is Java Full Stack development?
A1: Java Full Stack development refers to the development of web applications using Java programming language for both the front-end (client-side) and back-end (server-side) development. It typically involves using Java frameworks like Spring or Java EE for the back end, and HTML, CSS, and JavaScript for the front-end.
Q2: What does MERN Stack stand for?
A2: MERN Stack stands for a combination of technologies used for building web applications: MongoDB (a NoSQL database), Express.js (a web application framework for Node.js), React (a JavaScript library for building user interfaces), and Node.js (a JavaScript runtime environment).
Q3: What are the advantages of Java Full Stack development?
A3: Some advantages of Java Full Stack development include:
Java is a mature and widely adopted programming language with a large ecosystem of libraries and frameworks.
Java provides strong server-side capabilities, allowing for robust and scalable back-end development.
Java has extensive support for enterprise-level development, making it suitable for building complex applications.
Java offers good performance and high reliability.
Q4: What are the advantages of the MERN Stack?
A4: The MERN Stack offers several advantages, including:
JavaScript is used throughout the stack, providing a consistent language for both front-end and back-end development.
React, a component-based UI library, allows for building interactive and responsive user interfaces.
Node.js enables server-side JavaScript execution, making it easy to share code between the front-end and back-end.
MongoDB's flexibility as a NoSQL database allows for easy data manipulation and schema flexibility.
Q5: Which stack should I choose, Java Full Stack or MERN Stack?
A5: The choice between Java Full Stack and MERN Stack depends on various factors. Java Full Stack is a good choice if you have experience with Java and prefer its strong server-side capabilities. It's suitable for enterprise-level applications and offers a wide range of frameworks and libraries. On the other hand, MERN Stack is a popular choice for building modern, single-page applications with a focus on JavaScript and React. Consider factors like your project requirements, team expertise, and scalability needs when deciding.
Q6: Is Java Full Stack better for large-scale enterprise applications?
A6: Java Full Stack is often preferred for large-scale enterprise applications due to Java's maturity, extensive libraries, and frameworks tailored for enterprise development. Java's strong server-side capabilities, scalability, and performance make it well-suited for handling complex and demanding applications.
Q7: Does the MERN Stack support mobile app development?
A7: While the MERN Stack is primarily focused on web development, it's possible to leverage the React Native framework, which is based on React, to build mobile applications for iOS and Android using JavaScript. React Native allows you to write code once and deploy it on multiple platforms.
Q8: Can I use both Java and JavaScript together in a project?
A8: Yes, you can use both Java and JavaScript in a project. Java is primarily used for server-side development, while JavaScript is mainly used for front-end development. You can integrate them by building a RESTful API using Java on the server side and using JavaScript frameworks like React or Angular for the front end.
Get in touch with us to hire the top Indian developers at the lowest costs.