Since its inception in 2012, Nykaa has been one of the most famous billion-dollar concepts in the health, fashion, and makeup industry. Currently, the company raised revenue of more than INR 18.6 crore in the 2020 fiscal year. From a stunning marketing concept to collaborating with highly influential people around the world, Nykaa has hit each and every milestone that has ever come it's way. What started as a simple start-up, the company has been growing ever since its inception and is a true example of consistent efforts and a great idea. 
So, back to the main question, how do you build an app like Nykaa? Before we get into this, let's discover how Nykaa actually reached the position it currently holds. Read on to learn the main pointers on how you can build a cosmetic store app like Nykaa. The blog states the Nykaa business, its revenue model, the concept behind the whole app development, and the features that make it so unique. 
Table Of Contents
The History Behind Nykaa
Market Size of The Beauty Industry In India
How Does A Beauty App Actually Work?
Types of Customers Nykaa deals
How Does The Nykaa App Generate Revenue?
Services You Can Consider To Build An App Like Nykaa
Top Beauty Apps Like Nykaa
The Hype Behind Nykaa
What Features Do You Need To Add For An App Like Nykaa?
Stack Technologies Required To Build A Cosmetic Store App Like Nyk
What Would The Team Structure Look Like?
How Much Would It Cost You? 
The History Behind Nykaa: How Did It Start?
The idea behind Nykaa app first came to the founder, Falguni Nayar, when she first visited the Sephora store. She was intrigued by the user experience offered to the customer and the presence of all high-end products in one place. This boosted her entrepreneurial mind and made her realize that India needed an e-commerce platform that could offer all the beauty products to the customers.
With this thought, Nykaa was invented in 2012. The company received its first order on October 24, 2012. In 2015, the company began opening its physical stores all over the country to gain more attention and with an intent to provide all brands and beauty products under one roof. In 2015, the company also launched its own cosmetic brand: Nykaa Cosmetics. Later on, in 2018, the company launched two more verticals: Nykaa Man and Nykaa Fashion. The company, then, acquired 20dresses.com in 2019 and collaborated with the first celebrity partnership brand: Kay Beauty. In 2020, the company made an entry to the Unicorn Startups list and raised 100 crores from Steadview Capital. In 2021, the company successfully acquired the famous Indian fashion jewelry brand: Pipa Bella.
Currently, Nykaa receives more than 13,00,000 orders per month and sells more than 104 products every minute. Moreover, the company has a 72% repeat customer rate on a monthly basis.
And, what's the success behind this all? It's the app. The app is easy to use, easy to install, compatible with all devices, has an easy-to-understand and exciting interface, and runs pretty fast.
Figures And Market Size of The Beauty Industry In India 
During the pandemic, the global cosmetics market grew by 8 percent compared to 2019, and its dominant products were perfumes, hair care products, deodorants, makeup products, hygiene products, and oral cosmetics. Skin care is also the most profitable market segment and is estimated to generate around $177 billion in 2025. If you want to build an on-demand app like Nykaa, hiring a cosmetics development company would be the best choice based on your expertise to create a high-quality and durable application.
How Does A Beauty App Actually Work?
 
Nykaa uses a stock-based business model that allows brands to guarantee authentic and high-quality products to users. 
Nykaa buys products directly from manufacturers or brands and displays them on its website and e-commerce app. The products are then stored in their warehouses in various locations, including Mumbai, New Delhi, and Bangalore. Nykaa users can place orders on its website, e-commerce app, or brick-and-mortar store. Nykaa's inventory-based business model generates high-profit margins for online retailers. 
Since the product comes directly from the brand or manufacturer, the authenticity of the product is guaranteed, which helps Nykaa gain the trust of its customers, thereby increasing sales from loyal customers.
Nykaa's business model is based on a broad customer base. It can, however, be summed into the following pointers: 
Customers who want to buy from a specific high-fashion brand.

Customers who wish to use a famous platform to sell their products.
Here are the different types of customers Nykaa deals with: 
Product Seekers: Aged between 19-25, this group is usually searching for a favorite brand they can rely on and are willing to seek some advice. 
Busy Shoppers: Aged 27-45, this customer category is office-goes who have a busy schedule and know what they want. They have little time to shop and buy only what they have tried before. 
Beauty Conscious: Aged 25-45, these customers are willing to work on their style and beauty and might be willing to spend a fortune on top brands. 
Brand Seekers: This group is quite familiar with international brands and are specific brand seekers. 
Moreover, with Nykaa's expansion into several verticals like Nykaa Man, Nykaa Luxe, Nykaa Fashion and Nykaa Pro, the business model has expanded to cater to the following group as well: 
Men with a busy schedule, seeking grooming products 

Fashion-centric customers searching for the best collection

Makeup professionals or salon owners, looking for quality products at a discounted rate. 

People looking for Indian or international premium/luxury products. 
So, if you are up to building an app like Nykaa, you must start with defining your customer base, even before you get started on the designing or layout part. 
Read Also: Develop an App like UrbanClap
How Does The Nykaa App Generate Revenue?  
The app generates revenue based on several different models. Here's how: 
Product Range:
Nykaa earns most of its sales by selling co-branded products and its own product range. For beauty and wellness brands, this can be a great way to generate revenue and secure a good income. 
Sales Fees:
A major part of the revenue can be earned through sales fees, as Nykaa reported a fee income of Rs 8.8 lakh in FY 2019. 
Advertising Management:
This app store of cosmetics online also uses this revenue model to monetize partner brands from banner ads on their apps, websites, and online stores. 
Side Pins:
On-demand cosmetic store apps can also generate revenue through side pins. As with Nykaa, it has additional revenue streams through side services such as Nykaa Fashion and Nykaa Man.
Services You Can Consider To Build An App Like Nykaa
Nykaa offers several services like: 
Beauty & Cosmetics:
Here, the Nykaa app deals with beauty and wellness products like makeup, body care, personal hygiene and more. 
Women's wear:
Nykaa's on-demand e-commerce platform 'Nykaa Fashion,' focuses on designer and branded products, including apparel, shoes and accessories.
Pro Member:
This exclusive membership program provides makeup artists and salons with special offers, discounts and educational content. 
Nykaa Luxe:
This is an app by Nykaa that deals with luxury brands for high-end brands. 
Nykaa On-Trend Stores:
This is another new launch by Nykaa, where they carry beauty and makeup products from popular brands, and their expert staff guides customers to find the right product for their personality.
Top Beauty Apps Like Nykaa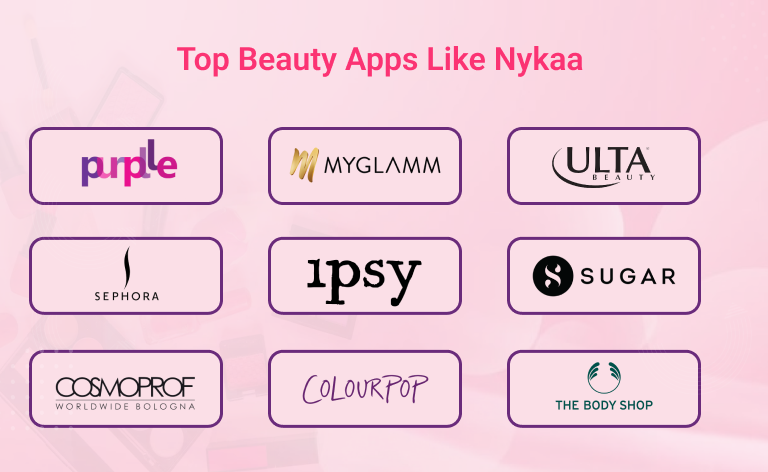 While Nykaa is perhaps the most common choice among fashion enthusiasts, there's no denying that there are a number of other cosmetic apps that work just like Nykaa. Here are the most famous ones: 
Purplle

Sephora 

Ulta Beauty

MyGlamm

IPSY

Sugar Cosmetics 

CosmoProf

Colour Pops

The Body Shop
Read Also: What Are the Best Celebrity Look-Alike Generator Apps?
The Hype Behind Nykaa
Noted when we said the market is full of other cosmetic brands? But, did you ever wonder why Nykaa always holds the first position always, particularly in India? 
For starters, unlike Sephora or Ulta, Nykaa was actually built to provide affordability in addition to fashion products. While Nykaa does deal in high-end luxury brands, the focus has always been "the budget."
Apart from this, what set's apart Nykaa from other e-commerce apps is because of the following reasons: 
Wide range of products:
Nykaa offers a wide range of products ranging from local Indian brands to premium and luxury international brands. This way, you talk to different audiences. 
User-friendly UX/UI:
The app has a user-friendly API that allows its users to easily navigate their apps and websites. It is easy to find the products that the users of the application are looking for and improve the user experience. 
Shipment tracking:
This app allows its users to track their shipments from within the app. This is a feature highly appreciated by users as they want a complete view of where their load is. 
Shipment Schedule:
It is common for a customer to be out of town for the next few days or may be too busy to receive a shipment at a location. To solve this, Nykaa allows its users to schedule the delivery of products or change addresses when not necessary. This makes it easier for buyers to receive orders. 
Express delivery:
Nykaa allows its users to schedule urgent deliveries in case they need an urgent order.
Easy returns and refunds:
It often happens that users are not satisfied with their purchase, so the app makes it easy to return and refund the product once the product reaches the warehouse and has been inspected. 
COD options:
The app offers a variety of payment options, but most users prefer the cash-on-delivery option, where users can pay after receiving the product. 
Attractive referral program:
Nykaa offers an attractive referral program that helps brands build customer loyalty. 
Beauty guide and blogging:
Customers are often interested in buying cosmetics or skin care products but don't know how to use them. To address this conundrum, Nykaa offers beauty guides and blogs that describe how to use these products.
What Features Do You Need To Add If you Build An App Like Nykaa?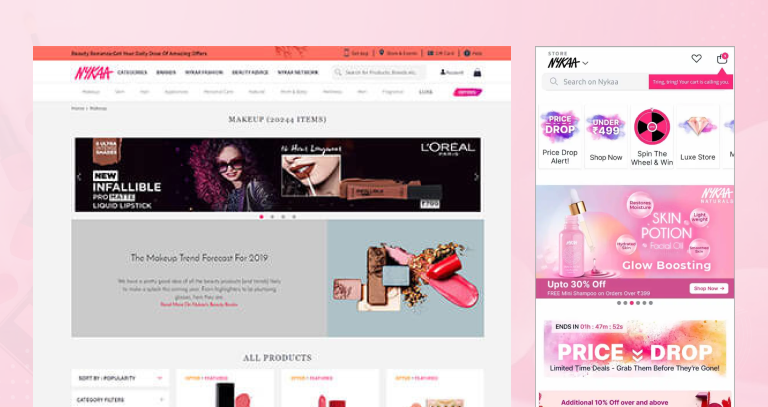 To be as successful as Nykaa, your beauty or cosmetic app must have the following features: 
Social Login/Registration:

It can be great to integrate cosmetics e-commerce apps with various social media as it helps to improve consumer interaction. One way to do this is to enable social media login and login to the app, where users can start using the app on their social media platforms like Facebook, Twitter, etc. 
Push Notification:

This feature is used to send alerts and notifications to app users, about their shipment, order confirmation or other useful information.
Product Recommendation:
It is beneficial for a cosmetic e-commerce app to provide users with professional beauty advice and product recommendations, as they like this kind of personalized service. 
Voice Assistance:
This feature saves users from typing their needs as they can simply use their voice to search for the desired products or services. 
Multiple Payments:
On-demand cosmetic apps can be integrated with multiple payment options so that app users can pay as they wish.
Video Shopping:
This online shopping video feature allows users to check in real-time how the product feels to them with virtual assistance. 
Loyalty Program:
The Loyalty Program ensures that app users remain loyal to the program using rewards and discounts. This is a good way to keep users in the app, for example, by allowing them to track their cash and rewards points so they can easily use them on their next order. 
Live Dashboards:
Here, the data on the application dashboard is automatically updated in real-time using the latest available data. This allows the company to monitor sales and overall business performance. 
Real-Time Analysis:
Real-time data is often used for tracking or navigation or making quick decisions using real-time data. Therefore, this feature is widely used in in-demand cosmetic stores.
Inventory Management:
This feature is useful if you want to keep track of finished products so they can be stored in the back. 
Product Information Management:
This feature is helpful for an e-commerce beauty brand because it allows you to manage the product information of all products displayed on the Nykaa app or on its website. 
Warehouse Management:
This function can be helpful for the integration of an on-demand cosmetics brand, as it focuses on the safe storage of cosmetics in the building.
Logistics Management:
This function integrated with the on-demand cosmetics business helps manage the storage and distribution of goods. 
Accounting and Tax Management:
A good accounting and tax management function are very important for a subscription cosmetics brand because it is helpful to comply with the Income Tax Act and related regulations. The account and tax management feature is beneficial to avoid paying interest, fees, fines, etc.
Read Also: In-Demand Programming Languages
Stack Technologies Required To Build A Cosmetic Store App Like Nykaa
Coming to the technology needed, you would need to hire a full-stack developer, plus the entire development team, to ideate, build and maintain a passive application like Nykaa. 
For starters, you'll need React.JS, PHPfpm, and Varnish Software for the front-end development process. For the back end, you'll require Node.JS, Redis, Solr, Apache Tomcat, and Django. For the database part, you need MySQL and MongoDB. For the DevOps and Cloud storage part, you'll require EFK, CHEF, Docker, Pagerduty, Nagios, jFrog Artifactory, New Relic, Pingdom and Cronitor,io. 
What Would The Team Structure Look Like? 
To build an on-demand app like Nykaa, it is recommended to hire a highly experienced development team that aces in high-performance attributes. 
On average, your team to build an app like Nykaa should consist of the following professionals: 
Project Manager

Back-End Developer

Android and iOS Developers

UI and UX Developers 

Quality Analysts and Testers

Delivery Managers 
How Much Would It Cost You? 
Apart from the subscriptions and marketing part, building an app like Nykaa can be a little expensive. Honestly speaking, the cost would depend upon factors like if the app is being built on a hybrid or Native model? the number of developers you hire, where you hire your developers from or the experience you want your team to have. 
If you are facing a financial crunch, you can hire a team of remote developers who can help you meet your goals in time and help you build an app like Nykaa. 
Hire Remote App Developers At The Lowest Prices Today
Once you have your marketing, business, and working plan all set, it's not that challenging to build an app like Nykaa. With the right team and by tapping into the right resources, you can quickly build a successful app that might even help you compete with the fashion giant. 

Regardless, all things go down to hiring the right team. With us, you can hire the best remote app developers, who will carry hands-on experience up their sleeves and will be willing to contribute to you on this special project. 
Have An App Idea? Contact Us Today!