E-commerce / peer to peer marketplace is growing with an average rate of 17-18% annually. People are opting to buy online over getting stuck in the traffic to hit the store in-person, which makes e-commerce a profitable investment and effective business tool.
However, traditional online stores are now transforming to the peer-to-peer marketplace which is gaining incredible popularity these days. According to the recent prediction by PwC, the sharing economy is expected to rise to $355 billion by the year 2025.
The enormous success that current marketplaces like Amazon, Etsy, Airbnb and eBay have got tells that with the right idea and perfect implementation you can also be ranked amongst them.
Here is a comprehensive guide for you to understand the Peer-to-Peer marketplace and how to build one such successful business model.
The blog covers:
What is the online P2P marketplace?
How P2P marketplace is different from online stores?
Benefits of building a two-sided marketplace
Famous players in Peer-to-Peer eCommerce business
Essential building Blocks to Build Peer to Peer Marketplace
How to build a Marketplace
Typical Features for Online P2P Marketplace
What is the online P2P marketplace?
A peer to peer marketplace is an online business model which involves sharing of products and services by buyers and sellers. For example, Amazon provides an opportunity for various sellers to make their products reach consumers.
Uber lets you book a ride to get anywhere. P2P model also allows buyers and sellers to exchange their roles. You can book a ride on Uber and you can even become a driver with the company.
Both the user groups are free to exchange services and good in a peer-to-peer marketplace platform.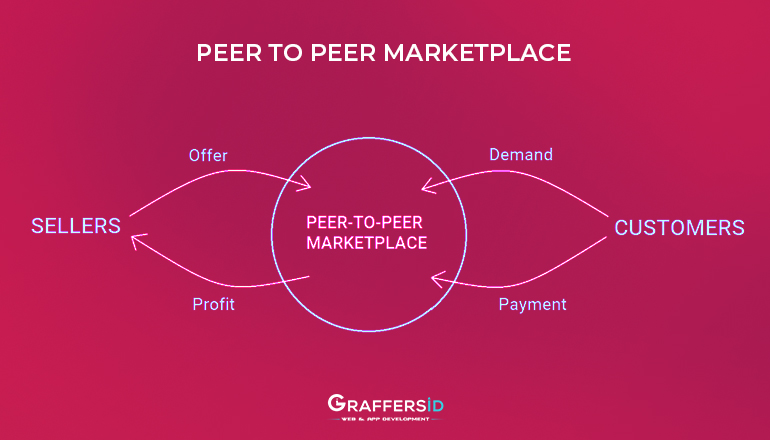 How P2P marketplace is different from online stores?
P2P marketplace is a two-sided marketplace where every user can have their storefront to sell products or services.
More specifically, users become vendors on your marketplace and they create product listings, exchange products from their accounts, get ratings and more, which is not possible through an online store.
When it comes to technical aspects, you can build peer-to-peer marketplace software with Magento, Spree Commerce and other such e-commerce platforms.
You only need to add marketplace functionality to the top of the online store to let users share their products.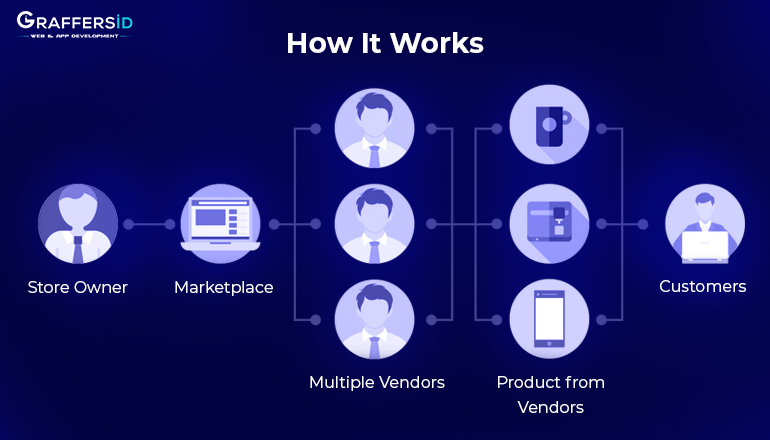 Benefits of Building a Two-Sided Marketplace:
1. Network effect:
You would simply require giving the first push to make your website recognizable, and rest will be done by the users. They will do the task of popularizing your services.
2. Financial benefit:
Online P2P marketplace involves earning with minimal efforts. You don't need to find suppliers or buyers; your marketplace would be visited by both buyers and sellers. So, here you can earn a good profit without any hassle.
3. Geographical freedom:
When it comes to the online two-sided marketplace, the number of users is not limited to your location. The problem of good delivery is not up to you, you just need to provide a platform on which buyers and sellers can interact. So, the potential users on your site can be from multiple locations.
4. Simplicity:
You can make the entire process of developing a peer-to-peer marketplace easier by outsourcing your project to offshore development team. The development team will not only provide you with the right assistance but can also develop an MVP, to begin with.
5. Financial Accessibility:
Launching an electronic trading platform is quite economical than investing in the development of full-fledged e-commerce or online store.
Famous players in Peer-to-Peer e-commerce business:
Airbnb:
Airbnb's story is quite interesting. Founded in 2007, Airbnb was initially known as AirBed&Breakast.
The app was started when the founders Brian Chesky, Nathan Blecharczyk and Joe Gebbia saw that there were no hotel rooms available for travelers who have come to attend the conference for the Industrial Design Society of America (IDSA) in 2007.
The three set up the mattresses in the living room and created a website to advertise the room for the weekend. They found three guests through the website who paid them to spend the night in their house.
Airbnb had over 300 million guests check-ins over 10 years and the hosts registered on the app have made a business of over $41 billion.
Read Also:  Create an App Like Airbnb?
BlaBlaCar:
BlaBlaCar is a French-based ride-sharing startup that offers marketplace app which save people money and time. The app allows drivers to connect with people traveling to the same place in the country. BlaBlaCar attracted both travelers and buyers. 
Gas is expensive, the app allowed drivers to share the cost of traveling to the long-distance with someone else who is traveling to the same location.
The travelers also find it more convenient to travel with drivers who don't mind a companion and this is also an affordable option than buying expensive tickets.
Etsy:
Love vintage, unique, hand-made crafts? If so, Etsy is the best place to find your favorite vintage items. Chris Maguire, Rob Kalin and Haim Schoppik created Etsy to help people sell their crafted goods. Etsy allowed thousands of craftspeople to sell their goods in a single online store.
Etsy lets vendors create personalized online spaces to promote handmade items and in return provide vintage items to shoppers. The company generates revenue by listing fees and percentage it receives on each sale.
Here are more examples of the industry where online marketplaces are being commonly used and the key players in the industry:
Travel-Airbnb, Expedia, Booking.com
Education-Udemy, Coursera
Ecommerce & Retail-Amazon
Human Resources-Upwork
Healthcare-Zocdoc
Finance-Opendoor.
Read Also: How to Start a Streaming Service like Netflix
Essential Building Blocks to Build Peer to Peer Marketplace: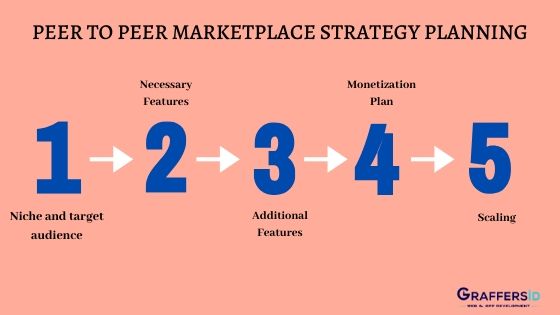 Here are the concepts that drive the development of peer to peer marketplace:
Peer-to-peer Business Model:
We all keep looking for the best business deals. Just like we need intermediates like broker, agent and driver in logistics, real estate and taxi respectively, we need an intermediary while booking other services or purchasing goods.
When it comes to an online solution, the platform itself becomes an intermediary, letting buyers and sellers connect.
Marketplace applications are the perfect start to the sharing economy as they ended the role of intermediaries in the process. People come to this platform and it charges them some percentage. This fee or percentage is much lesser than what you pay while traditionally purchasing goods. 
Focused Niche:
When starting an online marketplace, firstly, it is important to understand where the problem is and how you can resolve it with technology through your platform. Airbnb and BlaBlaCar identified the problem that people around them were facing and targeted one niche.
If you are planning to develop a marketplace, you should find a problem and solve it using a marketplace business model. Building a sharing economy platform boils down to helping two markets connect and eliminates the need for an intermediary.
Read Also: Benefits of Hiring Dedicated Developers
Convenience and Flexibility
While developing a peer to peer marketplace platform, remember the platform should offer convenience and flexibility to the users. For example, Airbnb allows people to easily find properties available on rent from a list of accommodation options available with the pictures.
You also find various filters in the application such as accommodation type, price, number of guests, trip type and more, which helps you in finding the right property easily.
Similarly, TaskRabbit is a collaborative P2P marketplace, which helps you find verified taskers that can come to your house and help you to fix your broken chain or repair clogged pipes.
Trust
Last, but not the least, trust is also an essential building block for peer-to-peer marketplace platforms. If you manage to build trust on your platform, you will be able to expand sooner and faster.
Creating trust means you should:
Keep your focus on supply:
To make sure that the platform you are planning to create not remain a buzz of a few days, it is essential to create an easy and instructive experience for the suppliers. While many people find it convenient to buy or finding things online, there are only a few who are used to shipping products or giving their space for rent.

You can provide suppliers with some free services and can set up forums for suppliers where they can discuss challenges. 


Human Touch:
Consider establishing a customer service strategy to make sure that buyers receive their orders, expectations are met and sellers get paid. It is better to add human touch through phone calls and personal communications.


Verification Policy:
The verification policy makes users more confident while they choose your services. It is better to verify providers and sellers to deliver services at a higher level. Verification can be performed automatically or admins can check the legitimacy of service providers manually.


Apply Actionable Rating System:
Most services use star rating systems that help rate users on both the end of transactions. These ratings enable the company to filter out bad users as well as service providers, hence improving the deliverables with every interaction.

Implementing an actionable rating and review system can also help you stop fraudulent behavior by banning users.
Read Also: How to Develop an App like Clubhouse 
How to Build a Scalable Peer-to-Peer Marketplace Website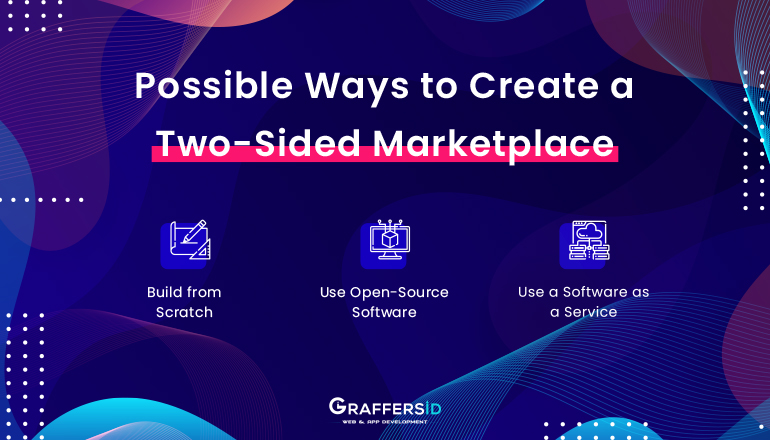 Now, that we have explained all the points which make two-sided platform works, let's see how to build a platform.
You can either build a marketplace from scratch or can also use the existing solutions. This completely depends on the budget and requirements of your project.
To build a Intuitive and Interactive Marketplace Website, you can Hire Marketplace Software Developers in India From GraffersID. 
Magneto, Spree Commerce, Drupal, and Sharetribe are some of the common platforms for ready-made solutions, however adding unique feature demands for custom implementation.
Some of these platforms do not fulfill the needs of marketplace platforms as they are created for e-commerce purposes, while for other solutions such as Magneto or Drupal; you are required to purchase marketplace extensions to manage content on your platform. 
Here at Graffersid, we build our sharing economy projects from scratch. This allows us to create solutions that come with unique architecture and designs.
Read Also: How to create a Fitness App?
Typical Features for Online P2P Marketplace
When building a peer to peer marketplace platform, you have to offer users an essential set of functionality. This way you allow your participants to navigate your platform easily.
Profile:
A marketplace has two users' roles: buyers and sellers. It is required to create a different user interface for each role.
Listings: 
It will cover the services or products that you offer on your platform. Listings also work differently for vendors and consumers. When it comes to vendors, they should be able to add, revise, publish, unpublish and remove listings. While on the other hand, customers should be able to search, filter and view those listings with detailed descriptions.
Payment:
Customers should be able to pay for using your online platform. Offer users various payment options such as debit card, credit card and PayPal.
Reviews and Ratings: 
Provide users with the possibility to leave reviews and rate service providers. This will enable customers to make an informed decision when purchasing services and products. Ratings and feedbacks also create a sense of trust and accountability.
Notifications:
Notification enables users to remain updated about the current status of their orders and offers they have. For example, with push notifications, users have been updated when their order is processing, shipping and out for delivery.

Conclusion
Peer-to-peer marketplace development is limited to two solutions: build from scratch or buying a ready-made solution. Choose what's best for your business depending upon the needs of your project, available time and budget. If you have an idea and thinking how to begin with  drop us a line for professional consulting.