Today in the tech-evolving world, relationships all over the world started to begin on an online dating applications. According to recent stats, around under 30 age about 53% percent of Americans use dating apps and the numbers are growing. Also, 24 percent of relationship starts through dating apps. This clearly shows that the phenomenon of online dating is not a taboo anymore. If you have a brainstorming idea, We recommend you move forward to create a Dating App. 
In 2022 Around 366 million people using dating apps and websites all over the world. Hence, there is no doubt about the fact that with the growing economy of on-demand applications, this number is going to increase manifold. So, if you are planning to Develop a Dating App like Tinder that can help singles find the love of their life, then this is the best time for you.
It has been predicted that by the end of 2030, approx. half of the married couples across the world would have met their partners online. On average, an online dating service user experiences an expenditure of $243 on such applications and websites. And, for dating services, the Average Revenue Per User is $4.30 in the present scenario.
Websites or Apps: What to Build?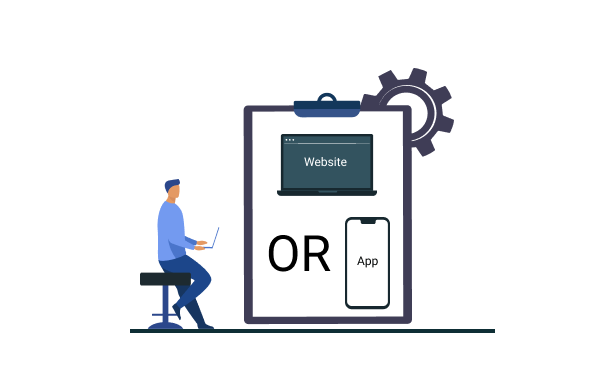 When you are going to launch your own dating platform, you need to select between website vs app?
For dating, it is the best option to Develop a Dating App. Thinking out why? Here are the reasons.
Firstly, the website is not easy to access when compared to an application. In addition to this, you are not away from an app as it is always there on your smartphone. And, this allows you to respond to the push notifications instantly. This is the reason why dating apps are getting more popular than dating sites.
According to recent research, 4 out of 5 people search for their "bae" on smartphones. And this is legit. Hence creating an app like Tinder is more revenue-generating compared to the website. There is a wide variety of dating apps available these days in the market such as serious dating apps, LGBT dating apps, and more.
Creating apps is easy and preferable. So, if you wish to Develop a Dating App like Tinder, all you need is to outsource your project to the right web and app development company. Here it is also important to keep in mind to create your UI and UX as addictive as possible to keep your users stuck into it.
Best Dating Apps in 2023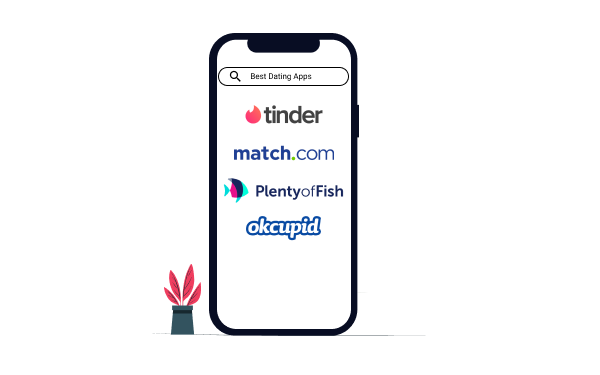 Here are a few dating apps that are most popular among the users.
1. Tinder:
You must be familiar with this name as Tinder is one of the most popular dating apps with 50 million users per month.
The number of users experiencing paid features of Tinder accounts for 8 million and 10.7 million active subscribers with 1.79 billion U.S. dollars as the reported avenue of an app in 2022. The app continuously keeps coming up with new fun features like being able to "Super Like" a person.
2. Match:
Match appeared in second place after Tinder, with 32% of the mentions. The app offers a very easy sign-up process where the user doesn't have to log in to the application via Facebook. In the sign-up process, the users are required to add some photos and answer basic questions like their preferences and gender. Also, users have to create a username and password, if they are creating an account on Match.
Match also comes with an interesting feature, which is known as "Missed Connection".
3. Plenty Of Fish:
Plenty of Fish or POF is the third widely popular dating application in the USA. Just like Match, user need not link their Facebook account to their POF ID. This means Plenty of Fish lets you remain anonymous and log in via a username that could be different from your real name.
4. OkCupid:
OkCupid is the fourth most widely popular dating application after Tinder, Match, and Plenty of Fish.
This application has something different to offer from the above-mentioned apps. It doesn't let users log in anonymously but use their first names. Other than that, OKC is also well known for its suggestion of questions that aid in starting the conversation.
5. Bumble
Bumble puts a unique twist on traditional dating apps by empowering women to make the first move. It's a great option for those who prefer a more balanced approach to online dating. Robust safety measures make Bumble a secure option for online dating. Beyond dating, Bumble offers options for finding friends and networking.
6. eHarmony
eHarmony is renowned for its commitment to finding you a long-term, compatible partner. If you're looking for a serious relationship, their comprehensive compatibility quizzes are a game-changer.
Key Features:
In-depth compatibility quizzes
Serious relationship focus
Personalized match suggestions
Features to Keep in Mind When Developing App like Tinder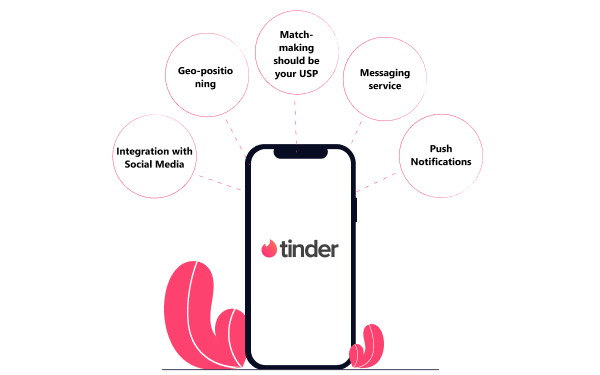 1. Integration with Social Media:
Letting people simply access the account just by signing up through Google, Facebook, or Instagram accounts can build a good impression on potential users.
For example, Tinder allows users to log in with their phone number or Facebook. This feature is beneficial for the app as well as it helps application collect the data regarding the likes and dislikes. Moreover, the app will also be able to access the friend list of the user. Making users log in through their social media profile also prevent fake profiles.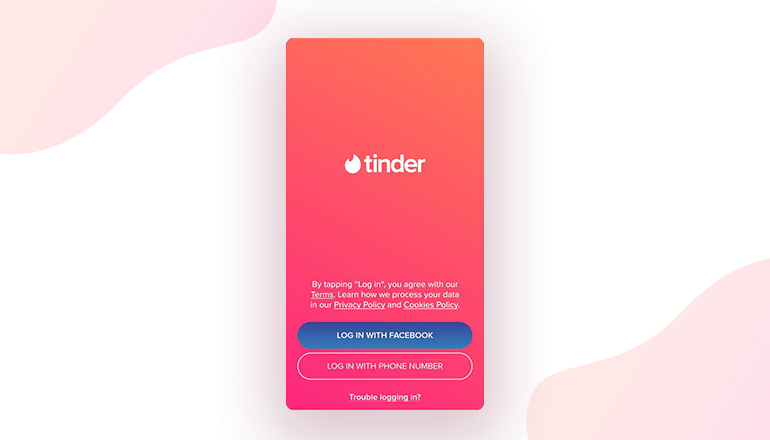 2. Geo-positioning:
If the user is from London and the suggestion of matches is from Manchester, then it will be of no use to the user. Thus, dating apps need to have location-based matches. You can even let users select their location preferences such as letting them set the distance limit for the suggested matches.
With a paid subscription to Tinder, users are allowed to change their location depending on the place they are visiting it would be shifting to.
Hence, geolocation is an important feature when you create a dating app.
3. Match Making Should be your USP:
Matchmaking is all about the internal algorithms that are dependent upon the likes and dislikes of the users.
No doubt, the algorithm of a dating app is not that simple, it is important to show people who have liked the profile before others.
4. Messaging Service:
At the end of the day, you want users to remain engaged with the app, isn't it? And for that, you need users to continue to your application even if they found the right match. And the best way to do that is by adding the messaging facility. 
Let your users strike the conversation through their app rather than looking for some other app to build romance. And to do that, you would need a chat box.
Chatbot facility also makes the app safe for your female users. If in case, they face instances of abusive or ill-treating behavior, they can directly inform the admin panel. In such a case, they would be safe by not sharing their contact details.
5. Push Notifications:
Push notifications are an excellent built-in communication bridge, which lets users know about the real-time activities of the app. Push Notifications are usually sent in the form of short and responsive messages.
The people using your app must be notified that there is a match and hence, push notifications play a crucial role when you create an app like Tinder.
Here is a Detailed Guide to Creating an App like Airbnb
Ultimate Guide to Developing a Dating App Like Tinder
If you're considering developing a dating app like Tinder, you're in the right place. This comprehensive guide will walk you through the essential steps and considerations to create a successful dating app that users will love.
Before diving into app development, it's crucial to conduct thorough market research. Understand your target audience, their preferences, and the competition in the dating app industry. Identify gaps or opportunities that your app can address to stand out in the market.
Define Your Unique Selling Proposition (USP)
To succeed in a competitive landscape, your dating app needs a unique selling proposition. Consider what sets your app apart from the rest. It could be a unique matching algorithm, niche targeting, or innovative features that enhance user experience.
Legal and Regulatory Compliance
Dating apps handle sensitive user data, which makes legal compliance essential. Familiarize yourself with data protection laws like GDPR and create robust privacy policies. Consult with legal experts to ensure your app meets all regulatory requirements.
Design and User Experience
User experience is paramount in dating apps. Invest in an intuitive and visually appealing design that makes navigation easy. Tinder's swiping feature, for example, is iconic for its simplicity and effectiveness.
Choose the right technology stack for your app, considering factors like scalability and development costs. Native app development for iOS and Android or cross-platform development frameworks like React Native or Flutter are popular choices.
Features and Functionality
Consider the essential features your dating app should have:
a. User Profiles: Allow users to create detailed profiles with photos and personal information.
b. Matching Algorithm: Develop a robust algorithm to match users based on preferences and behavior.
c. Chatting and Messaging: Enable real-time messaging between matched users.
d. Geolocation: Use GPS to show potential matches nearby.
e. Notifications: Keep users engaged with notifications about matches and messages.
f. Security Features: Implement measures to ensure user safety, such as reporting and blocking options.
g. Monetization: Decide on your monetization strategy, whether it's through premium subscriptions, ads, or in-app purchases.
Testing and Quality Assurance
Thoroughly test your app to identify and fix any bugs or usability issues. User feedback during the testing phase is invaluable for making improvements.
Plan a strategic app launch with a marketing campaign to create buzz. Utilize social media, influencer marketing, and app store optimization (ASO) techniques to attract users.
User Safety and Moderation
Establish a robust system for user safety and content moderation. This includes implementing strict policies against harassment, fake profiles, and inappropriate content.
User Engagement and Retention
Focus on strategies to keep users engaged and coming back to your app. Regularly update the app with new features and improvements, and encourage user interaction through events and gamification.
Use analytics tools to gather user data and insights. Analyze user behavior to make data-driven decisions and continually enhance the app.
Scaling and Future Development
As your user base grows, be prepared to scale your infrastructure. Consider expanding to new markets and integrating emerging technologies like AI for better matchmaking.
Developing a dating app like Tinder requires careful planning, dedication, and a deep understanding of your target audience. By following this comprehensive guide, you'll be well on your way to creating a successful dating app that can compete in the ever-evolving world of online dating. Remember, innovation and user-centric design are key to standing out in this competitive market. Good luck with your dating app development journey!
How to Monetize a Dating App?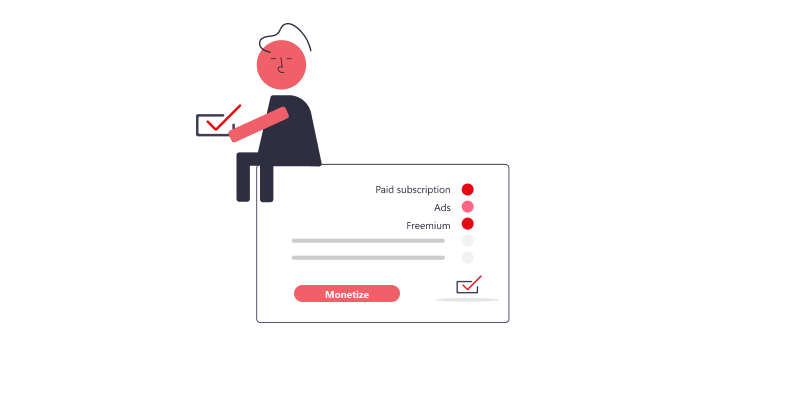 Despite there are a lot of dating apps available for free, there are still opportunities for application owners to make money with a dating app. Here are suitable monetization methods for dating apps:
Paid Subscriptions:
Paid subscriptions are the most common monetization method. You can make users pay you for premium features or to take membership plans for the month, quarter, or year.
To make a subscription strategy different from others, you can create subscription packages for different periods. 
For example, Tinder offers its users two subscription packages: Tinder Gold and Tinder Plus. Paid members on Tinder get options like Rewind, Super Likes, Smart Photos, Unlimited Swipes, Boost, and others.
Tinder offers many useful options for paid accounts; however, the basic version of Tinder also offers users enough functionality for a great dating experience.
Ads:
In-app advertising is also a great option to make some money if an app constitutes a lot of non-paying users. Native advertising is generally the best for dating applications as it respects the functionality of the app.
The cost of an in-application ad on Tinder is $5000. And, the most amazing thing about Tinder's ads is that they don't even interrupt users.
Freemium:
This is another popular method to make money through your dating application.
With freemium services offered by some dating applications, people can access the dating application but need to pay for some of the services like the ability to send GIFs in the messages. 
Third-Party Services:
Some dating apps offer gifts like flowers, greeting cards and chocolate that users can buy. This can be profitable on some specific days like Valentine's Day or Women's Day.
You can also offer users third-party services like table and taxi bookings. Not only this make it convenient for the users, but providing an opportunity to plan a date in the application also makes it profitable for dating apps.

How to Validate Dating App Business Idea?
Startups are risky ventures. Creating a lean Canvas allows entrepreneurs to validate their business idea before checking all the risks and starting development. Here is Tinder's Lean Canvas to prioritize actionable items to develop a dating app like Tinder.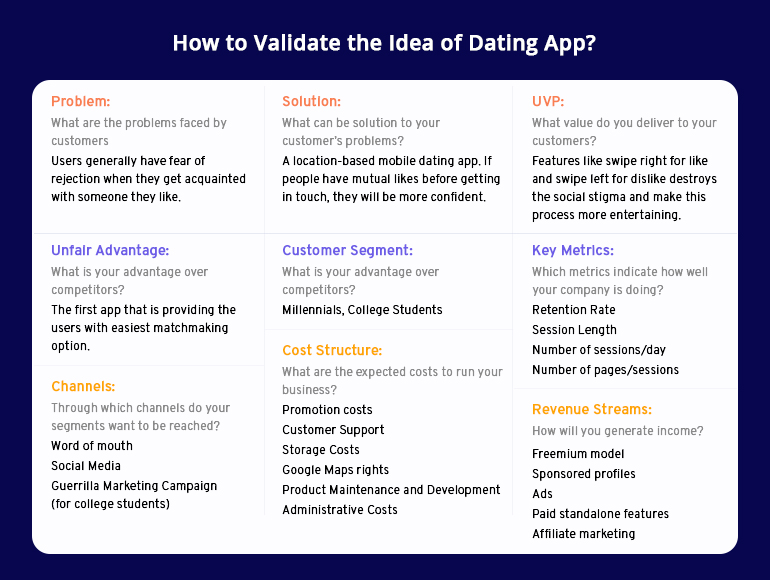 Development Team to Develop a Dating App Like Tinder?
If you want to build an application like Tinder, the project team should constitute:
2 backend developers
1 designer
2 iOS developers
2 Android developers
1 project manager
1 QA engineers
Time & Cost Estimate For Developing an App Like Tinder
To make an app like Tinder it typically takes around 6 to 12 months to create a fully functional app, depending on complexity, and the cost can range from $50,000 to $150,000 or more, depending on features and development complexity.
Latest Trends and Innovations in the Dating App Industry
As technology continues to advance and societal attitudes toward online dating become more accepting, dating app developers are constantly pushing the boundaries to create innovative and user-friendly experiences. In this article, we'll explore the latest trends and innovations in the dating app industry that are shaping the way people connect, date, and find love in the 21st century.
In a world where face-to-face interactions have become limited, video dating has gained immense popularity. Apps like Tinder, Bumble, and Hinge have integrated video features that allow users to have virtual dates within the app. This trend not only offers a more authentic connection but also ensures safety by reducing the need for in-person meetings during initial stages.
Artificial Intelligence (AI) has revolutionized the dating app industry by providing more accurate and personalized matches. AI algorithms analyze user behavior, interests, and preferences to suggest compatible profiles. This approach not only saves time but also enhances the chances of finding a meaningful connection.
While mainstream dating apps cater to a broad audience, niche dating apps have emerged to target specific communities or interests. Whether you're into pet lovers, vegans, or fans of a particular TV show, there's likely a dating app designed just for you. This trend ensures that users can find like-minded individuals who share their passions and values.
Dating apps have introduced gamification elements to make the swiping experience more engaging. Features like badges, rewards, and interactive challenges keep users entertained and motivated to continue using the app. These game-like elements add a fun aspect to dating, making it less intimidating for some.
Online safety is a top priority in the dating app industry. Innovations in identity verification and background checks help users feel more secure when connecting with potential matches. Apps now offer features like photo verification and real-time reporting to combat catfishing and harassment.
Virtual Reality (VR) Dating
VR technology has started to make its way into the dating app industry. VR dating allows users to create virtual avatars and meet in immersive digital environments, providing a unique and futuristic dating experience. While still in its early stages, VR dating has the potential to revolutionize long-distance relationships.
Inclusivity and Diversity
The dating app industry is increasingly emphasizing inclusivity and diversity. Apps are becoming more gender-inclusive by offering a wide range of gender and pronoun options. Additionally, there's a growing commitment to combating racism and discrimination within the app ecosystem, fostering a more inclusive environment for all users.
Personalized messaging features are on the rise, allowing users to send more creative and meaningful messages. Some apps offer icebreakers and conversation starters to help users initiate conversations and stand out in a crowded inbox. This trend aims to improve the quality of interactions and reduce the reliance on generic pick-up lines.
Women Making the First Move
A significant shift in dating app dynamics is the trend of women making the first move. Apps like Bumble have pioneered this approach, allowing women to initiate conversations with matches first. This change empowers women to take control of their dating experiences and has led to more meaningful and respectful interactions.
Finding Friends and Networking
Beyond romance, dating apps are expanding their horizons to help users find friends and professional connections. Some apps now offer features dedicated to friendship-building and networking, recognizing that relationships extend beyond romantic interests. This trend addresses the need for diverse social interactions within the digital sphere.
Wrapping It Up!
No need to pressure your mind too much, just go through applications Dating apps like Tinder, Match, or OkCupid and find the desired type. Whether you want to develop a dating app similar to something like an already existing dating app or have some unique idea in your mind, feel free to reach out to our app development experts.
The dating app sector is sure to witness a massive revolution in the coming years. If you are planning to make a name for yourself in this industry, this is the perfect time for you to step ahead.