Innovation is one of the substantial parts of technology, and it's constantly evolving and touching the sky daily. The primary justification for the revisions is that users are not happy with any one creation. We desire modern products that are simple to use and must last forever in every way. Distinct users experience different experiences, which are typically never-ending. 
To create a complete application, website designers mostly used JavaScript and conventional HTML coding techniques. These days, they employ sophisticated technological stacks like Mern and Mean. 
Before continuing, it's essential to understand the development cost or hire MERN stack developer. In this article, we will learn every aspect of hiring committed Mern stack developers. After reading the entire post, you'll understand how much it costs to hire a Mern stack developer.
What is a Mern Development Stack?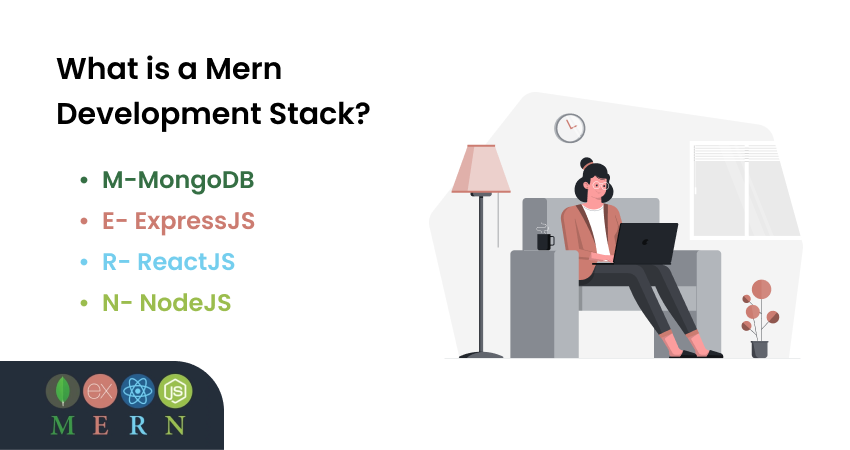 Mern is a concept that combines various JavaScript technologies into one. It is particularly effective for web development, which incorporates all business requirements.
The software engineers agree that MERN Stack is the best option for creating cutting-edge websites and apps with an eye-catching user interface. We must comprehend the resources before moving on to higher Mern stack developers. There is a significant demand for it because of its fierce competition from other technologies.
M

-MongoDB, a NoSQL database management system.

E

– ExpressJS, a NodeJS backend web application framework.

R– ReactJS is a JavaScript library that creates user interfaces based on UI components.
N– NodeJS, JavaScript may now execute a JS runtime environment outside browsers.
 The development process becomes smooth and facile by utilizing the right technology. Mern is integrated into one package by the following open-source parts such as: 
MongoDB

Express JS

React JS

Node JS 
Every element we have listed is a valuable asset to the stack. They must deliver functional, responsive, and appealing web and app development processes.
The Power of Offshore Mobile and Web Development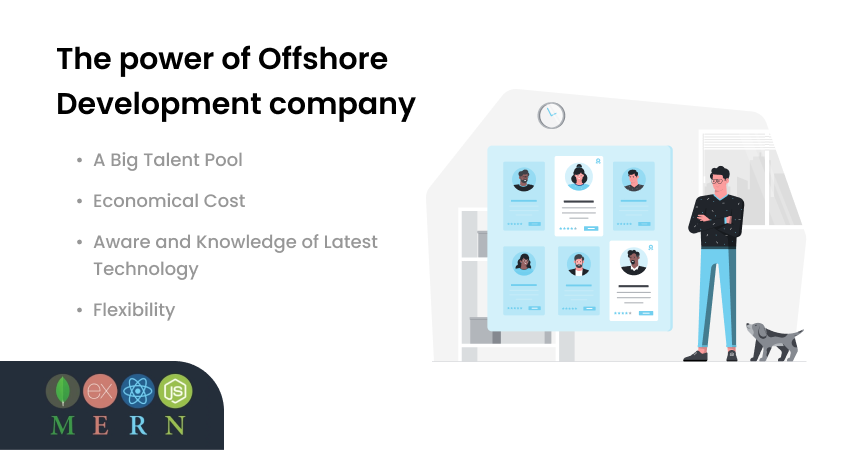 Create magic by Hiring a MERN Stack Developer from an Offshore Mobile and Web Development Company. Most businesses exhibit embraced weekend growth and quickly rise to the top of their respective industries in a short span. The majority of us must be interested in learning the secret of success. We are interested in learning more about the method and its real purpose. Most significantly, they have replaced their conventional and antiquated procedures with contemporary ones. 
They are regarded as rule breakers or industry transformers because they frequently advance along the way. We must be intelligent and adaptable to excel in this field. With innovation, it will be possible for us to operate efficiently and contribute in a variety of ways to the sector. Yes, that goes with hiring Mern stack programmers from a reputable offshore development company of mobile apps; you can carve out your profitable web development solutions.
You can reap many more lucrative advantages from the offshore development process, particularly regarding the cost of hiring Mern stack developers. 
Only those resources that are intelligent, qualified, and possess every level of competency in the profile are hired by and preferred by offshore mobile app development organizations with more significant challenges. 
The best part is that you can be free from all stress by working with reputable Mern stack developers—or any other programming-based developers who can turn any challenging needs into a smash hit and a user-centric solution.
Whatever goals you have for your initiatives, they will surely meet them. 
Your ability to save money is the most significant advantage of offshore web development.
The Offshore Development Company acts as your helping hand in recruiting inexpensive Mern stack developers while guaranteeing the same quality, rich, and satisfactory solutions as regional countries' resources. This is unquestionably better than hiring expensive resources from the local governments. 
Aware and Knowledge of Latest Technology
These days, technological advancements happen quickly. Therefore, to produce more excellent web development solutions, it's crucial to choose Mern stack developers who know about the newest technologies and trends in that industry.
That's where offshore web development centers step in, giving you access to the most knowledgeable and technologically advanced resources.  
In terms of flexibility, you may rely on offshore web development businesses. If the Mern stack developers you hired cannot meet your expectations, they will retain the support of more qualified and experienced developers.
Even they have a qualified crew to handle and keep an eye on any technological problems that may arise throughout the project's growth. 
What Are Offshore Development Services?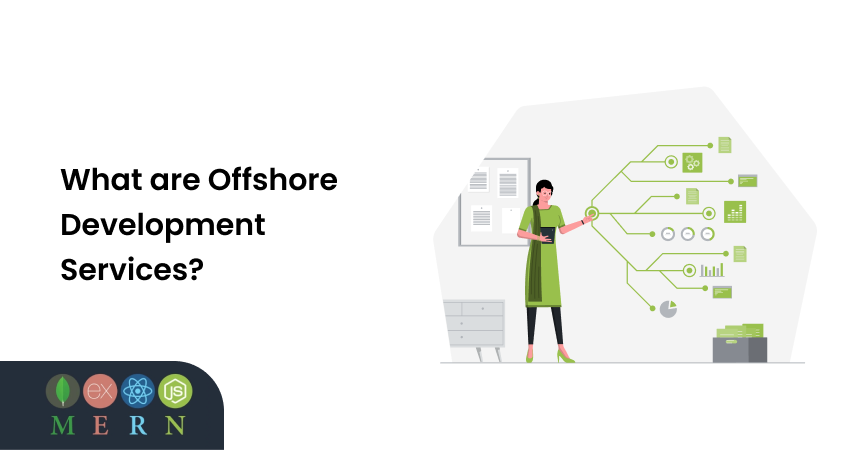 Offshoring is the process through which a business establishes a new office and a committed team of developers in a different nation that offers offshore development services. They are typical employees in every way, except they are based overseas and don't work locally.
There are numerous reasons a business would decide to build one of these so-called offshore software development centers.
Offshoring was about locating pricing not available domestically; today, it's about finding the best talent for your company's goals. While your rivals are left squabbling over scraps at home, committed staff is a strategic advantage that enables you to expand with highly competent professionals from tech hotspots worldwide.
Want to know What is the MERN Stack Used For?
The Cost to Hire a Mern Stack Developer
Let's come to the other part of the blog. The foremost question that pops into our mind is: how much does a business cost to hire a Mern stack developer? There's no need to search here and there, giving stress to your eye because the details provided below will give you abundant knowledge about what will cost to hire Mern stack developers and more aspects related to it.
The most important fact is the cost to hire a Mern stack developer varies by area. The cost of living and numerous other employment aspects are the fundamental causes. There are several major tech hubs available for recruiting seasoned engineers all over the world. Mern developers' most affordable travel destinations are Asia, Africa, Eastern Europe, Southern America, and Central America.
There are various costs for hiring offshore Mern stack developers from particular regions. In southern and Central America, salaries for Mern stack developers should fall between 30 USD and 50 USD per hour. A development range of 25 USD to 50 USD per hour is available in Eastern Europe. However, development costs in Africa and Asia are the lowest, ranging from 18 to 40 USD per hour.
Several excellent firms are on the market for outsourcing web development projects to offshore Mern stack developers. At the same time, the cost depends on the company's quality and the development process involved. It is advised to locate a hub that provides excellent resources for fulfilling all requirements. 
Learn More about Mean Stack vs Mern Stack: Which is Better Technology Stack?
Conclusion
When you are just beginning to consider developing interactive and exciting websites in this cutthroat market, your rivals are already creating their own. To succeed, you have to stay ahead of the rat race.  
The development of MERN stacks is a potent tool for creating web pages and applications. And the experts who can make your dreams come true are MERN stack developers.
Reach out to Incentives for professional MERN stack development services if your company wants to create excellent online or mobile apps with appealing UI designs to attract clients quickly. The MERN Stack makes application development easier since it combines several technologies, including libraries, frameworks, and databases. 
The MERN Stack experts know how to work effectively with all open-source MERN components, such as Express JS, MongoDB, Node JS, and React JS. 

You will undoubtedly be steered to an excellent solution at a cheaper cost by outsourcing your web development projects to offshore Mern stack developers. If you're seeking the best expert to work on your project, GraffersID can help you with that. Our company has provided services to several clients by employing experts. Just call us to hire a Mern stack developer with the whole experience and work history. We'd be glad to assist you.